All Star Quilt-along Block 1
Do you ever see a line of fabric and immediately know exactly how you want to use it? That's how I felt when I first saw All Stars by Tula Pink. All of my favorite Tula critters recolored…how could I not make a bunch of blocks to show them off?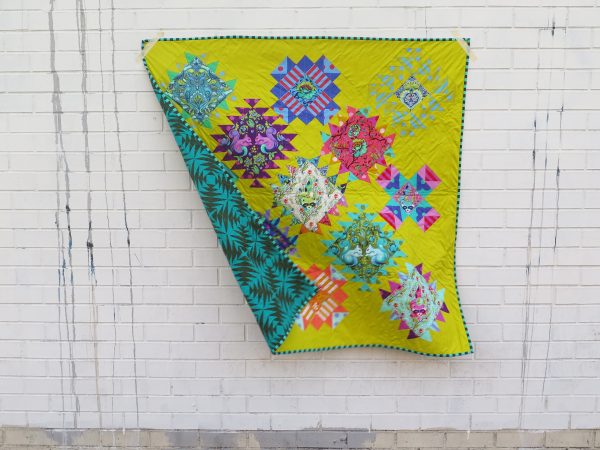 Since All Stars and the coordinating prints and solids are so bright, I decided I wanted the quilt to really pack a wallop. I knew I wanted it to be obnoxiously bright. So bright that you kind of roll your eyes when you see it because it is just dying for attention. I tried a bright clean white for the background, then a deep black, but it just didn't feel bright enough.
The colors in All Stars sort of reminded me of a wind breaker I had in the early 90's. It was bright coral with electric blue, highlighter yellow, and neon green. This yellow seemed like the perfect fit to really make all the colors shine. Since I was on a 90s kick anyway and the collection was called All Stars, it seemed obvious to name the quilt with a lyric from one of the biggest hits of 1999, All Star by Smash Mouth. I also just wanted the song to get stuck in everyone's head whenever they see the name of the quilt. Because the song has pretty much been running on loop in my head since I named this quilt.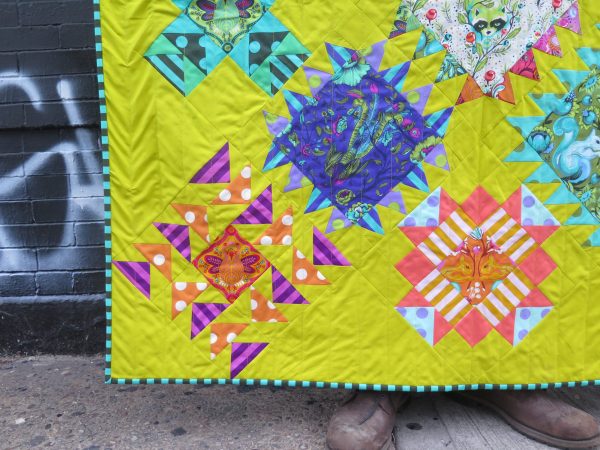 Over the next six weeks, we will break this quilt down every Thursday block by block. There are five blocks total. Week six will be all about finishing. The quilt finishes at about 50″ and comes together really quickly.
This is the schedule of the quilt-along here on WeAllSew.  I also sew along over on Instagram (you can find me over there as @giucy_giuce).
Block 1 – March 22
Block 2 – March 29
Block 3 – April 5
Block 4 – April 12
Block 5 – April 19
Finishing – April 26
Materials to Make Hey Now, You're an All Star Quilt
Tula Pink All Stars—FQ Bundle
Tula Pink Coordinating Pom Poms, Stripes, and Solids—F8 Bundle
2 1/2 yards background fabric
Batting
3 1/2 yards backing fabric
Thread
Adhesive Spray (Like 5O5 Spray and Fix Temporary Fabric Adhesive)
Rotary Cutter
Cutting Mat
Ruler
Marking Pen (Like Pilot Frixion Pen)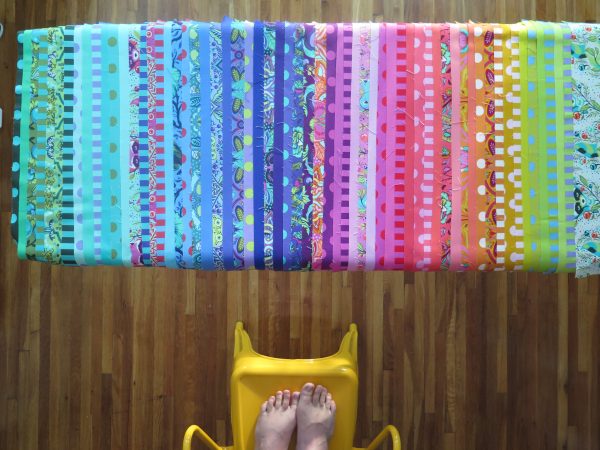 While I used Tula Pink's fabrics for this quilt, feel free to use whatever you would like. The thing I like about this quilt is that it is great for showing off big patterns. The center of 3 of the blocks is 8″ finished, turned on point, while the other 2 blocks have 4″ finished centers.
Blocks 1-4, we will be making 2 of each. Block 5, we will make 5 blocks. This will give us a bakers dozen, a total of 13 blocks.
I started by breaking my blocks into color groups. Normally, I make a really specific plan for how I am going to layout my fabrics. For this quilt, I just wanted to have fun. I made them all and laid them out how I liked them when I was done. I didn't get bogged down in envisioning what it would look like before hand and I am so glad I didn't. it was a real challenge for me to be a little more carefree with this project, but I love how the finished quilt turned out. I encourage you to do the same. Play!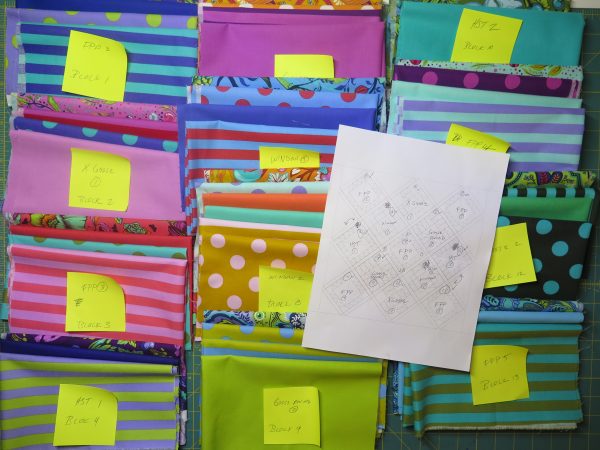 I chose between 3-6 fabrics for each block, labeling them to keep them straight. When it came time to cut the fabric, I either added more color or took away, depending on how many pieces I needed for each block.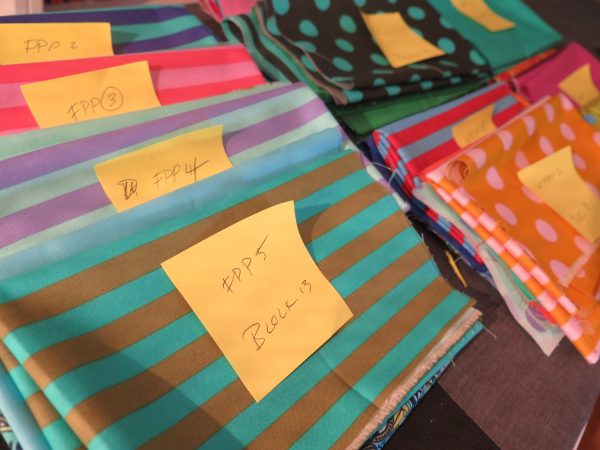 The first block I worked on was a round of flying geese surrounding a 4″ square on point. Three of our 5 blocks have flying geese in them. These come together really quickly and easily with the no-waste method of assembly.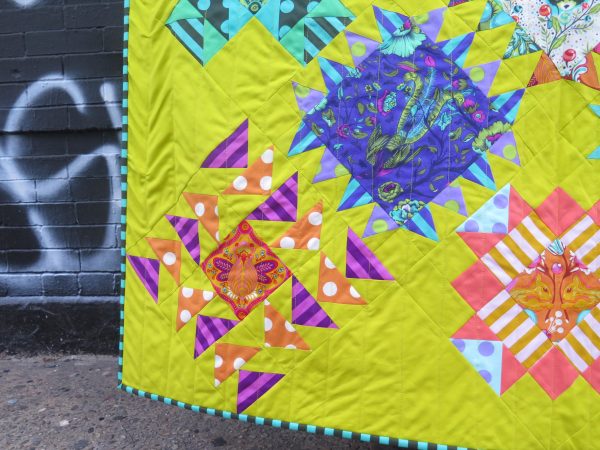 My friend Hayley Grzych has a terrific BERNINA tutorial on this method. Check it out by clicking here. It'll fill you in on what we will be doing to make these geese.
We will be making 16 flying geese to surround our 4″ square for each block. Here is what you'll need to cut for ONE block:
1 – 4 1/2″ center (be sure to cut the block on point if you are using a focal fabric like the one below)
4 – 5 1/4″ for the "body" of your geese
16 – 2 7/8″ background fabric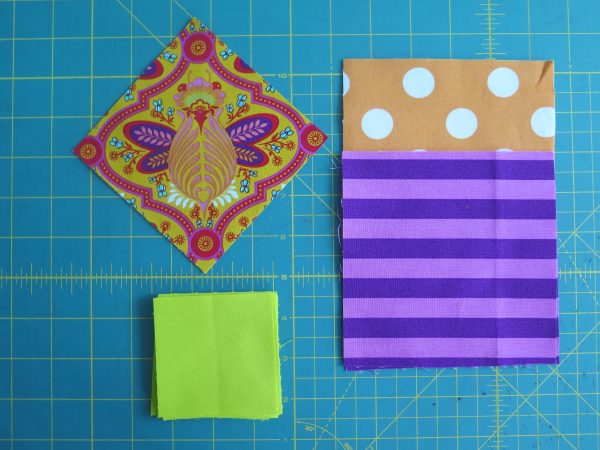 Begin by marking your 2 7/8″ background fabric from corner to corner. Then lay your fabric squares on your 5 1/4″ squares and sew 1/4″ on either side as pictured below with right sides together.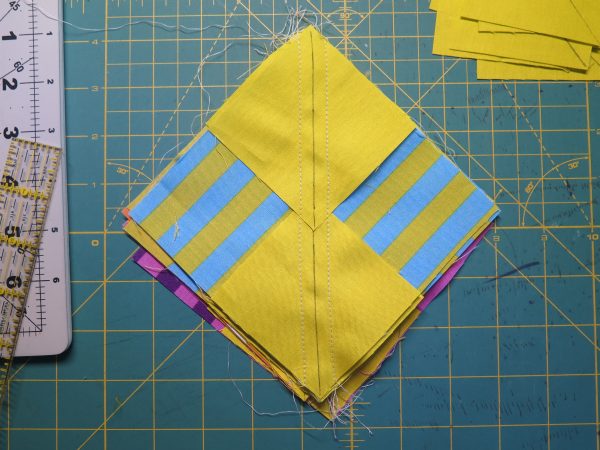 Slice the unit in half along the drawn line.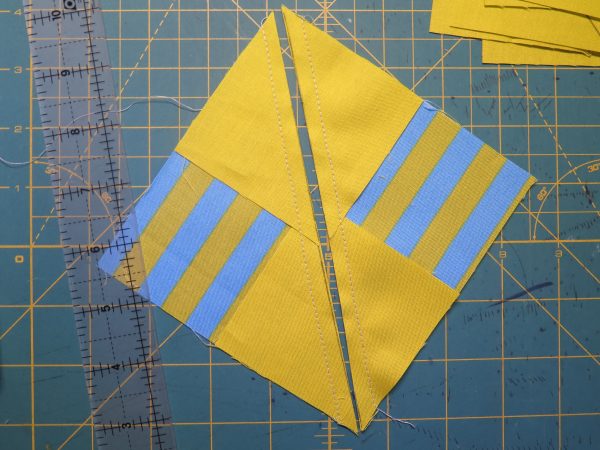 Press your seam toward your background fabric.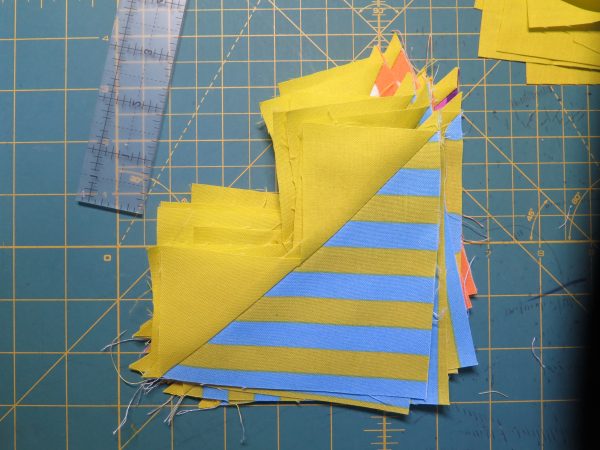 Add another 2 7/8″ square and sew on either side of the drawn like as pictured below.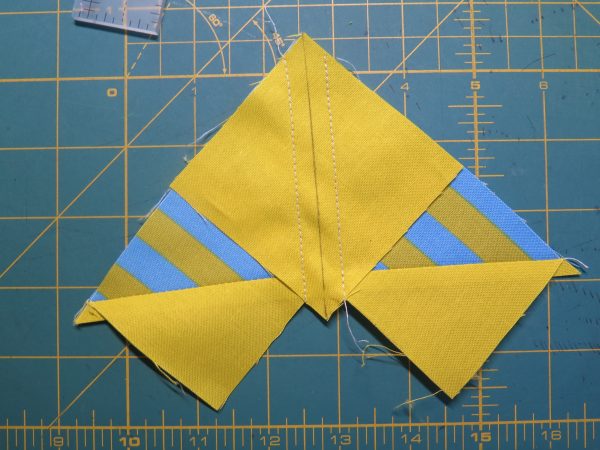 Slice in half again along the drawn line.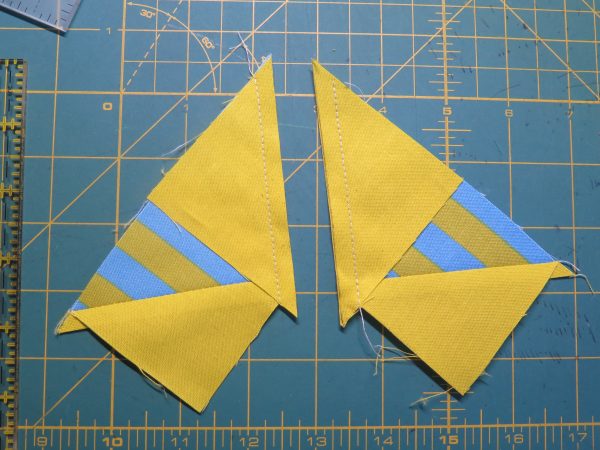 Press toward your background fabric. Done! Perfect flying geese!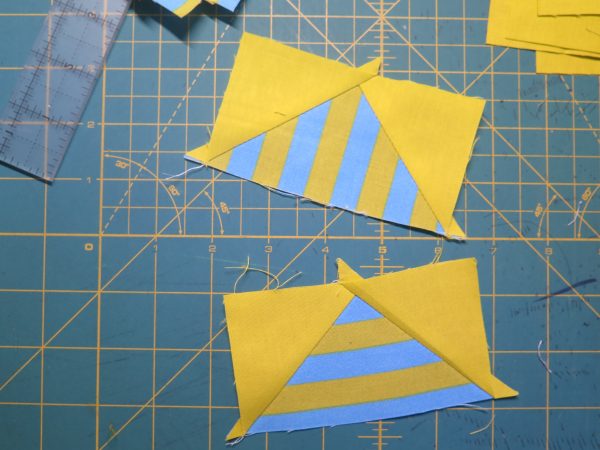 When you have 16, lay out your blocks in rows of 4 in any way you'd like.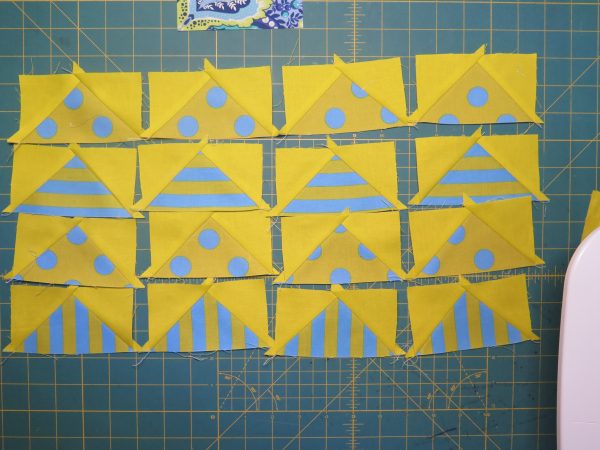 With 1/4″ seam allowance, sew 2 rows of 4 and 4 rows of 2 as pictured below.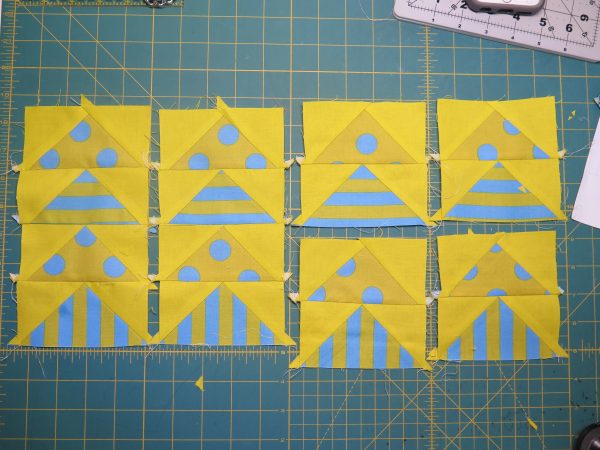 Lay out your geese around your 4 1/2″ center square as pictured below.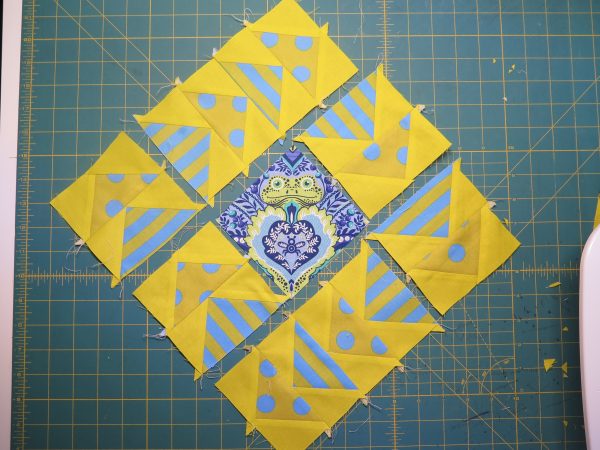 Join your units into 3 rows as pictured below.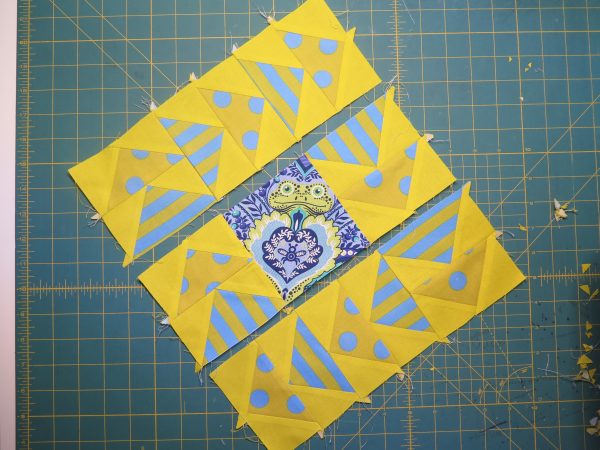 Now sew your 3 rows together like so. Press your seams any way you'd like. And voilá!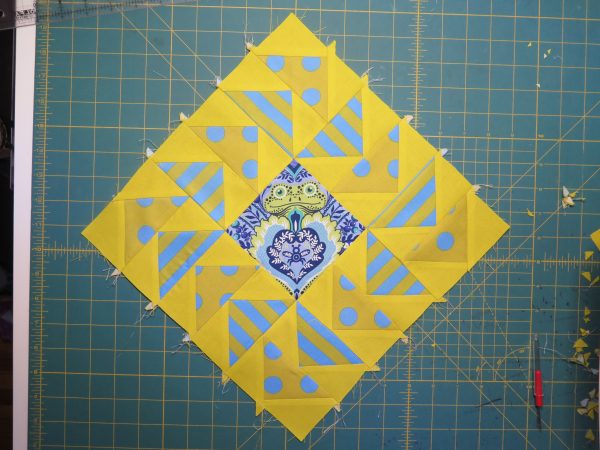 Your block should meassure 12 1/2″ Repeat these steps for 1 more block.
We'll see you next week for block 2! And be sure to use #HeyNowYoureAnAllStarQuilt, #GiucyGiucePatterns and #weallsew when posting your progress on Instagram!
Difficulty level

Intermediate

Time to Complete

A week or more

Used Material

505 Spray Adhesive, coordinating thread, cotton fabric, cutting mat, fabric marking pen, quilt backing, quilt batting, quilting ruler, rotary cutter

Projects

quilt

Seasons

all seasons

Techniques

quilt block, quilting
Used Products
What you might also like
34 comments on "All Star Quilt-along Block 1"