We hope you're having a Happy New Year! We're very excited to welcome 2018 which marks the 125th Golden Anniversary of the BERNINA company. This momentous occasion calls for a year-long party!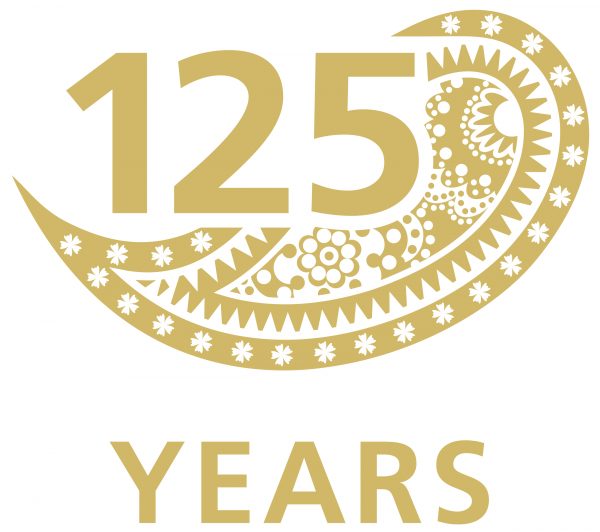 Above all, we want to celebrate you and your creativity on this occasion. "Celebrate Your Creativity" is our motto for 2018, and we look forward to rejoicing in the past, present and future with you! We will be sharing our entire sewing community's creativity throughout the year with all things "Golden!" We will launch sewing machines with special Golden Anniversary designs, there will be gilded presser feet, "Golden" giveaways, and many tutorials featuring golden sewing projects here at WeAllSew. Keep an eye open for other Golden Anniversary celebrations on our social media channels and in our BERNINA Dealer stores. We look forward to sharing a look back at what we've accomplished along with sharing stories as well as interviews with BERNINA staff from the US and Switzerland.
BERNINA has seen many changes since Johann Georg Gegauf founded the company in 1893; the World's Fair Columbian Exposition in Chicago, the Theory of Relativity, the first automobiles, the space race, the rise and fall of the Berlin Wall, the Internet, social media and smartphones. Not to mention BERNINA innovations; the world's first portable freearm with zigzag machine, the Free Hand System, the world's first sewing and embroidery computer, the BERNINA Stitch Regulator and the BERNINA Hook. Our Golden Anniversary is just the beginning. Where will the next 125 years take us?
In celebration of 125 years BERNINA we created beautiful golden projects that include paisley embroidery designs that were specifically designed for our anniversary. You can download the Paisley Embrodery Designs here.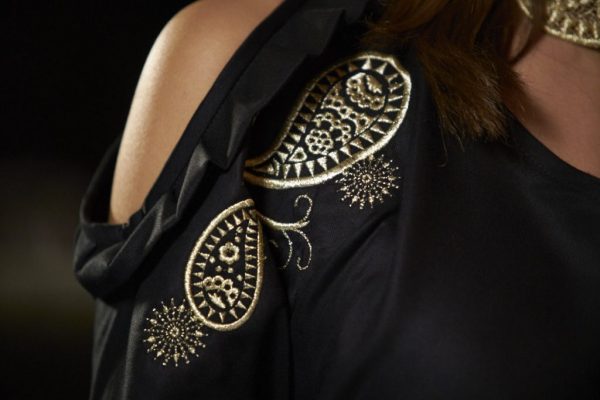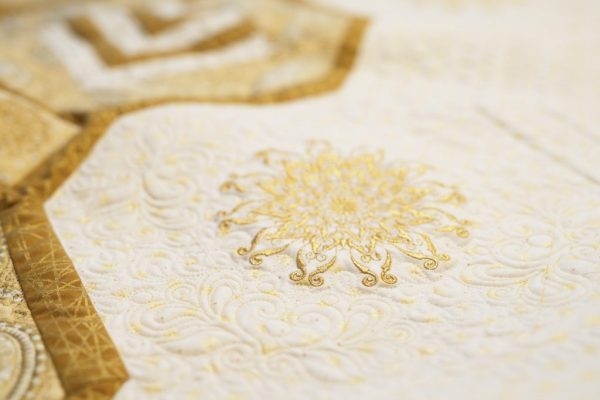 Click for more details on how we kicked off BERNINA's 125 years celebration.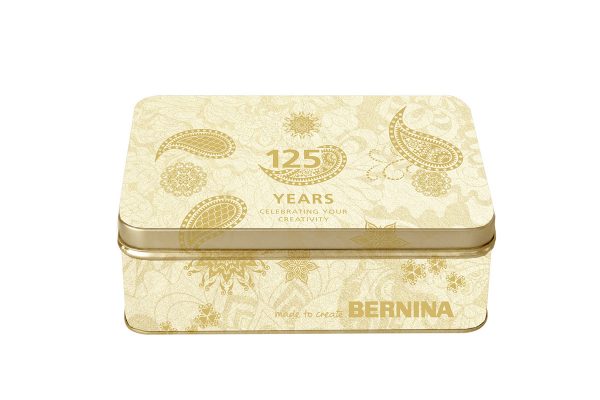 BERNINA is also celebrating with a gilded Reverse pattern foot #1 Golden Anniversary Edition! A limited number of these golden Reverse pattern foot #1 Anniversary Edition feet including the anniversary collectors tin will be arriving at BERNINA stores in March, be sure to ask at your local store about ordering one of your own.
Historically, hemstitching is, as its name would imply, a stitch for finishing hems. Traditionally, hemstitching was done by hand as threads were removed from the fabric. Then a hand stitch pulled the threads apart creating a decorative hole in the fabric. As you can imagine, this was a tedious and time consuming task. There must have been a lot of excitement when Karl Friedrich Gegauf, founder of our company, invented the first hemstitching machine in 1893!
Get some hemstitching techniques from BERNINA Educator, Nina McVeigh in this post.
This post is part two in a series celebrating 125 years of the BERNINA company. Each post will bring you a little more of the history of BERNINA, along with modern inspiration. For the first post in this series about hemstitching, click here. As part of the celebration, we have a giveaway for you! Scroll down the post to see how you can enter for a chance to win!
Originally known by the founder's name of Gegauf, BERNINA got its current name after Fritz Gegauf who took over the company from his father in 1928. The name BERNINA comes from Piz Bernina, the highest summit in the eastern Alps. The first household sewing machine, the BERNINA 105, was created by Fritz Gegauf in 1932. This machine was a great success, but Mr. Gegauf further developed the machine into the first zigzag machine, the BERNINA 117, in 1938. In 1945, the first portable electric zigzag free arm sewing machine hit the market and by 1963, BERNINA had produced one million zigzag sewing machines.
These two innovations – the free-arm and zig-zag stitch – are still vital to sewing today, and were the inspiration for this project.
In 1954, BERNINA marketed the first sewing machine with a patented clip-on presser foot, invented by Fritz Gegauf to make sewing easier. Without fiddling and screwdrivers, the presser foot is simply loosened with a lever and can be easily changed with one hand. The clip-on presser feet are a patented feature and the original mechanism design is still used today.
The semi-automatic buttonhole function was also available at this time, on Model 530. Eventually, in 1986 with the first computerized sewing machine, Model 1130, the fully automatic buttonhole and stitch pattern memory options were available.
Today, the BERNINA accessory line includes over 60 presser feet, not included coded and dual feed versions of certain feet in our line. No matter the project you tackle, there is a BERNINA accessory designed for whatever task you need to accomplish. Being equipped with the right tools will instantly improve the quality of your handmade projects!
Click here to learn about sewers' favorites.
In 1963, under the direction of Odette Ueltschi-Gegauf, BERNINA introduced the Model 730 which was the first machine with a patented, knee-activated presser foot lifter. Now known as the Free Hand System (FHS), it raises the presser foot, lowers the feed dog and opens the thread tension disks all simultaneously. Another first was the introduction of the Needle Up/Down feature that is activated by tapping the back of the electronic foot control. This allows the sewist to take one-half stitch at a time. The FHS and electronic foot control continue to be a staple for BERNINA machines and is among the favorite features of all BERNINA owners.
One popular technique where the FHS and electronic foot control work hand in hand is appliqué. Appliqué is a technique where a fabric shape is stitched to a background fabric. When stitching an appliqué design, the sewist pivots and stitches curves numerous times. Exact control for sewing these curves and corners is possible because there is no need to take your hands off your project. When at a corner, simply tap the back of the foot control to lower the needle, raise the presser foot with the FHS and pivot the fabric. Using the FHS will speed up your sewing by 20% or more.
Learn a clever appliqué technique while using the the BERNINA Free Hand System.
A sewing machine with an electric foot control—the BERNINA 830, came to market in 1971.
This machine established itself as a top model in the 70s, remained the best seller for eleven years, and enjoys legendary status even today. Today, the foot control is programmable on many BERNINA machines!
The original BERNINA Model 830 offered beautiful decorative stitches, which were showcased in "stitch recipes"—lining up different stitches next to each other to create "ribbons" of stitches!
Stitch Recipes are sewn rows of stitches that form a band of decorative embellishment. When the rows are stitched close together, the compact embellishment loses the look of individual stitches. Stitch recipes still enjoy popularity today. With larger machines having more stitches, more functions and accessories, the creative stitcher has more choices when creating the stitch recipes. Hundreds of 9 mm wide stitches, Sideways motion stitches up to 40mm wide, designing custom stitches with Stitch Designer, and embroidering decorative stitches are but a few of today's upgrades for creating stitch recipes.
To celebrate BERNINA's Golden 125th Anniversary, integrate gold accents into your projects.  Enjoy adding stitch recipes to your favorite projects, such as this classic zippered pouch. The finished pouch measures approximately 7" x 9".  The zippered bag shown here is made using gold-flecked cork fabric, gold Yenmet embroidery thread, gold 'you won't believe it's not metal' nylon zipper and white linen.
For details on stitch recipes and the tutorial on how to create the zipperd ba, visit BERNINA Stitch Recipes Then & Now.
As part of our BERNINA 125 Years Golden Anniversary we are celebrating your creativity all year long as per our 2018 motto "Celebrate Your Creativity!" We couldn't think of a better way to honor your creativity than inviting you to share your love of quilting with us and offer you a chance to win a fantastic quilting prize package!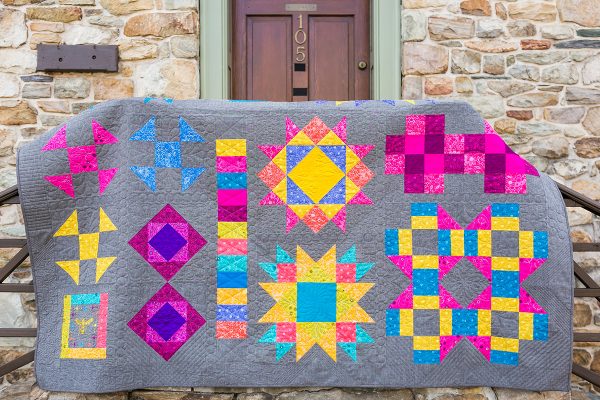 It doesn't matter if you're a beginner who's just finished your first quilt or if you are an absolute quilting master, it's all for the love of the quilt. Get ready to share your love of quilting by showing us your quilted creation and telling us why you are proud of your finished quilt.
Learn how to share your work for a chance to win.
As BERNINA continued to drive innovative thinking, the company launched the BERNINA 930 in 1982.
The BERNINA 930 had an especially powerful engine, and was the first model with a stretch stitch. The stretch stitch was particularly important for garment sewing with knits and stretch fabrics. Learn more about this milestone in BERNINA's history here.
In the 1980's, BERNINA introduced a new line of sewing machines with the goal of offering value at affordable prices. In 1989, a year after Hanspeter Ueltschi took the leadership of the company from his mother, Odette Ueltschi-Gegauf, he combined the word BERNINA with the name of his mother to forge the new brand name: bernette. In the 90's, our overlockers were also branded bernette.
So what distinguishes bernette as a brand? Innovative thinking, quality and affordability. And, most important of all, the support of a BERNINA dealer! While bernette machines can compete with big box store machines in terms of price points, they stand head and shoulders above that competition, thanks to the support each machine comes with. If you know a beginning sewist who needs a basic, reliable and dealer-supported machine, bernette is the obvious choice.
bernette Today
Our current line of bernette machines include everything from a basic mechanical machine to sophisticated electronic models, including overlockers and a stand-alone embroidery machine.
The bernette brand also has its own web site at www.mybernette.com
To illustrate the bernette range, let's look at its bookend models:
bernette 33: great value at a very affordable price
This is a basic mechanical machine with 15 stitches and a 4-step buttonhole. Simply dial the stitch you want and sew. It's a great machine for the occasional or beginner sewist. Many of our sewing camps for children recommend this machine for young ones learning to sew.
Learn more about the evoluation of bernette machines here.
In 2009, on the heels of this fantastic innovation, our BERNINA 8 Series, came a second innovative product and a first in the home sewing industry, an attachment that could cut through layers of fabric! The BERNINA CutWork Tool, and once again proved that BERNINA was a leader in product innovation. In fact, BERNINA International received second place for the CutWork Tool for the most prestigious Swiss Technology Award.
In 2012, BERNINA expanded the capabilities for BERNINA embroidery machines with the introduction of two more creative tools, the BERNINA PaintWork Tool and the CrystalWork Tool. These BERNINA developments, once again, illustrated why the company is an industry leader by becoming the first and only sewing machine to ever paint with fabric markers and create crystal appliqués.