Block of the Month Series
Welcome to the BERNINA Block Party!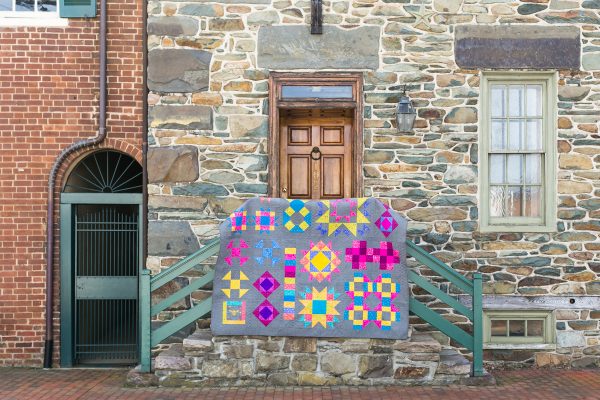 I am Nina McVeigh, BERNINA Educator and Quilting and Longarm Specialist. I am delighted to be your host for our new Block of the Month party here at WeAllSew. Join me in creating this beautiful quilt one block at a time. I have designed the BERNINA Block Party quilt to not only help you improve your piecing skills, but also as a way to showcase quilting techniques.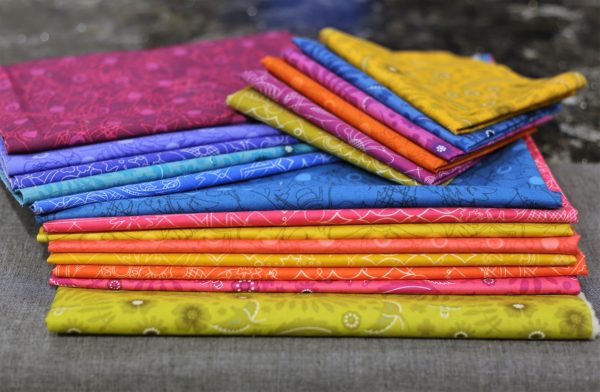 These fun, colorful blocks were inspired by the Sun Print 2017 Andover fabric line designed by Alison Glass. Alison Glass is an artist and specifically a fabric and pattern designer. She designs fabric for Andover Fabrics, works with an array of lovely people to create quilt, embroidery and garment patterns and is an Ambassador for (and truly loves) BERNINA.
Sun Print 2017 is a vivid mix of intricate line work and appealing motifs. Each of the three prints is distinct, yet related. The range of colors makes it a truly useful fabric collection. In Overgrown, an urban fence is covered in organic shapes and fanciful graphics—a mix of reality and fiction. Link is a modern dot, subtle and with an under layer of bees, birds and stars. Meadow is a sweet design of puzzled together flowers, leaves, animals and geometrics. These rainbowy fabrics are paired perfectly with the gray chambray background fabric.
How it All Works
On the first Monday of each month, a new block will be posted with piecing instructions. The blocks vary in size and some months you may have to make three of the same block to create that month's section. Save all of your fabrics from month to month as you will cut each month, but will need all remaining fabric for future months.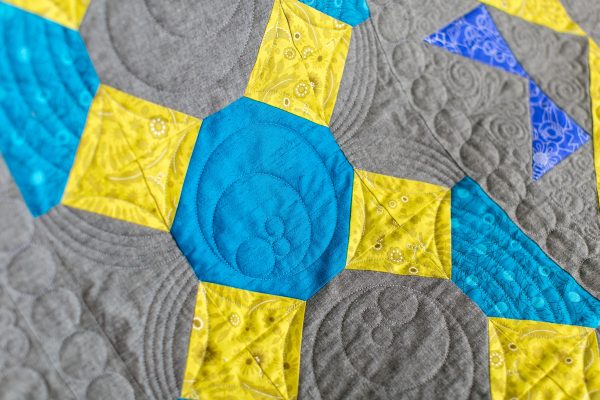 BERNINA Educator, Denise Jones, created original projects with each month's block, you will see this project two weeks after each of the block instructions are posted. Her quick projects can easily be completed if you want to sew-along with us but are not looking to create a quilt.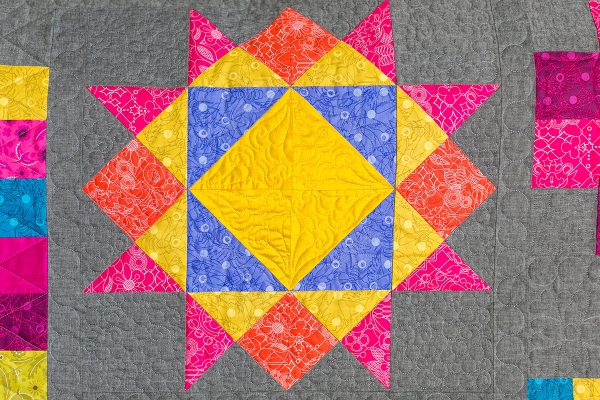 For the ambitious sewist, why not have twice the fun and make two blocks every month?! One for the quilt, and one for a quick project. Each project will focus on a different quilting technique so at the end you will have 12 quilting techniques under your belt.
So, before the party begins, let's gather the supplies you will need. Some of our BERNINA stores will offer quilt kits and classes, so check with your local BERNINA store first.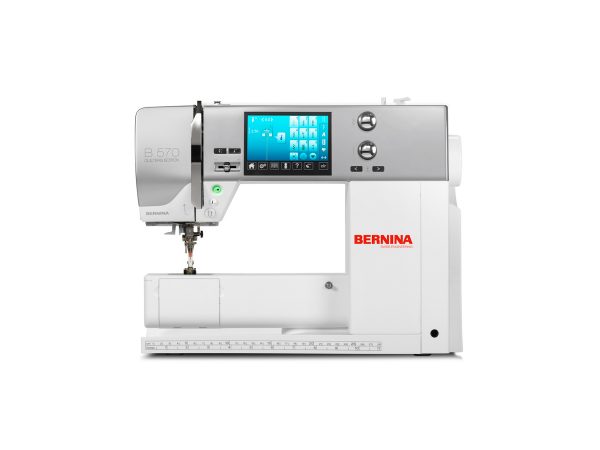 Gather Your Supplies
Fabric and Batting
1 yard of a green
1/2 yard of 3 pinks, 1 orange, 2 yellows, 1 blue
1/4 yard of 2 blues, 2 purples, and a plum
Fat Eighth of an orange, yellow, green, blue, and 2 plums
4-1/2 yards background fabric (I used Andover Chambray-Black)
4-1/2 yards backing fabric
Batting of your choice. We used the Eversewn 60/40 Cotton/Poly blend in black. (finished size is 77″ x 77″)
Thread and Needles
A medium gray 50 weight cotton thread blends well with the colors I used
#70/10 Jeans Needle for piecing (my preferred piecing needle)
#80/12 Quilting Needle
Tools and Accessories
Rotary cutter and cutting mat
Be sure and check your cutting equipment. It may be time for a new blade in your rotary cutter and don't forget to check your cutting mat, remember they wear out also.
Your favorite sewing machine. We sew on a BERNINA 570.
Make sure that your sewing machine is in good working order and you have cleaned and oiled it in preparation for piecing.
The Perfect Presser Foot

You will need a patchwork foot for perfect ¼″ piecing and we have quite a few to choose from. Click here if you need help deciding which is best for your machine.
Straight Stitch Plate
Be sure to put a straight stitch needle plate on your machine to help keep your straight stitch more precise. This will also help keep the points of those small triangles from slipping into the throat plate opening. This really is a must for any quilter!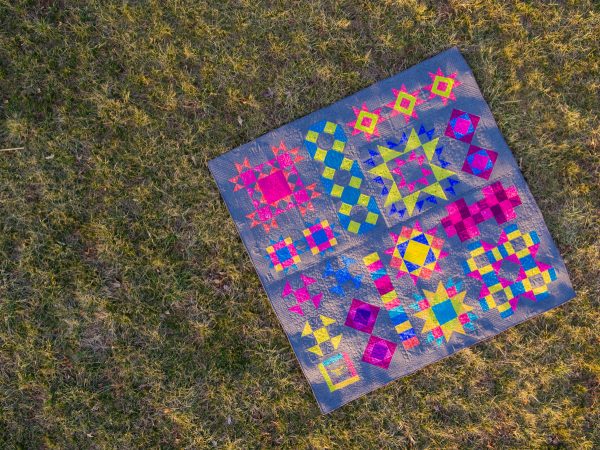 Now that you know how the BERNINA Block Party sew-along will work I hope you join us each month to advance your piecing and quilting skills.
Tutorial List of the BERNINA Block of the Month Series
Block 1: Antique Mosaic Block
Block 2: Block 2, Shoofly Block
Block 3: Square in a Square Block
Block 4: Magic Circle
Block 5: Card Basket Variation Block
Block 6: Ohio Star Variation Block
Block 7: Maple Star Block
Block 8: Grecian Square Block
Block 9: Union Square Block
Block 10: A Girl's Favorite
Share your blocks on our community section (upload your project here) and your social media channels using #berninablockparty and #blockofthemonth. Welcome to the party!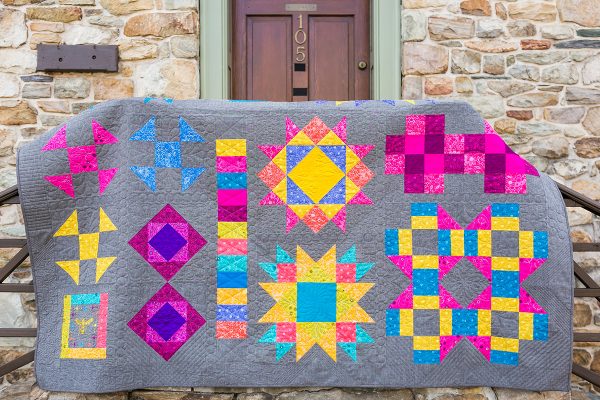 Difficulty level

Beginner

Time to Complete

A week or more

Used Material

50 wt cotton thread, 70/10 jeans needle, 80/12 quilting needle, batting, rotary cutter

Projects

home décor, quilt

Seasons

all seasons, fall, Spring, Summer, Winter

Techniques

quilt piecing, quilting
What you might also like
74 comments on "Block of the Month Series"