Build Your Own Monster Appliqué Shapes
I was working the in studio late one night when my eyes beheld an eerie sight! For my monster from his scraps, began to rise. And suddenly to my surprise – he did the mash! He did the monster mash!
It's hard to believe we've crept into crisp October month already! Today I'm really excited to share with you my Build Your Own Monster pattern exclusively for WeAllSew. There are thousands of ways to customize your own creepy (or cute!) appliqué to stitch onto a t-shirt or treat bag. I designed the pattern using reclaimed materials in hopes that you'll breathe life into unwanted fabrics or scrap materials and join me in adding to the 32 tons of textiles I've diverted from our waste streams.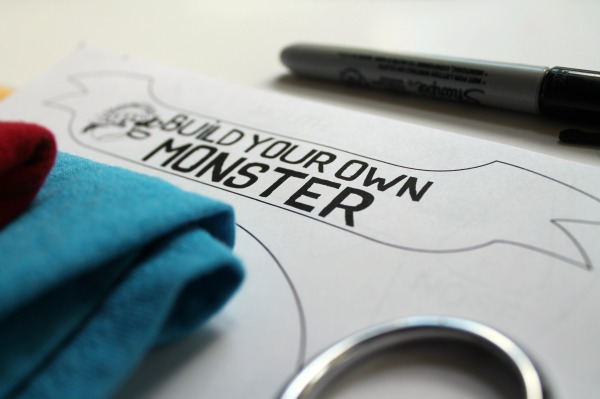 Materials
4 coordinating t-shirts or scraps
Pellon® Lite EZ-Steam™ II  or other fusible web
Thread
Iron and press cloth
Fabric marker
Shears
Sewing machine or hand-sewing needle
Download and print the Build Your Own Monster pattern: Build Your Own Monster Pattern
I'm committed to changing the way we consume and create –and calling you to action. To date I've diverted more than 32 tons of clothing from our waste streams with my reclaimed designs. Armed with your outgrown clothing and scissors, you can make a difference, too. The pattern instructions are created with the hopes that you'll breath new life into old fabrics and scraps. If you choose to use new materials be sure to prewash your fabrics. You'll be surprised at how easy it is to appliqué with knits. Once you've tried it I promise you will never look at a stained t-shirt the same way again! If you have any questions, feedback, or need assistance with this pattern please do not hesitate to contact me.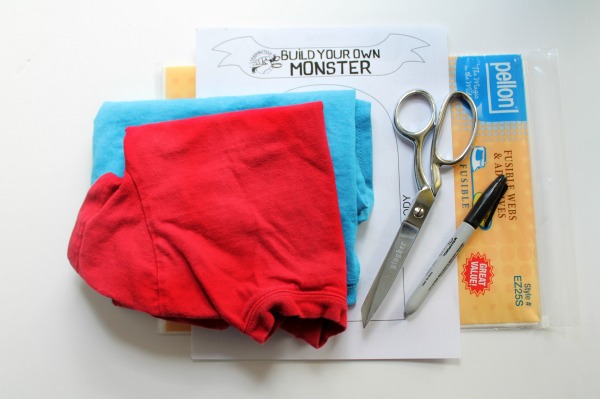 Design your very own monster using the pattern pieces – the shapes can be used many different ways and layered. Choose to add a nose, wings, or a spikey spine. Use your imagination! If you do not see a shape you'd like – cut your own!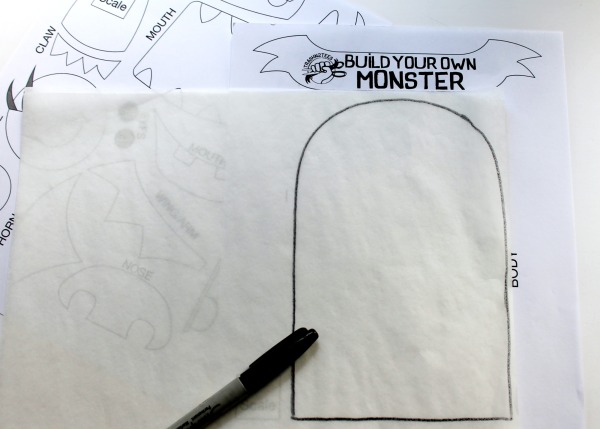 Start by tracing your pattern onto the paper side of the fusible web. For this project I chose to use Pellon® EZ-Steam™ II because it has a double-sided stickiness which is great for helping kids (and adults!) manipulate and reposition the facial pieces without frustration. Any fusible web will work.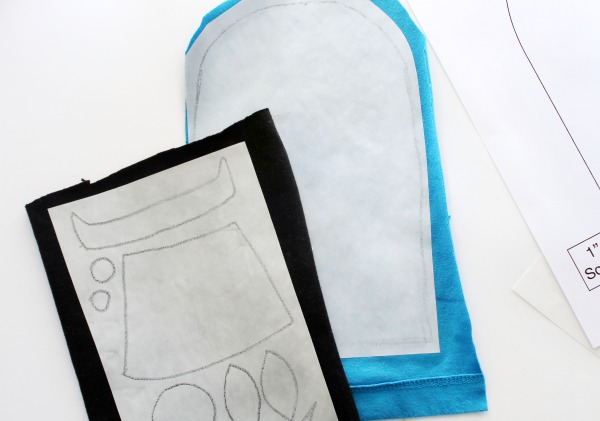 Heat press your monster shapes onto t-shirt material. Bonding time varies, so be sure to read the directions provided with your fusible web of choice.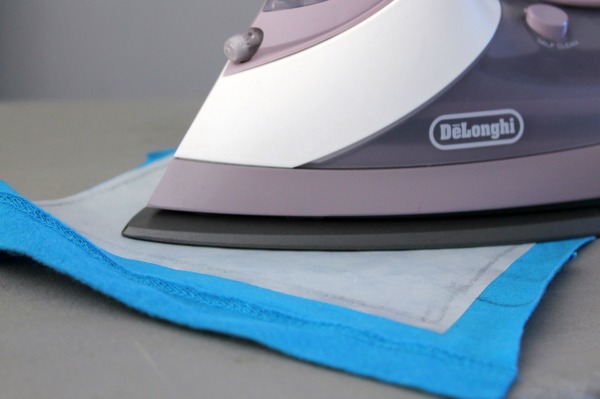 Tip: I leave a generous amount of paper around the pattern when cutting out. These bits are saved and used in other designs. Adding the fusible web helps to keep your appliqué in place before sewing. You might also want to place a piece of woven cotton fabric or lightweight cut-away stabilizer under the knit fabric to help it stay in place and keep it from stretching.

Mock up your design on the desired surface: t-shirt, pillow case, tote bag, etc.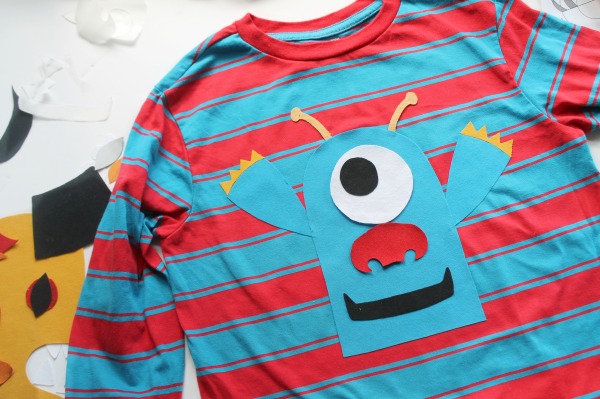 Fuse these pieces into place. Note that the process may need to be done in layers. For example, the mouth above is fused and sewn into place before coming back and adding the teeth.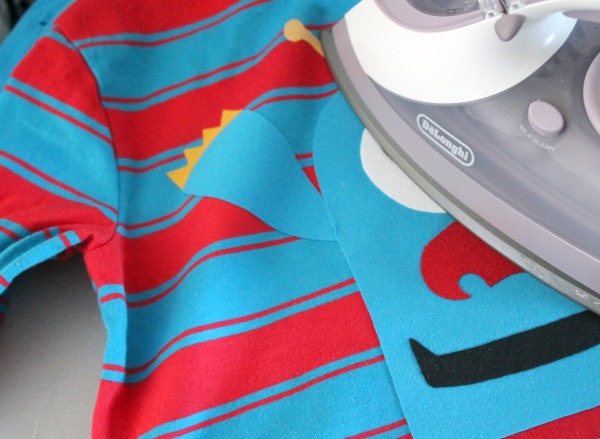 Sew around the edges using coordinating threads.
Tip: T-shirt material does not fray; I love using a crisp straight stitch around the edges. It's completely up to you; if you prefer a zigzag, use it!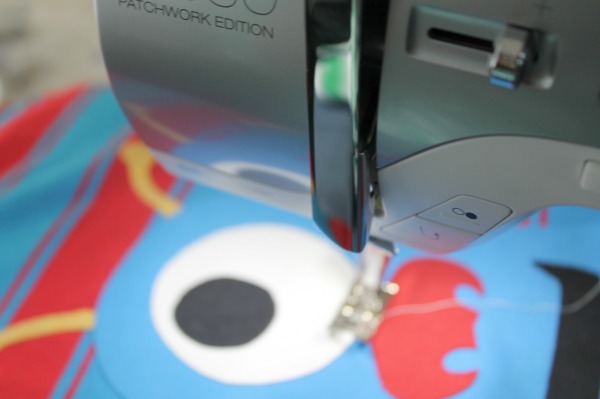 When you've finished your appliqué may look something like this. Great job! Appliqued tees are machine washable. For more tips on washing your applique t-shirts and keeping them fresh visit me on the TrashN2Tees blog.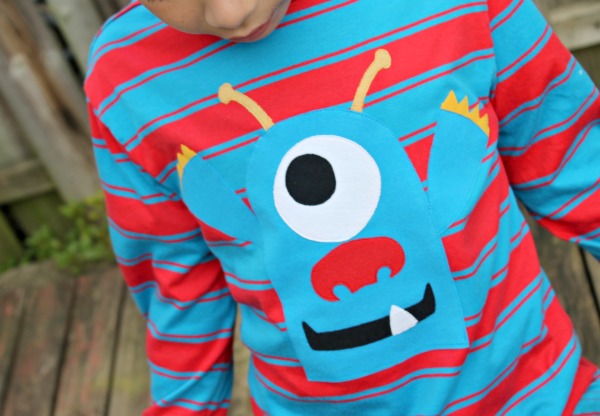 Let's have a monster mash party of our own! Share your finished projects on Instagram using hashtags #BYOMonster #berninausa #BerninaMonsterMash #TrashN2Tees
Projects

fashion, shirts

Techniques

applique, crafts
What you might also like
4 comments on "Build Your Own Monster Appliqué Shapes"