Cat Zipper Pouch Tutorial
It's that time of year once again. Summer is coming to an end and the kids are headed back to school. You may be busy buying new school supplies, clothes and getting them ready for a year of fun experiences and memories but make sure to send them to school with something homemade and from the heart that will set them apart from all the other kids. We thought it would be super fun to make "Max" the cat zipper pouch with a key chain for your littles to attach to their backpacks. Perfect size to add some lunch money, lip balm, and whatever other small trinkets they want to keep out and in the ready!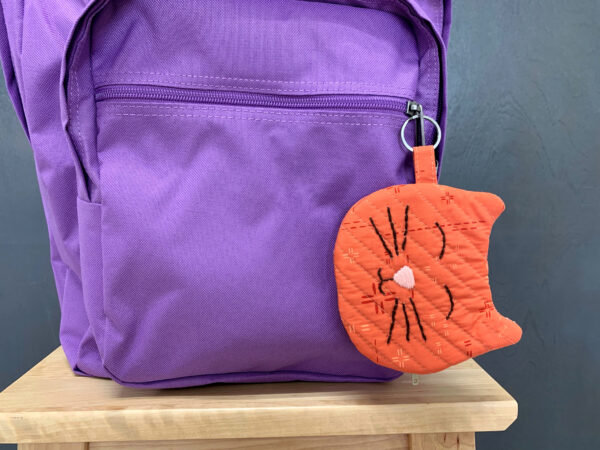 Have fun following along to the tutorial below and have a happy new school year!
Materials to Make a Cat Zipper Pouch
Batting
Woven Interfacing
Key chain ring
Embroidery thread
10″ zipper
Zipper Foot
Walking Foot
Blind Hem Foot
Download the Cat Zipper Pouch Templates here.
Fabrics Used:
Fabric A- DSE-713- Red Desert
Fabric B- DSE-706- Sunglow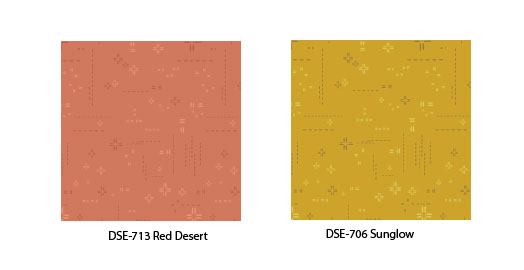 AGF Decostitch is a great blender print for this project choose from a variety of fun colors!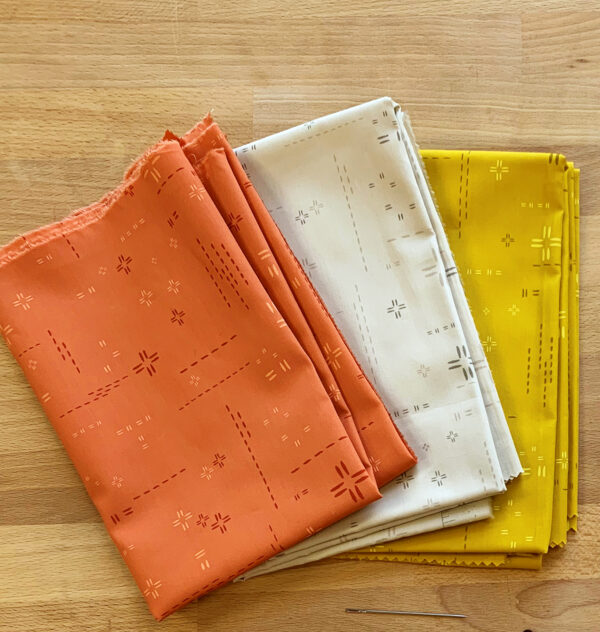 Cutting Directions:
Two (2) 6″ x 6 1/2″ rectangle from Fabric A, B, batting and
woven interfacing
One (1) 2″ x 2 1/2″ strip loop Fabric A (loop)
Step One- Quilting your pieces
Fuse a piece of woven interfacing to the wrong side of your rectangles from Fabric A. Sandwich a piece of batting between a Fabric A and B rectangle and sew diagonal lines
from corner to corner.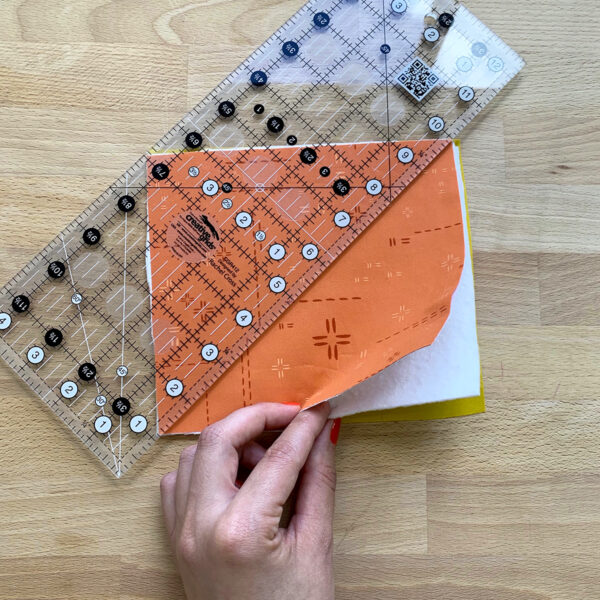 We always love to attach our walking foot to our machine to help create professional even stitches.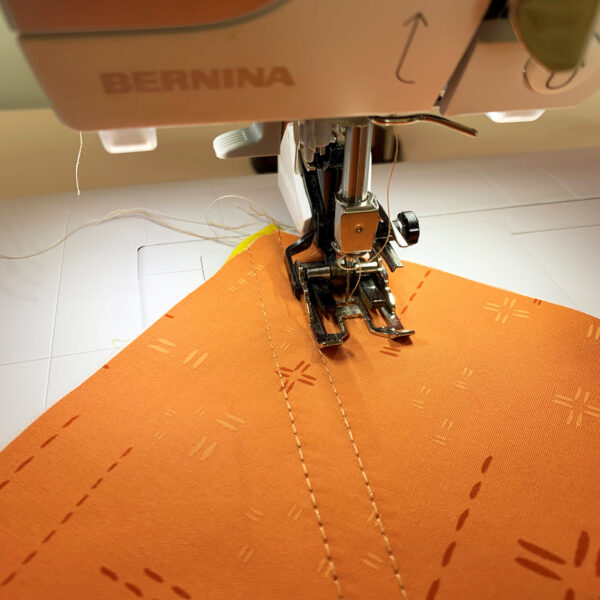 With the remaining Fabric A and batting repeat the same process.
Step 2- Tracing your pieces and Embroidery
Once your template is cut out, trace your front cat and back cat to your pieces. Cut out two sets of back pieces and one front face piece.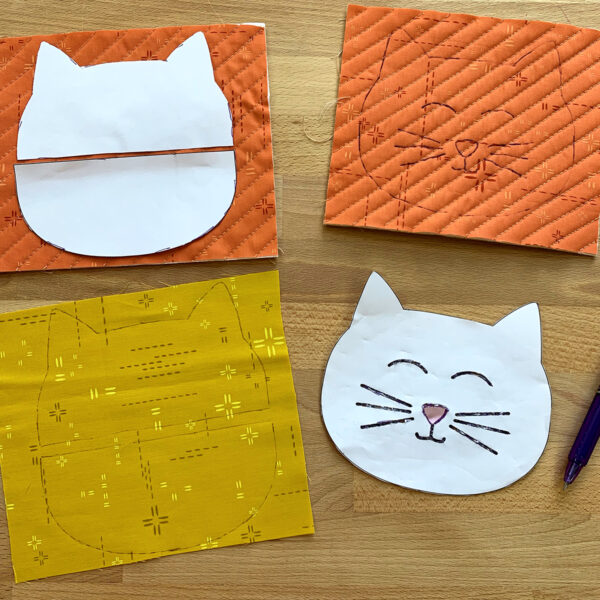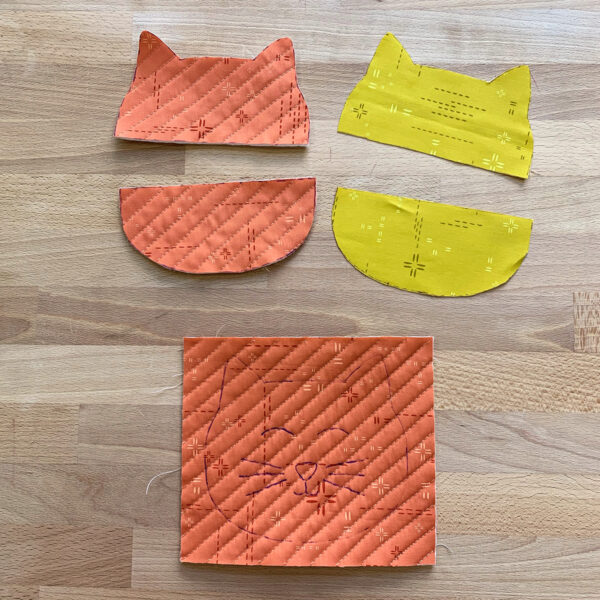 Stitch up your face with your embroidery thread of choice.
Step 3- Attaching the Zipper
Sandwich your zipper right sides down to your outer cat piece and place the lining piece on top making sure pieces are right sides together. Pin into place and with your zipper foot attached to your machine, make sure your needle is all the way to the left. Sew as close to the zipper teeth as you can.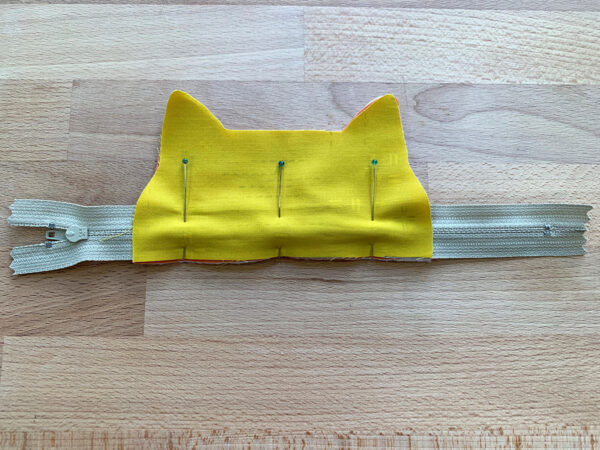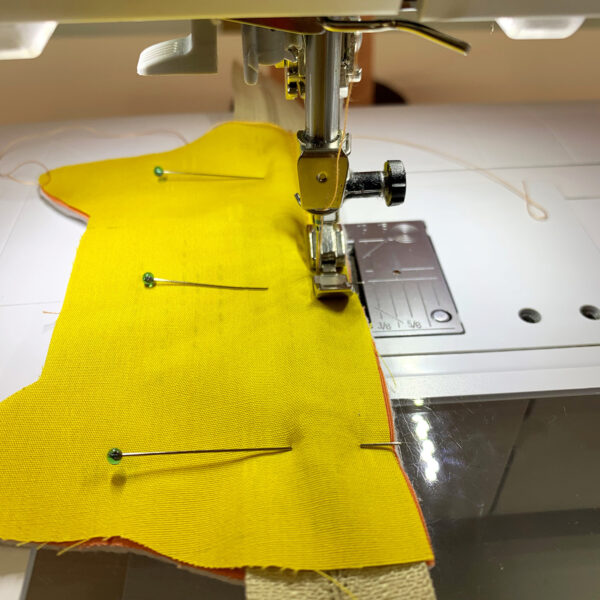 Edgestitch your seam allowance to your lining piece to make sure it won't get in the way when you zip and unzip your zip.
Repeat this step with the other side of your back cat.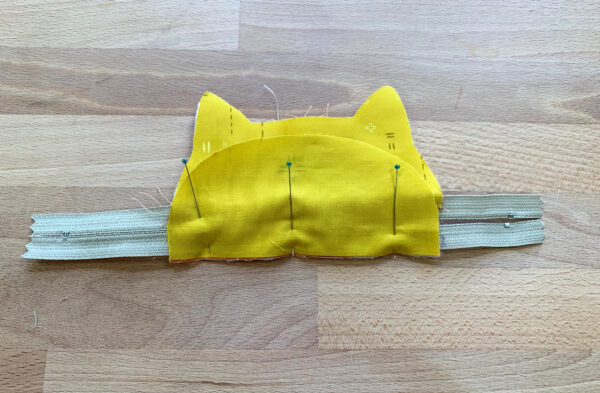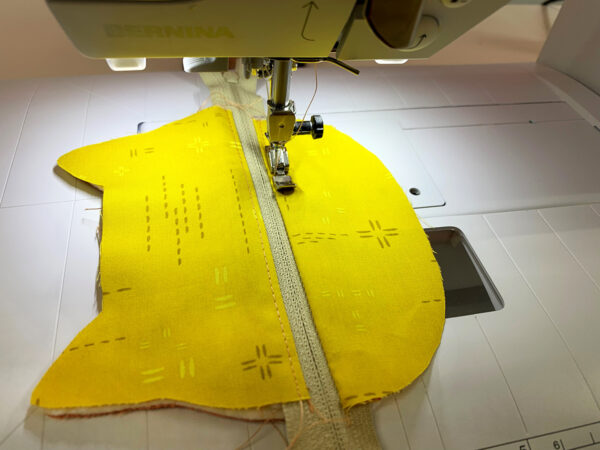 Once the zipper is secured, open zipper halfway and sew around your entire back cat to secure layers together.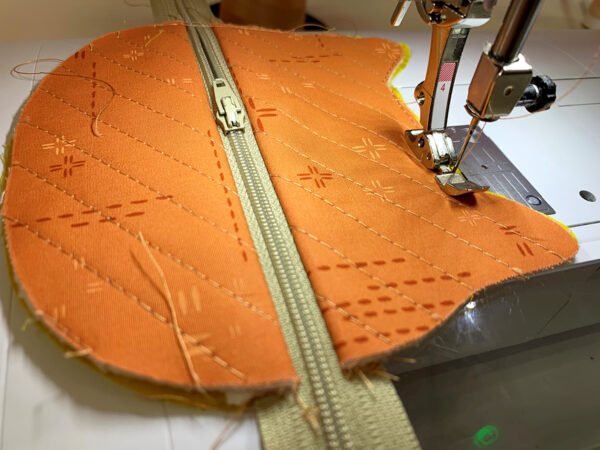 Step- 4- Finishing 
Make sure your back and front cat are the same sizes by using the back cat as a template to cut out your front cat.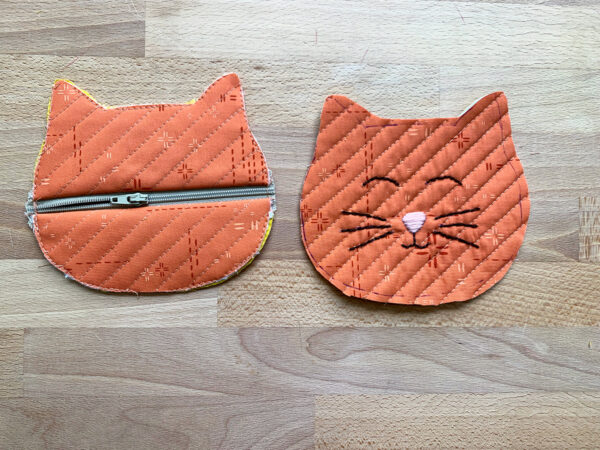 Make a loop with your 2″ x 2 1/2″ strip from Fabric A by folding the raw edges to the center of your strip and then folding in half and pressing to make a strap.  Topstitch on each side to secure your strap. We love using the blind hem foot to make perfectly straight lines by using the metal guide on the foot.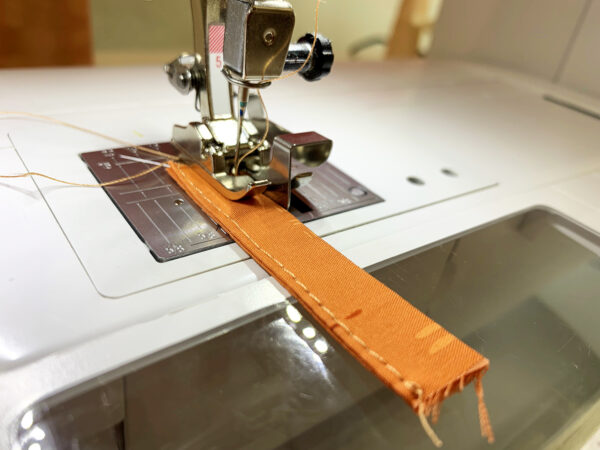 Thread your loop into the key chain ring and secure the ends together.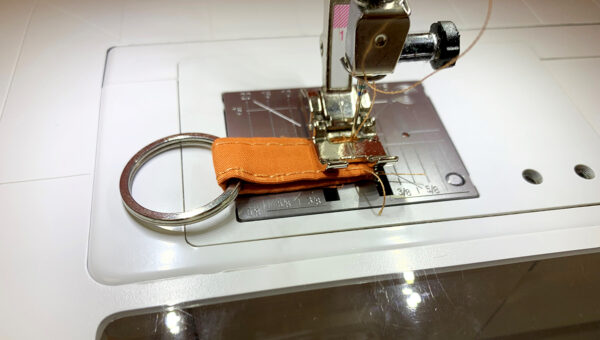 Secure it to the side of your front cat by basting it into place.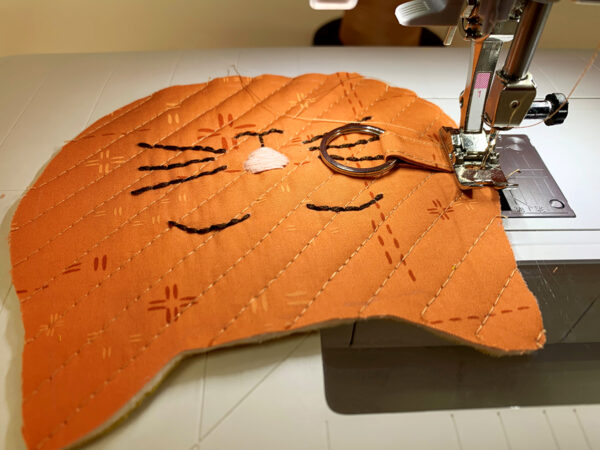 Place your front and back cat right sides together and stitch around your entire pieces at 3/8″. Make sure your zipper is open first! When you get to the ears lower your stitch length to 1.5.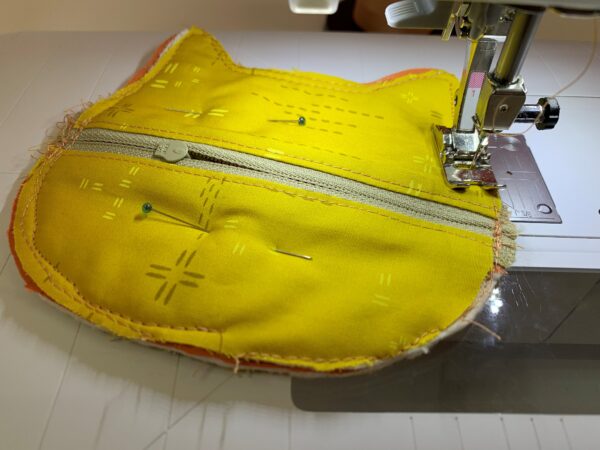 Flip the right side of your cat through the zipper and poke out the corners of your ears. Give your cat a good press and your Cat Key Chain pouch is complete!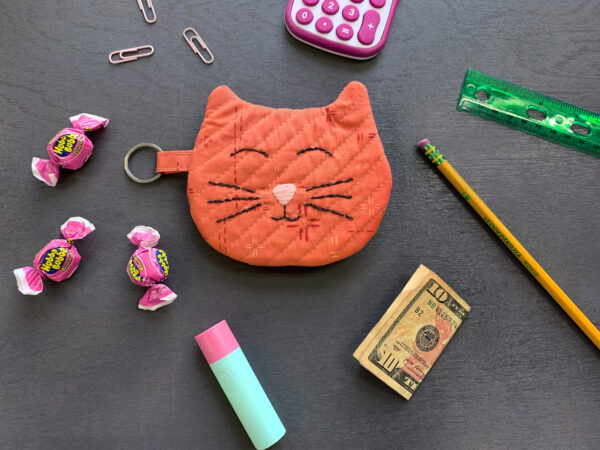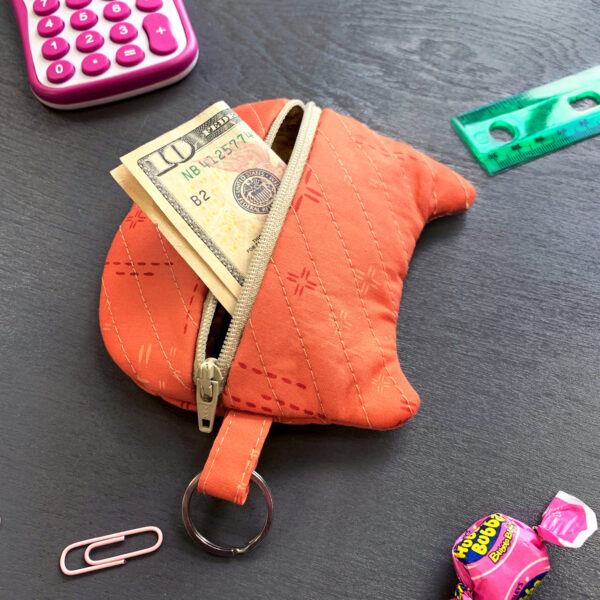 Difficulty level

Beginner

Time to Complete

Evening

Used Material

coordinating thread, cotton batting, cotton fabric, zipper

Projects

Accessories, pouch

Seasons

fall

Techniques

quilting, sewing, sewing a zipper, straight-line quilting
What you might also like
4 comments on "Cat Zipper Pouch Tutorial"