Diamonds Quilt Along, Part 3: Feathers
Welcome back to the Diamonds Quilt Along! I'm BERNINA Expert Amanda Murphy and this month we will be quilting the feature print in the borders and the center diamonds, as well as the feathers in the zigzag rows. The order doesn't matter in as by now you've done enough quilting that you can quilt these smaller areas without things shifting around elsewhere. Just take out basting stitches as you come to them.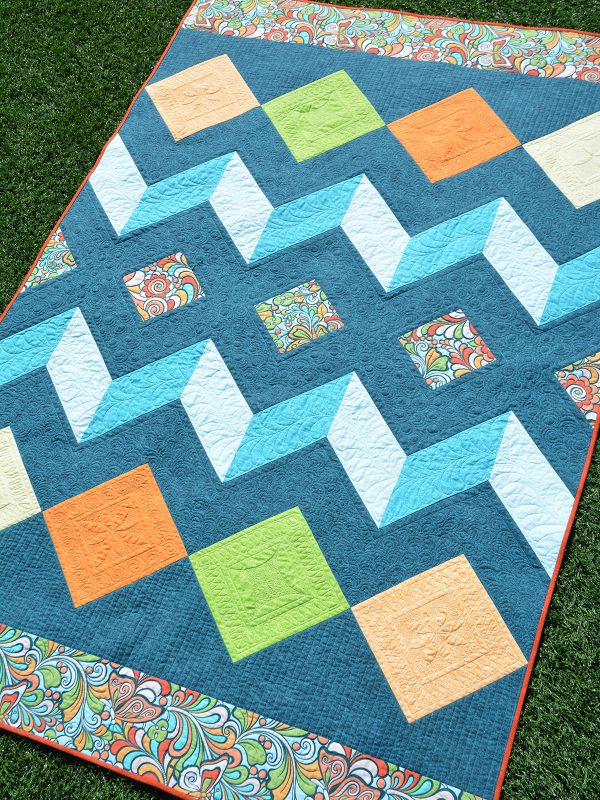 The Diamonds Quilt in the Harvest color story.
Quilting the Feature Print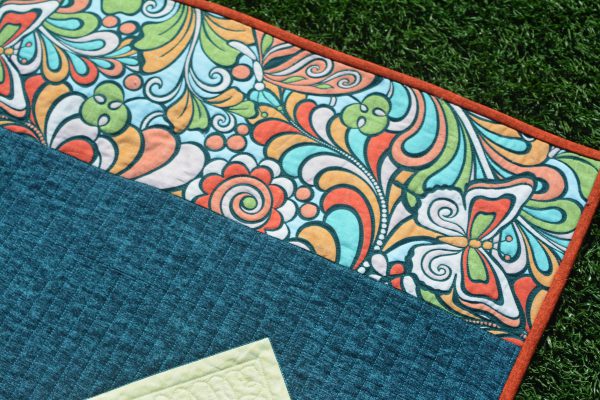 Quilt the center diamonds and the borders by following the lines on the Free-Motion Feathers fabric! I used Aurifil 2885, which matched the dark teal of the Harvest color story. Sometimes you will go over your previous lines and that is okay! If you have the optional laser light for a Q Series, the "always on" setting is great for this! You can use the BERNINA Stitch-Regulator in 1 or 2, or you can use the manual mode.
Quilting the Zigzag Rows
I used the 8" side (meaning it quilts the curve of an 8" circle) of one of my Every Curve Good Measure quilting template set to quilt the feather spines.
Download this pdf Diamonds_Post_3_Instructions for help with ruler placement.
On a Q Series I like to do rulerwork in BSR2 because . . .  I'll just say it again . . . being able to quilt with a ruler foot and still have stitch regulation is a huge advantage of these machines!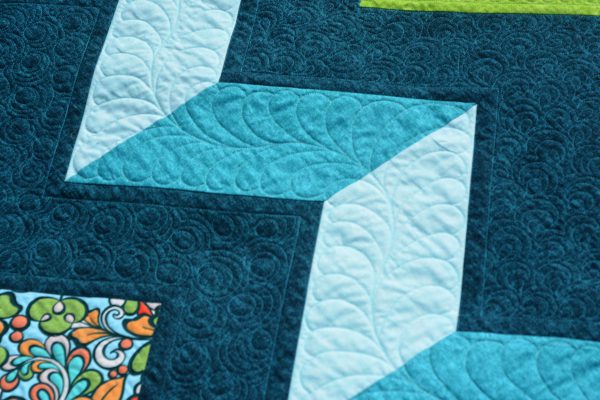 Detail from a Zigzag row.
If you don't have my Every Curve set you could use quilting rulers/templates with a similar curve or you could cut out an 8" circle and use it to draw a spine on your fabric, and then follow your line with a walking foot.
Watch this video to learn how to quilt the feather spine with rulers and how to quilt the feather plumes.
You can quilt the plumes in a stitch-regulated mode as well but I also love to quilt feathers in manual. Don't be afraid of manual mode—Manual Mode on a Q SERIES is Quilting Magic! Seriously it is my favorite! So smooth. There is nothing like it out there.
If you'd rather not quilt feather plumes, you could quilt swirl or leaf feathers. I'll be reviewing alternate designs on my Thankful Thursdays facebook live tomorrow in my Thankful Thursday sessions at 11 Eastern if you are interested in tuning in. You could also just quilt straight lines that follow the zigzags across the rows. Maybe leave some gaps for filling in with loops or fishbones or ribbon candy? The possibilities are endless!
For more on quilting on the Q Series or a domestic machine, join me on Thursdays at 11 am Eastern in my Facebook Group, Quilting with Amanda Murphy.
Special Note: For those who have asked or might be waiting for backorders of alternate color stories, BERNINA is making these posts and the accompanying videos available in perpetuity so you can join in anytime! I hope this takes some of the pressure off!
Next month we'll wrap up this project with the diamond motifs. I hope to see you then!
Happy Quilting and Happy Holidays too!
Amanda
Diamonds Quilt Along with Amanda Murphy
Seasons

all seasons
Used Products
What you might also like
One comment on "Diamonds Quilt Along, Part 3: Feathers"