Quilty Holiday Ornaments
Hello Everyone,
The month of December can sometimes be a bit stressful with so much to do it's hard to actually enjoy the holidays as much as we should. It's time to stop stressing about presents, parties, and preparations. Enjoy the holidays by taking time out of your day to sew something cute. Give these Quilty Holiday Ornaments a try, they will for sure get you into the holiday spirit. We made our Quilty Ornaments with Little Town fabrics and smooth denim from the AGF Denim Studio and paired it with lovely decorative stitches and quilting.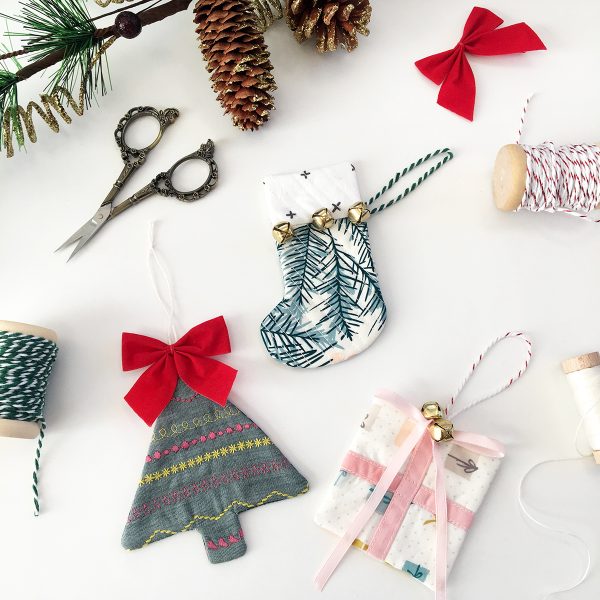 To help make your Holiday sewing a bit easier scroll down to the end of this post to find our Holiday Bundle Fabric Giveaway!
Materials to Make Quilty Holiday Ornaments
Sewing machine (we use a BERNINA 350 PE)
Open embroidery foot #20/#20C/#20D
Basic sewing supplies
Download the Holiday Ornament Templates here
To make the Tree Ornament
One (1) 6 1/2″ x 7 1/2″ rectangle from DEN-S-2002-Cool Foliage
One (1) 6 1/2″ x 7 1/2″ rectangle from LTO-8231- Winterberry Spice
One (1) 6 1/2″ x 7 1/2″ rectangle from batting
Small decorative red bow (we got ours from the dollar store)
6″ string
To make the Stocking Ornament
One (1) 2 1/2″ x 12″ strip from WND-1538 – Your Heart Pure
One (1) 4″ x 12″ from LTO-8236- Be Merry
One (1) batting 6 1/2″ x 12 1/2″
6″ string
Three jingle bells (we got these from the dollar store too 🙂 )
To make the Gift Box Ornament
Two (2) 3 1/2″ squares from LTO-9239- Gifted
One (1) 3 1/2″ square from batting
One (1) 1 1/2″ x 12 1/2″ strip from PE-420- Crystal Pink
6″ string
18″ pink ribbon
We love using Bernina's decorative stitches in our projects! Use contrasting color threads to make your project pop!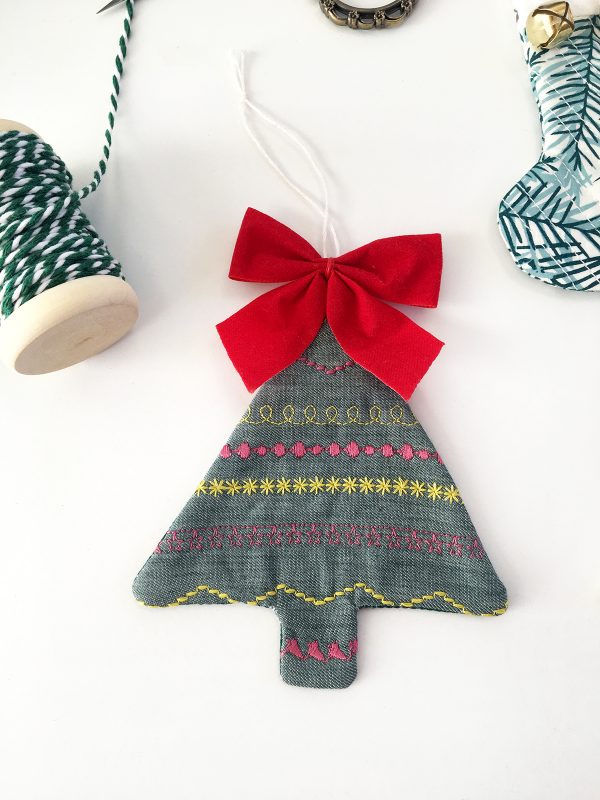 One of our favorite features on our Bernina is the Free Hand System! The Free Hand System is a good way to raise the presser foot temporarily when you want to pivot at the corners make sure to have  the needle down position engaged! When you get to the corner to pivot, use your right leg to raise the foot, turn the fabric to the new direction, release your leg to lower the foot and begin sewing again.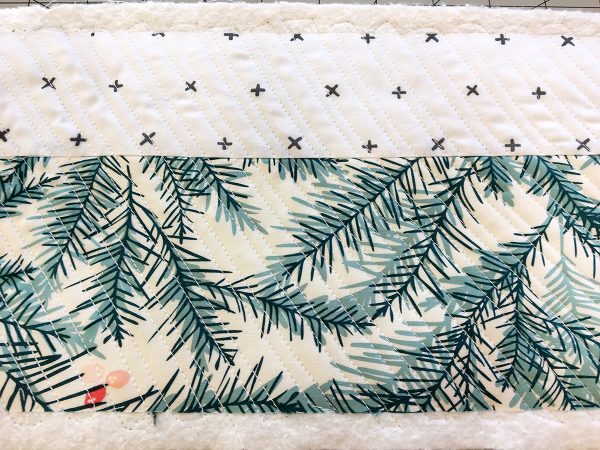 To make your strips on your present ornament attach your Blindstitch foot and line your strip up with the metal guide and stitch as close to the sides of the strip as possible. Make sure your needle is all the way to the left.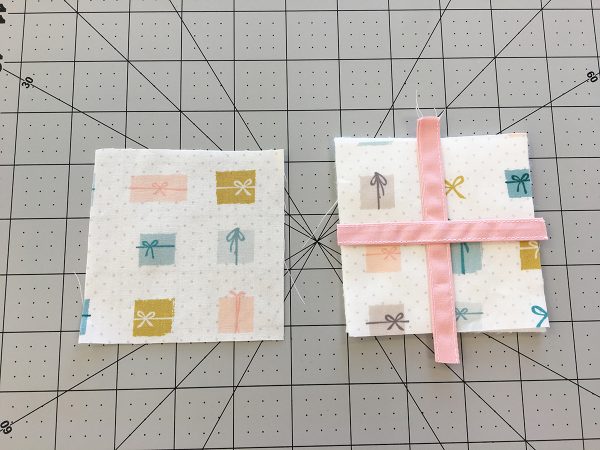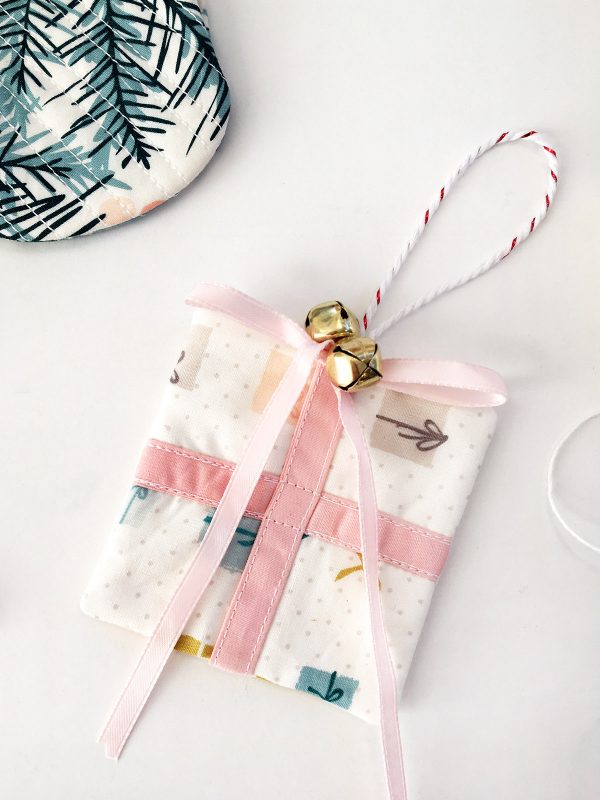 Holiday Fabric Bundle Giveaway!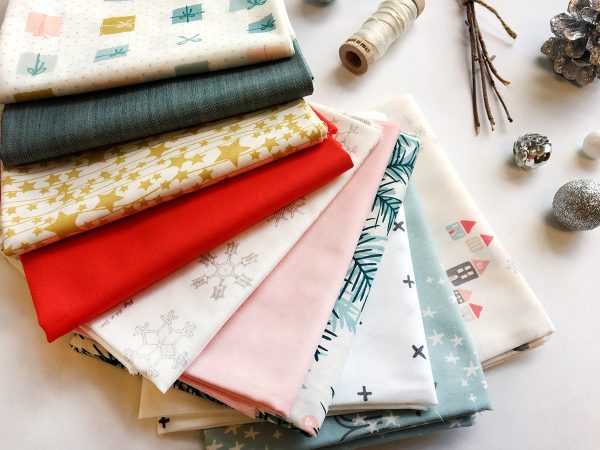 One Lucky WeAllSew fan will win a fabric bundle from Art Gallery Fabrics!
All you have to do is post a comment below and answer the question, "Do you have a handmade holiday decoration that has a tradition in your holiday celebration?" The the giveaway is open through Tuesday, December 19!
The giveaway is open to residents of the 50 United States and the District of Columbia. One comment per fan. Comment must be submitted to the WeAllSew.com blog by Tuesday, December 19 at 11:59 PM Central Time. Winner will be chosen randomly. Winner will be notified by email and will have 48 hours to contact to claim the prize.
Happy Holidays,
AGF
Difficulty level

Beginner

Time to Complete

Evening

Projects

Crafts, home décor

Techniques

decorative stitches, quilting, sewing, sewing a seam, straight-line quilting
Used Products
What you might also like
98 comments on "Quilty Holiday Ornaments"