How to Choose Thread: What You Need to Know
Are YOU confused about thread? Do YOU have trouble decoding spool labels? When you shop, do you always buy the same brand? If so you are not alone!
As we continue our Get Started with Free-motion Quilting series, let's take a closer look at thread and learn what every quilter and sewist needs to know when choosing thread.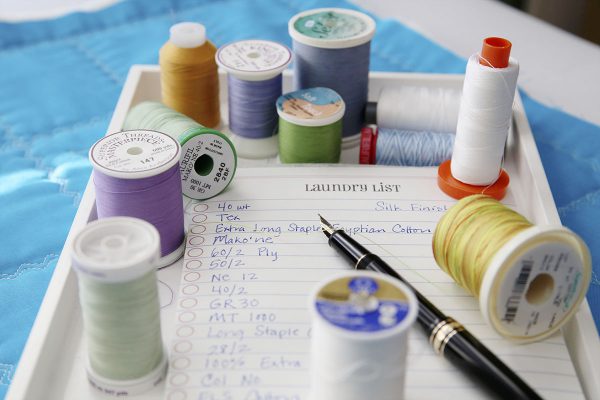 Color is only one characteristic of thread to consider!
I'm Lori Kennedy of LoriKennedyQuilts.com and for years I chose thread strictly by color. One day I (inadvertently) brought home a new spool. As I began free motion quilting, I noticed my stitches and motifs looked better! That's when I realized I needed to experiment with and learn more about thread. While there are threads called "all-purpose," I was soon reminded of the old expression, "A jack of all trades is a master of none!" There's a wide, wide world of thread out there, and once YOU learn how to use different fibers, weights, and sheens, you will enjoy stitching so much more!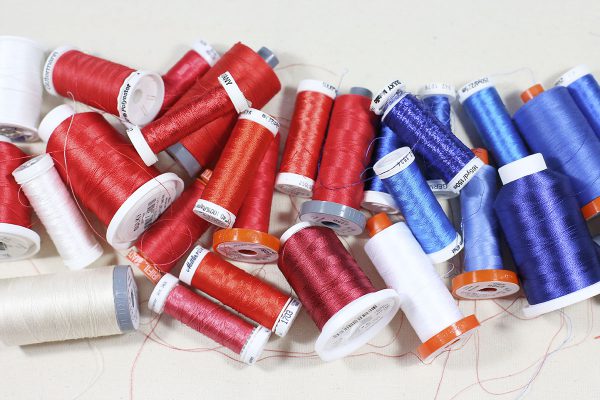 Match the Thread to the Task
In every sewing and quilting project, thread is used in a variety of ways. Each of those "jobs" has different requirements. First, think about the job it will have, then consider the characteristics (strength, weight, sheen, and color) in order to choose what is best suited to the task.
Quilting
Piecing
Stitch in the ditch quilting
Texture Motifs
Focus Motifs
Bobbin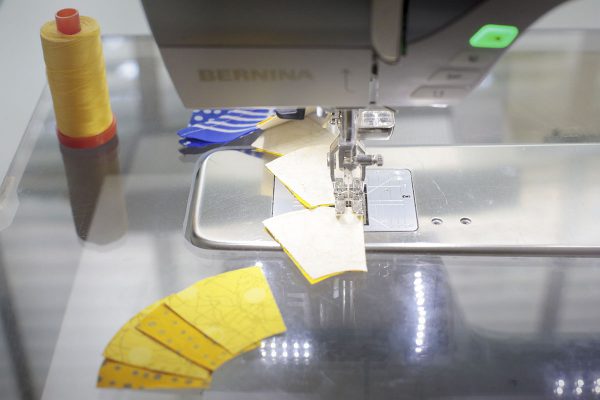 Sewing
Construction
Basting
Overlocking
Topstitching
Bobbin
In general, thread used for construction and piecing should be strong enough to tolerate stress, but not add bulk. When stitching seams, strength and weight are important, while color and sheen are less important.
On the other hand, decorative tasks like quilting, embroidery, and topstitching are not subject to as much stress. Consequently, we are free to choose for sheen and color rather than strength.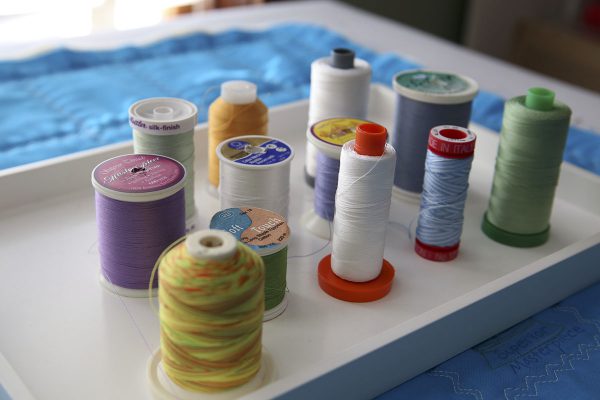 Understanding the Fibers
Manufacturers manipulate various fibers to emphasize characteristics like strength, weight, sheen, and color.
Fiber Types
Cotton, Polyester, Silk, Nylon, and Rayon are the most common fibers used in quilting and sewing.
Cotton
Cotton is a natural fiber commonly used in quilting and sewing. It has average strength and mid to low sheen. Short pieces of cotton, known as staples, are wound together to create thread. Look for Long Staple (LS) or Extra Long Staple (ELS) for quilting or sewing. Short staple cotton is weaker and best used for basting or overlocking.
Polyester
Polyester is a very strong, smooth synthetic fiber and can be found in low and high sheen. It is suitable for construction as well as decorative purposes. Some quilters used to avoid piecing with polyester. They feared that strong polyester thread would tear the weak cotton fabric. However, most quilters now agree that modern fabrics are better and polyester is suitable for construction.
Silk
Silk thread is made from the cocoons of the silkworm larvae. This natural fiber is strong and has high natural sheen. Silk takes dye well, thus a beautiful array of colors are available. Because silk is the most costly fiber, it is usually reserved for decorative topstitching and quilting.
Rayon
Rayon is a synthetic fiber derived from wood pulp. Like silk, Rayon thread is high sheen and comes in a wide variety of colors. Rayon is not as strong as other fibers, therefore it is usually reserved for decorative embroidery, quilting, and topstitching.
Nylon
Nylon is a synthetic fiber that is strong, smooth, and lint-free. Nylon thread melts when subject to high heat and may discolor when subjected to UV from the sun. It is often used to create invisible and texture quilted motifs and in the construction of home dec projects.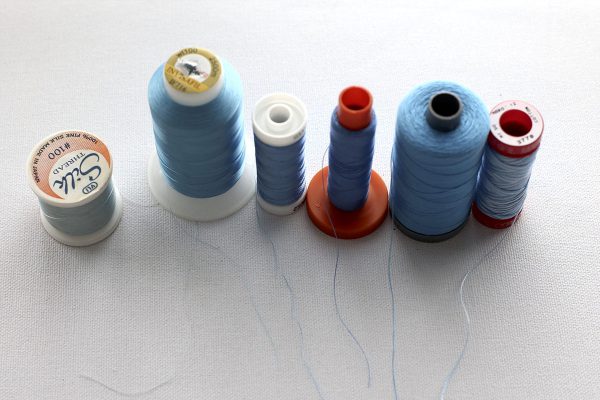 Understanding Thread Characteristics
Weight
Weight plays a role in how strong the thread is and how visible the stitched line will appear. This is important because sometimes we want stitching to be invisible and other times we want it to be the star of the show.
Thread weight is measured on a continuum from light (fine) to heavy. The numbering is confusing because as the weight number gets bigger, the thread gets thinner. For example, 100 wt thread is very light (thin), whereas 12 wt thread is heavy (thick).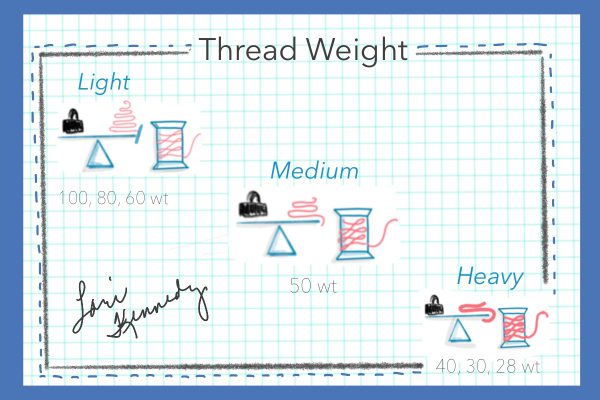 Let's look at why. Thread is measured on a fixed weight system. A fixed weight is placed on one side of a balance, then the thread is spooled out until the scale is balanced and the length is measured. This is the thread "weight," but it's actually a length! It takes a lot longer piece of thin thread than heavy cording to balance the scale.
In general, heavy thread is stronger, bulkier, and more visible than lightweight thread.
If you want to see the thread (topstitching or focus motifs), use a heavyweight thread (40, 30, 28 wt).
On the other hand, if you want it to be less visible, choose a lightweight thread (60, 80, 100 wt).
For construction, choose a weight that is strong but not bulky (most quilters like 50-80 wt).
Unfortunately, there is not a uniform method for measuring weight across manufacturers. When looking for weight classification on a spool label, look for a number with the abbreviations WT, NE, or TEX. Each company uses its own standard. As a result, 50 wt thread from one company may look more like a 30 wt from a different brand.
Inspection Method
While it is helpful to understand the basics of how thread is "weighed", it is more important to understand how to analyze it for yourself.
To determine the relative weight of fibers in your collection, I recommend the simple Inspection Method. Every time you use a new thread, spool out a length of it and look at it, then create a stitched sample. Compare it to other threads in your collection. By comparing, you will be able to distinguish weight, on the continuum from light to heavy, without decoding spool labels.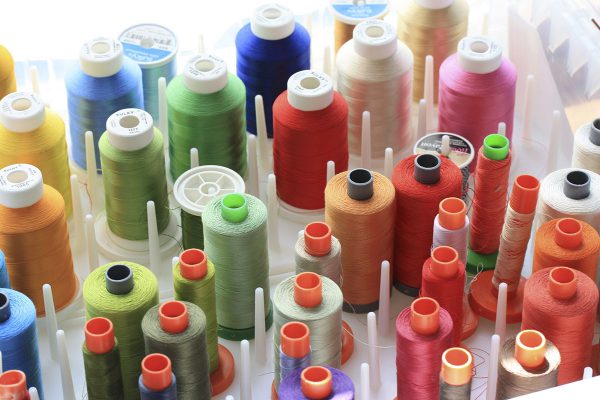 Sheen
When choosing a thread for any project, the sheen or reflective quality may be important. For decorative stitching, the glossy look of a high sheen fiber adds a beautiful design element.  On the other hand, low sheen cotton might look more appropriate on a homespun quilt.
Sheen is determined by fiber and the manufacturing process. Some fibers, like silk and Rayon, are highly reflective and are beautiful for decorative tasks. Polyester, depending on how it is manufactured, may be low or high sheen. Cotton thread is low to mid sheen.
Sample a variety of fibers across several manufacturers to compare sheen. Be sure to stitch samples!
 Strength
Strength is determined by fiber, weight, and the manufacturing process. When strength is important, choose nylon, polyester, silk or cotton. For construction and piecing, look for thread that is strong enough not to break, without adding bulk. For decorative tasks, when strength is not a consideration, consider Rayon for and all the other fibers. If your thread breaks frequently, try a heavier-weight version of the same thread or switch to a different fiber.
 Color
Color is determined by fiber and the manufacturing process. Silk and Rayon accept dye very well so these fibers are usually available in the widest range of colors. Some manufacturers offer two colors twisted together for interesting effects. Many brands sell variegated colors for decorative techniques.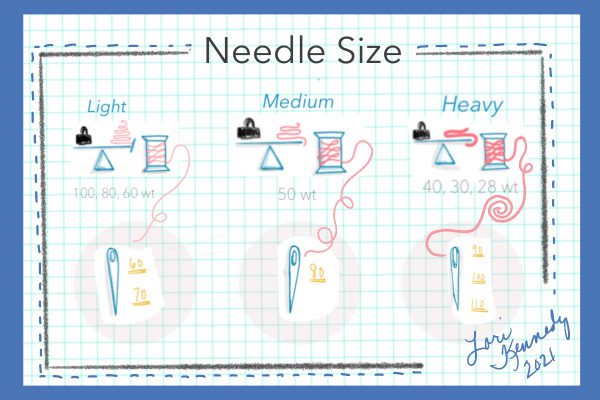 Needle Size/Thread Weight
It's important to remember that needle size is determined by thread weight. Avoid skipped and broken stitches by changing needle size whenever you change weight being used. (The type of needle: Universal, Topstitch, Jeans, Ballpoint, etc is determined by the sewing application and fabric.)
I like to remember this: Size 80/12 needle is used for size 50wt thread.
As the thread gets heavier (smaller number) use a larger needle (larger number). As it gets finer, use a smaller needle.
Start Today!
Look through your collection and sort the spools by fiber.
Within each fiber category, use the Inspection Method to evaluate relative weight.
Stitch a few samples of each fiber and each weight in your collection.
The next time you visit your local quilt shop, challenge yourself to try a new brand.
Visit my blog, LoriKennedyQuilts.com, and pick up one of my books at LoriKennedyShop for more tips.
Be sure to watch for the next installment of Getting Started with Free-motion Quilting—Designing with Thread!
Get Started with Free-motion Quilting Series
How to Choose Thread: What You Need to Know
Difficulty level

Beginner

Time to Complete

Evening

Seasons

all seasons

Techniques

garment sewing, quilting, sewing
What you might also like
2 comments on "How to Choose Thread: What You Need to Know"