How To Create Embroidered Note Cards
I made a set of ten of these cards this week for some friends. I found myself saying 'just one more' when I was working on these, and what started as five cards quickly turned into ten, and two or three rows of stitching quickly turned into fifty. Break out your favorite threads, turn on some good music, and have fun layering machine stitches and hand embroidery.
If it's been awhile since you've used your sewing machine, or if there are some stitches you've been meaning to try out, this is a great way to jump back in since the paper is so stiff and easy to work with. Plus- spring is a great time to send a handwritten note! I can also imagine this technique getting applied to artist trading cards. Organize a swap meet or find a pen pal…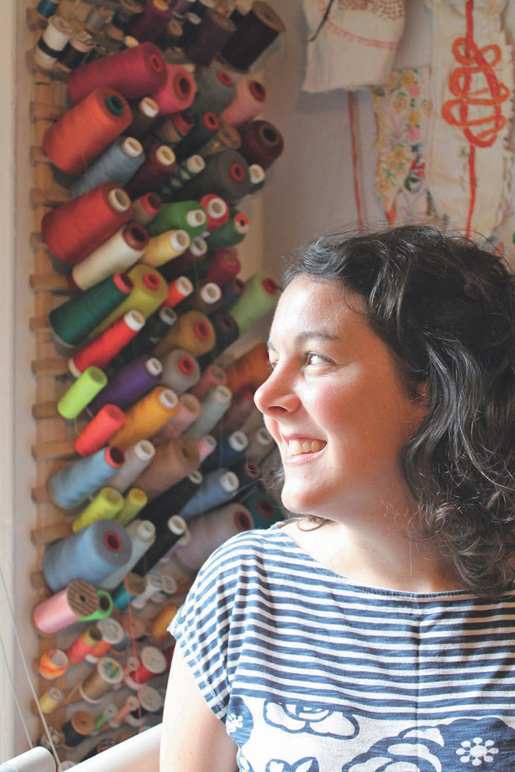 These pretty and unique note cards are made with a combination of hand-embroidery and machine-sewing techniques. Paper is a great material on which to practice stitching with your sewing machine. Unlike fabric, it doesn't shift while you're sewing it; instead, it stays flat and stiff, which makes it especially easy to work on. For these cards, I used an extra-heavy-duty (size 16/100) machine needle to create holes big enough for my hand stitching. You may find that the needle is dull after you've used it on paper, so be sure to test it on a piece of scrap fabric before moving on to a delicate project. Once you've gotten the hang of making these cards as instructed, try incorporating your own ideas. For example, you might want to try adding extra layers by collaging paper onto your cardstock with a fast-drying glue stick and then stitching through the extra layer(s). I used this technique to add the photo of an office building to one of my note cards above.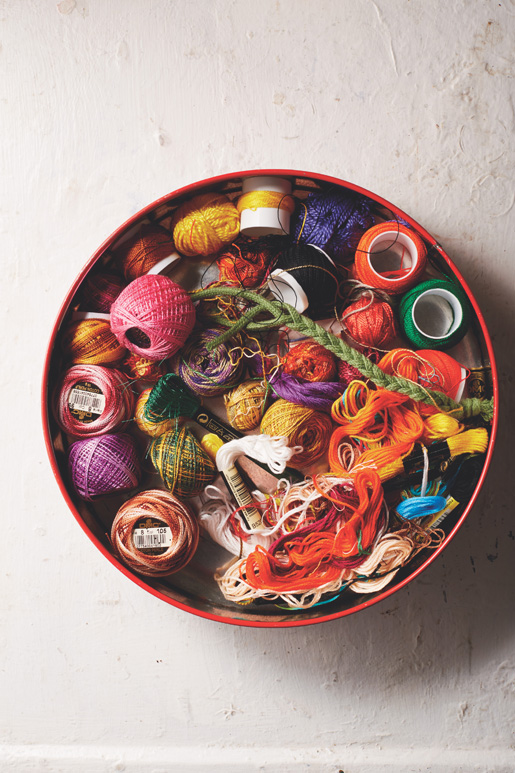 Materials
Note cards and coordinating envelopes in the color(s) and size(s) of your choice
Cardstock or index cards in the color(s) of your choice; I used 8 x 5″ (20 x 13cm) index cards to make foldover cards
Sewing machine
Sewing thread
Sewing-machine needle, size 16/100
Embroidery (crewel and/or chenille) needles
Embroidery floss in one or more colors
Sewing-machine twin needle (optional)
Cone thread stand (optional)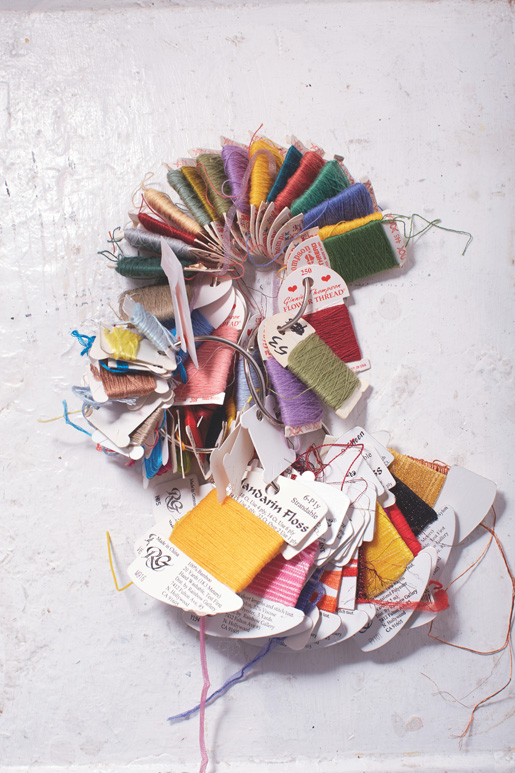 1 ) Before starting this project, spend some time practicing using the machine to make perforated lines on extra cardstock or index cards. With no thread in either the needle or the bobbin, "stitch" a set of straight lines. Try this a few times until you can confidently make straight parallel lines.
2) Now try the same thing on your good cardstock or blank cards. I suggest spacing your lines 1/4″ (5mm) apart to begin with. Then, using a needle and thread, hand sew running stitches into each of those lines. Alternate the colors or make them all the same color. Experiment!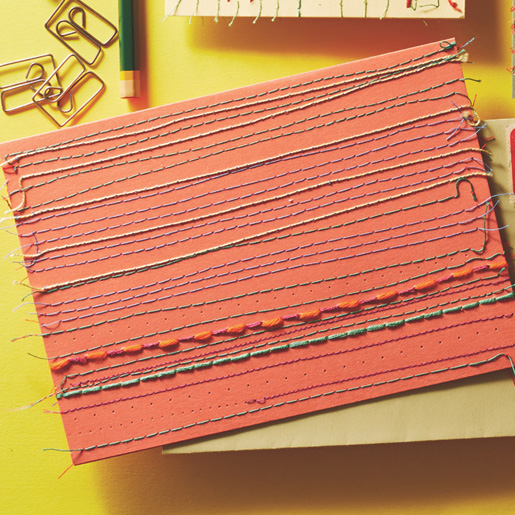 3) If desired, add some machine-stitching. Try alternating colors, or adding a new color of thread with each new line. To make perfectly parallel lines, use a twin needle and two threads. If your machine does not accommodate two spools, you'll need to use a cone thread stand for one of your threads; or use two cone stands if you're using cone thread for both colors. (See the illustration below for help with loading the stand.) Make an accompanying envelope by sewing the same stripes on the flap. Since rethreading your machine with a new color each time is time-consuming, you may want to work on more than one card at once. Combine hand-stitching and machine-stitching for a varied design.

 4) To add a stem-and-leaf motif, first use the sewing machine to stitch a thick stem from top to bottom by stitching forward and backward. Next, slowly begin to build up the leaf shapes on a diagonal.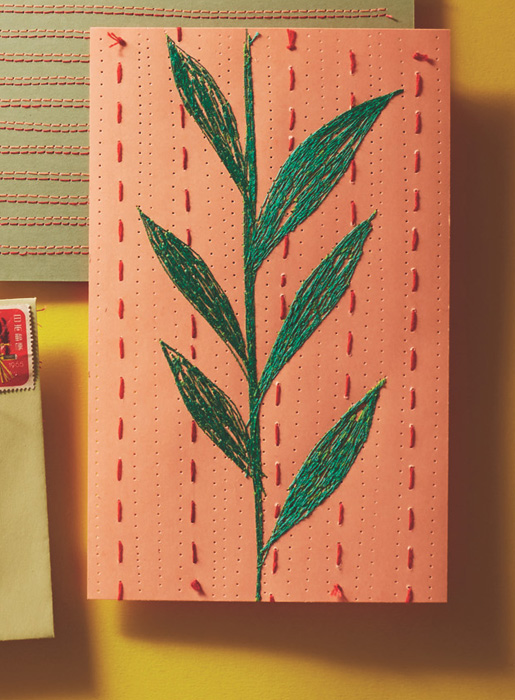 Who would you like to send a spring greeting to? An old friend, a cousin, or a former classmate you've lost touch with? Reply in the comments and tell us who might like to receive one of these note cards, and you'll be entered for a chance to win a copy of my new book, Rebecca Ringquist's Embroidery Workshops, out this week!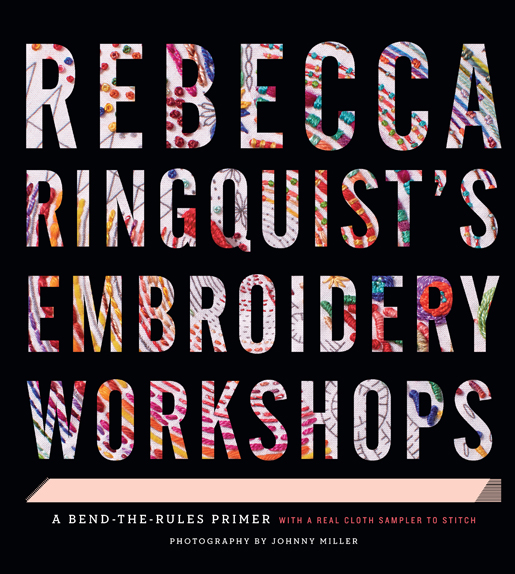 NO PURCHASE NECESSARY TO ENTER OR WIN.  Open only to legal residents of the 50 United States and Washington D.C. who are over 18 years of age as of date of entry. To enter, reply to the blog post question on the BERNINA blog (https://weallsew.com/). Limit one (1) entry per person. Contest begins at 9:00 AM CST on Wednesday, April 15, 2015, and ends at 12:00 AM CST on Wednesday, April 22, 2015. 1 grand prize winner shall be selected in a random drawing to receive a copy of Rebecca Ringquist's Embroidery Workshops (ARV $29.95). For full official rules click here. Void where prohibited.
Techniques

crafts, embroidery
What you might also like
38 comments on "How To Create Embroidered Note Cards"