How to Sew a Kids Busy Book, Part 1: Rainbow Page
Welcome to Month One of the BERNINA Busy Book series. We are going to have so much fun learning about popular BERNINA feet, useful sewing techniques, and how to make the engaging Busy Book pages. By the end of this 10 month series, you will be on your way to making your own pages with your own ideas. In month 10, I will show you how to put your Busy Book together in a way that you can add, remove, and rearrange pages.
Let's get started with the first month. Each page will be 10" x 10'" finished. For the background fabric, you can select fabric each month or all at once. If you want to coordinate your background fabric, pre-cut 10" squares (sometimes called 10×10's or Layer Cake) are nice options. These fabric sets have 42 pieces of 10" x 10" fabric from the same fabric collection. You'll have lots of fabric leftover to make pages in the future. Or you can buy 2 yards of the same fabric to create the same background for every page.
Materials to Create a Busy Book Page
10" x 10" background fabric (purchase 3 yards if making all page backgrounds the same)
50 weight thread
Rotary cutter & ruler
Rotary cutting mat
Scissors
Iron and pressing mat
Roxanne Glue-Baste-It or similar glue stick/pen
Temporary fabric marker
Pins
Additional Materials for Rainbow Page
7 colors of felt (rainbow colors)
White felt
50 weight thread in matching colors
¾" Velcro roll (hook and loop tape)
Rotary ruler 10" square or larger
BERNINA Machine and Feet
Choosing Background Fabric for Each Page
There are a few options when choosing the background fabric for each busy book page. The simplest option is to find one fabric for all the pages. Purchase 3 yards so you have plenty if you decide to use it for binding or you make additional pages in the future. Another option is to purchase 10" square pre-cut fabrics (sometimes called layer cake). This precut set comes with 42 coordinating pieces of 10" x 10" fabrics, usually from the same fabric collection. Your third option is to buy coordinating fat quarters. Around 10 will be plenty, as you can cut at least 2 pages from each fat quarter. I purchased black and white fat quarters for my busy book. Lastly, you can choose fabric as you go. If deciding everything up front is not your style, select fabric for one page at a time.
Choosing Felt for Each Page
If you have been sewing and crafting awhile, you probably have felt laying around. Collect your felt pieces and get ready to use them! If you need more felt or don't have any, browse the felt selection on etsy.com. I found some nice felt color collections in a wool/rayon blend that is resistant to pilling and pulling, easy to cut, and affordable. Because the blend didn't stretch as much as other felt, it was much easier to sew also.
Background Page
Press your 10" x 10" fusible stabilizer to your background fabric with a dry iron for a few seconds until the fabric adheres to the stabilizer. I am using OESD Clean & Tear Fusible Stabilizer. One side of each page will have buttonholes to insert ribbon or binder rings. Add a strip of temporary adhesive tape down the left or right side, depending which way the page will face. The tape will remind you to leave this area clear of embellishments.
Rainbow
Decide your 7 felt colors. Cut each color 3/4" x 10".
Felt is flexible and can be molded with an iron and a little steam or Best Press. On your ironing mat (preferably a wool mat), place your strips in a row. Slightly curve them to the right and press with steam or Best Press. Curve them a little more and press again until you have a nicely arched rainbow. Let strips cool to maintain shape.
Place your rainbow onto the busy book page. Adjust and center the strips until they look similar to the picture below.
Carefully fold down half a strip and place dots of glue to secure the felt. I am using Roxanne Glue-Baste-It temporary glue. Fold bottom of strip to the top and glue other half of strip. Do the same for rest of felt strips. Keep everything as snug as possible. Set page aside.
Raindrops
Draw or find and print a free raindrop template. You will need 7 raindrops. You can draw these freehand, or find a graphic online. I found mine by searching Google for raindrop templates. In the printer settings, decrease the size until you get a raindrop that is about 1 1/2" x 1 3/4".
Place your template under the Heat N Bond fusible and trace the raindrops. Do not use a Frixion pen as the lines will disappear when we use the iron. Cut the Heat N Bond into rectangles around the raindrops. Don't cut on the drawn lines yet. Set your iron to medium without steam. Place the adhesive side of Heat N Bond onto matching rectangles of the felt colors in your rainbow. Press for a few seconds at a time until the entire adhesive has bonded to the felt. If you bonded the adhesive correctly, the paper liner will come off easily.
Let cool and cut out your raindrops. Set aside.
Cut 7 hook and loop pieces about 1/2" long from your 3/4" roll. Cut 2" x 2" felt squares of the same colors as the raindrops. Attach BERNINA Piping Foot #38. This foot is sometimes called the "uneven foot" because the right side of the foot is higher than the left side, which makes it great for uneven sewing surfaces. Piping, thick trims, and Velcro are easy to sew with this special foot. Select Needle Stop Down so you can turn the corners without the fabric shifting. Sew the Velcro with the right side of the foot on top of the tape and the left side on riding beside it. You can add a dab of glue and use a stiletto to keep the Velcro in place while sewing. Also, take advantage of your Free Hand System when turning corners. I am sewing on the hook side of the tape (rather than the loop side), but it really doesn't matter for this application.
Place all your felt squares with Velcro side down. Remove the paper lining from the raindrops. If you bonded adhesive correctly, the paper liner will come off easily. If it does not, press a little longer. Place raindrops with adhesive side down on top of felt squares matching the colors.
Press with an iron until raindrop has bonded to back. With my iron, I found it was best to press the whole piece for about 6-8 seconds. Then, I pressed along edges. Usually, you would not have to press the edges but the bulky Velcro on the back piece didn't allow the edges to bond well. Also, you can turn the piece upside down and press around the tape. Set raindrops aside.
Fluffy Cloud
Iron a 4" x 8" OESD Ultra Clean & Tear Fusible to a 4" x 8" white felt. On the fusible paper, draw a fluffy cloud. The cloud should cover most the 4" x 8" piece.
Cut out the cloud.
Attach BERNINA Open Embroidery Foot #20/20C/20D. This foot is great for decorative stitches and anytime you need to see your stitches while sewing. Select stitch #735.  Select Information icon. Select Pattern Repeat, enter 2, and hit green check to confirm. Now, toucht the stitch length on the screen to open the stitch length box. Increase stitch length to 2. Notice on the left side of screen, the stitch length shows 39.4 mm. The stitch length is 2 mm but the length of one decorative stitch is 39.4 mm.
Using a white or a light blue 50 weight thread on top, sew the decorative stitch in 2 random places on the cloud. Set aside.
Position your cloud on the background page over the top of the rainbow and make sure everything looks good. With a Frixion pen (you will want these marks to disappear), mark dots at the bottom of the cloud at concave points.
Remove cloud and trim the strips above the marks. We are trimming the felt so the bright colors are not noticeable under the white cloud. Use iron to remove dots after trimming.
Green Grass
Cut 2 pieces of green felt – 2" x 7" and 1 1/2" x 7". Take the larger piece and snip across the long side about 1/4" to 1/2" down.
Cut two pieces of OESD Clean & Tear Fusible Stabilizer 1 1/2" x 7". Take one piece and press onto the smaller piece of felt. Set aside the other piece with the clips.
Attach BERNINA Tailor Tack Foot #7 to your machine. As well as for marking seam lines, Tailor Tack Foot #7 is used for sewing embellishments, imitation hemstitch, fringe, and 3D effects. Select Tailor Tack Foot #7 on your machine screen and Zig Zag Stitch #2. Change stitch width to 5.5, stitch length to .5 and decrease upper tension to 2. These settings are what worked for me and are my recommendations. Depending on your thread and needle, you can make adjustments with a BERNINA–it's what we call Total Stitch Control! Using green thread, sew with the right edge of felt lined up with the edge of the foot. This will place your felt edge at the 1/4" mark on your needle plate.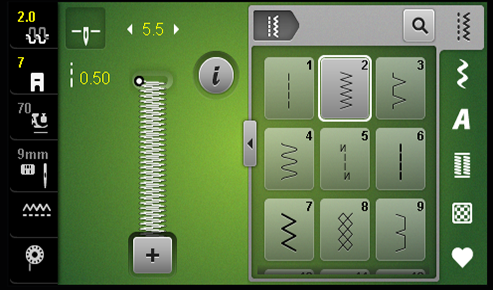 Sew 3 rows lining up the foot with the previous row.
I love this foot for creating texture! Carefully cut the thread through the tunnels using sharp scissors. Because the thread has been cut, it's not secure so don't pull on it! This is what it will look like so far.
Reattach Open Embroidery Foot #20/20C/20D and select Straight Stitch #1. Notice how the settings are the same as you left it–Temporary Altered Stitch Memory! Change the stitch length to 2 mm. Sew down the middle of the rows to secure the threads. Don't worry if you sew over some of the "grass blades".
The bottom row shows how the straight stitch secures the zig zag stitches.
Putting it all Together
Find a thread color to match each rainbow strip which will also match the coordinating raindrop. You should still have Open Embroidery foot #20/20C/20D attached. Select Straight Stitch #1, move needle position to 2 and increase stitch length to 3. On my machine, I could see some of the white bobbin thread peeking through the felt, so I decreased my top tension to 4.5. Also, make sure Needle Stop Up/Down function is in down position (see icon at top left corner of machine screen). This way when you stop sewing, the needle will be down preventing your fabric from shifting around.
For each color strip, start at bottom of the page on the right side. With the inside of the right toe lined up against the felt, sew up the strip, across the top end, and back down using a stiletto to push the felt strips together. (NOTE: If you sew the matching rainbow strip and raindrop at the same time, you will have fewer thread changes. See the instructions in the step below.) Continue in the same way with each color.
Before you edgestitch the rainbow strips, you might want to trim 1/2" off the bottom of strips to leave room for binding
It's not necessary to sew the raindrops together since we fused them with Heat N Bond. But, my BERNINA makes a beautiful edgestitch and I want to show off the stitch quality! Find the same color raindrop and edgestitch with the matching thread. For the raindrops, I turn down my machine speed and use the Free Hand System!
Trim the excess felt around your raindrops.
Find your fluffy cloud. Position the cloud where it looks good covering the top of the rainbow. Make sure the cloud is at least 3/8" away from raw edges of page since you need to save room for finishing the edges of your page. Pin the cloud in place. Edgestitch around the cloud in the same way as the rainbow. Your straight stitch should still be set to needle position 2 and stitch length 3. With a BERNINA, your stitch settings will remain until you turn off the machine, even if you leave that stitch screen. We call this Temporary Altered Stitch Memory.
Find your 2" x 7" green felt piece with the snipped edge. Press the second piece of fusible stabilizer onto this piece just below the snipped edge. Position at the bottom of rainbow matching the raw edges. Pin. (The stabilizer is positioned facing out because I am using it to create a slick surface. I found it difficult to place the raindrops in the grass because the hook and loop tape was catching against the felt. I already had the stabilizer out so it was a quick fix. I'm sure it can be done in other ways. Be creative and have fun!)
Depending on how you choose to bind the pages, you might want to pin the grass 1/2" above the bottom edge of page.
You should still have Open Embroidery Foot #20/20C/20D on your machine. Select Straight Stitch #1 and change stitch length back to 3 mm. Here, you can sew around all 4 sides or 3 sides if you want an extra pocket between the rainbow and the green strip.
Add your grass piece on top and sew 3 sides to form a pocket matching bottom raw edges.
With Piping foot #38, sew 1/2" hook and loop pieces to each rainbow strip. I secured them with glue first and used my stiletto to keep them in place while sewing all 4 sides.
Congrats on your completed busy book page!
For extra pizzazz, add butterflies to your page. Find a free template to trace onto Heat N Bond. Then, fuse Heat N Bond onto felt. Cut out butterfly and stitch the body with a satin stitch. Add Velcro to back. I hope you enjoyed creating this busy book page and learning about new BERNINA feet and features. Continue with us on our busy book journey. See you in Month 2! Enjoy!
Kids Busy Book Series
Part 4: Cookie Jar Tic Tac Toe
Part 7: 2 for 1 Shapes and Colors
Difficulty level

Intermediate

Time to Complete

Weekend

Used Material

50 wt thread, basic sewing supplies, felt, glue stick, Heat n Bond, Microtex needle

Projects

busy book

Seasons

all seasons

Techniques

sewing
What you might also like
22 comments on "How to Sew a Kids Busy Book, Part 1: Rainbow Page"