Jeans Tips: Patterns and Denim

In this blog series, explore the interesting subject of jeans making with BERNINA Educator, Jaime David. Ever since the Ginger Jeans Pattern craze in 2014-15, Jaime has been honing her skills in making jeans and has some great tips to share with you. There are so many patterns and sources available today. In addition, learn how pressing tools and choosing the right needles and threads can improve your results. Finish those jeans with professional details like buttonholes and rivets—with some helpful tips before you even start. Finally, learn how to repair and alter your denim to expand its livelihood.
Part 1: Jeans Resources: Patterns and Denim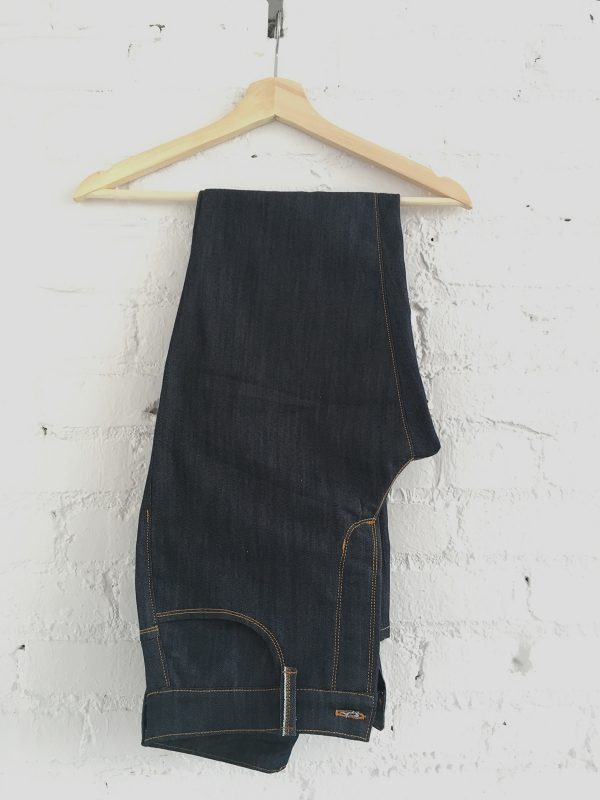 Making your own jeans is a very impressive and rewarding accomplishment. Once you have found your favorite pattern and perfected the fit, it is very hard to go back to buying them in stores. That is probably why I have made about two pairs every year since I started making jeans! In this process, I have learned that not all denim is the same and that details matter. I aim to share with you some of my best jeans making tips in this blog series.
PATTERNS
Closet Case Patterns: Ginger and Morgan
If you are just starting to explore patterns for jeans, there are several available in the market today. My journey began with the (I'm going to go ahead and call it) famous Ginger jeans by Closet Case patterns. The thing that I think most people found so appealing about this pattern when it came out, was that it was a skinny jean with a high waist—a popular and flattering shape for most body types. There are two versions of the Ginger, the one I just described is my go-to favorite, and there is a version with a mid-rise waist and a stove pipe (more straight than skinny) leg. Heather Lou of Closet Case Patterns, first described these jeans as, the one perfect pair of jeans.
Following the success of the Ginger jeans, Closet Case released a second jeans pattern, the Morgan jeans. These jeans are your classic boyfriend jeans fit with a button fly. They are designed to be slim without being tight, relaxed but not baggy—also made with 100% cotton denim fabric (no lycra needed).
Both of these patterns are expertly drafted and have detailed and clear instructions. In addition, the Closet Case blog has a sew-along for the Ginger Jeans or you can purchase an online class taught by Heather Lou herself. I was lucky to have the opportunity to take a class from her in person and it was so good! If you need a helping hand, this is a great place to start.
Cashmerette: Ames

Not too long after the Closet Case jeans patterns came out, Cashmerette released the Ames jeans pattern. Cashmerette patterns are designed for the curvy figure in a large size range. I love that she identified two common body shapes and drafted the pattern to match either apple or pear shape then gave the option of a straight or skinny leg. The size range is 12-28. More recently, I gave the pear shape with straight leg a try. I remember the first time I tried a pair of Gap "curvy fit" jeans and was surprised to discover that I was more curvy in the hips than I had thought. Making these jeans, reminded me that I do enjoy having a bit more space for my hips and upper thighs. My only regret was not measuring my inseam before cutting my fabric—I would have added an inch to the length for 29" inseam.
Megan Nielson Patterns: Dawn and Ash

I have not had the chance to try the jeans patterns produced by Megan Nielson, but I love the concept she came up with for her Dawn jeans as a 4 in 1 pattern. With multiple lengths and leg styles, you can come up with your favorite new style. Her aim was to create a pattern with a vintage flair of the seventies. With the option of a printed pattern or a pdf version—where you have the option to print only your desired size, there is a lot of options to work for you with this pattern.
Named Clothing: Jamie Jeans

Although it should have been an obvious choice based on the name, I have still not made the Jamie jeans by Named Clothing. I love the design details of this pattern, a bit less traditional with a seam down the front of the leg and a slanted pocket. These jeans have a slim fit and the ones I've seen made are spectacular—although seemingly more appropriate for a slender figure.
Denim Sources

Finding the perfect denim can be a bit of a wild goose chase. Fortunately, I just heard a great podcast by, Love To Sew, Episode 107: Denim that explores and explains this subject perfectly. I recommend a listen before you begin your search. I know I discovered a few new sources and things to look for by listening.
First Pair (muslin)
When you are learning to make jeans, my suggestion is to just dive in and try to work through a pair using some inexpensive denim. I used some red stretch denim that I purchased at JoAnn's for my first pair and much to my surprise these were wearable and also have probably become my most worn pair! The reason I recommend just diving in, is that you will learn the details by working through the pattern completely. You can also baste your seams to adapt the fit and this will give you a better idea how the pattern fits than working with an actual muslin fabric that will lack the wonderful properties of a stretch denim.
Denim Properties
Denim is a twill weave structure typically made from 100% cotton. It is traditionally woven with white thread in the weft and indigo dyed blue thread in the warp. In America denim was a textile used to create clothing for heavy labor jobs because of its durability, but has maintained popularity in fashion since that time. There are of course various fiber blends available, and if you are making any skinny type jeans pattern you will want to find some denim with lycra for stretch. You can also find denim in almost any color that you wish. One of my favorite pair was made from turquoise denim I got at the Sewing Workshop.
As they mentioned on the podcast, many of the denims that you purchase in a fabric store are raw denims, which means that it has not been washed after the dyeing process—this is why many times you should wash new jeans separately because they tend to bleed and fade. Finding a "washed" or "faded" denim on the bolt may take a bit more searching, but you could also experiment with your own forms of distressing or fading before or after making your jeans.
Denim also comes in various weights measured in ounces. It is not always easy to find this information in a description when buying online. If fabric samples are available that is a great place to start. For a basic rule, a medium weight would be between 12-16oz. and this works well for most patterns. However, you may find you have a particular preference for weight and how it wears. Make sure that you have at minimum 2% stretch (lycra) in your denim for the skinny jeans like the Gingers. I typically pick up good denim when I come across it in person and buy 3 yards, scrap denim is always handy.
Join me in the next post of the series where I dive into the stitching details!
Purchase Quality Denim Here:
Jeans Tips
Difficulty level

Intermediate

Projects

fashion, jeans

Seasons

all seasons

Techniques

sewing
What you might also like
10 comments on "Jeans Tips: Patterns and Denim"