Jeans Tips: Easy Ways to Patch Your Jeans

In this blog series, explore the interesting subject of jeans making with BERNINA Educator, Jaime David. Ever since the Ginger Jeans Pattern craze in 2014-15, Jaime has been honing her skills in making jeans and has some great tips to share with you. There are so many patterns and sources available today. In addition, learn how pressing tools and choosing the right needles and threads can improve your results. Finish those jeans with professional details like buttonholes and rivets—with some helpful tips before you even start. In this final blog post, learn how to repair and alter your denim to expand its livelihood.
Part 4: Mending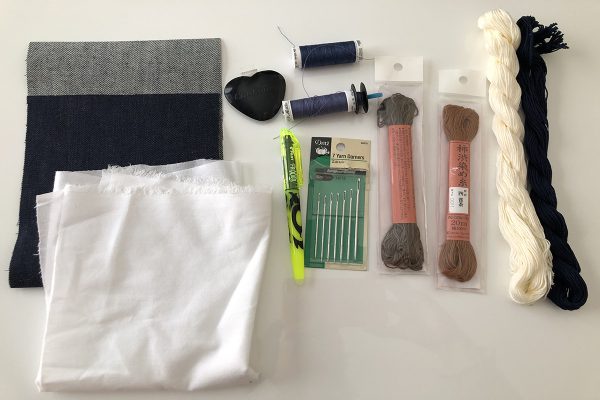 When you finally land on the perfect pair of jeans, chances are you are going to wear them a lot—which over time will begin to show wear and tear. Areas of stress or friction will cause the fabric to wear out, often resulting in a tear or hole. Fortunately, there are several relatively easy ways to repair this damage to prolong the life of your jeans. I am often asked to mend jeans for people. And because my BERNINA sewing machine makes the job so simple, I typically oblige. More recently the trend of slow sewing and visible mending have made this process fashionable. Incorporating some Japanese hand sewing sashiko techniques can allow your mending to give your jeans a new look and longevity.

Darning
The original way that I learned to repair holes in denim (most often the thigh area of jeans) was to do a free-motion darning technique. Later, I learned about the Darning Program featured on my BERNINA sewing machine. This cool stitch sequence works with the automatic Buttonhole Foot #3A and offers a more controlled look to the mending. It is great for smaller holes and worn areas. There was a time that darning was such a common sewing method that the machines would come with darning accessories, including a hoop called: Hosiery Darning Hoop—used often to mend holes in hosiery and socks! Do you have an older model BERNINA that has one of these tools? If not, this optional accessory can be purchased from your local BERNINA dealer.

Before darning with either method, you need to prepare the area for mending. Turn the garment wrong side out in the area to be mended.

You will need to use something to reinforce the worn out area or a patch to fill the hole. This material can be a like-fabric scrap or my personal favorite, Pellon SF101—fusible woven stabilizer. I have found that the fusible stabilizer works best when it is cut into and organic shape that matches and extends beyond the worn area. I use a pressing ham to work with the curved shape of the crotch seam.

Method 1: Free-Motion

The Darning Foot #9 was designed with mending in mind, although it makes a great free-motion quilting foot as well. This foot works with the feed dog lowered, allowing free movement and control of the fabric by the person sewing. For holes, this works well, allowing you to patch over in any direction filling in the organic shape of the hole. The sewing machine can be set for either a straight stitch or zigzag stitch, but I most often select standard Straight Stitch #1. The general rule for darning is to create a "woven" like structure of stitches over the hole. To begin, sew narrow rows up and down, then cross over those rows with more narrow rows going side to side. Finally make sure that the area is covered working rows in irregular lengths to help blend the mended area into the fabric.
Tip: Use a matching thread color value—often I have found various shades of gray thread to be a suitable match. Mettler make a great denim thread that is a cotton and polyester blend. It is available in two denim blue colors.
Watch the video on free-motion darning.
Method 2: Darning Program

In the practical stitch menu of many modern BERNINA machines, you will find two programmable darning stitches—Stitch #22 and #23. Some models will also have an alternative darning program—Stitch #34 with rows of wavy lines to better reinforce fragile areas in firm fabrics. These automatic darning stitches use a series of short stitches aligned in rows to fill in the area needing mending. It is a more controlled option than free-motion darning. The length of the pattern is programed by pressing the Quick Reverse button. To achieve wider coverage, you need to reposition the work and sew multiple rows of the darning program.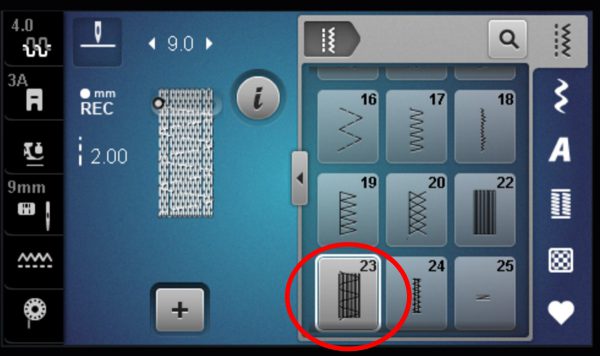 Stitch #22 can be achieved using either Reverse Pattern Foot #1/1C foot or the Buttonhole Foot #3A. Stitch #23 is a reinforced version that is made using only the Buttonhole Foot #3A. For the jeans I was mending, I found that Stitch #22 worked best. I did several rows across to strengthen the area of stress. The results were tidy and discrete.
Watch the video on the darning program here.
Patching with Sashiko

I have always loved any kind of sewing handwork. Sashiko is a popular Japanese style of decorative stitching that makes geometric patterns. To mend the hole in the knee of some jeans, I decided to create an exposed patch covered with a simple grid of hand stitches.
There are many methods and approaches to this style of stitching, but I marked a simple 1" grid across my denim patch with a chalk marker. I stitched approximately ¼" stitches in ½" rows and then moved across them to make the "x" design. It is also common to find this kind of mending done as just rows of stitches—this can be called Boro or Kantha. To learn more about the differences between these styles, I recommend reading this blog by Cross & Woods Crafting Parlour.

Weaving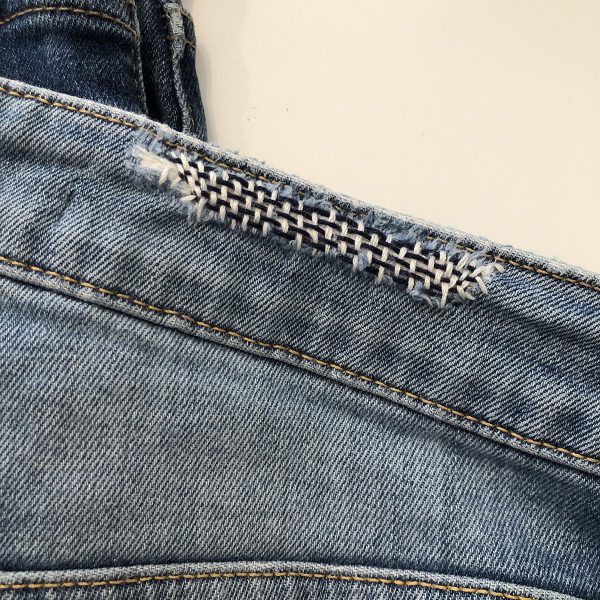 For some areas of wear along the waistband, I decided to try some thread weaving using the same embroider thread from the Sashiko stitching on my patch. I love how this looks and think it add some character to the jeans.
Tip: To begin a weaving stitch, start with some loosely couched stitches along the area needing mending, then come back and weave with a contrasting color thread for a neat appearance.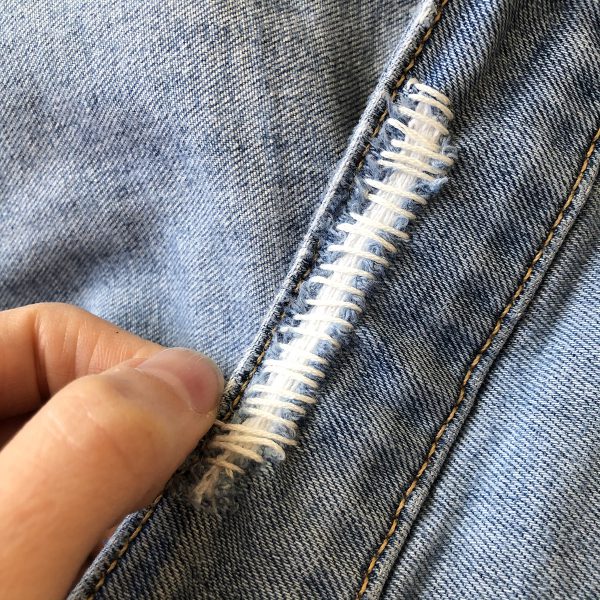 Consider using any style of hand embroidery to not just embellish, but also to mend your garments. I have found the book Creative Stitching, by Sue Spargo to be a great resource and inspiration.
I hope that you have found the Jeans Tips Series to be both helpful and inspiring. There are so many great tools, notions and BERNINA accessories to make the job of creating and mending jeans a totally fun experience. Until next time, happy jeans making!

Jeans Tips
Difficulty level

Beginner

Time to Complete

Evening

Projects

fashion, jeans

Seasons

all seasons

Techniques

sashiko, sewing
Used Products
What you might also like
12 comments on "Jeans Tips: Easy Ways to Patch Your Jeans"