Join WeAllSew on Instagram!
Are you an Instagram lover like us? If you haven't ventured into the world of Instagram you should certainly consider it – it's super easy and tons of fun!
Unfamiliar? Instagram is a photo-sharing app you use on your smart phone that creates Polaroid style-photographs. It allows users to upload a photo, add a filter, and share with their friends. It also links up to Facebook, Twitter, and Tumblr should you feel so inclined to share there too.
If you are an avid Instagram user and love to share your sewing updates, we'd love to connect with you! BERNINA and WeAllSew are all about community – seeing and sharing our friends and followers handiwork is important to us. To share with BERNINA on Instragram you can do a few things:
First, follow @berninausa! (Simple!) You can search for users by opening up the explore window from your main screen. This is your home screen. From here you can upload a photo, search for a user, search for a hashtag, and see photos tagged with your hashtag.
Select the icon circled in red to see photos tagged with your hashtag.
Use the explore function – star icon – to search for users and hashtags.
Select the "heart search" icon to see who has liked or commented on your photos, or if someone has started following you. Also – if a user tags you in a photo you'll get a notification here.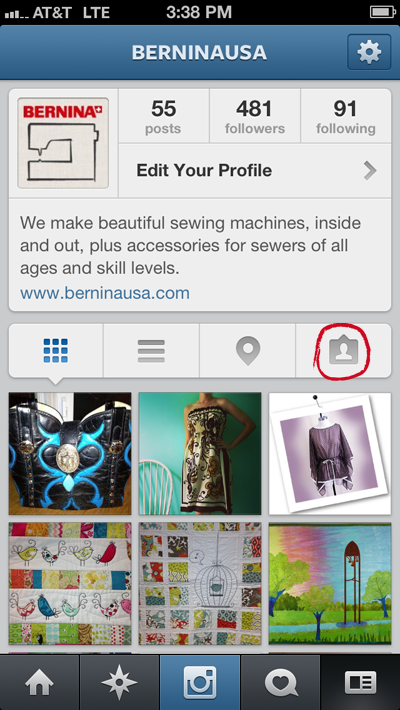 Second, upload your sewing, quilting, and crafting photos. Be sure to tag BERNINA by either "@ mentioning" @berninausa in your caption or tagging us in the photo by using the people icon.
Adding the hashtag #berninausa will publish your photo in our community. Want to see what other sewists are working on? Just search #berninausa under your explore window or look under our people feed!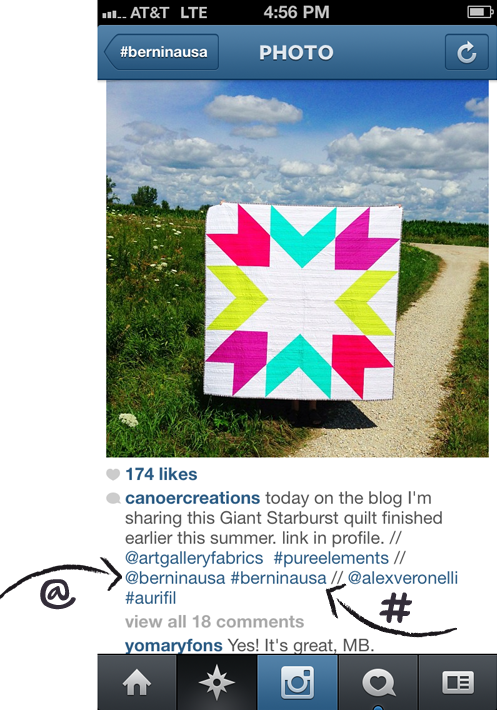 "@ mentioning" is when you include an Instagram user's name in your caption. This will send a notification to that using letting them know you've included them in an upload.
Including #berninausa allows your photo to be published under the hashtag when searched.
Now it is up to you to try it out. Have fun!
What you might also like