"You Are Loved" Snack Mat
Blogger, sewing illustrator and crafter, Minki Kim, shares her latest creation-a very sweet snack mat! Perfect for school snacks, lunches, or little summer picnics.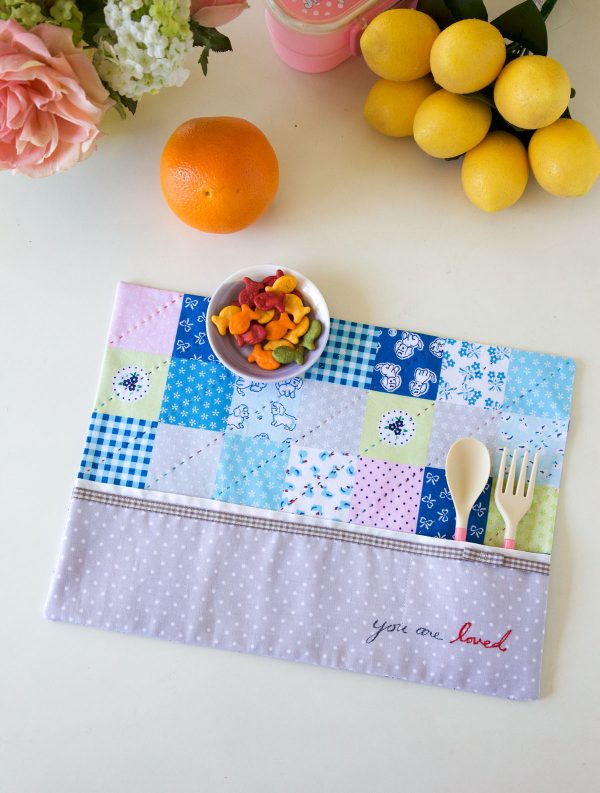 Every morning at 6 o'clock I get up and start to make lunch for my girls. It can be a simple sandwich with sliced apple, or chicken Alfredo pasta with a bag of sweets. Often I wonder how they eat at the school lunch room; if they wash their hands before eating, if their table is clean, if they use forks or just their little fingers.
That kind of thinking inspired me to make this pocket snack mat! A small snack mat, but big enough to hold utensils in a pocket with an embroidered message from mama.
Materials to make a Snack Mat:
2 – 14″ x 10.5″ rectangle contrasting fabric for front and back (I used a cheater patchwork print for front and back from Pennyrose, Strawberry Biscuits)
2 – 14″ x 4.25″ rectangle gray polkadot and white solid for pocket
1 – yard or more decorative ribbon
1 – 13.5″ x 10″ fusible interfacing (I used Pellon 950F)
gray and red embroidery floss or Aurifil 12wt.
variegated thread
sewing machine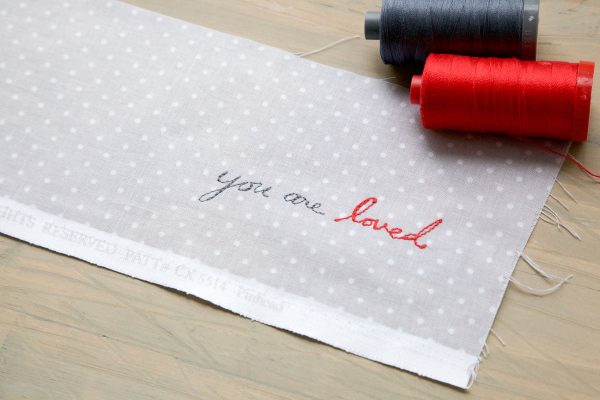 Stitch a special message using free-motion stitching. If you are more comfortable with hand stitch, go ahead, it will add different charm.
Use a soft fabric marking pencil or disapearing pen (such as Frixion) to write "you are loved," or add your own message. I added a small bit of the interfacing behind the lettering to support the stitches. Thread your sewing machine with the Grey thread and set stitch length 1.8mm. Sew the phrase 'you are'. Change to the Red thread and complete the phrase by sewing "loved."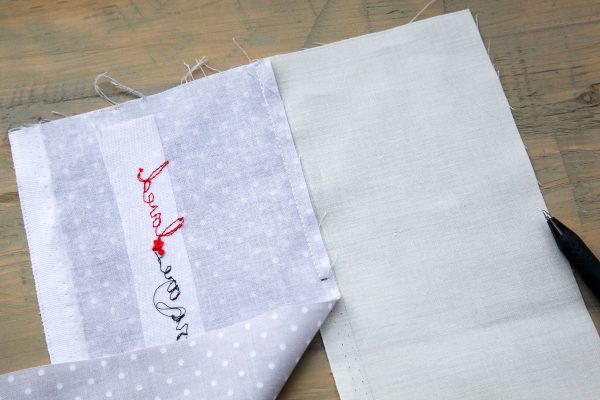 I am using the selvage edge of white solid as a decorative trim, so make sure to cut from the very edge of your solid. Mark a 1/2″ line from the selvage edge of the solid, and place grey print matching the marked line, right sides facing. Pin and sew a 1/4″ seam, beginning at the side with lettering and sewing to 4 1/4″ inches in from the side. This will become the pocket opening.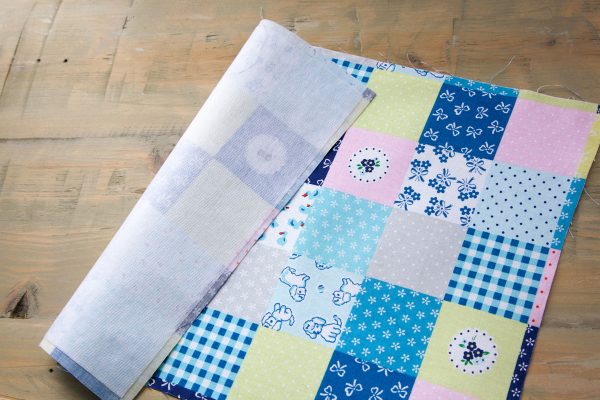 Fuse the interfacing on the wrong side of the contrast fabric for the front of the snack mat, I am using a cheater patchwork print.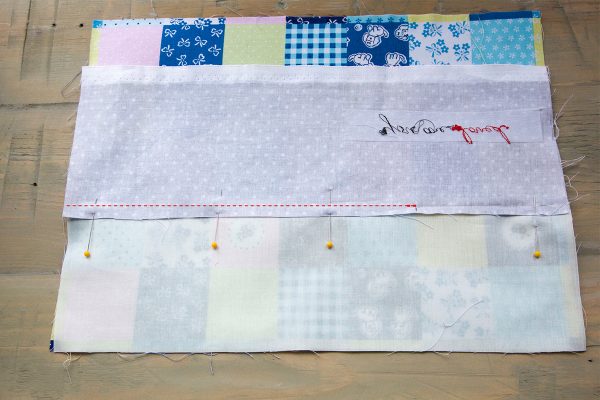 With right sides together, place white solid to the contrasting fabric, matching two bottom corners and pin in place. STOP sewing at the stitching line for the pocket.
Fold right side out and press flat. Now you can see the white trim and 4″ pocket opening.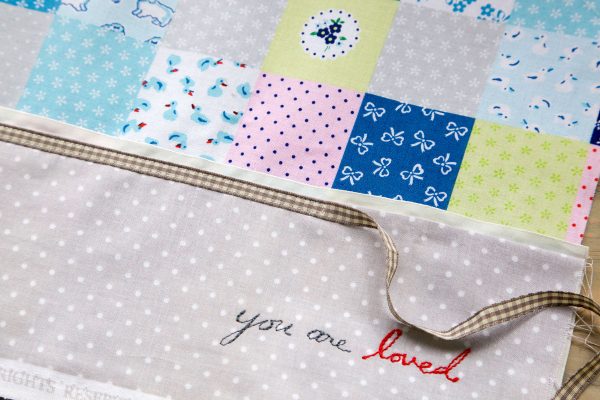 Sew matching ribbon on top of grey print just to the point where pocket starts.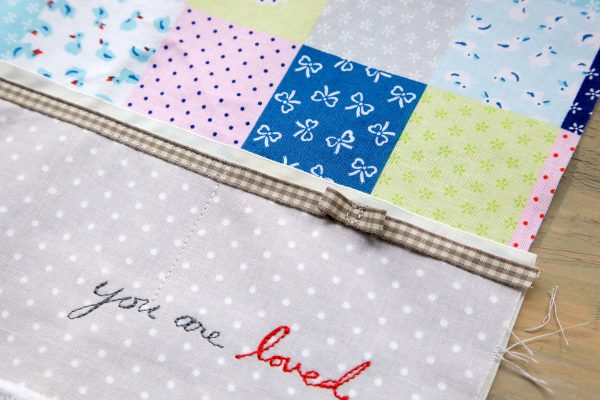 To make the bow shape, fold ribbon 1/2″ both to the center and sew to secure just to the pocket (do not sew to the snack mat).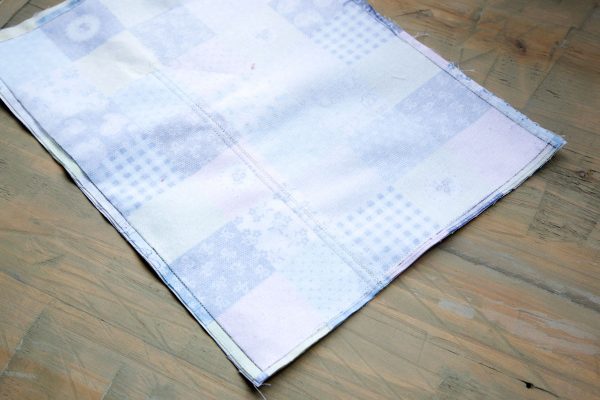 Facing right sides together, place the back section to front and pin in place. Sew all around edge with a 1/4″ seam allowance, leaving a 3″ opening for turning.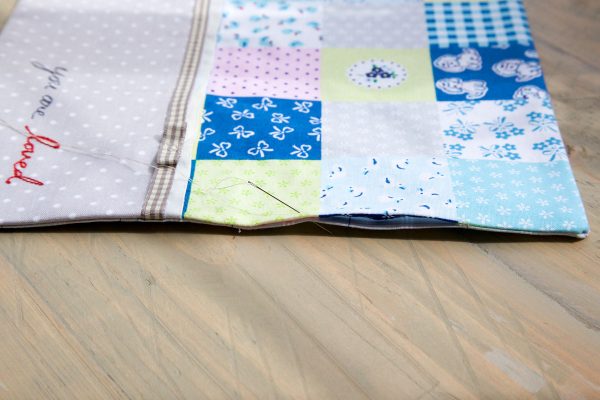 Turn right side out, and press flat. Close the opening using blind stitch.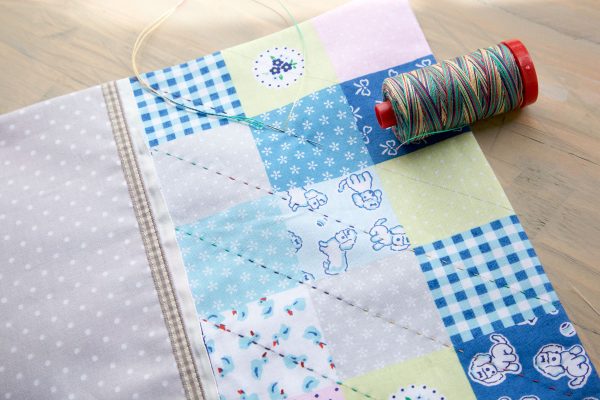 Use a temporary marking pen to mark cross lines on the top of the snack mat. You can use a hand stitch to make these quilting lines (I used 1 strand of Aurifil 12wt. variegated thread), hand sew a running stitch. Or, use variegated threat to stitch with your sewing machine.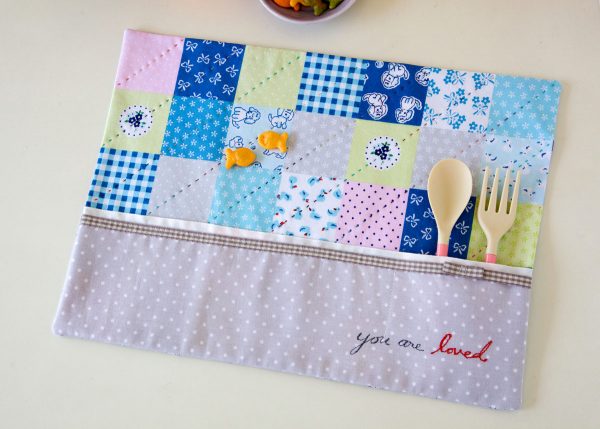 Use a small length of ribbon to tie the snack mat closed.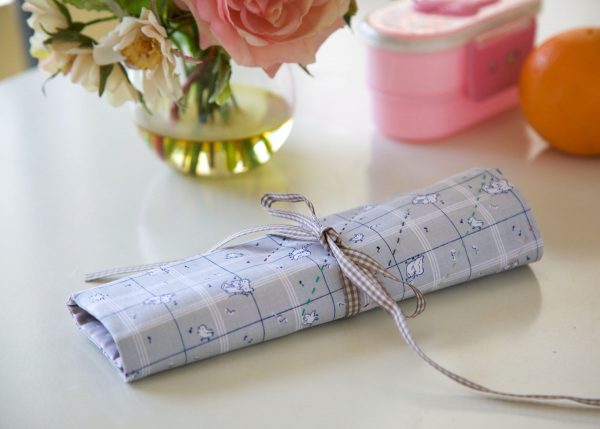 I hope you enjoy making and using this little snack mat!
Difficulty level

Beginner

Projects

home décor

Techniques

sewing
What you might also like
2 comments on ""You Are Loved" Snack Mat"