Make a Leather Tote Bag
Over the past year I have shared several different tutorials with you about how to sew with leather on your BERNINA. If you have tried your hand at some of our smaller projects, you have all the skills (and tools!) you need to make a leather tote bag! A bag like this will last for years, and if you are like me, you will find yourself reaching for it every day.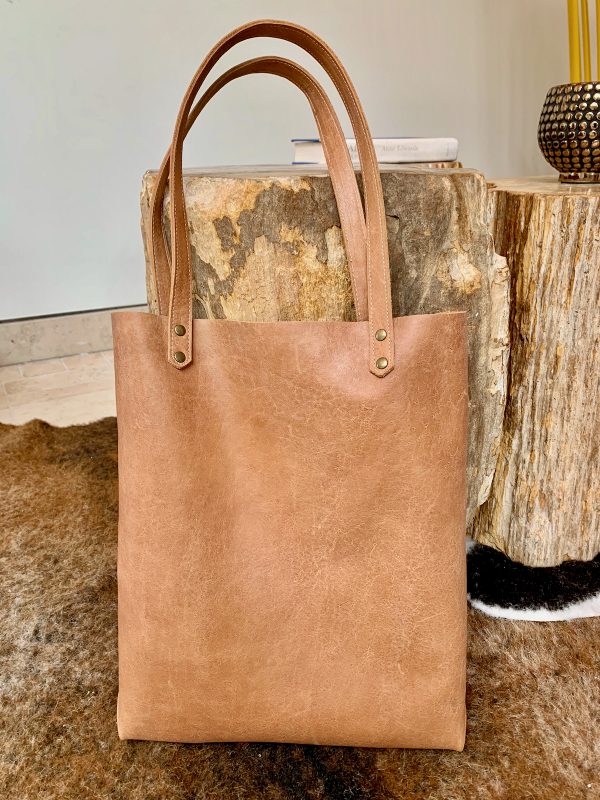 Materials to Make a Leather Tote Bag
Thin leather (2-3oz) in the following sizes:

16″x33″ (or the size of your choice, see "Customization" below)
(2) 24″ x 2″ leather for straps
8″ x 9.5″ for pocket (optional)

Mat for cutting with a fixed blade
Metal Ruler
Rotary Cutter and Mat
Glue for leather, such as Bish's
Rivet setter and base
Clover Wonder Clips or binder clips
Nylon upholstery thread, such as Coats and Clark
Non stick or roller presser foot (see below)
Presser Feet
With leather it is best to use a non-stick or roller presser foot so that the leather glides smoothly through your machine. You can use BERNINA Roller Foot #51, BERNINA Zigzag foot with non-stick sole #52, BERNINA Straight-stitch foot with non-stick sole #53 or BERNINA Open embroidery foot with non-stick sole #56.
Customization
This tutorial will make a leather tote bag that is 15″ tall, 12″ wide, and 3″ deep. If you would like to make a different sized bag, here is the formula to work out what size piece of leather you will need:
Length =  (2 x desired height of bag) + depth of bag
Width = width of bag + depth of bag + 1″
For example, in our tutorial:
Length = (2×15″) + 3″ = 33″
Width = 12″ + 3″ + 1″ = 16″
You may also wish to add things to your bag like an additional interior pocket or a key holder. If you choose to do this you will need some smaller pieces of leather as well. There is more information at the bottom of this post about things you can add!
Instructions to Make a Leather Tote Bag
Step 1: Cutting the pieces
If you have not done so already, cut your bag leather down to 16″ x 33″, and your 2 pieces of strap leather to 24″ x 2″.
Note: Cutting a large piece of leather from a side or hide can be challenging because you will need to avoid flaws or other things in the leather that you do not want to have show on the outside of your bag (or maybe you want a specific spot included because of interesting coloring). Cut a piece of paper to use as a template, place that on the leather, and then cut around the template.
Step 2: Skiving the gusset
Skiving reduces the thickness of your leather in areas where you need to have multiple layers of leather overlapping. It will make sure that you are able to properly stitch through the layers.
Place your leather wrong side up. Using your ruler, measure on one long side and place a mark at 13.5″ and 19.5″. Repeat on the other long edge.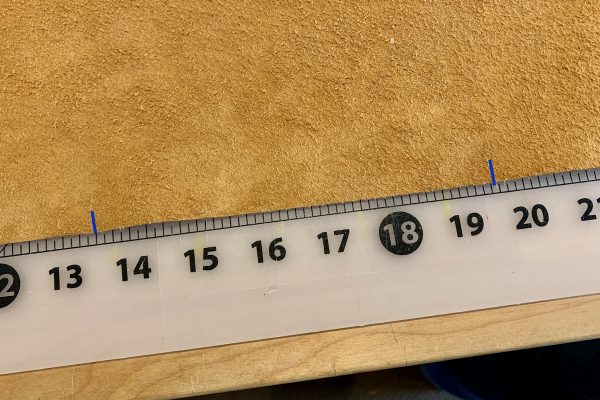 Using your skiver, remove thin shavings between the two marks, about 1/2″ wide. If you would like more information about skiving, you can check out my post Making a Leather Notebook Cover. The aim is to get this section of the leather as thin as possible, because it will be folded up 4 layers thick and you need to be able to sew through it.
Step 3: Stitching the bag sides
With right sides together, fold the bag in half lengthwise. Place a few Wonder Clips or binder clips on each side of the bag near the top.
Next we are going to fold the gusset. You are creating a "W" shaped fold at the bottom of the bag. The center part of the "W" should be 1.5″ high. The top of the "W" will line up with the marks you made earlier before skiving.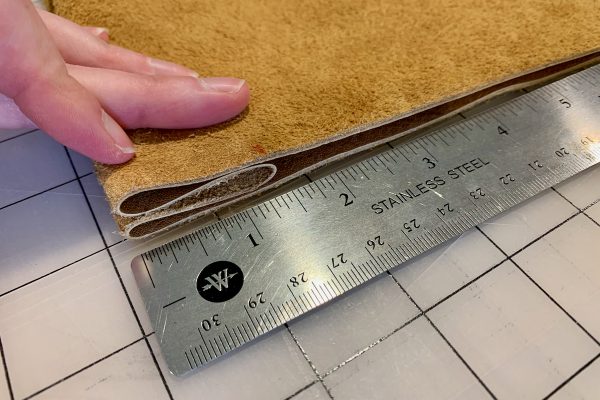 You may want to tap this fold with a hammer to help hold it in place. Clip the fold with Wonder Clips or binder clips.
With a leather needle, upholstery thread, and an appropriate foot loaded onto your BERNINA, set your stitch length to 4.0. (You may find you need to turn up your top tension. Test out your stitches on a scrap piece of leather). Turn the speed down as slow as it will go. Slow and steady wins when you are working with thick materials.
Stitch down both sides of the bag, back-stitching at the beginning and end and using a scant 3/8″ seam allowance. I used the edge of my roller foot as a guide. I like to start at the top and move down towards the gusset. Depending on your leather, you may find you need to turn the hand wheel to stitch over the gusset, as even with skiving it may still be too thick. Just work the hand wheel slowly, one stitch at a time.
Turn your bag right side out, pushing out the gusset. Be patient – depending on your leather this can be challenging. Just work slowly and carefully.
Step 4: Stitching the straps
Place the two strap pieces face down on a surface you don't mind getting glue on. Cover each back side with a thin layer of glue.
When the glue is shiny and mostly clear, place the two glued surfaces together, lining up the edges. Press the layers together firmly.
Trim one long edge so that it is straight, removing as little material (~1/16″) as possible. Use this straight edge on the left and a clear quilting ruler to measure a 3/4″ wide strap. This is one instance when I like to use a rotary cutter rather than a fixed blade. It is hard on your blades, but it makes a nice even strap. Repeat so that you have two straps.
If desired, cut the end of your straps using a strap end cutter.
At your BERNINA, edge stitch around the perimeter of each of the straps. This keeps the strap from stretching out as you wear it, and also adds a professional look.
Please note – as you stitch down one long side of the strap, it may seem to curve and stretch out. Don't worry, it will even out when you stitch back down the other side.
Step 5: Making the pocket
Take your pocket piece and place a thin bead of glue on the bottom 8″ of the long side.
Fold the pocket up 4″ from the bottom and line up the glued edges. Press firmly.
At your machine, edge stitch the sides of the pocket. Set the pocket aside for now.
Step 6: Attaching the straps
On each end of each of the straps, punch two holes 1″ apart. Make sure to do this on your punching mat, not on your cutting mat
Take your straps and place them on your bag, 8″ apart. The 8″ is measured from the outside of the straps. Mark with an awl or pencil through the holes in the straps onto the bag. This is so you know where to punch. Make sure both sides match!
With your punching mat between the layers on your bag, punch the holes on the marks (8 total).
Attach the front straps using the shorter (7.9mm post) double cap rivets. If you have not done this before, you can see detailed instructions here. Make sure you do not twist the strap.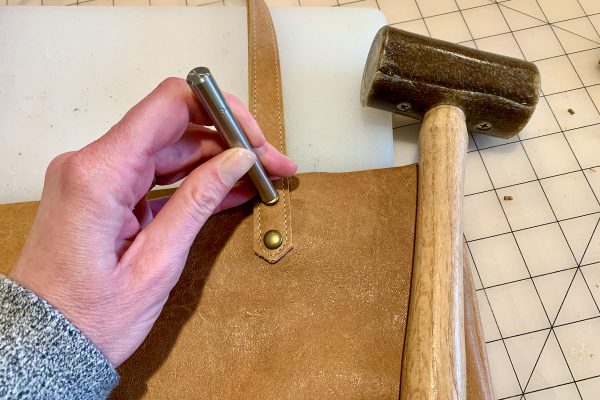 For the back strap, you are going to incorporate your pocket at the same time. With your pocket right side down and a strap lined up to the outside edge of your pocket at the top, mark through the holes with an awl or pencil. Remove the strap and punch the 4 holes in the pocket.
With the pocket on the inside of the bag and the strap on the outside, use the longer (9.5mm) double cap rivets to secure the layers together.
And with that, your bag is done!
But what else could you add to a bag?
Other Ideas:
The great part about making a leather tote bag, is that you can change it up to suit your needs. You can add a simple spot to clip your keys inside your bag in the same manner as a pocket. Cut a small loop of leather, adding a brass D-ring if desired, and punch holes in end of the loop that correspond with the holes for the strap rivets. Add the loop under the strap rivets, the same way that you added the pocket.
You can also add an additional interior pocket using the same method as above, but attaching it with the front strap.
You can add any kind of closure at the top of the bag, such as a snap or clip. This is great if you travel and want your bag to be a little more secure.
Use your imagination to add even more features that suit your needs. You are now a leather sewing expert!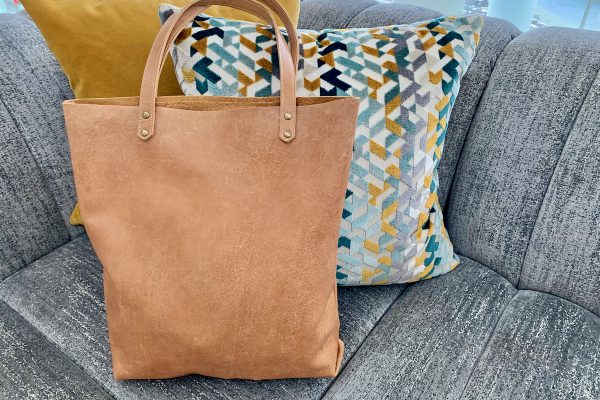 Difficulty level

Intermediate

Time to Complete

Evening

Used Material

leather, thread

Projects

Accessories, bag, Crafts, fashion, purses, tote

Seasons

all seasons

Techniques

sewing, sewing with leather
What you might also like