Monogrammed Necklaces – on Wood!
The amazing BERNINA 580 E is way more than a sewing and embroidery machine – it's a hardcore crafting phenomenon. This crafty superstar (A.K.A. "the E" around my house) stitches through wood, metal, paper, canvas, and pretty much anything you can dream up. I wanted to show you how easy it is to embroider into balsa wood. I'll walk you step by easy step through this hip little project.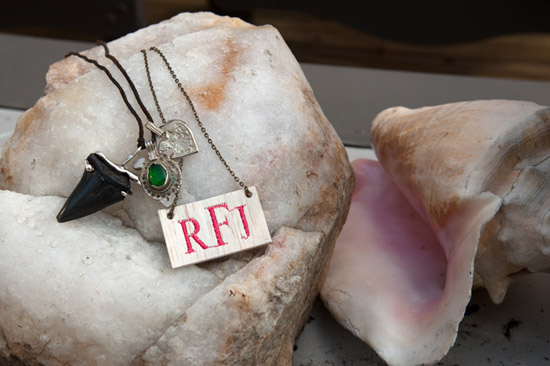 Monograms are classic and seriously trendy these days. I whipped up the necklaces in no time flat. Ladies, turn on your imaginations and your super rad 580E and let's get started.
Supply List
Sticky back stabilzer
505 Spray Adhesive
1/32″ balsa wood
Embroidery thread
Card stock
X-Acto Knife
Necklace chain
Drill
1. Hoop the sticky back stabilizer and remove the paper backing to expose the sticky stabilizer.
2. Cut the balsa wood to the length of the hoop.
3. Cut a piece of card stock to match the balsa wood.
4. Attach the card stock to the back of the wood with spray adhesive.
5. Press the card stock side of the balsa woo to the sticky stabilizer.
6. Put the hoop on your machine and stitch your monogram.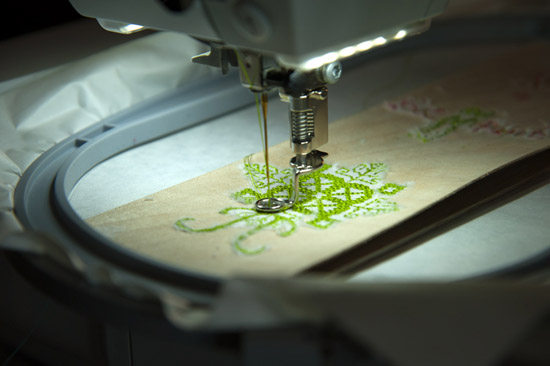 7 . When you finish stitching, remove the wood from the hoop.
8. Now you can cut the wood using an X-Acto Knife to the shape you want.
9. Drill holes and loop your chain through.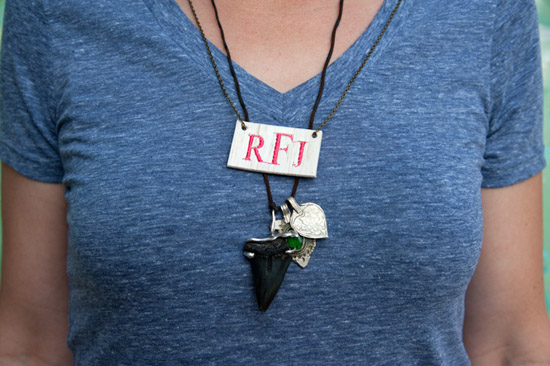 You did it! Wear your cool new statement piece with a little extra kick in your step!
Excited to stop in next time with more fun projects! As always, I love to hear from you and what you're cooking up around your house.
XoXo, Rachel Faucett / Handmade Charlotte
Projects

fashion

Techniques

crafts, embroidery
What you might also like
5 comments on "Monogrammed Necklaces – on Wood!"