Patchwork Heart Pillow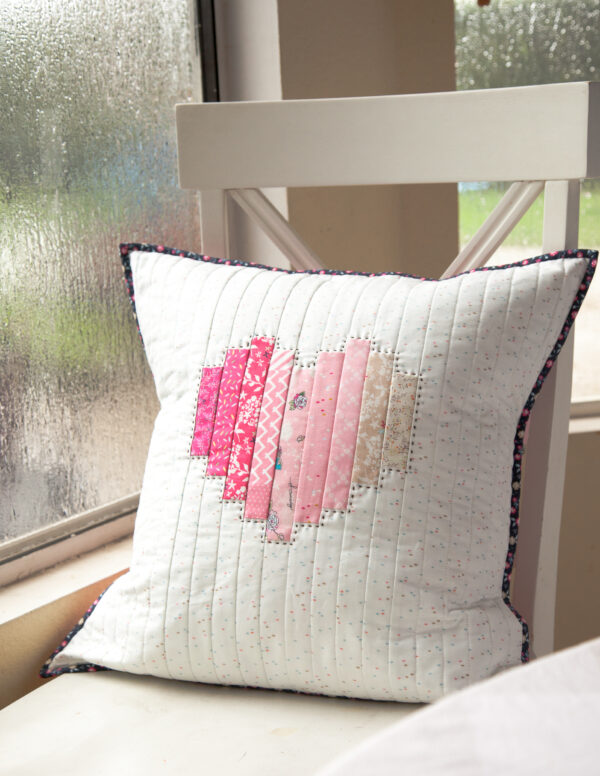 Hello, WeAllSew fans! I am Minki from Minki's Work Table and Instagram @zeriano.
I would like to share my simple and easy heart pillow today. It will be a perfect project to dress up your home or surprise your loved ones for Valentine's Day.
Materials to Make a Heart Pillow
Finished size is approximately 20″ wide x 20″ tall. I used my Someday fabric collection for Riley Blake Designs.
Assorted strips to create heart: nine (9) 1 1/2″ x  7″ strips
White sprinkle fabric: 1/2 yard
Backing fabric: 3/4 yard
Batting: one (1) 22″ x 22" square
Lining fabric: 22" x 22″ square
Backing fabric: 3/4 yard
Binding: 1/4 yard
20" square pillow form
Embroidery floss such as Aurifloss
Cutting
I: 1 1/2" x 4"
H: 1 1/2" x 5 1/2"
G: 1 1/2" x 7"
F: 1 1/2" x 7"
A: 1 1/2" x 7"
B: 1 1/2" x 7"
C: 1 1/2" x 7"
D: 1 1/2" x 5 1/2"
E: 1 1/2" x 4"
White sprinkle print: eighteen (18) 1 1/2" x 11",  two (2) 6 1/2" x 22"
Backing: two (2) 14 1/2" x 22″
Binding: two (2) 2" x WOF (width of fabric)
Note: All seam allowances are 1/4″ unless otherwise noted.
Prepare the strips
1. Sew assorted strips to create the heart with the white strips (cut 1 1/2″ x 11″) together and arrange as below.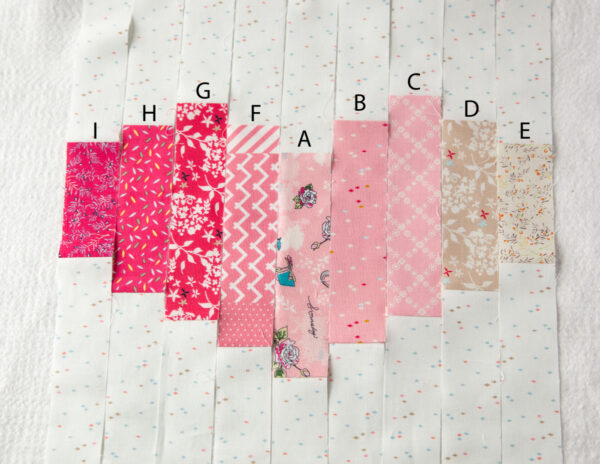 2. Before starting, place the pillow lining under the batting and pin or baste.
Draw a 1 1/2" strip on the center of the 22" batting, using a temporary marking pen. Center and place the A strip in between the marked lines.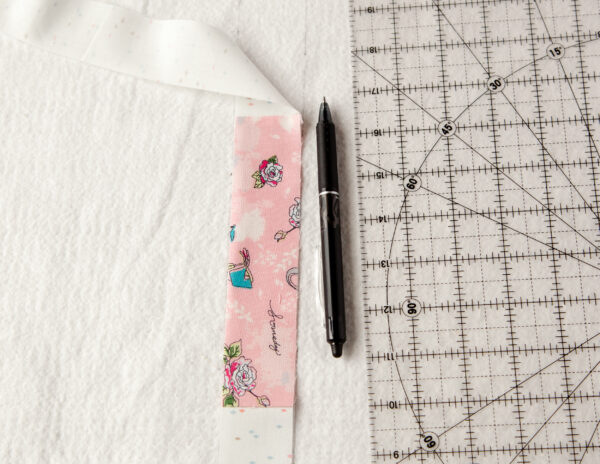 2. Place B strip 3/4" up of the first strip A, with right sides together, and pin in place. Sew along the raw edges on the right-hand side, sewing through the batting. Open the fabric and press the seam outward.
3.  With the same manner, sew C, D, E strips with 3/4" height difference.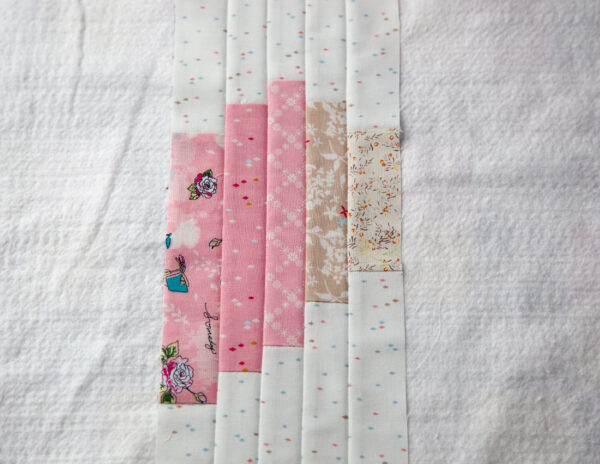 4. Sew the white print (6 1/2" x 22") to the end of strip and press seam outward.
5. Repeat the steps 2 ~ 4, and finish the heart. Quilt straight lines between 1".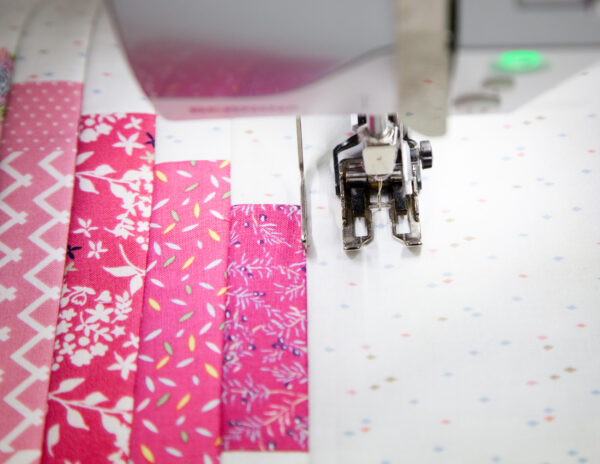 6. Using embroidery floss, hand stitch around the heart.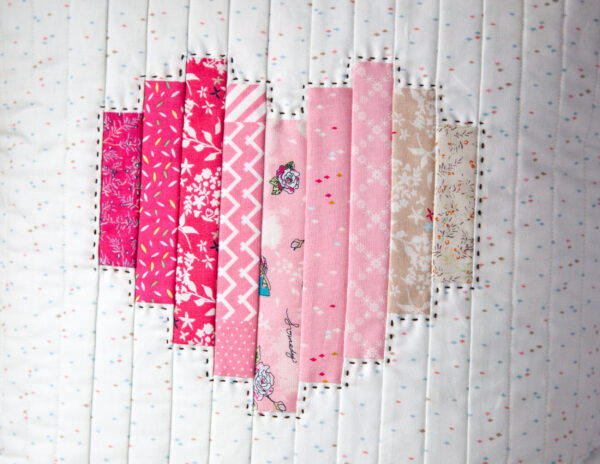 7. Trim the pillow top to 20″ x 20″.
Finish it using your favorite pillow finishing technique. I used an envelop enclosure and double binding to complete my pillow (similar to this pillow tutorial here at WeAllSew).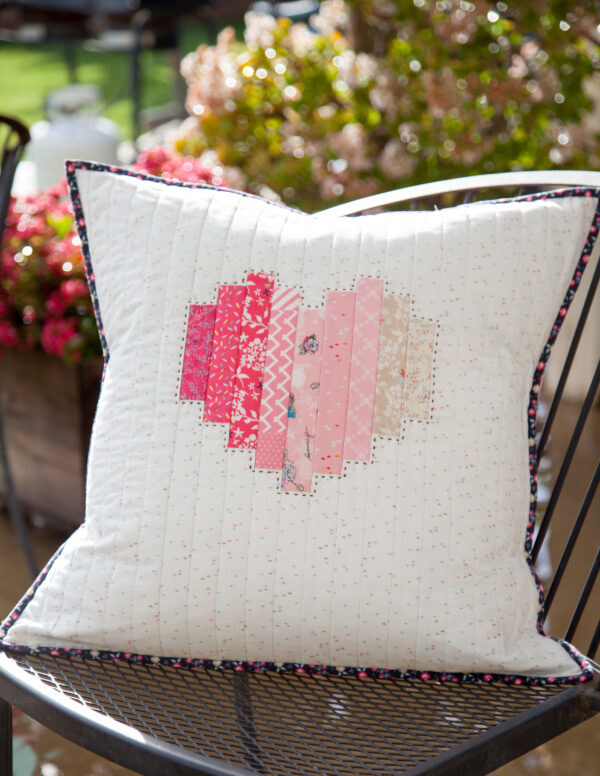 My Someday collection for Riley Blake Designs is arriving to the stores this month. I am so excited to see what you will sew up with my Someday!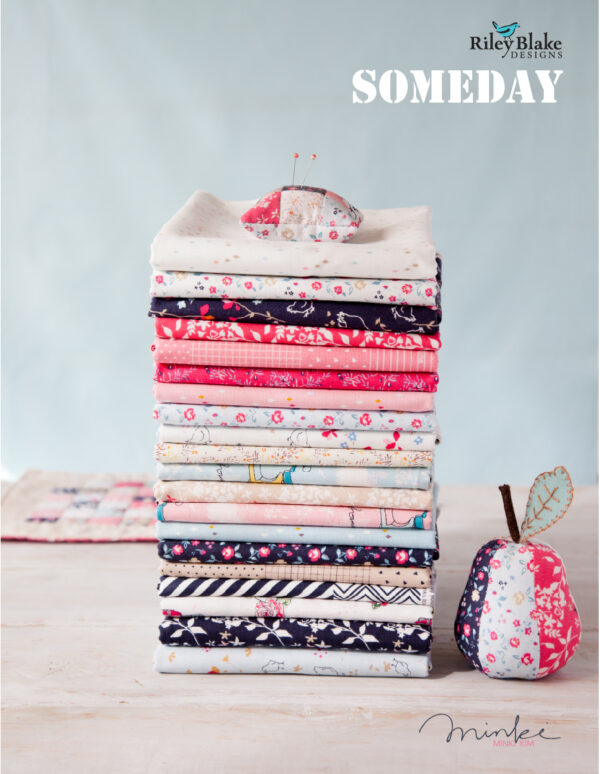 Difficulty level

Beginner

Time to Complete

Evening

Used Material

50 wt cotton thread, cotton batting, cotton fabric, cotton quilt batting, fabric marking pen, rotary cutter, ruler

Projects

home décor, pillow

Seasons

all seasons, Winter

Techniques

quilting, straight-line quilting
Used Products
What you might also like
12 comments on "Patchwork Heart Pillow"