How To Sew Swimwear Elastic with a Coverstitch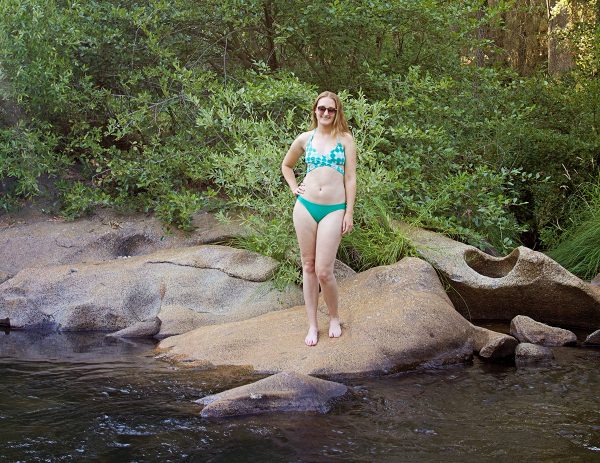 I wait all year for the chance to take out my swimwear fabric and make the perfect bathing suit. It's been one of my favorite activities for the past six summers. However, it can be challenging to get the fabric, fit, and construction just right! Only recently have I started to turn out successful suits.
This year, one of my secrets is my BERNINA coverstitch. The machine makes sewing elastic hems practical and beautiful. The stitches stretch to accommodate the give in swimwear fabric and look really professional on a homemade suit. Below are my steps for attaching swimwear elastic to your favorite bathing suit pattern.
Instructions for Attaching Swimwear Elastic
Step 1: Baste

Baste your main fabric and lining together. Linings help make your swimsuit more opaque and stable. Some people baste with their overlocker, but you can also do it with a zig-zag stitch or even spray baste them together. I simply "pin basted" mine together with pins.
Step 2: Attach elastic
Place narrow swimwear elastic close to the edge of the lining and main fabric. I like to use 1/4″ cotton swimwear elastic (which you can win in my giveaway, below!). With a narrow zig-zag width set to a wide stitch length (shallow zig-zags, long stitches), baste along the outer edge of the elastic, catching the lining and main fabric underneath. You could also do this with an overlocker, being careful not to cut into the elastic and fabric.
For this step, you don't need to stitch over all of the elastic, just the outer edge. To help pull the elastic and suit through the machine as you start, leave a tail of elastic behind the presser foot and use this to guide the fabric through the machine.
After you have finished, inspect your stitches and trim any excess fabric. Finally, fold the elastic once in toward the lining so that it is completely covered by the fabric.
Step 3: Coverstitch
Thread your machine for a two-needle coverstitch using coordinating thread. I used stitch number 22 on my BERNINA 1300MDC, the wide three-thread coverstitch.
From the right side of your fabric with the elastic folded under, stitch along the edge. The cover stitch should catch the raw edge of the elastic underneath. As in the photo below, the right side of the fabric will have two stitching lines from the two needles, and the underside will have the looper thread covering the raw edge of the fabric.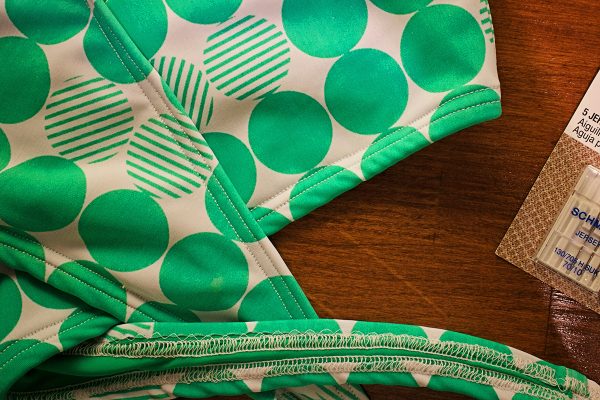 And here is my final suit! The top is a modified version of Madalynne's free Sierra Bra pattern, and the bottoms are based on McCall's 5861. Perfect for a weekend at the river!

Tips for Sewing Elastic with a Coverstitch
Mastering a coverstitch on bulky, stretchy seams can take time. Here are some helpful tips for sewing elastic on a coverstitch:
Go slowly and sew evenly. Practice on a scrap first and get ready to use your seam ripper until you are happy with your stitches.
Use ballpoint needles and high quality thread. My BERNINA dealer warned me about using poor quality thread, but I didn't totally believe her until my ancient bargain bin thread kept breaking. I replaced it with higher quality thread and the coverstitch worked much better. Similarly, ballpoint needles will help you avoid skipped stitches.
For the leg openings of my bathing suit, I actually don't like to use elastic at all. For hemming this part, I basted the raw edge in place with sewing glue before coverstitching.
Check out this video for more tips and tricks, including how to join elastic at the seams.
If you'd like to make a bathing suit for yourself, I'm giving away 5 yards of 1/4″ cotton swimwear elastic like the one used in this tutorial on my blog. Head over to MadebyMeg to enter the giveaway!
Projects

fashion

Techniques

sewing
What you might also like
2 comments on "How To Sew Swimwear Elastic with a Coverstitch"