Sewing a 1920s Themed Wedding Dress
For most, 2020 will forever be remembered as the year of COVID. Making masks by the dozens, searching high and low for hand sanitizer, and spending weeks on end in quarantine. For me, it will remain the most special year of my life, when I married my best friend Joey, aka Bear.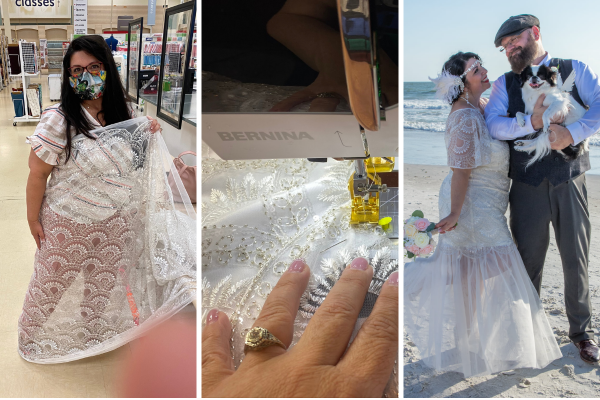 Hello, my sewing friends, my name is Sue O'Very-Pruitt, BERNINA Ambassador, and the owner of Sookie Sews.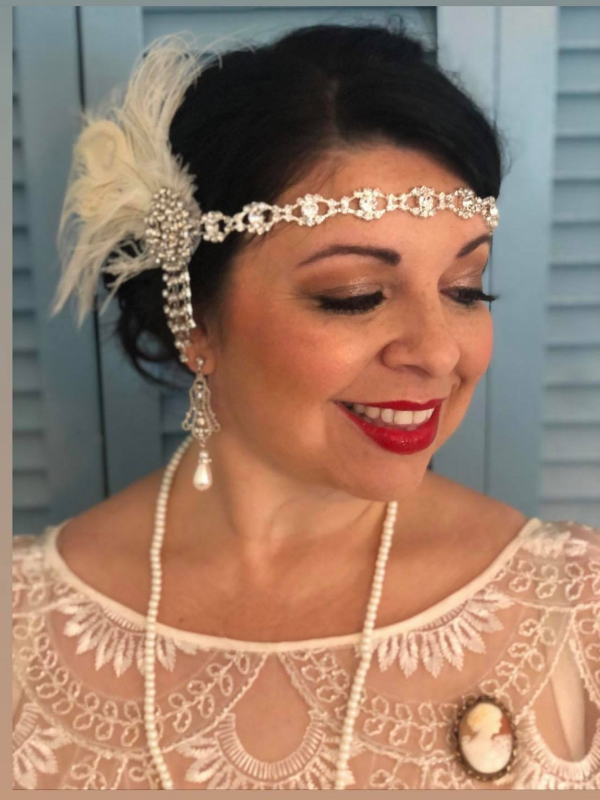 The Wedding Proposal
For two weeks in June of 2020, the mask mandate was temporarily dropped. We could once again go out to restaurants, walk through the mall, and go to the movie theater. Joey jumped on that opportunity orchestrating the most wonderful evening with local karaoke friends and a proposal of marriage. One of our karaoke customs is I sing first and then he sings right after me.
My song was, "To Sir with Love", by Lulu. As I'm walking off the stage, he suggested we sing a song together. However, he caught me off guard in the most delightful way. Instead of singing, he got on one knee and said, "This woman changed my life. She rose me from the dead, literally. My sweet Sookie Bee, good God, will you marry me?". My answer was, "Yes, of course, a thousand times." He gave me this beautiful 1920's hexagon and filigree set diamond engagement ring. This is the most remarkable piece of jewelry I've ever seen and had the honor of wearing. According to our karaoke customs, he sang next, the song, "Thank You" by Led Zeppelin (our song which has so much meaning to us). Fun fact, our nicknames for one another are Bear and Sookie Bee (that's where my business name came from, Sookie Sews).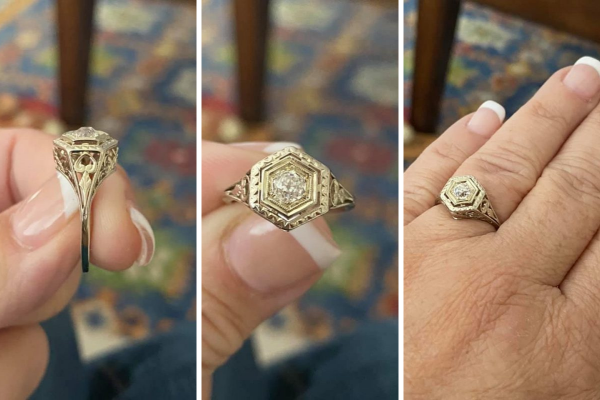 Set a Date and Sew the Dress
We set the date for 10-10-2020 and the pandemic was in full force not allowing our friends and family to attend the ceremony. Instead of postponing, we decided to keep it small with only our daughters and have some fun with a 1920's theme. From the very beginning, I knew I wanted to make my wedding dress, and now with this theme, I began doing research, sketching a design, and searching for fabric. Joey and I had fun looking around and until we both agreed this art deco arch lace with seed beads was the one!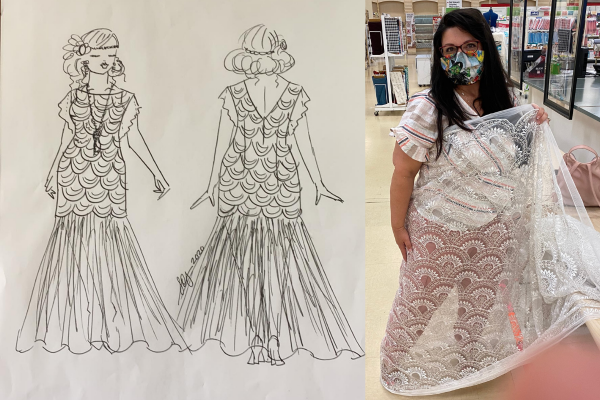 To bring my sketch to life, I started with a basic pattern and stitching up a sample out of muslin. In order to make my sleeves flouncy, I slashed up the basic straight sleeve pattern and used wrapping paper to create a new sleeve pattern piece.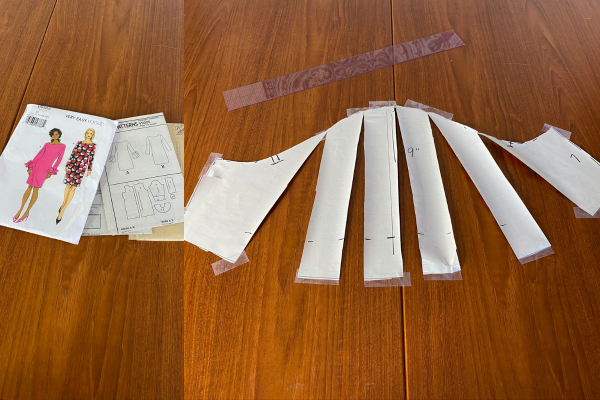 Sew, Fit, Alter!
Now that the fit was perfect, I cut the pieces out of my real fabric. This lace was so pretty and for a moment I hesitated cutting, it was expensive and I didn't want to make any mistakes. I pushed past that fear and CUT!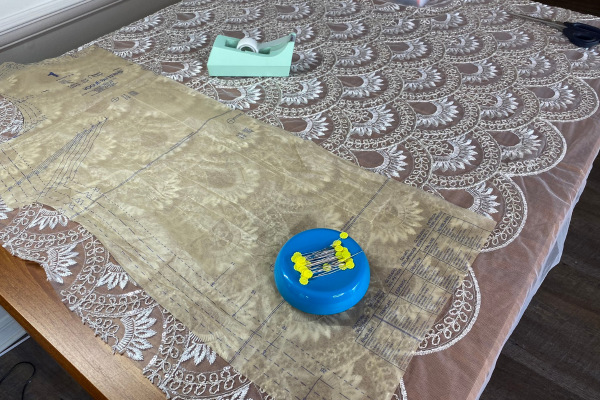 I fell in love with this lace because of the art deco arches and touch of sparkle. However, it wasn't until sewing over those shiny seed beads did I notice they were jumping all over the place, oftentimes getting lost in my feed dogs. I quickly fixed with this a pair of angled tweezers. I'd sew a little and then go back and pick up the beads that feel away from the fabric. I used my 1D foot with dual feed, this material sewed like a dream.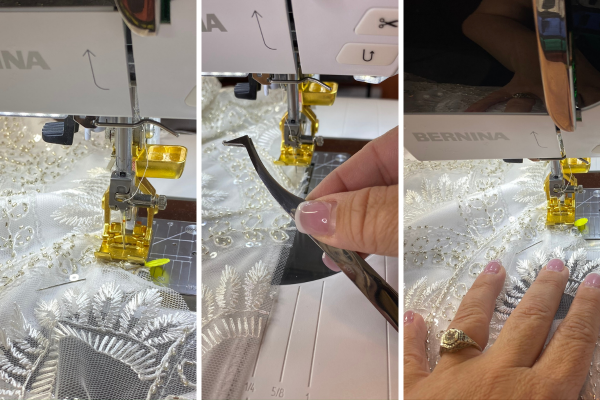 The first time I tried my wedding dress on with the real fabric I was so happy! The lace landed exactly how I wanted at the hem, and the side arches ended up matching perfectly. Now it was time to finish sewing and hemming. Thankfully my daughter Heidi has been around sewing her entire life and was able to mark my hem for me.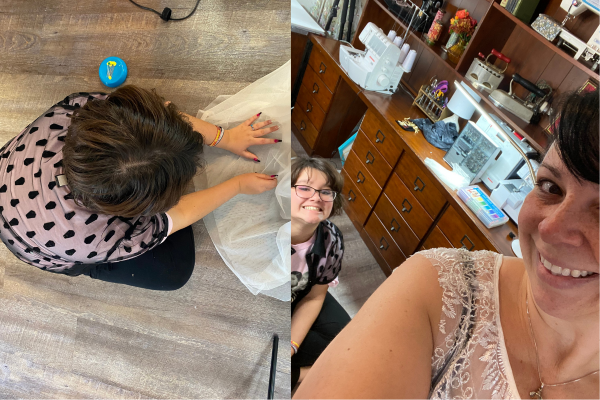 Pressing Time
On to the pressing and adding those flouncy sleeves. Thanks to my LauraStar Smart U ironing system, I was able to press with confidence. When pressing over the beaded lace of the dress, I increased the speed of the fan to help hold the material to the ironing board. This produced the most professional results, I was really impressed and proud of the results.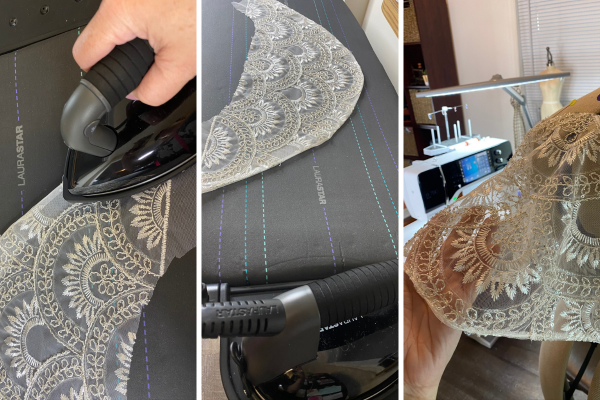 When I tried the dress on for the final time, I got tearing eyes. I showed my daughter and Joey. It was a moment I will never forget. Heidi hugged me and said I looked so beautiful. Joey had a look of amazement on his face and said, "Sookie, it looks just like the drawing, you are stunning!".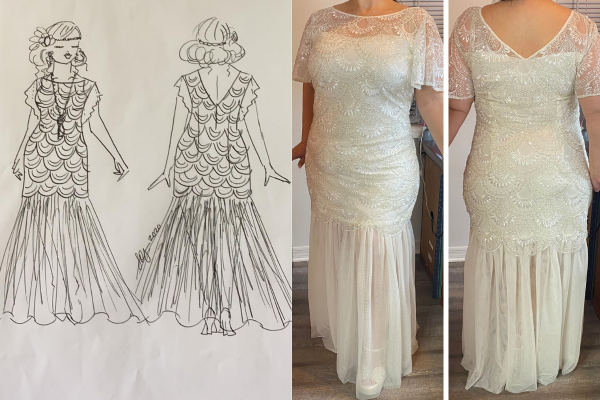 Now all I needed was some hair and make-up and a trip down the sandy aisle on the wedding day.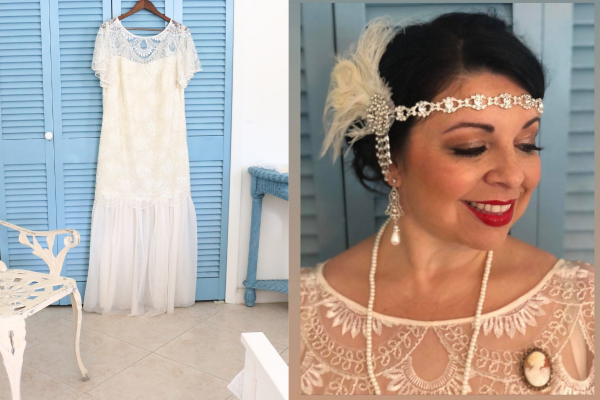 I said "I Do" to my sweet Bear on October 10th, 2020 at sunset on a perfect sunny day in Florida. We were the hit of the beach with beachgoers watching our wedding happen. The girls were all decked out in 1920's flapper dresses, Joey looked as if he stepped right out of a 1920's movie, and even Kiwi our Japanese Chin was there to celebrate the day with us. I wouldn't have changed a thing.
Seasons

wedding

Techniques

garment sewing, sewing
Used Products
What you might also like
18 comments on "Sewing a 1920s Themed Wedding Dress"