Sewing Leather with a Domestic Machine: A Guide
Hello everyone! My name is Dani Miller and I am a new ambassador for BERNINA. Working with leather and heavier materials like waxed canvas is my favorite! Over the next year I will be sharing tips and projects that show you how to sew leather on a domestic machine, which you may not be familiar with yet. You can see some of my work on Instagram at knitty34.
It can be intimidating to sew leather on a home machine if you have not done it before. But today I am going share with you some important tools, settings, and material sources to give you the confidence you need to make your first project.
I am working with a BERNINA 480, but any BERNINA should be able to handle the projects I will show you. Above all the important part is picking the right needles, threads, feet, and settings.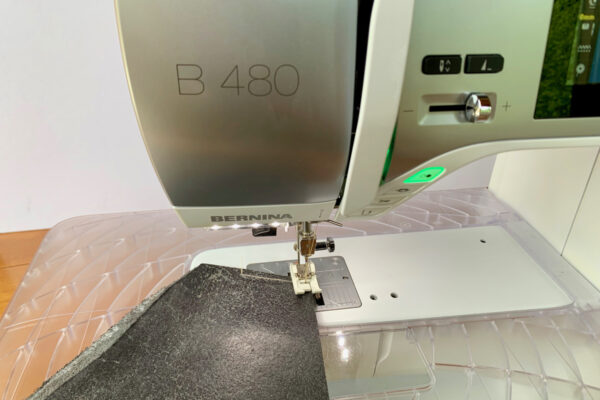 Materials for sewing leather:
Needles:
For sewing with leather you are going to need leather needles. These differ from standard needles in that they have a small blade on each side of the eye. This is because unlike a woven fabric that has threads that will part when poked with a needle, leather needs to have a small hole cut in it in order for the thread to pass through. To start out I would get a variety of sizes, such as 90/14, 100/16, and 110/18. Just ensure they are labeled Leather.
Thread:
For leather you will not be able to use cotton thread, because the leather will quickly disintegrate the cotton. Polyester or sew-all thread can be used, but it is generally too thin and not strong enough to hold a seam in leather. Ideally you want to use a nylon thread, often called upholstery thread. I like Coats and Clark Upholstery Thread, and I use a neutral color for most of my work.
Feet:
Leather is sticky! You will want to use a foot that will allow the material to slide underneath it. This can be BERNINA Roller Foot #51, BERNINA Zigzag foot with non-stick sole #52, BERNINA Straight-stitch foot with non-stick sole #53 or BERNINA Open embroidery foot with non-stick sole #56. The Big Book of Feet has all the details about presser feet you could possibly need.
Machine Settings:
When sewing leather with a domestic machine, there are a few settings that you will need to adjust. Sewing with a leather needle cuts a hole in the leather with each stitch. To prevent the leather from tearing along the seam line, you will need to make your stitch length longer. Imagine the perforations that allow you to easily tear a check from a checkbook. You don't want that to happen to your project! I recommend a minimum stitch length of 3.5, but you can definitely go longer.
You may need to play with the tension on your machine to get a balanced stitch. I find that I need to increase my top thread tension to the maximum. But please note, because you are cutting a hole in the leather the back side of the seam will always look a little rougher than the top side. Remember this when you are working on your project and keep the "good" side of the project up!
Tools:
There are some tools that are useful to have when working with leather, some of which you might already have in your household toolbox!
Essentials:
A utility knife: Thin leather can be cut with a rotary cutter, but the blade will get very dull, very quickly. I recommend getting a utility knife. This is the knife I use, because I like the ergonomic handle, but any knife that holds utility blades will work. Please avoid the "breakaway" type of knives as they are not strong enough.
An inexpensive cutting mat: Using a fixed blade on a rotary cutting mat will quickly damage it. Pick up an inexpensive art mat or use the back side of an old rotary mat that you don't mind damaging further.
Metal ruler: It is best not to use a fixed blade with plastic quilting rulers, as you run the risk of damaging both the ruler and your fingers. A couple of sizes of metal ruler are all you need. Harbor Freight Tools is an inexpensive source for these.
Glue: There are many different options for leather glue, but water soluble contact cement is low-VOC and easy to clean up. Bish's is a good one. Standard contact cement is stronger, but follow all of the manufacturers safety instructions carefully.
A mallet: Any time you use a leather working tool, such as a hole punch, you will want to use a mallet to strike it and not a hammer. A hammer will quickly damage tools and can cause injuries if you chip the metal. A lot of leather workers like a rawhide mallet.
Hole punches: Snaps and rivets both require a hole to be punched in the leather first. They can be purchased individually (the two sizes I use the most are #1 3/32 inch and #2 1/8 inch), as an interchangeable set, or single tool.
A lighter: This is used to melt the ends of the thread to secure them.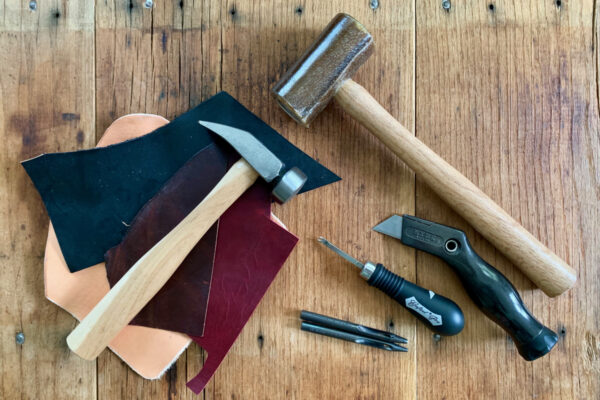 Nice to haves:
Cobblers hammer: After stitching a seam, the thread is pounded flat into the leather using a cobblers hammer. With a rounded face, this hammer will not leave a circular mark in the leather from the edge.
Edge beveler: This tool rounds over the edge of a piece of leather, sort of like sanding a piece of wood. You definitely don't have to have this, but it adds a nice finished touch.
Edge finish: Either beeswax or gum tragacanth can be used as a simple edge finish for projects. Project posts will include details on using edge finishes.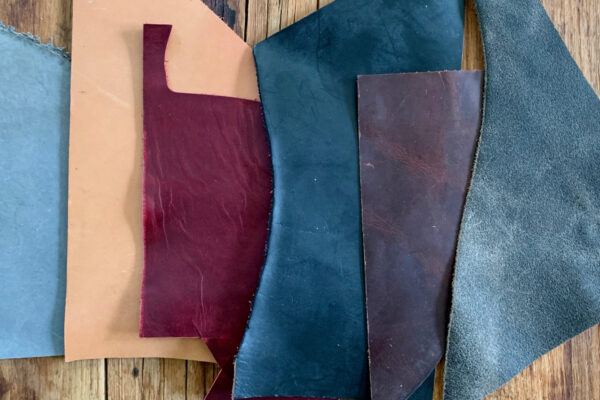 Sourcing Leather:
There are a number of options for sourcing leather. Most importantly you will want to work with thin leather on a domestic machine. Leather thickness is measured in ounces, and 3oz or less should work well on a domestic BERNINA machine.
Tandy Leather is a chain of stores that has a wide variety of leather to choose from. If you have one local to you, definitely go check it out. They have great staff that can help you choose leather for your project.
My favorite place to find leather is thrifting! Go to a local thrift store and find the largest bag/pair of pants/old jacket you can find. Don't worry if it is ugly, you aren't going to wear it, just cut it up for parts! I have an old long suede skirt I have been slowly cutting up for years.
There are numerous other online sources for leather, but I have not tried any of them myself. Stick to ordering small pieces to start (samples even!) to make sure that you like the look and feel, and that the leather is thin enough to use with your machine.
I will have more details on specific techniques and tools in my future project posts, but hopefully this will get you excited to start sewing leather with a domestic machine!
Difficulty level

Beginner

Used Material

leather, sewing machine, thread

Seasons

all seasons

Techniques

crafts, sewing with leather
What you might also like
12 comments on "Sewing Leather with a Domestic Machine: A Guide"