Sunrise Baby Quilt: Ready, Set, Go Get Your Fabric!
Are you ready to start your Sunrise Baby Quilt? (As if we hadn't already heard from many of you who are chomping at the bit!)
This week we'll focus on choosing fabrics. One of the striking features of this quilt – and a characteristic of Modern Quilting in general – is the use of solid colors. Notice that most of my colors are highly saturated; only at the very bottom of the quilt – the "horizon" – do they fade to light pastel shades.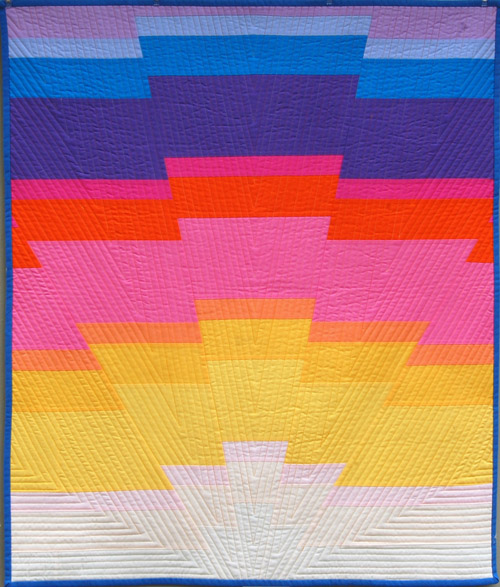 I used Benartex Colors for Quilters for my quilt, and you'll find the exact color names and product numbers in the PDF (link below). I've also provided color charts for Moda's Bella Solids and Robert Kaufman's Kona Solids, but since color lines vary in tones and shades, some of the colors might not match up exactly with the Benartex solids. So, use your judgment when purchasing your fabric. Lay your fabrics out next to each other, and then decide whether the combination gives the "sunrise effect" you're looking for. Don't hesitate to substitute other colors or to mix fabric lines – this is your quilt, so select the shades you like!
What if you don't like solids? Feel free to substitute small or mono-colored prints that "read" solid. Avoid large prints, busy designs, and those with lots of colors – the extra lines and patterns will muddy the colors and you'll lose the striking effect of the "fractured" sunrise.
Finished quilt size: Approximately 36″ x 43″
Supplies
1/4 yard each of 13 Benartex Colors for Quilters solids*
1-1/4 yards Benartex Solids in Lime Green (#6194301B) for backing
1/2 yard Benartex Solids in Cobalt (#6001001B) for binding
100% cotton crib batting, 45″ x 60″
100% cotton 50-weight thread for piecing, such as Mettler  Silk-Finish Cotton
Gutermann Natural Variegated thread in color Sunrise Sunset for quilting
100% cotton 50-weight thread to match binding fabric
Walking foot (BERNINA Walking Foot #50)
Quarter-inch foot (BERNINA Patchwork Foot #37/37D or Patchwork Foot with Guide #57/57D
All-purpose straight stitch foot (BERNINA Reverse Pattern Foot #1/1C/1D or Jeans Foot #8/8D)
Cutting mat and rotary cutter
24″ gridded quilting ruler or straight edge
Ironing board and iron
Thread snips
Hand-sewing needle
Curved quilt-basting safety pins
*See downloadable chart for alternate fabric suggestions.
Step 1) Collect the fabrics.
Download the fabric and cutting chart: Sunrise_Baby_Quilt_-_Week_One_-121914.pdf
Select fabrics based on guidelines in the supply list and the chart.
Step 2) Prepare the strips.
Cut strips from each quarter yard of fabric on the crosswise grain, from selvage edge to selvage edge, to the exact measurements indicated in the chart above (furthest right column).
Our Sunrise Baby Quilt Sew-Along continues on Tuesdays throughout March (5, 12, 19, and 26).
Missed a week?
Techniques

quilting
What you might also like
13 comments on "Sunrise Baby Quilt: Ready, Set, Go Get Your Fabric!"