Tips for Sewing a Basic Tee: Fabric Selection
Welcome! In this series, we will learn tips and tricks for sewing a basic tee. I will be with you each step of the way! Today, we begin with an introductory post covering fabric selection and the tools we need. In the following weeks, we will move on to construction steps and tips to help you complete a successful project! If you are unfamiliar with knit fabrics, working with them can feel intimidating. With the right tools and techniques, however, you will sew with knit fabrics confidently and joyfully!
The next three blog posts will cover:
 Alterations, cutting out your fabric and setting a sleeve
 Construction and application of a neckband
 Hemming on your serger with a blind hemstitch
But first things first . . .
Why Should You Learn to Sew a Basic Tee?
Tee shirts are extremely versatile garments and a staple in our wardrobe. Depending upon fabric choice and sleeve length, a tee can serve as a lightweight summer garment, a dressy top to wear to an event, or a cozy sweater to keep you warm in the winter. They are great layering pieces and can be worn under cardigans, blazers, and sweaters.
Knit fabrics are fun and easy to wear. When you reach into your closet for something comfortable, chances are you will choose a knit garment. Knits are forgiving and they stretch with our movements. Plus, today's knit fabrics are so soft and feel great against your skin!
The skills needed to sew a knit tee are the same basic skills needed to sew a wide range of knit garments. These foundational skills will help you achieve success in your future garment projects.
Terms to Help You Understand Fabric Properties
Choosing the fabric for your tee is the first step and crucial to your project, so we will start there. First, we will discuss terms you'll need to be familiar with:
Stretch
Direction of Stretch — Knit fabrics will have either two or four-way stretch. Two-way stretch fabrics will stretch in only one direction, usually horizontally from selvage to selvage. Four way stretch fabrics will stretch both horizontally and vertically. Four-way stretch tops may stretch downward and hang a bit longer than two-way stretch tops, but both work well for tees.
Stretch percentage refers to the amount of stretch the fabric has. The greater the stretch percentage the more stretch the fabric has. Garments sewn in fabrics with less stretch percentage, will fit more snuggly. Each pattern offers a recommended stretch percentage to help you choose your fabric wisely. The tee pattern that I am using throughout this series is the SSE Seattle Tee and it requires at least 25% two-way (horizontal stretch).
Drape & Weight
Weight refers to the thickness of the fabric and often goes hand in hand with drape. Drape refers to the way a fabric hangs. Lighter weight fabrics will often have a more fluid drape and the folds will be smaller and lay closer together. Heavier fabrics will have a more crisp or heavy drape and the folds will be larger and hang farther apart.
Fiber Content
Polyester Spandex blends- many of today's most comfortable and popular knit fabrics consist of a polyester spandex blend. In the past, polyester has gotten a bad rap. Many of us remember all too well the polyester fabrics that our mothers or grandmothers used and how hot and itchy they were. Polyester has come a long way since then! Today's polyester blends are incredibly soft and make some of the best choices for comfortable knit garments. Polyester blends have a medium weight and drape and work well for tee shirt weight garments.
Cotton Blends – Cotton blends are light and breathable. They often have a more crisp hand and drape than polyester blends. They are comfortable in warm weather, often have a casual look and because of the crisp drape will lay farther from your body.
Rayon– Rayon fabrics are natural fibers that are derived from a synthetic process. They are light, breathable, and have a very fluid drape. Viscose fibers can be made from bamboo, wood pulp, etc. Rayon fabrics include, modal, bamboo, viscose, lyocell, etc. Rayon fabrics feel luxurious and can have a dressier feel. Due to the fluid drape the finished tee will lay a bit closer to your body.
Fabric Selection
Now, let's talk about the best fabric for your basic tee. Here are a few of my favorites. You can find a huge selection of each at So Sew English Fabrics. Be careful, these fabrics can be addictive!
Double Brushed Polyester
DBP is one of the most popular polyester spandex blends available. It is brushed on both sides for an incredibly soft feel. It has beautiful drape a great four-way stretch, usually 50% or more. Prints on DBP are vibrant and wear well, looking new wash after wash. DBP is a medium weight fabric making it less challenging to work with than some lightweight fabrics, and perfect for beginners.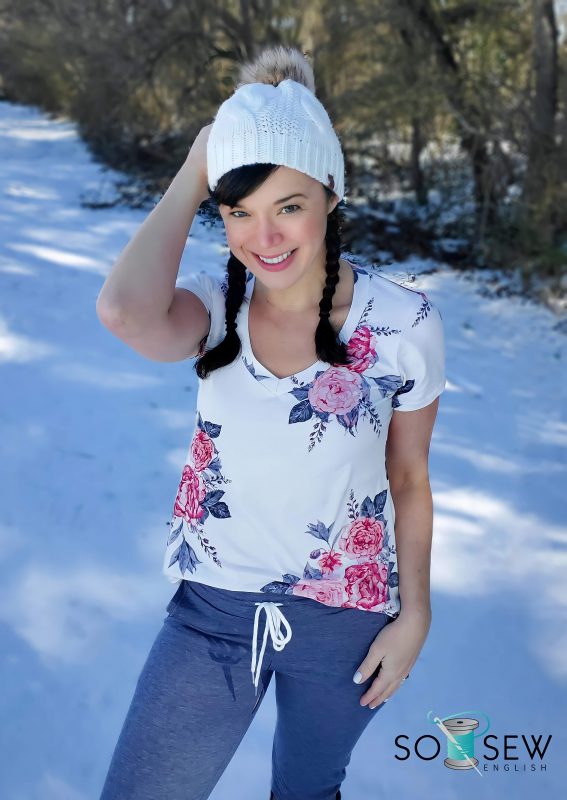 Double Brushed Polyester T-shirt & Brushed French Terry Joggers
Rayon Spandex
Bamboo, Rayon Viscose, and Modal are all wonderful choices for your tee. They are breathable, soft, and have a fluid drape. Rayon tees are wonderful for layering as they are a bit lighter weight and do not create additional bulk under other garments. The light weight can make them a bit fiddly to work with and slightly more challenging during construction. They usually have good four-way stretch, approximately 60% horizontally and 40% vertically. Care should be taken when laundering your rayon tee to preserve its longevity. Wash inside out on gentle with other soft fabrics.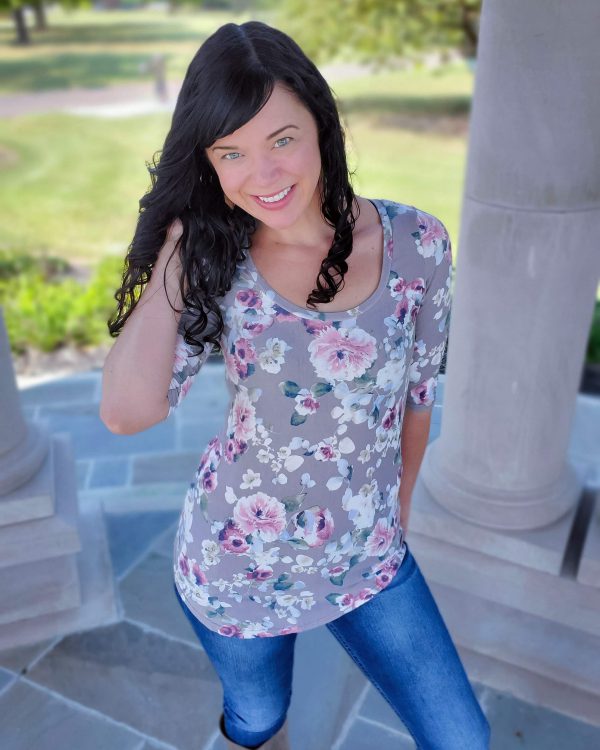 Rayon Spandex Tee
Cotton Blends
Triblend, Cotton Modal, Micro Viscose Cotton, and Polycotton jersey are all cotton blend jerseys that work beautifully for T-shirts. They are often lighter weight, but the crisp hand helps keep them from being slippery, easing construction a bit. Most cotton blends have approximately 40% two-way stretch and a crisp drape.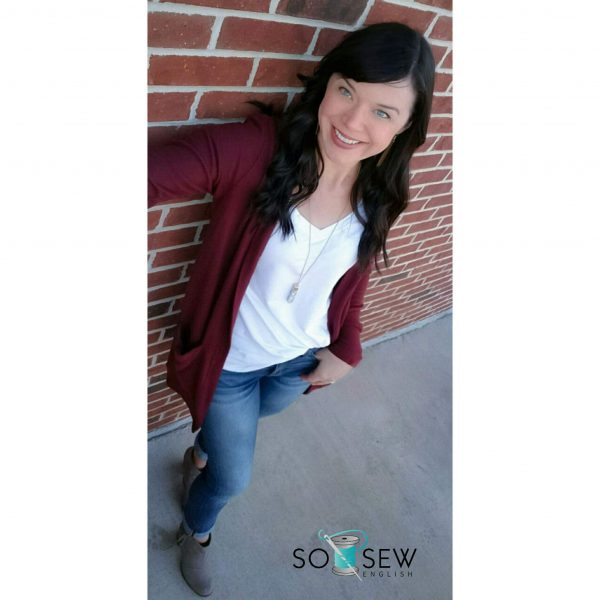 Micro Viscose Cotton Tee & Brushed Hacci Sweater Knit Cardigan
Poly Jerseys
Poly Rayon Spandex, Crepe Jersey, Swiss dot jersey, knit crepe, etc. are all great T-shirt fabrics. They vary in texture and are all light to medium weight and great for layering. Most Poly jerseys have approximately 40% two-way stretch and good medium drape.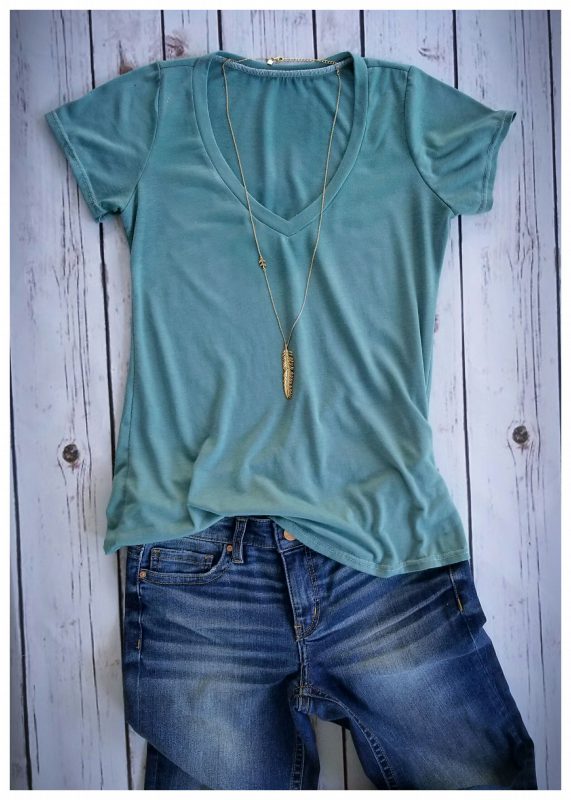 Poly Rayon Spandex Tee
Sweater Knit
Oakley, Hacci, and Brushed Hacci are all polyester spandex blends and great sweater knit choices for cooler weather, long sleeve tees.  People are often surprised that you can sew your own sweater rather than knit one! Sweater knits generally have good four-way stretch and a heavier drape.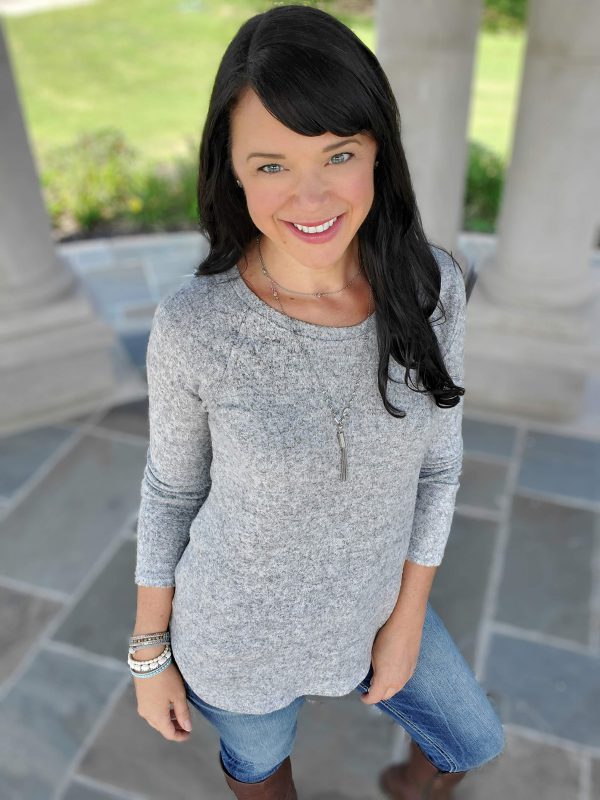 Brushed Hacci Sweater Knit Top
French Terry
French terry is a medium-weight sweatshirt fabric that is smooth on the face and has tiny soft loops on the back. French Terry is perfect for sewing long sleeve "sweatshirt" style tees. There are multiple varieties of French Terry.  Some have two-way and some have four-way stretch. The most popular variety of French Terry is Poly Rayon Spandex French Terry. It is soft with approximately 30% two-way stretch, and it has a medium drape.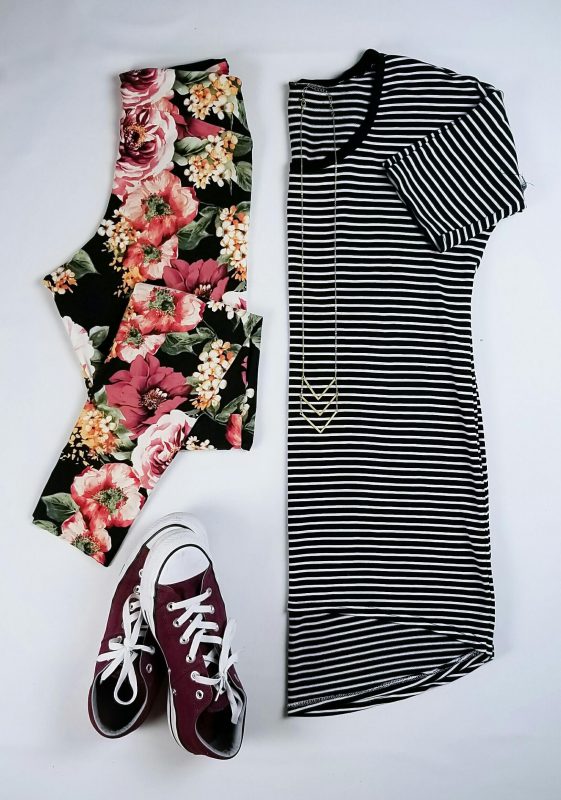 Baby French Terry Tee & Double Brushed Polyester Leggings
Let's take a closer look. In the following video you can see examples of each fabric type:
Supplies to Sew a Basic Tee
Polyester thread
Stretch, jersey, or ballpoint needles
Four thread overlock serger (I will be using my bernette 64 airlock)
Rotary cutter and cutting mat (or scissors)
Iron and ironing board
Blind hem foot
Seattle T-shirt Pattern

Download the pattern for

FREE

with code: BerninaSeattle
In the next post, we will begin sewing our tee by making any necessary alterations to our pattern, cutting our fabric, and setting our sleeves. I can't wait to dive in!
Tips for Sewing a Basic Tee
Difficulty level

Confident Beginner

Time to Complete

3-4 hours

Used Material

ball point needles, basic sewing supplies, blind hem foot, coordinating thread, cutting mat, iron, ironing board, jersey knit fabric, knit fabric, overlocker, polyester thread, rotary cutter, scissors, serger, stretch needles

Projects

shirts

Seasons

all seasons

Techniques

blind hem, garment sewing, pattern sewing, serger, serging, setting a sleeve, sewing, sewing with knits, sewing with spandex
What you might also like
11 comments on "Tips for Sewing a Basic Tee: Fabric Selection"