Traveler's Purse Tutorial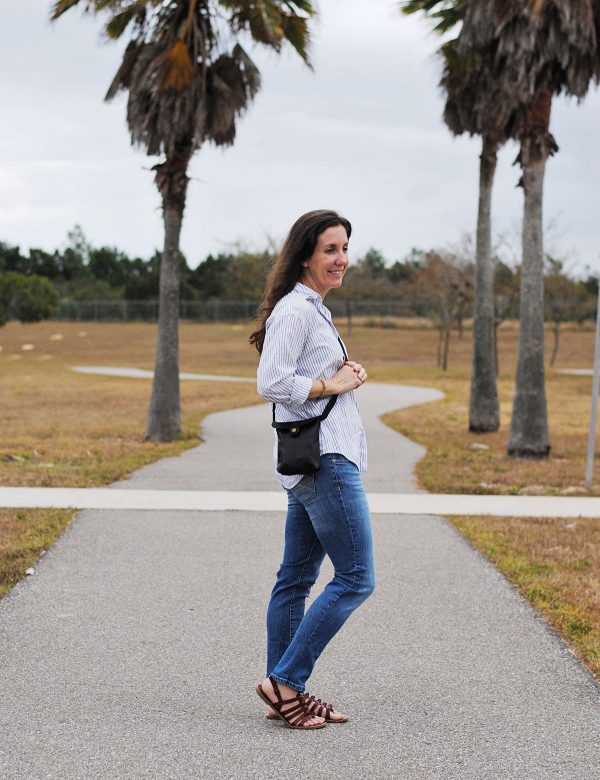 We love to travel in our family! We just returned from a great vacation to the mountains and we're embarking to head off on an overseas trip to Japan in a few weeks. All of this traveling has led me to search for a small little purse that can hold just a few of my essentials. I created this traveler's purse tutorial so I could have a small bag that is just big enough to hold my phone, wallet, lip gloss and sunglasses, just the necessities. Take a look at this simple 10 step tutorial to make your own traveler's purse.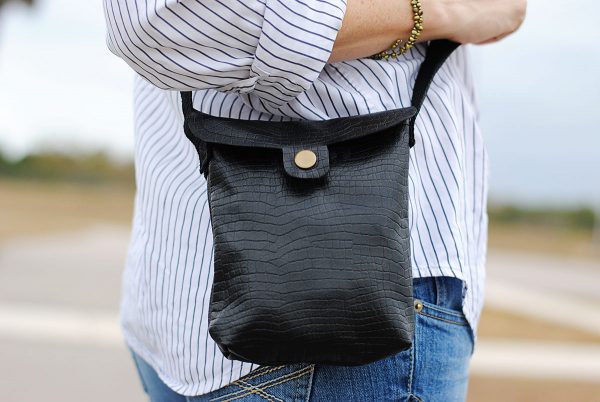 Materials to Sew a Traveler's Purse
Tips for sewing with leather
Have a new, sharp leather sewing needle in your machine (these are marked leather on the front of the case.)
Use binder clips or clover clips instead of pins to hold your project together.
Remember that once a needle goes into leather, the hole is there forever.
You don't need to finish seams or line a leather project, the edges will not fray.
Use a presser foot with a non stick sole, such as Straight stitch foot #53 with non-stick sole
If you do not have a non-stick foot, use a piece of tape attached to your presser foot as mentioned and illustrated here.
Assemble the Pattern
Print out the traveler's purse pattern above. It will print out on two pages. Make sure when printing the pattern that you have selected print to actual size and auto portrait/landscape.
Instructions to Sew a Traveler's Purse
Step 1: Cut Out Pattern
Once the pattern is printed, cut out two body pieces from the leather. Do not cut out the triangles at this time, only cut on the outside lines.

Step 2: Cut Out Triangles
Now it is time to cut the triangles from the pattern. Once they are cut out, trace the triangles onto the wrong side of the bag pieces.


Step 3: Sew Triangles
With right sides together, align the two legs (straight lines) of the triangles. The point of the triangle will be at the fold and the two edges will meet up. Sew directly on the marked line. You will sew a total of four triangles.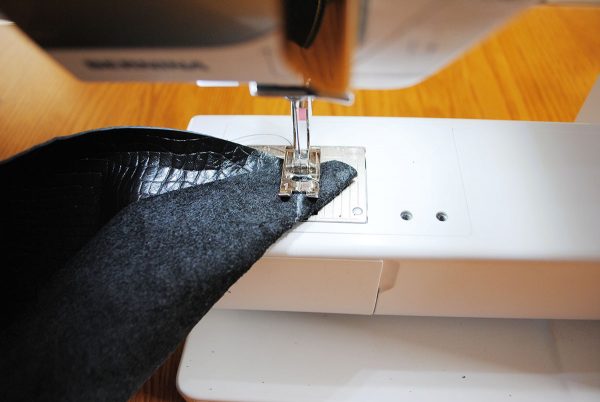 Step 4: Sew Front and Back Together
Finger press the triangles you sewed in step three. Press the triangles from the front bag piece to the inside and press the triangles from the back bag piece to the outside. Doing this will help the triangles nest against each other, making it easier to line seams up, this also creates less bulk. Use binder or clover clips to hold seams in place and sew the front and back pattern pieces together using 1/2 inch seam allowance.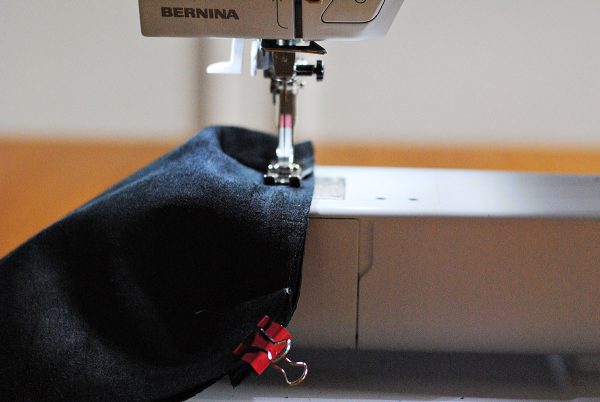 Step 5: Topstitch
Finger press down the top edge of your bag. Press down 1/2 inch, and use binder or clover clips to help hold in place. Using 1/4 inch seam allowance, top stitch this edge.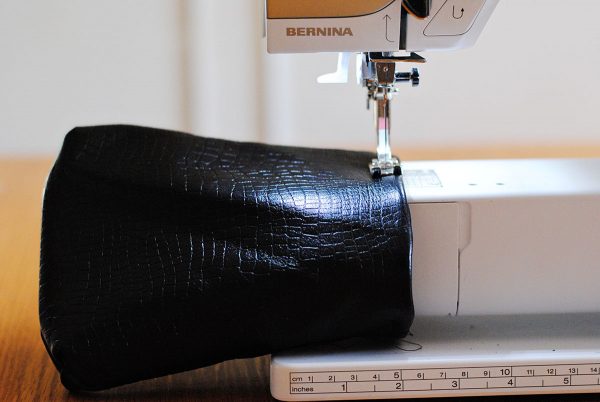 Step 6: Cut Out Flap
From the remaining piece of your leather, cut out one flap pattern piece.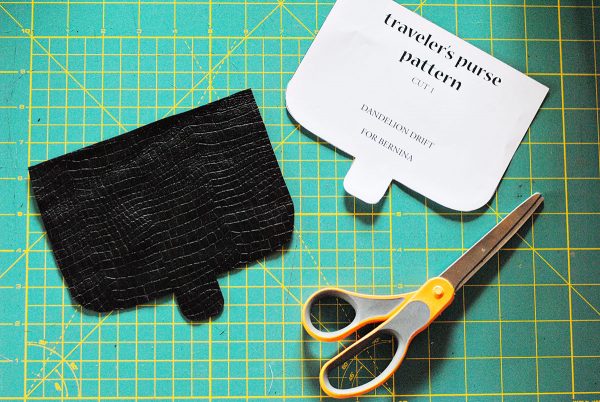 Step 7: Top Stitch Flap
Finger press the top edge (straight edge) of the flap down 1/2 inch. Use binder or clover clips to hold in place. Top stitch this edge using 1/4 inch seam allowance. Now top stitch around the remaining sides using 1/4 inch seam allowance.
Step 8: Attach Flap
It's time to sew the purse flap to the body of the bag. Measure down 3/4 inch from the top of the bag and align your finished edge of the flap on the 3/4 inch line. Sew the flap in place, using 1/4 inch seam allowance on three sides (the left, right, and along the previously top stitched line).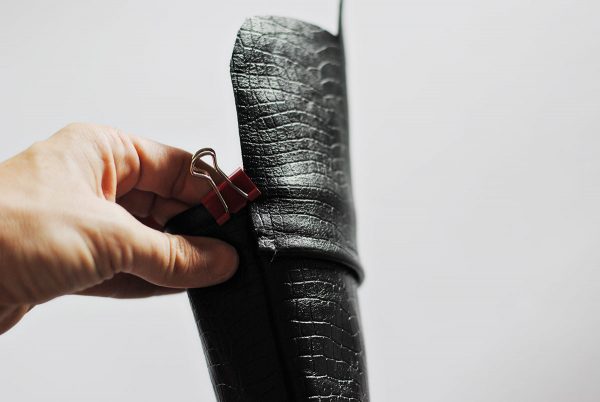 Step 9: Add Snaps
Following the snap manufacturer's instructions, add snaps to the bag. Make sure your snaps align. Here's a quick little tip for adding snaps to leather. I found it challenging to poke the prongs through the leather, so I used a sewing needle to help get those holes started. The prongs then easily slipped through the small hole I created with the sewing needle.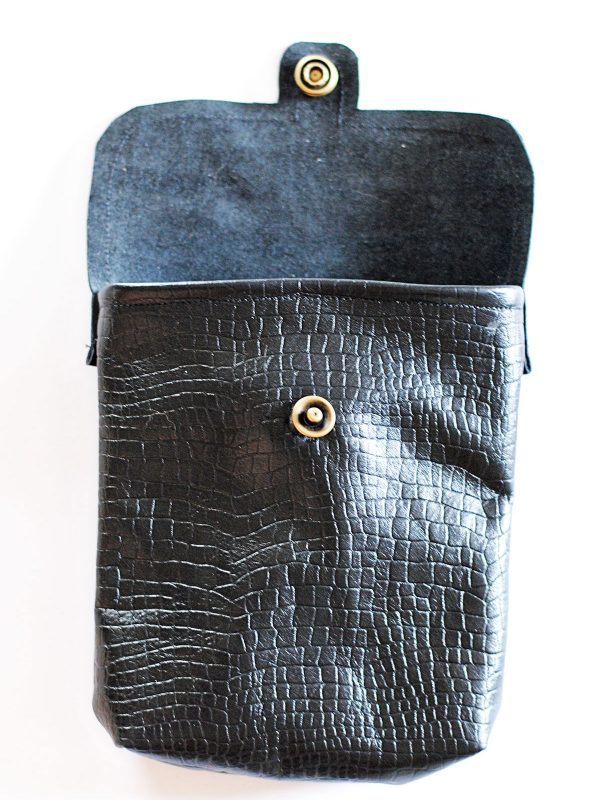 Step 10: Sew on Straps
Woo hoo! We've made it to the last step. It's time to take your webbing and sew on the purse strap. I simply measured the length I wanted my strap to be, added 1 inch and cut to size. Fold under 1/2 inch on either end and pin to itself to hold the fold. This last step I used double sided tape to hold my webbing to the bag.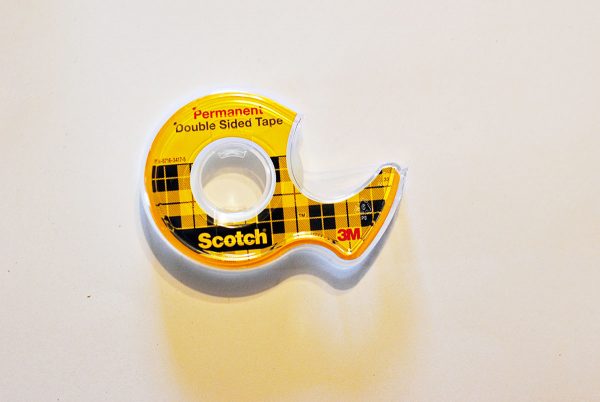 Measure down 1/2 inch and tape your folded webbing in place. The double sided tape is strong enough to hold the strap in place while you sew on all four sides, using 1/8 inch seam allowance. I also sewed an x where the strap is on the bag to help reinforce this seam.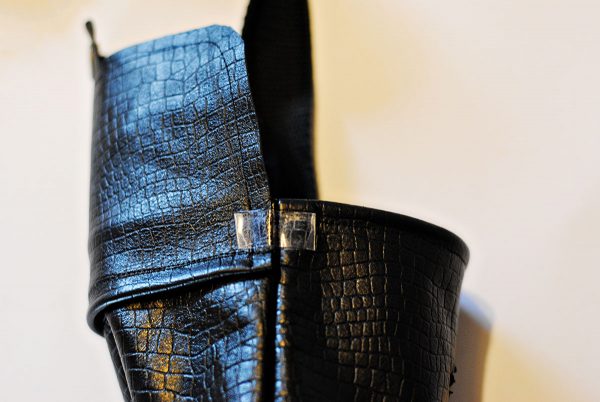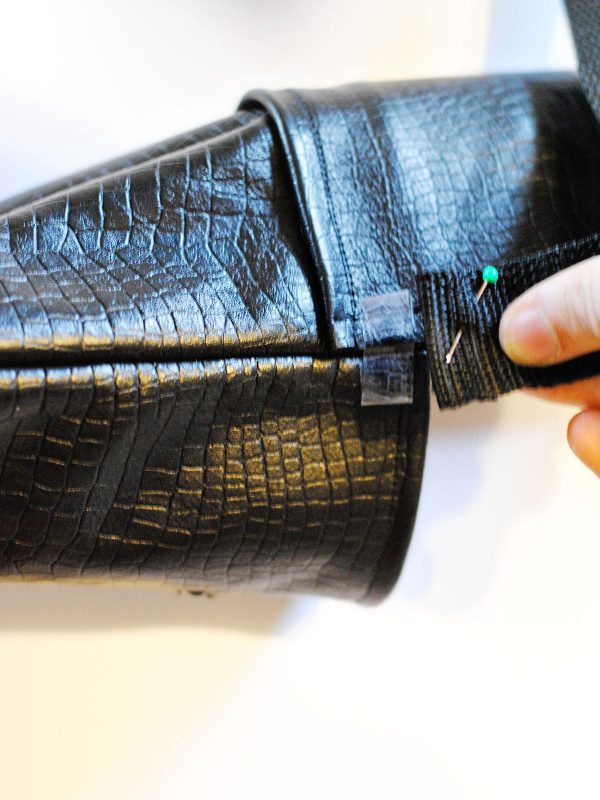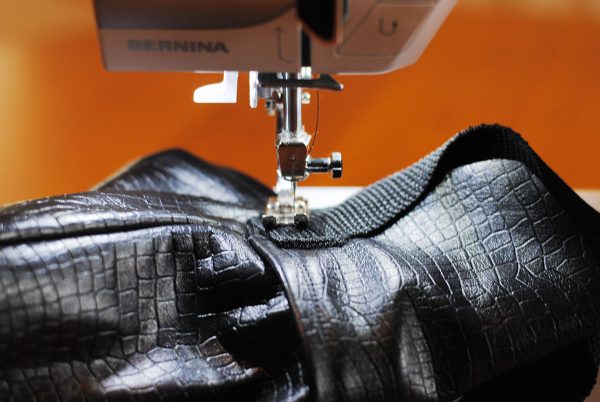 That's it! Your traveler's purse is done and you are ready for your adventures!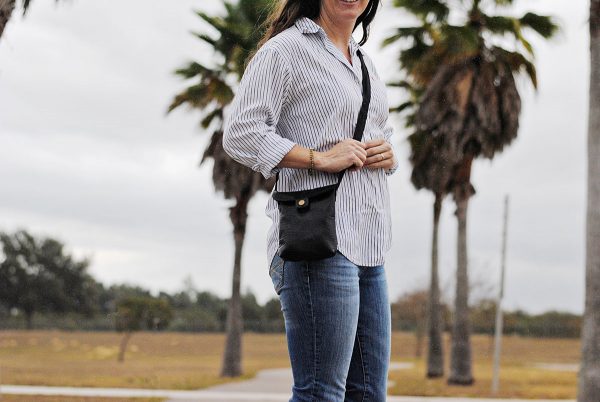 Our December 19 Gift for You:
A bright BERNINA red umbrella to keep you dry when skies are gray to one lucky WeAllSew fan!
All you have to do is post a comment below answering the following question:
What type of bag or purse do you want to learn how to make in the coming year?
A winner will be chosen at random on December 20, 2016 and announced the following week!
Good luck!
The contest is open for comments until December 19 at 12:00 midnight Central Time. Click here for contest rules.
Congratulations to WeAllSew reader "cecilia3," the winner of our December 19th gift. Enjoy!
Projects

fashion, purses
What you might also like
73 comments on "Traveler's Purse Tutorial"