How to use Stamp Sets for Sewing Projects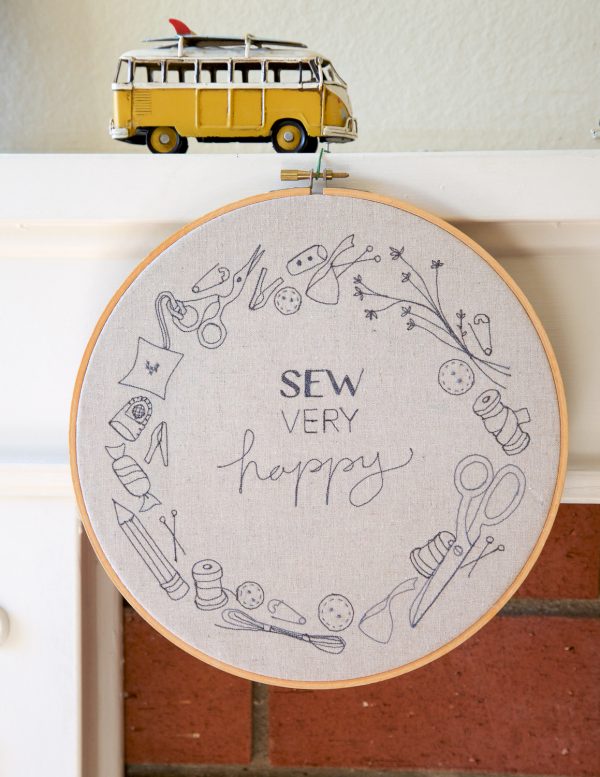 Hi, it's Minki from Minki's Work Table. I am an author of Sew Illustrated and a new fabric designer for Riley Blake Designs.
Today I would like to share one of my tricky ways to transfer designs on the fabric—Using stamps!
I machine stitched this hoop art using my Sew Very Happy stamp set that I designed for Altenew. Altenew is well-known for their elegant floral designs in paper crafting and I am so happy to be able top contribute my designs for the sewing community. To share in the fun, I am giving away a set of my stamp designs and two inks for one lucky WeAllSew reader! Read more further below.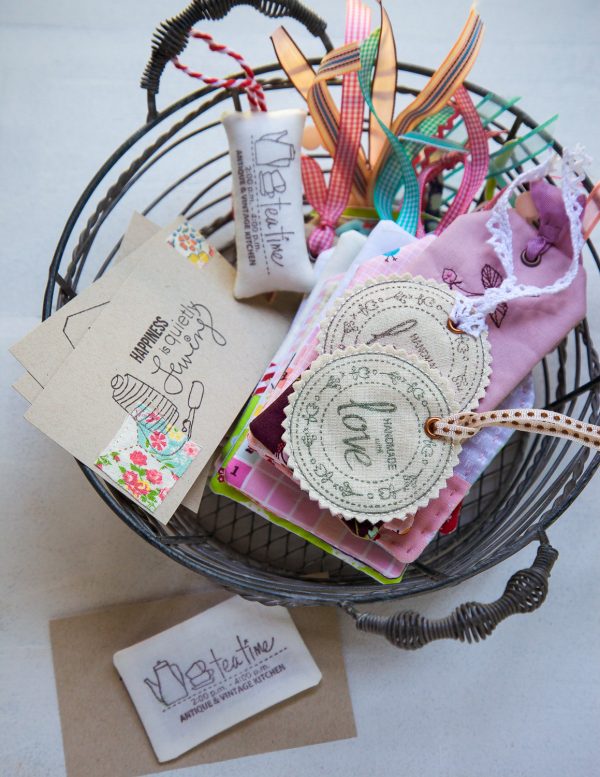 Making fabric/paper tags is another way of using fabric scraps.
Materials to Make a Hoop Art & Gift Tags
15″ x 15″ Linen
10″ hoop
A set of clear stamps
Acrylic block
Erasable Fabric Inkpad, Stamp ink
10″ x 10″ Light weight fusible interfacing
Dark color thread (I used 28 weight gray Aurifil thread)
Fabric scraps
Kraft paper
Pinking shears scissors
Eyelet, ribbon
Instructions to Make a Hoop Art Design
1. Fuse the fusible webbing on the wrong side of linen. Trace the hoop size on the center of linen using a temporary marker. (I used Air Erasable Marker by Clover and the mark disappears in a day.)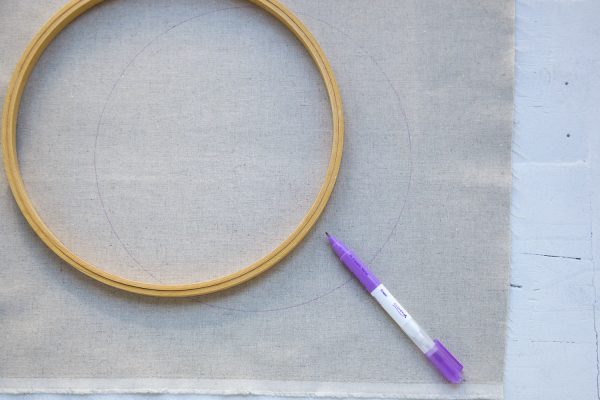 2. Use a set of clear stamps, a fabric inkpad and an acrylic block.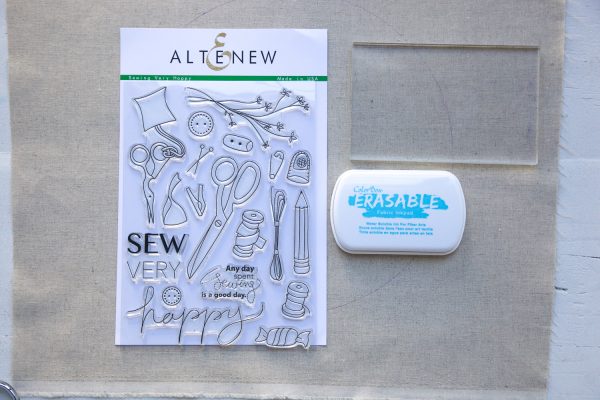 3. Arrange each design and stamp inside of the circle. Test your stamp on the paper first and decide your design.
I stamped big motifs first and fill in the gaps with smaller motifs.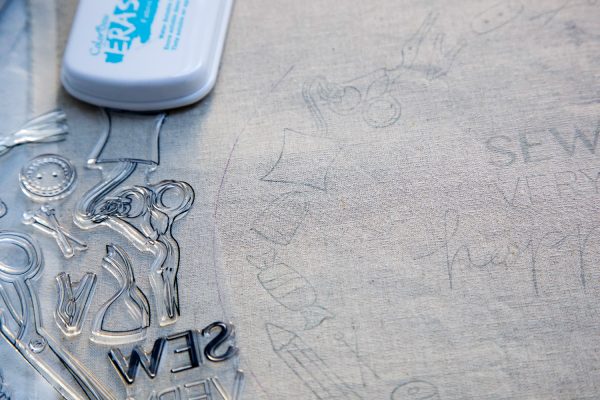 4. Using an appliqué or open-toe foot to see better, set your stitch length 1.6. With 28 wt dark brown thread straight-stitch the design.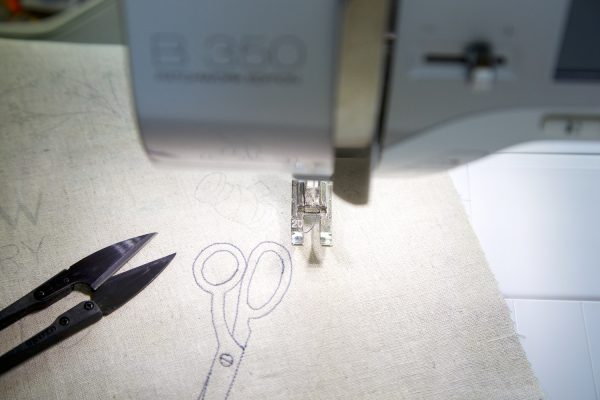 5. After the first row of stitches, I stamped more pin and button stamps until I was happy.
When you overlap stamp images, cover the first image with a piece of paper and stamp the second image, like scissors and a spool in the picture.
To see how I stitch letters, watch my How to Fill in Letters and Spaces video tutorial.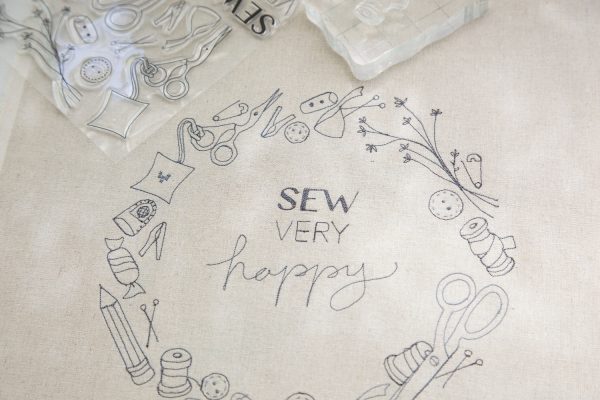 6. Using the same thread, french knot stitches for the button holes and cross stitch for inside of the pincushion or add your own initial.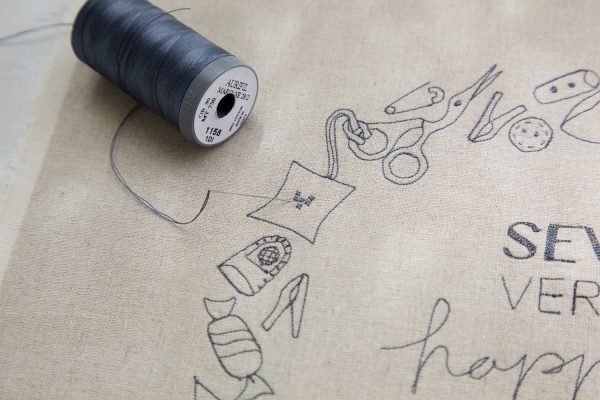 7. Draw 15″ circle and  trim the excess fabric. Zigzag stitch (optional.)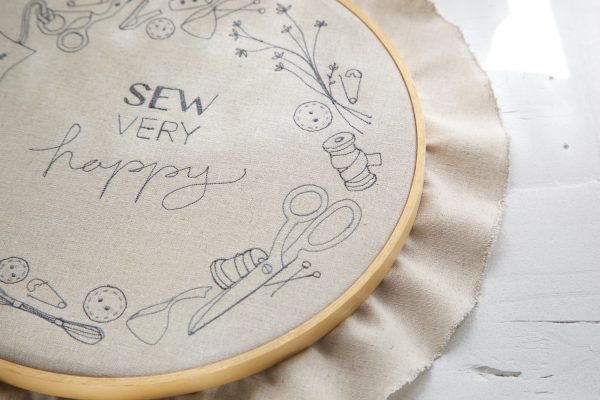 This project not only works great as hoop art, you can also turn your stitches into a tote bag. I made this bag a couple of years ago by drawing each designs on linen. And that design on my sketchbook became a stamp set a year later! I hope it's useful for many sewist and hand embroidery lovers.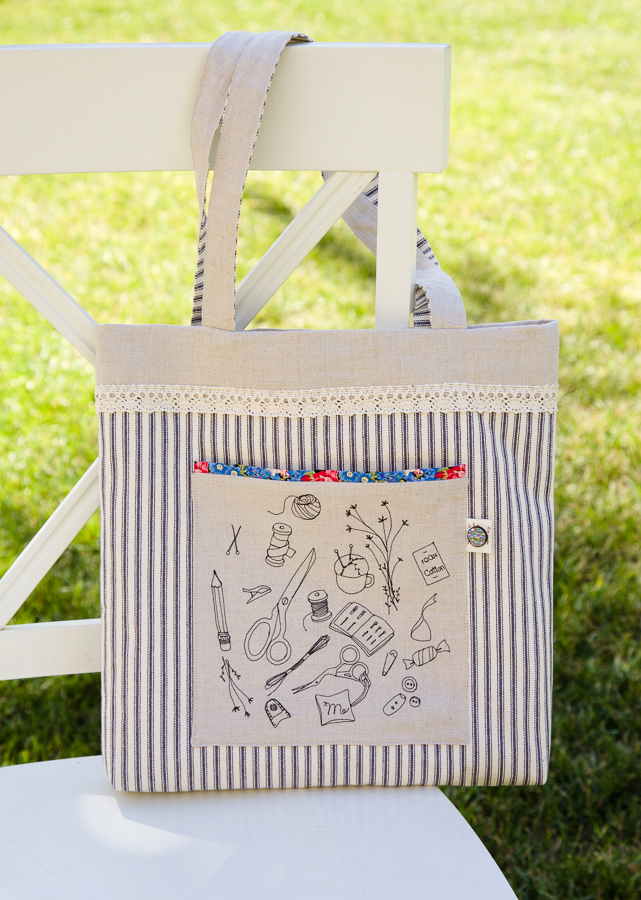 Instructions to make Various Tags
1. Stamp the design on a scrap of linen using a dark color ink pad.
The stamp shown in the picture is water-based. If you are plan to wash your project, I would recommend Permanent Fabric ink pad such as  Archival Ink.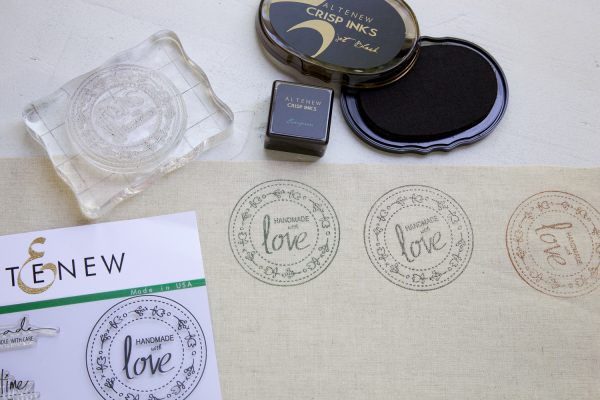 2. Sandwitch linen, cotton batting, and backing fabric, and sew around the outline. I used white 12 weight Aurifil thread.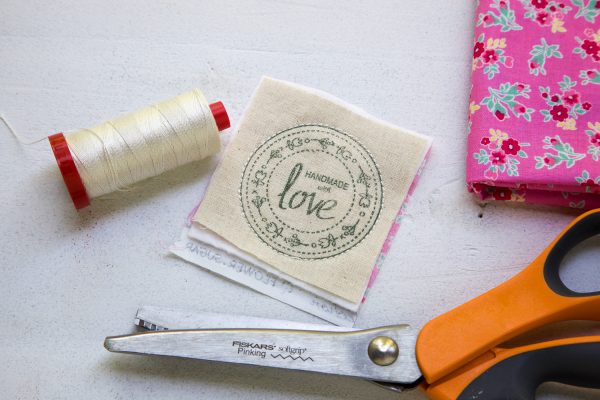 3. Trim the excess fabric using pinking shears and attach an eyelet.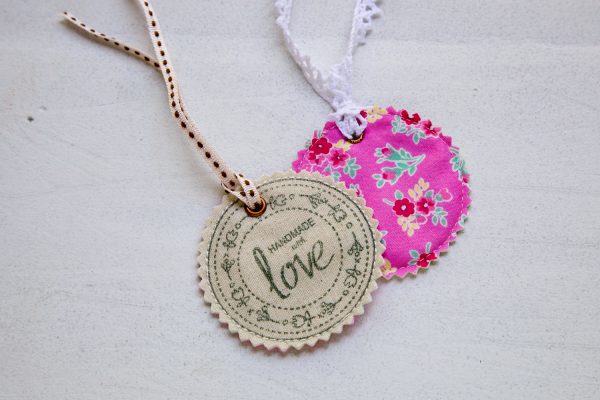 4. To make a paper tag, sew a small fabric scrap on a 2 1/2″ x 4 1/4″ piece of Kraft paper. Stamp as your desire.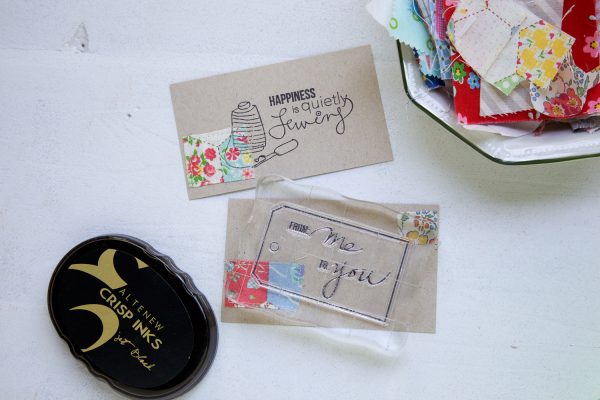 I often make some fun gift tags and store them in my drawer as I am very rich person.
Try this easy but unique gift tags and believe me, it will be gone so quickly and you have to make them soon again!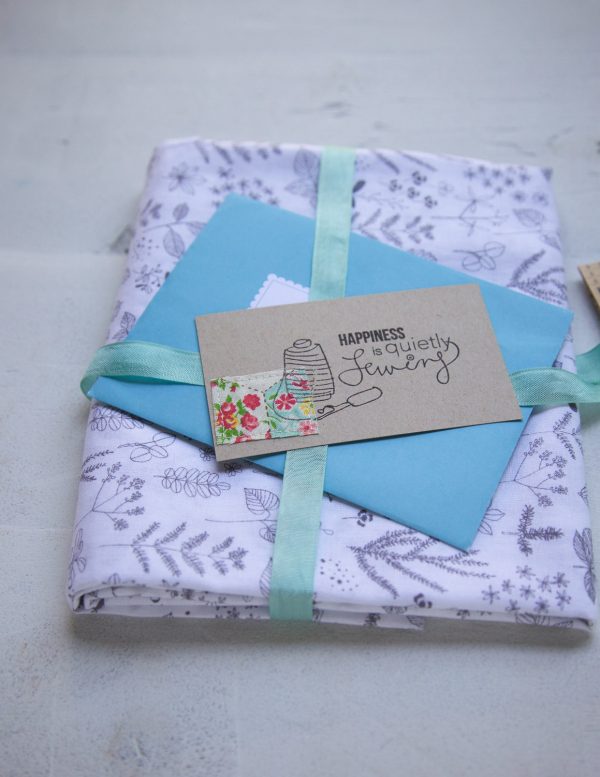 It takes less than 30 minutes to create something cute and useful out of your fabric scraps.
I hope you like my technique using stamps.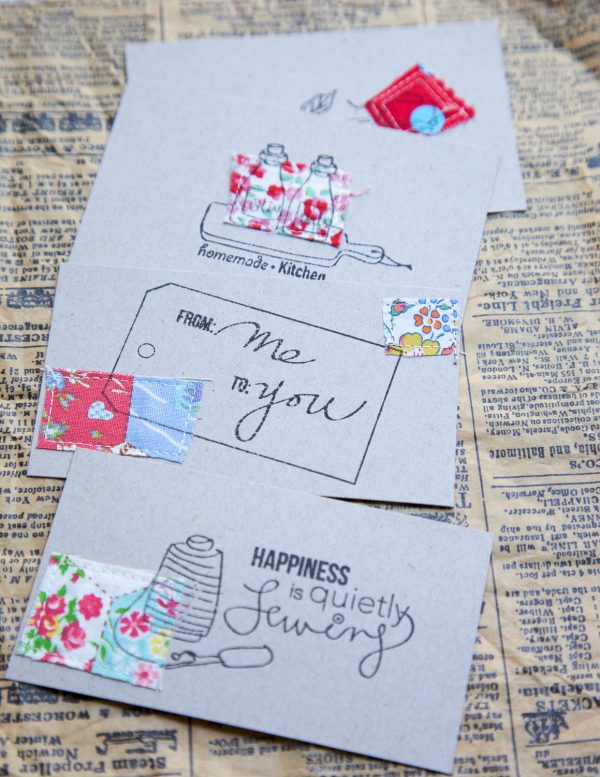 Here is another way of using a stamp set for your sewing project. I stamped each design on linen using permanent ink pad and turn them into fun patches.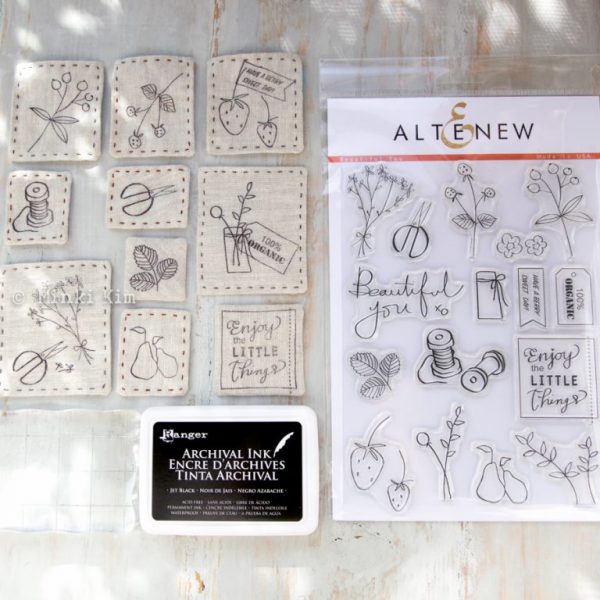 Altenew graciously provides my stamp sets  and two inks for WeAllSew readers!!
All you have to do is post a comment below answering the following question:
What is your favorite tip for using up fabric scraps?
A winner will be drawn from the comments on May 31, 2017 and announced about a week after the contest is closed!
The giveaway is open to residents of the 50 United States and the District of Columbia. One comment per fan. Comment must be submitted to the WeAllSew.com blog by May, 31  11.59 p.m. Central Time. Winner will be chosen randomly. Winner will be notified by email and will have 48 hours to contact to claim the prize.
Difficulty level

Beginner

Time to Complete

Evening

Used Material

12 wt cotton thread, air erasable marker, fusible interfacing

Projects

Crafts

Seasons

all seasons, fall, Spring, Summer, Winter

Techniques

applique, sewing
What you might also like
75 comments on "How to use Stamp Sets for Sewing Projects"