About
Welcome to WeAllSew!
What is WeAllSew? WeAllSew is a place where sewers and crafters of all ages and skill levels are celebrated and inspired through project ideas, patterns and tips to fuel your creativity and love for sewing.
It doesn't matter what brand or type of sewing machine you own. Because we all sew, we all share the same passion for creating unique treasures. Whether you are learning how to sew for the first time or want to perfect your skills, the new WeAllSew blog and online community can help! Our blog contributors and sewing experts provide tutorials, easy step-by-step instructions, new product information and inspirational ideas just for you.
All our sewing experts live around the country and share your passion for sewing and creating. Whether you are a crafter, sewer or quilter, the BERNINA WeAllSew blog has projects and sewing tips for everyone. Our mission is to inspire you about all things crafting, fashion, home décor, quilting and embroidery.
WeAllSew is brought to you by BERNINA USA, an independent family-owned business that designs and makes top-of-the-line sewing machines that represent the best in innovation, quality, precision and ease of use. Click here to find a BERNINA store near you.
Feel free to contact us for guest blog post suggestions and stay connected to the WeAllSew community by becoming a fan of BERNINA USA on Facebook and following us on Instagram.
Community Guidelines
This online community was created for all sewers, regardless of skill level or brand of sewing machine. It is meant to be a place to inspire, encourage and celebrate creativity in whatever form it comes in.  We ask that our WeAllSew fans adhere to the following etiquette in order to maintain a friendly community:
Be kind (it's so simple, yet so easy to forget).
Be respectful of others posts, comments and opinions.
Treat each comment as you would want your own to be treated.
Please do not attack or bash anyone personally.
Please do not spam.
BERNINA USA and WeAll Sew reserves the right to delete any post or comments and to ban any community member if their words are found to be abusive, obscene, fraudulent, deceptive or offensive.
Enjoy!
The We All Sew Family
P.S.
Don't forget to show your love for sewing with this badge!
Post it onto your website, blog, Facebook page and more!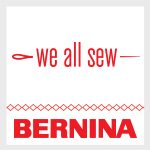 <a href="https://weallsew.com"><img src="https://weallsew.com/wp-content/uploads/sites/4/2011/08/WASIcon_150x150.jpg" alt="WeAllSew.com Badge" width="150" height="150" /></a>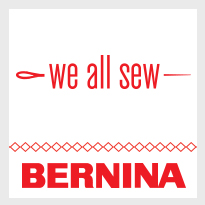 <a href="https://weallsew.com"><img src="https://weallsew.com/wp-content/uploads/sites/4/2011/08/WASIcon_205x205_2.jpg" alt="WeAllSew.com Badge" width="205" height="205" /></a>

<a href="https://weallsew.com"><img src="https://weallsew.com/wp-content/uploads/sites/4/2011/08/WASIcon_300x100_2.jpg" alt="WeAllSew.com Badge" width="300" height="100" /></a>