Kevin Conley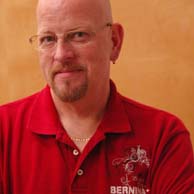 Kevin Conley was born and raised in Bath,Michigan. He is known as an honest, friendly, and dependable person with a great sense of humor, who works hard and enjoys life to the fullest. Family, friendships, and laughter are an important part of his life. He loves to make people laugh and have fun. He is multi-faceted with a wide variety of interests. Kevin is fun-loving, and he enjoys working with all types of sewers, helping them reach their creative potential. He believes sewing should be fun and creative as well as instructional and functional. He loves being with people. 
Kevin has over 36 years' experience in the sewing industry, including sewing, quilting, embroidery and pattern-making.  He started sewing when he was seven years old! He was taught by his grandmother and his mother, and started making Barbie doll clothes and selling them to the neighbor girls for $1.00. He spent a lot of time with his grandmother and mother learning all types of crafts. And the rest, as they say, is history!
Kevin's experiences and challenges have included serving in Regional Management (21 stores with Bernina of America), merchandise management, management training, writing training manuals, and instructing customer service, motivation, sewing, quilting and embroidery classes. With  strengths in communications skills, effective and professional instruction, and in organizing events with an eye to detail, his wide-ranging knowledge and experience, especially in determining and meeting customer needs, leads to presentations of great humor and the sharing of valuable information, tips, and techniques.
"Life is a journey," says Kevin, "and I believe that all of us have something to teach to and something to learn from each person we encounter.  If you take a chance on life, it sometimes will take a chance with you!"
Latest Posts from Kevin Conley
Other Posts from Kevin Conley