Kathy Kansier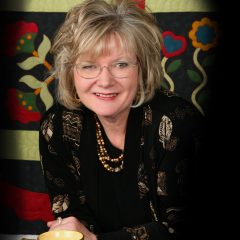 Kathy Kansier is a quilt making teacher, quilt historian, author, show judge and AQS Certified Appraiser. She has been a BERNINA Ambassador since 2004. Born and raised in Wisconsin, Kathy began sewing garments in her 8th grade sewing class. She graduated from the University of Wisconsin in 1972 and made her first quilt when her son was born in 1974 and has been making quilts ever since. Kathy began traveling nationally in 1999 to provide her services to guilds and shows. She has also taught in England, Brazil and on quilting cruises. Kathy teaches a variety of classes and they often fill with a waiting list. Her current lectures and workshops are listed on her web site.
In 2001, Kathy was nominated for the Teacher of the Year Award (sponsored by the Professional Quilter) and in 2008 she received the prestigious Jewel Pearce Patterson Award for Quilt Teachers (sponsored by Quilts Inc.) Her award-winning quilts have been displayed at shows and in quilt-related magazines. In 2010, she curated an exhibit of quilts called Making a Grand Entrance for the International Quilt Festivals in Houston, Chicago and Long Beach. The 26 quilts were made by Kathy and her students and had a theme of doorways and entrances.
Kathy and her husband David have been married for 37 years. They have 7 grown children and are now enjoying being grandparents. They live in the country between Springfield and Branson, Missouri and are currently building a quilters' retreat center on their property. It is due to open in the fall of 2017.
Latest Posts from Kathy Kansier
Other Posts from Kathy Kansier