Aaronica Cole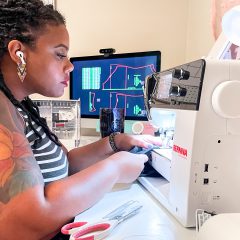 Hi there! My name is Aaronica and I'm a plus-sized sewist based in the Atlanta area. I've been sewing since I was 13 and am self-taught. Most of my wardrobe has been made by me and this has been really fun to create a cohesive closet while learning so much along the way.
I have a BA in Psychology from Spelman College and an MBA in Marketing. After working in corporate America for 10+ years, I left to work for myself. I own an award-winning blog TheCrunchyMommy.com and I have started my own digital marketing agency.
I'm a mom of 3 littles--2 girls and 1 one boy, married to my very own McDreamy and just bought a house that I'm enjoying decorating.
Latest Posts from Aaronica Cole
Other Posts from Aaronica Cole