Cinnamon Miles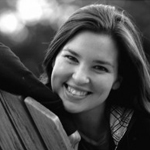 I started sewing doll clothes when I was eight for my 17" Kimberly doll. I loved making those outfits! My mom taught me to sew and it was my passion immediately. She realized I was pretty obsessed when I accidentally sewed into my finger while making an outfit and the needle broke off - so she had to take me to the hospital to get x-rays. The next day I told her I had to keep on working on my project and needed her help replacing the broken needle. She just smiled. And so my journey into the sewing world began.
My grandma had a friend who worked for Bob Mackie (my original inspiration). She would give me scraps of fancy material that I would use to make dresses for my doll. I still have Kimberly and those original Bob Mackie fabric outfits! They weren't exactly perfect, but they were pretty good for an eight year old. Now my daughters play with Kimberly and those old clothes.
With my passion for design and my husband's business savvy we launched Liberty Jane Clothing in 2008. We started by selling a single outfit - which I had designed, sewn, and photographed - at auction on eBay. We were blown away by the response and have since expanded into selling PDF sewing patterns as well as the ready-made clothes for 18" dolls. We also work with hundreds of Etsy sellers who use the LJ patterns as the basis for their home-based businesses. It's a lot of fun to design and create as well as connect with and encourage other Stay-at-Home Moms. I feel truly blessed!
Latest Posts from Cinnamon Miles
Other Posts from Cinnamon Miles