Michael Caputo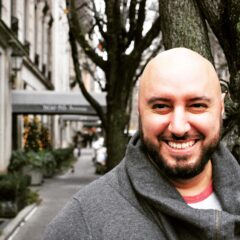 Born and raised in NY, Michael was always an artsy kid. As a Junior in HS, Michael was awarded a Summer Scholarship to the School of Visual Arts in NYC. After graduating from High School he decided to study design at The Fashion Institute of Technology (F.I.T.). In 1998 he started his career in Children's Publishing at HarperCollins. Since then Michael has worked at S&S, Penguin, Ralph Lauren and NY Times best selling authors, Robert Sabuda and Matthew Reinhart's Studio in NYC. In 2011 Michael moved to London with his wife and continued to do freelance book design while he was pursuing his new found love of quilt pattern design. Michael has been featured in many quilting magazines like Quilt Now, Love Patchwork and Quilting, Quilty, For the Love of Quilting, Modern Patchwork and many more. He is also the author of 2 books on quilting. Quilting Basics was published in 2016 and his new Modern Quilting was released in 2018 both by Cico Books London.
When Michael is not working on new pattern designs he is teaching classes in and around Raleigh, NC.
Be on the lookout for new and reissued printed patterns soon.
Latest Posts from Michael Caputo
Other Posts from Michael Caputo