Pride! Quilt Tutorial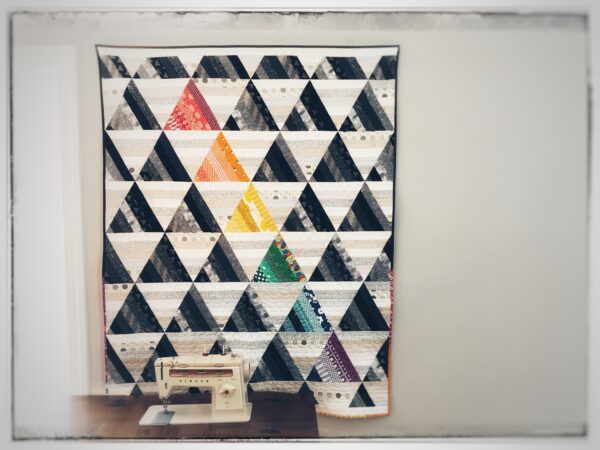 From time to time my wife ropes me into things that I know nothing about. And by nothing about I mean charities and donations in our area. She belongs to all of these FB groups and a few months back she saw a post for a Pride Month charity auction for a local group and thought it would be a nice thing for me to add to my already growing list of things to do.
I reached out to the woman asking for donations and was testing the water a bit. "So what kinds of items are you getting in the silent auction?" Mostly gift cards and things like that so I dropped the bomb on her that I would be willing to make a custom quilt if she was interested.
There was a bit of silence from which I assumed was her jaw hitting the floor when she said "are you sure?" So off to the stash box I went. I did need to supplement some of the white on whites as I used them in a project a few weeks before but I was happy with my selections. I wanted to show my support for pride month but make it something that would appeal to a wider audience. Normally I keep 1/2 yard scraps of fabric from previous projects arranged by color so this was an easy search.
Materials to Make a PRIDE! Quilt
Scraps of colorful fabrics for colored blocks
1/3 yards each fabric in 6 different light tones (I used white prints on white and light fabrics)
1/3 yards each fabric in 6 different dark tones (I used blacks and grays)
4 yards backing fabric
batting of your choice sized to fit your quilt top (I used Warm Company, Warm 100)
1/2 yard fabric for binding
Coordinating thread (I used Aurifil 50wt cotton in color Gold)
Sewing machine (I use a BERNINA 790 PLUS)
Optional quilt label (I got mine from the Dutch Label Shop)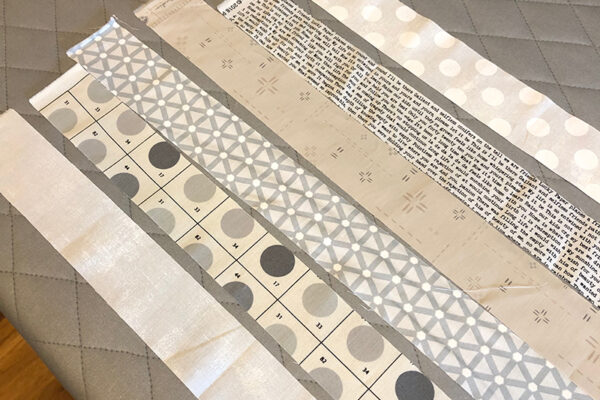 I started but cutting my whites and darks into 2″ WOF (width of fabric) strips and began to lay them out into groups of 6 different designs. I had a bunch of different fabrics so getting each set to be different was easy.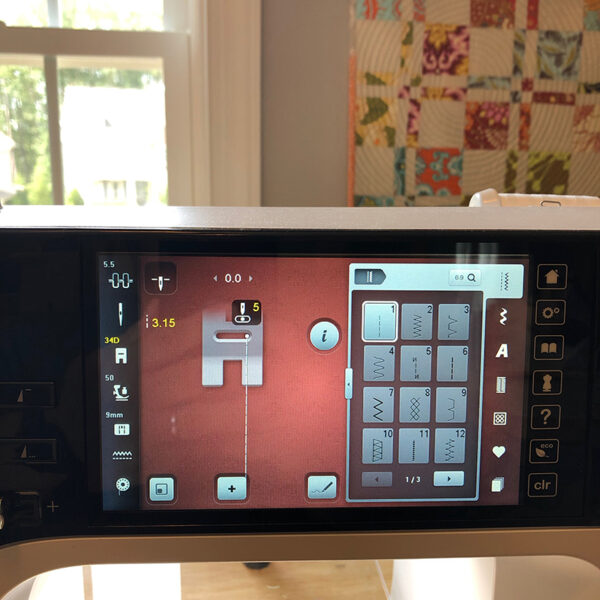 I have been trying out different feet and options to get my 1/4″ seam allowance dialed into to where I am happy and I think I found it with this foot and setting.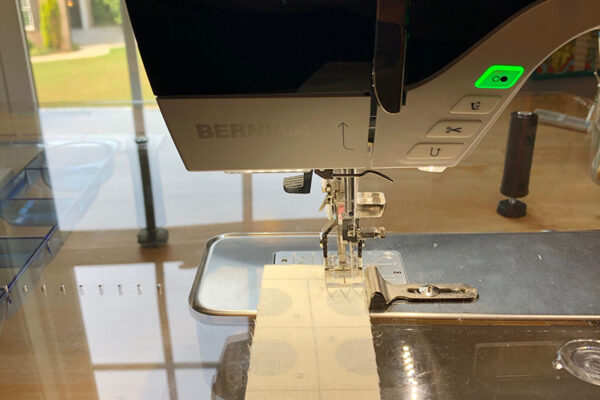 With my WOF sets ready to stitch I set my B 790 PLUS up using the Reverse pattern foot with clear sole #34D foot and the seam guide from my Patchwork foot #97D. I love being able to see through the foot and the extra width ensures a smooth stitch. I chain pieced a bunch of sets and when I ran out of room I trimmed them and pressed the seams so I could repeat the joining process. Each finished strip set has 6 different WOF pieces of fabrics. Both in White and Dark prints.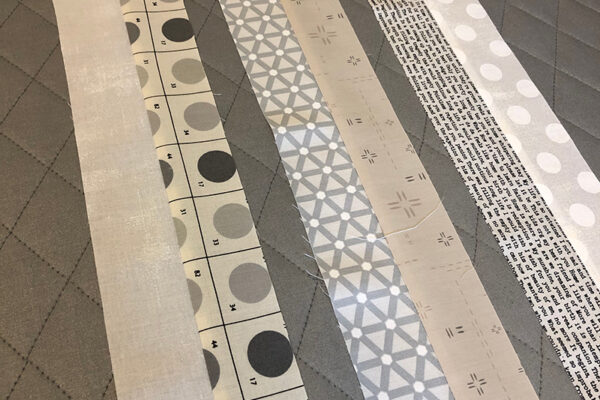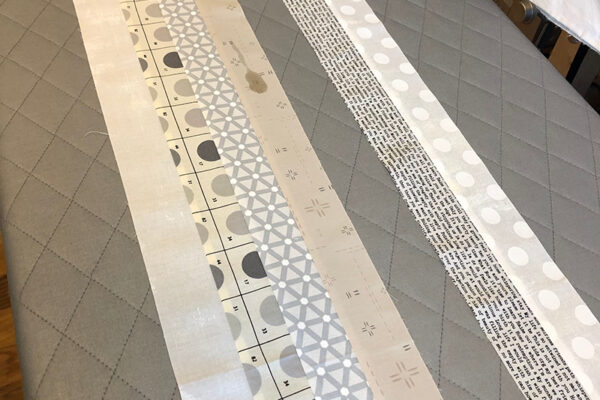 Once all of the pressing was done it was on to cutting out the triangles. For this I used one of my favorite rulers, my Milward 12″ square. The markings on the ruler are clear and easy to use and make it a great all around ruler to have in your arsenal.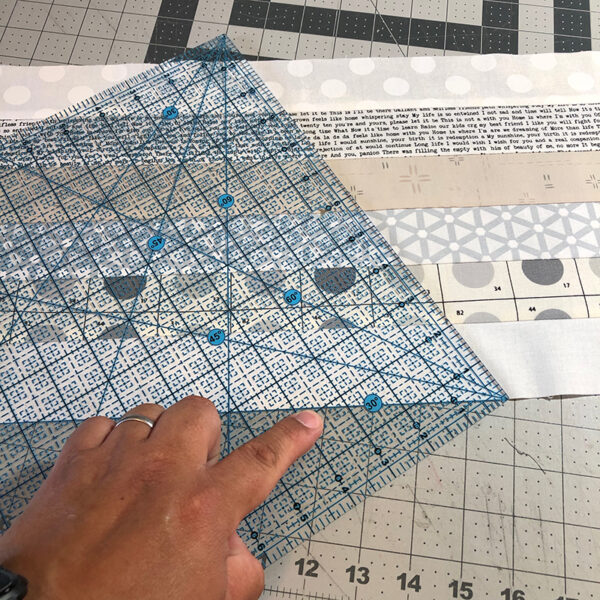 Start by aligning your 30 degree marking along the bottom edge of your pressed strip set. You can see how the right edge of the ruler where you will be cutting will start to form the equilateral triangles. (if you look closely to the diagonal line to the left of my pinky you can see the other 30 degree mark for the left side that will be cut in a sec.)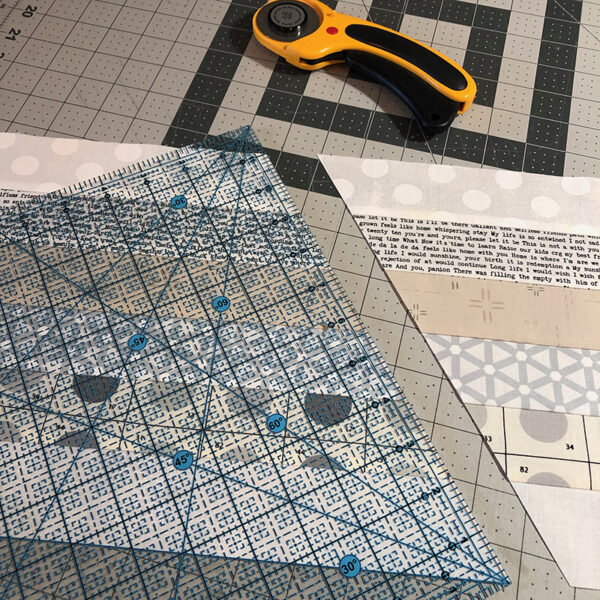 Using my Olfa 45mm Rotary Cutter, cut along the right side of the ruler creating a perfect corner.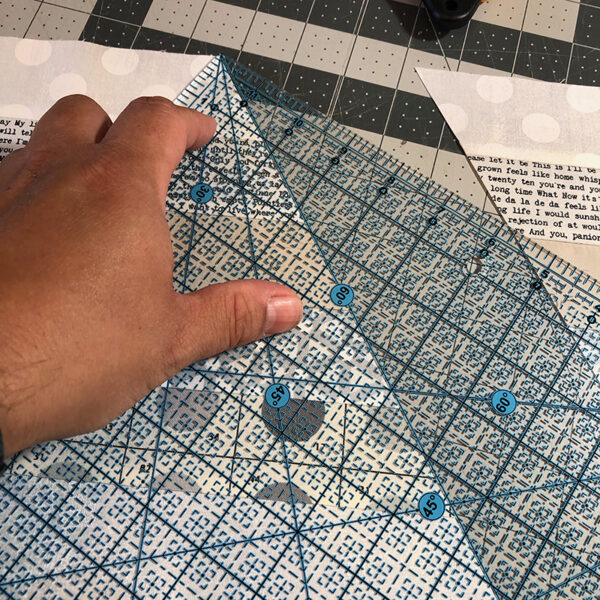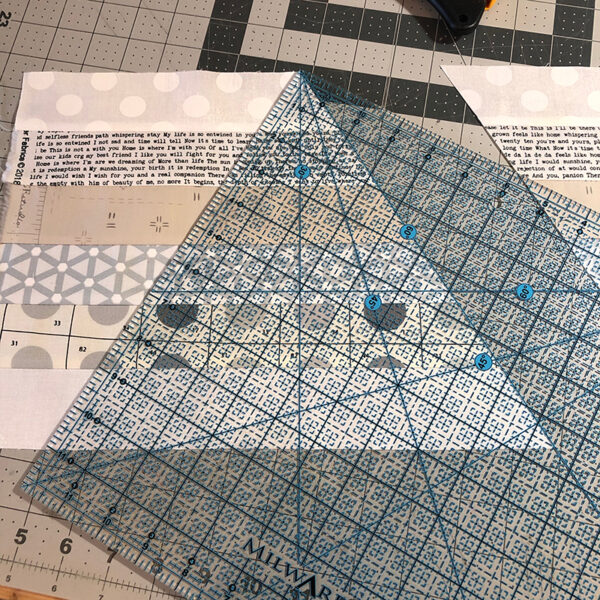 To set up for the left side cut you will need to align the just cut right side along the 60 degree marking on the ruler and the corner at the top of the strip set. The area that is safe and under the ruler will be the perfect triangle. Using your rotary again, cut along the left side of the ruler.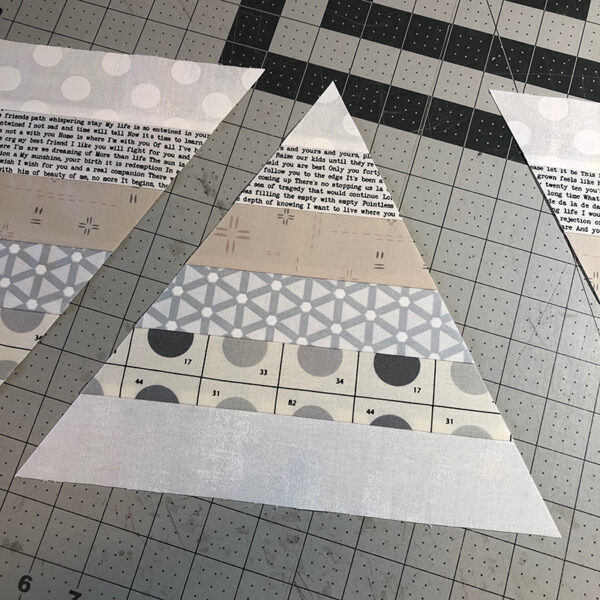 Save the end bit and repeat the cutting process across the entire strip set. Rotate the ruler and trim the remaining fabric. You will do the same to the darker fabrics.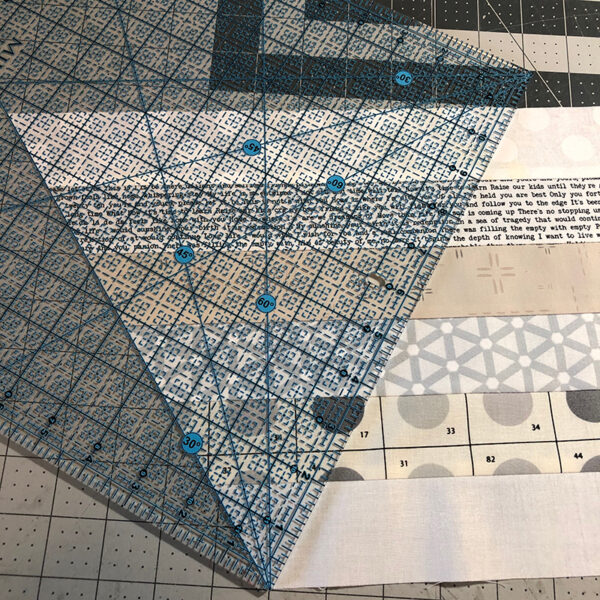 Once all of the triangles have been cut you can start to arrange them on your design wall in an alternating design. I used 32 dark triangles, 44 light triangles and one triangle from each of the 6 pride flag colors (Red, Orange, Yellow, Green, Blue and Violet).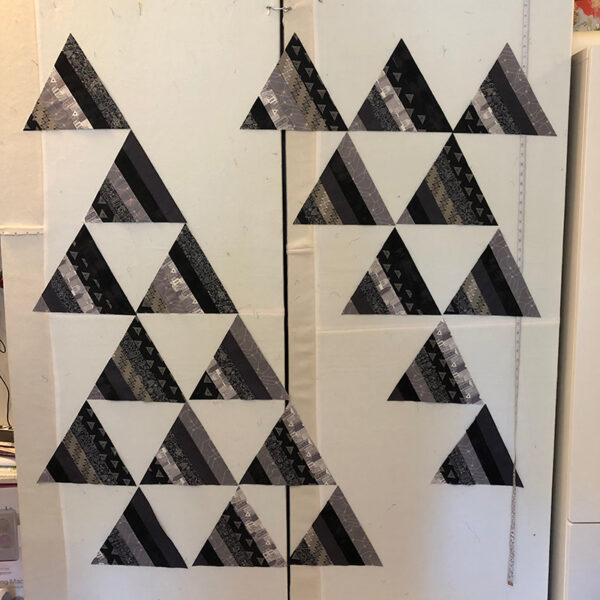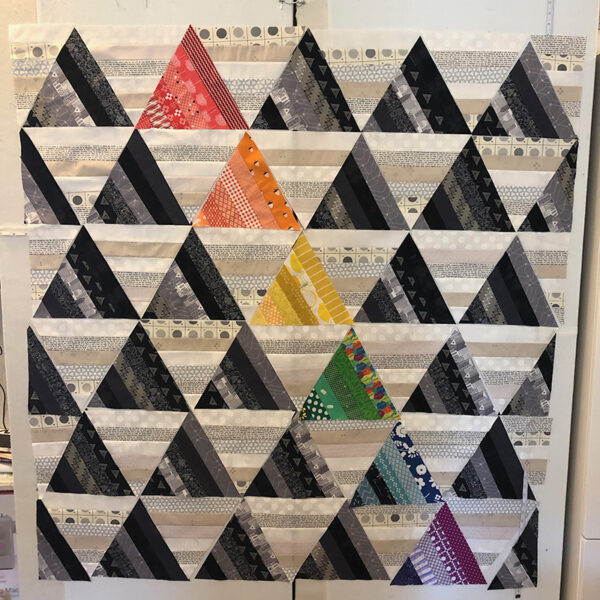 Assembly of the quilt top was pretty simple at this point. All I needed to do was stack my rows and with my 1/4″ seam, piece the triangles together.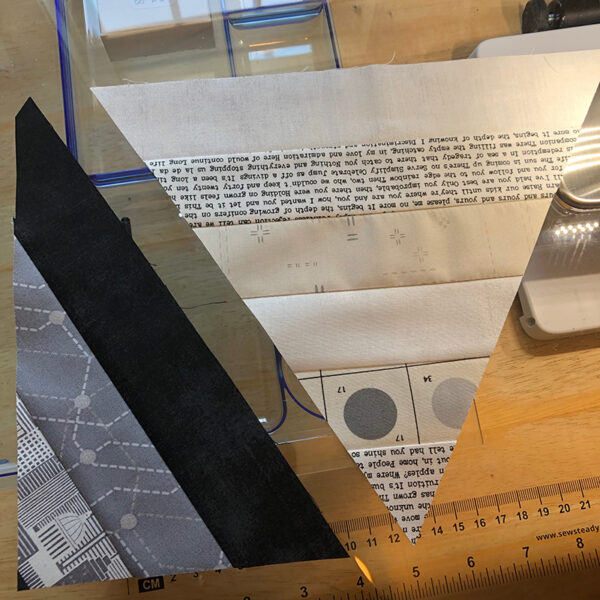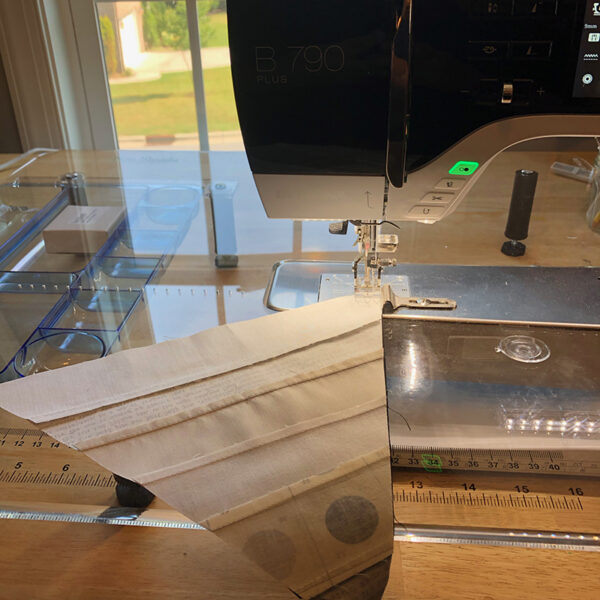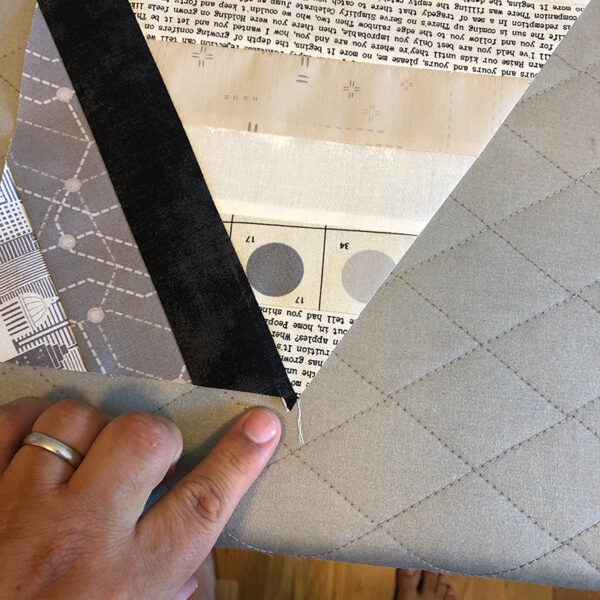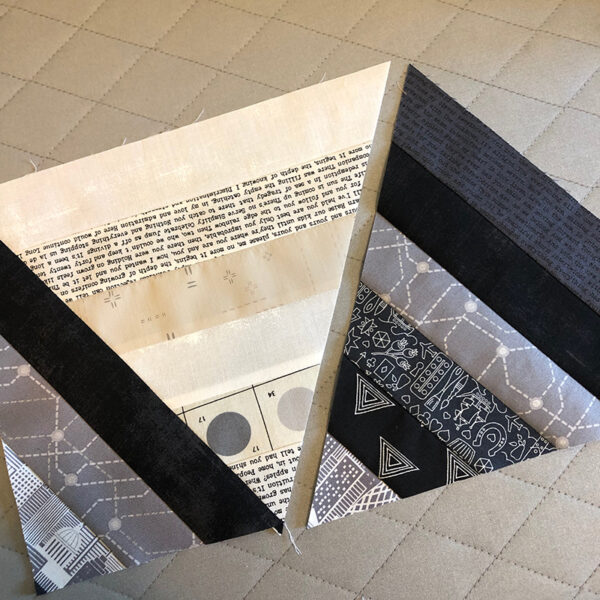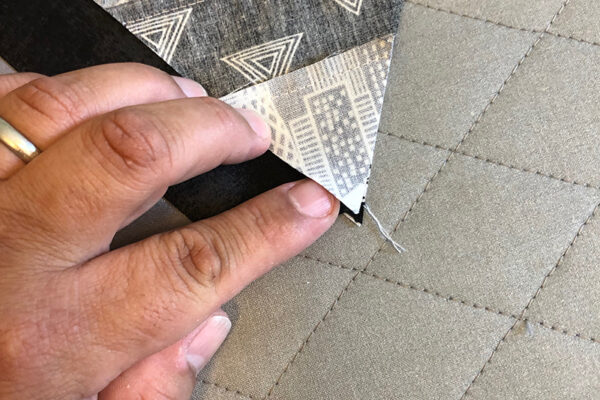 Be sure to stitch as accurately as possible when piecing triangles. Try not to stretch and pull because the cuts will be along the bias. I found pinning down the seamed side to be helpful.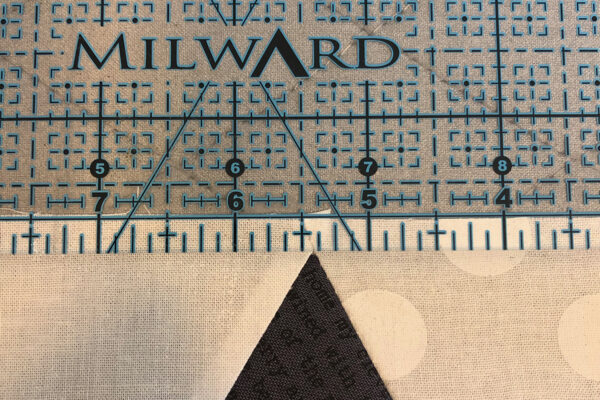 The point of the triangle should always be 1/4″ from the top of the fabric so when you are piecing the rows the seam allowance is hidden and the point will be perfect and visible.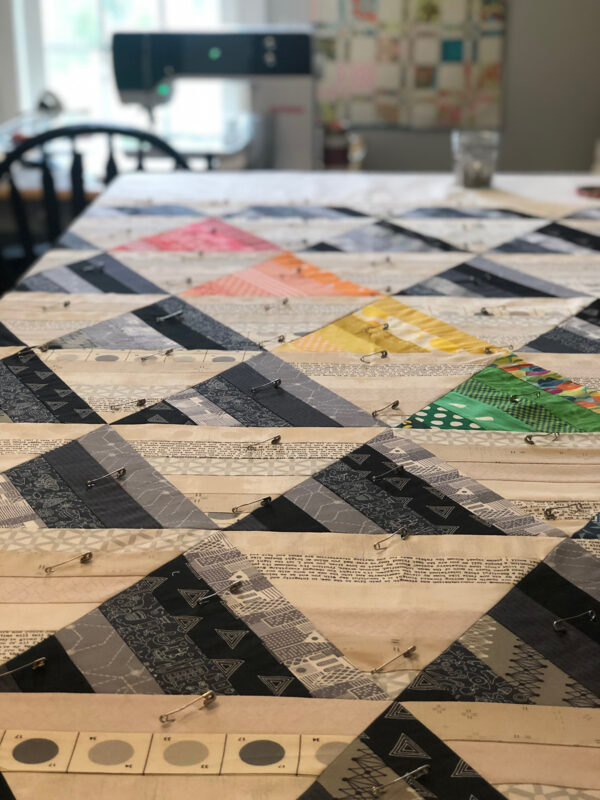 When the entire top was finished I cleared off my work table and started pinning the sandwich together. I love me some curved safety pins and with my melamine top they glide right through the layers. Since the deadline for the auction was fast approaching I opted for some serpentine walking foot quilting.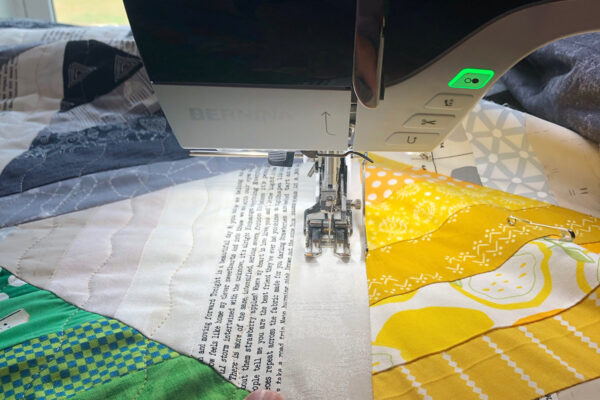 With my BERNINA Walking foot #50 in place and the adjustable seam guide set to the center of the row, I stitched across each and every row of the quilt. To add a bit more to the quilting I took the quilt and rotated it so that I could stitch down the pride row giving that section a bit more love.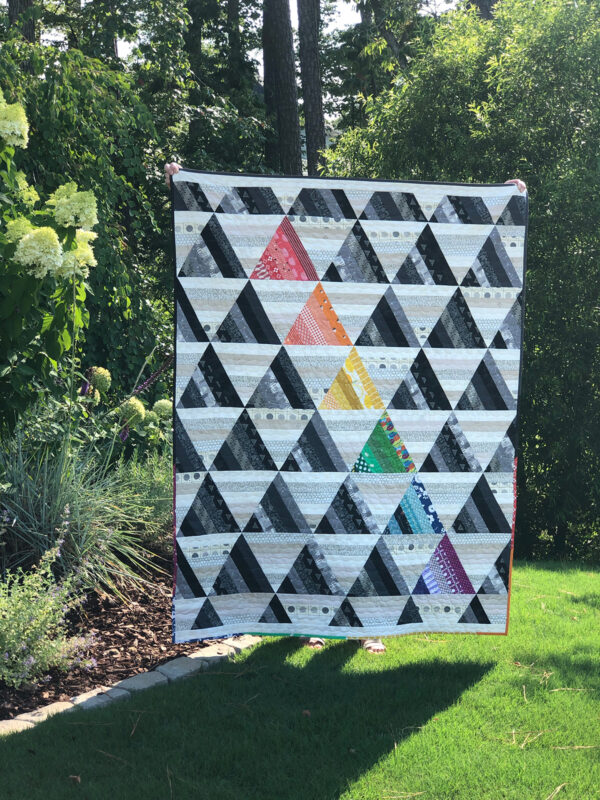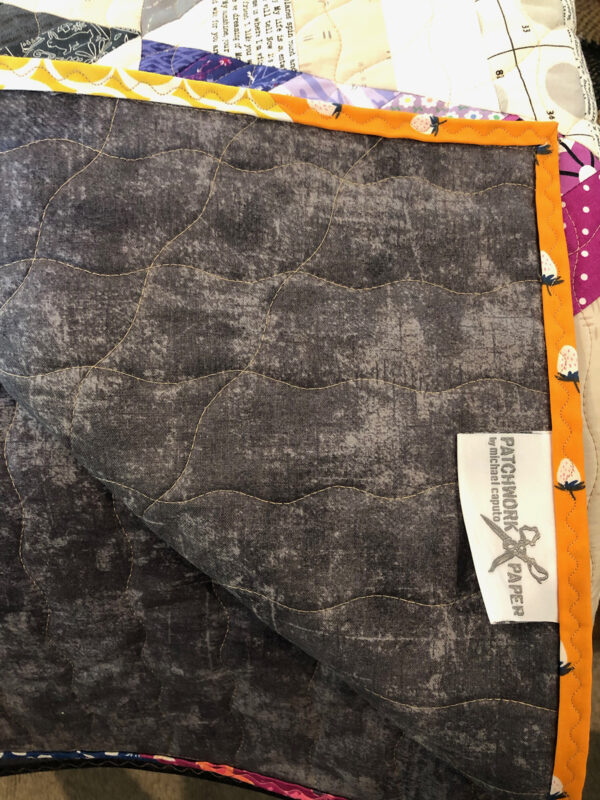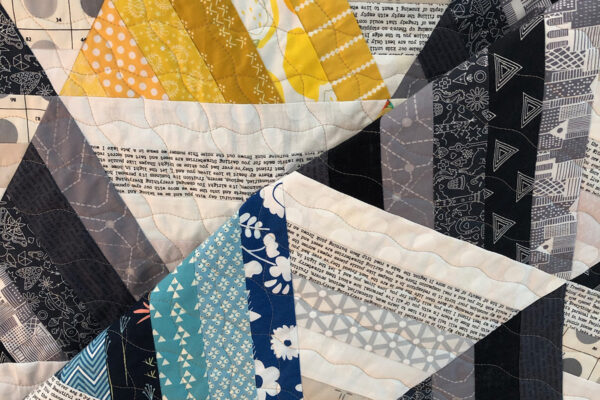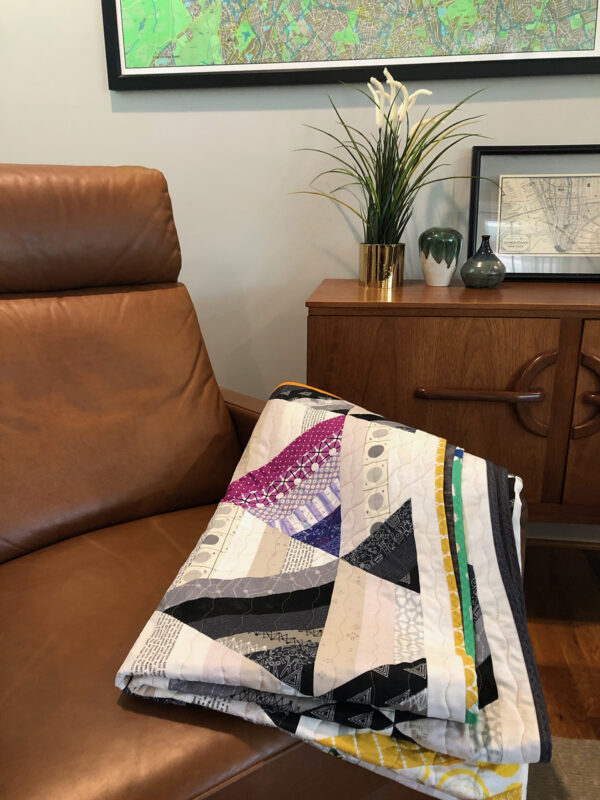 In the end I don't know what the quilt sold for but I was glad to be a part of Pride 2019 and happy that the quilt made people smile!
Difficulty level

Intermediate

Time to Complete

Weekend

Used Material

batting, coordinating thread, quilting fabric

Projects

home décor, quilt

Techniques

color theory, patchwork, quilt piecing, quilting, straight-line quilting
What you might also like
One comment on "Pride! Quilt Tutorial"