"Practically Perfect" Points in Patchwork with Foundation Paper Piecing
In patchwork, foundation piecing is a method used to create patchwork fabric by sewing material onto the back of a foundation to stabilize the pieces of material when they are stitched together.  Centuries ago, pieces of cloth, like muslin, were used as the foundation or base material for sewing other fabric onto it to create a patchwork fabric.
Today, if you want your patchwork to be "practically perfect in every way," quilters are turning to Foundation Paper Piecing techniques – where you use paper instead of fabric as the stabilizer – to create precise, sharp points and intricate designs.
I recently saw an excellent example of a "petty perfect" foundation paper pieced quilt made by Veruschka Zarate titled "Pride and Joy."  This self-portrait of the artist with her two little boys is pieced together entirely using the FPP method.  The quilt is composed of 2,359 shapes and used 20 cotton fabric colors and took her four months to complete.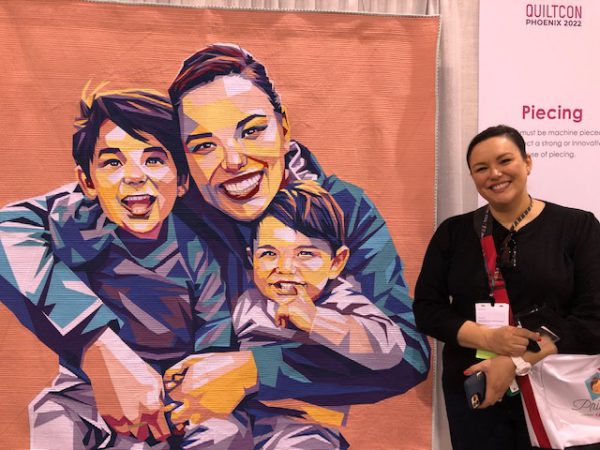 This self-portrait quilt of Veruschka Zarate, and her two boys, placed first in the Piecing category and was also awarded the Viewer's Choice award at the end of the QuiltCon show. She used the foundation paper piecing technique to create this detailed design.
This quilt won First Place in the piecing category and was awarded the Viewer's Choice award at the recently held Modern Quilt Guild's QuiltCon 2022 event.
"Foundation paper piece quilting is like a puzzle, plus sewing, plus origami, plus quilting by numbers," Veruschka stated on her website, Pride and Joy Quilting.
In FPP, the actual quilt block pattern is printed on a paper foundation (copy paper or newsprint are often used), and you sew the fabric onto the printed paper foundation following the pattern guide.  When the block is complete, remove the paper foundation from the back of the block.  Use a shorter stitch length when sewing the pieces together; it perforates the paper and is easier to tear away the paper from the back of the block.
You can find a great tutorial on FPP on the  WeAllSew blog post, titled "Beginner Friendly Foundation Paper Piecing."
Projects

quilt, quilt block, quilting

Seasons

all seasons

Techniques

paper piecing, patchwork, quilt block, quilting
What you might also like