Foundation Paper Pieced Christmas Pillow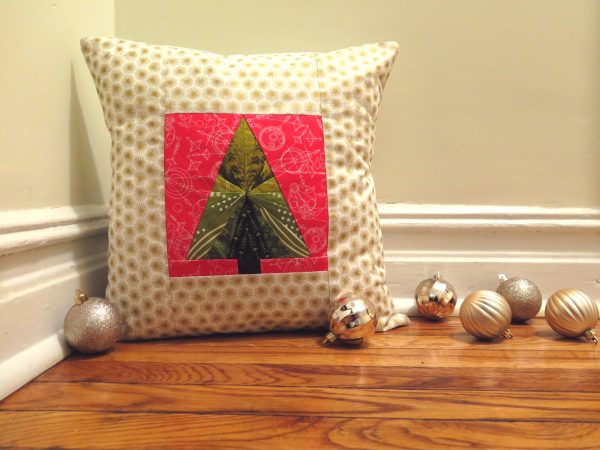 Pillows have always been one of my favorite things to make. In fact, this is my second BERNINA pillow tutorial. I love pillows because they are so versatile. You can make them simple, more complex, you can swap them out super easily to change the look of a room… Endless possibilities.
My first pillow tutorial was a bit of a time-consuming project. I made an EPP (English paper pieced) pillow. There was a ton of hand sewing involved, then appliqué, then quilting, then a zipper, then pom pom fringe…don't get me wrong, I love that pillow, but sometimes you just don't have time to devote to making a pillow into such a big production. So I wanted to circle back to the pillow and do a much more streamlined version, something you can do all in one night after work.
As I mentioned, my last pillow was EPP. I thought I would hop one letter to the right and do an FPP (also known as foundation paper piecing) pillow this time! FPP is the process of sewing fabric onto a pattern printed on paper. The results are astounding. Warning: once you have tried FPP, you will probably become horribly addicted. It's one of my absolute favorite methods of sewing.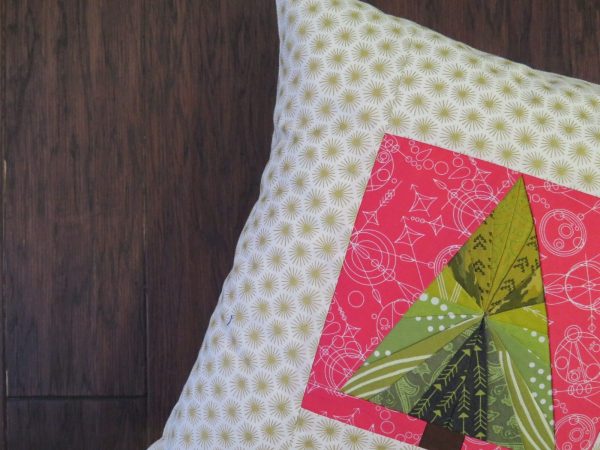 I'll break down the steps for you in this tutorial. For another awesome BERNINA tutorial on paper Piecing, check out Perry Layman's awesome Scandinavian Leaf tutorial.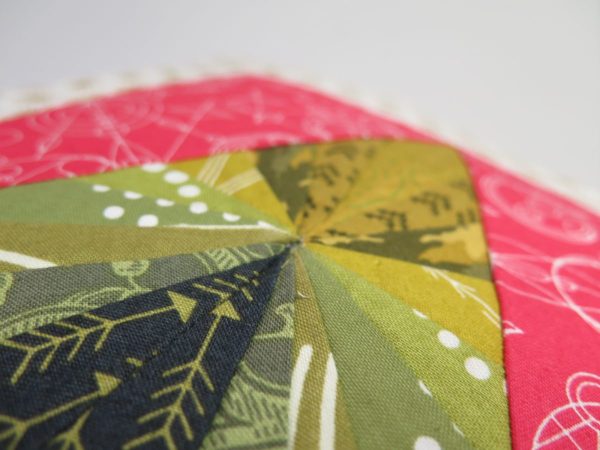 Materials to make an FPP Pillow:
1 16″ pillow form
Assorted scraps or pieces of fabric
1/2 yard background and backing fabric
Iron
Pressing tool
Thread
Tweezers
Download the Paper Pieced Christmas Tree template
Once you have watched the video tutorial in the link above, start by printing out the tree pattern. Measure the 1″ block to be sure you are working in the right scale. The finished tree is a 7.5″ block. Cut out your pieces, leaving the border around each piece. This is your quarter inch seam allowance.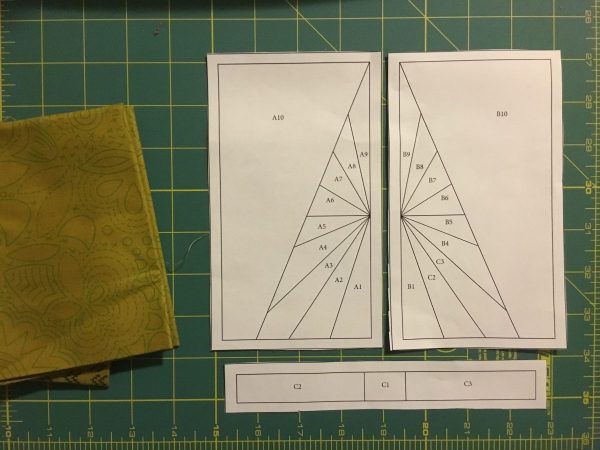 Begin by cutting all the fabric you'll need for the project. Cut your background and backing fabric. For a 16″ pillow, you'll need:
2- 5″ x 7.5″ strips
2- 5″ x 16.5″ strips
1- 9″ x 16.5 " piece
1- 13″ x 16.5″ piece
For the tree, you'll need an assortment of prints. I pulled my favorite greens from my stash, but this is a great way to use scraps.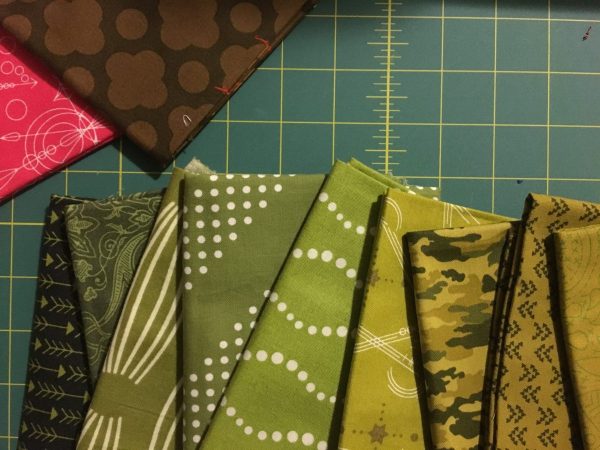 If you are using scraps and this is your first time paper piecing, use big scraps. Particularly for this pattern, which has a lot of steep angles, bigger is better!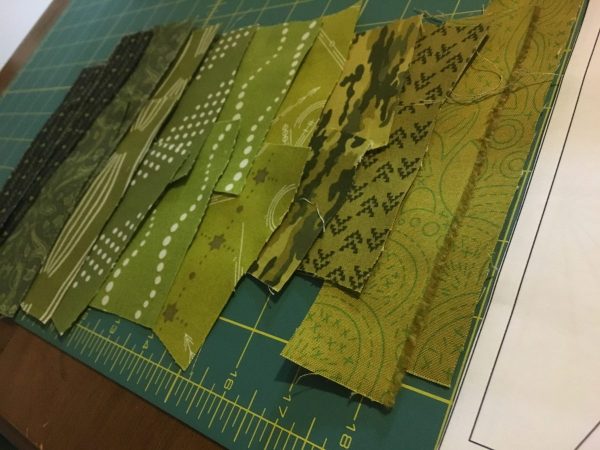 In the pattern, you'll notice there are three sections: A, B, and C. We'll start with section A. Notice the numbers. The number indicate where you'll begin. You'll add piece A2 to A1, then A3 to that piece, and so one.
PLEASE NOTE: For this pattern, it actually doesn't make much difference whether you start at the top or bottom of the tree, A1 or A9, since the pattern just spirals. I started at the top of my tree simply because the pieces I wanted at the top were closest to me when I started sewing.
Start by dropping your stitch length down to about 1.5/1.55mm. This will A.) secure your pieces better when we tear the paper out later and B.) perforate your paper more so it's easier to tear out.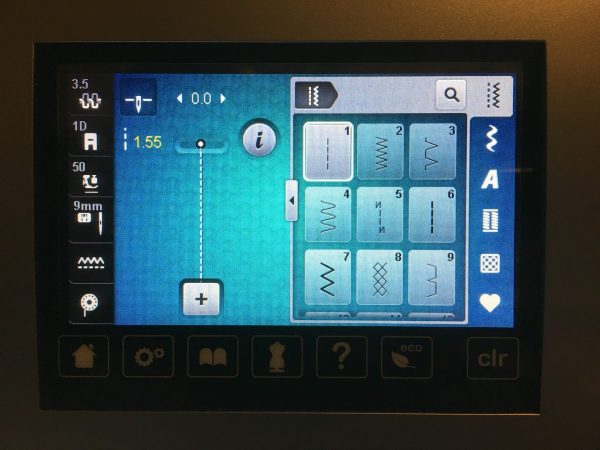 Start with your first and second pieces of fabric. With the pattern facing you, put your first piece of fabric on the first section, the wrong side to the back of your paper pattern. Be sure the fabric covers the entire section. Overlapping the seam line between the first and second pieces, put your second piece of fabric for the second section. You will sew on this line and fold back the second piece. Hold the piece up to the light so you are sure you have overlapped the pieces enough (note how in the photo below, between B7 and B8, you can see the second piece of fabric).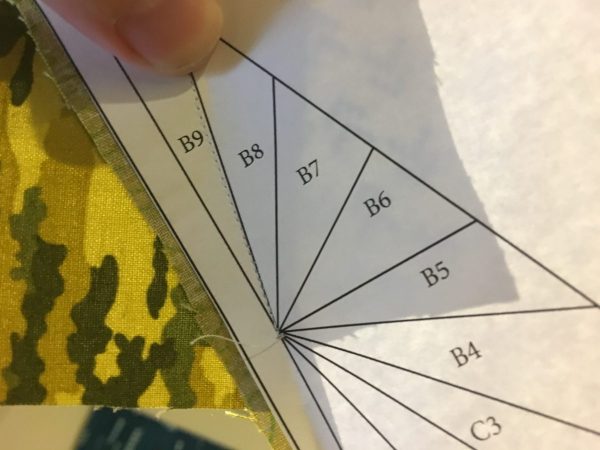 Sew on the line. Once you have done so, fold your paper back and with a ruler, measure 1/4″ from the seam line and cut excess fabric with a rotary cutter.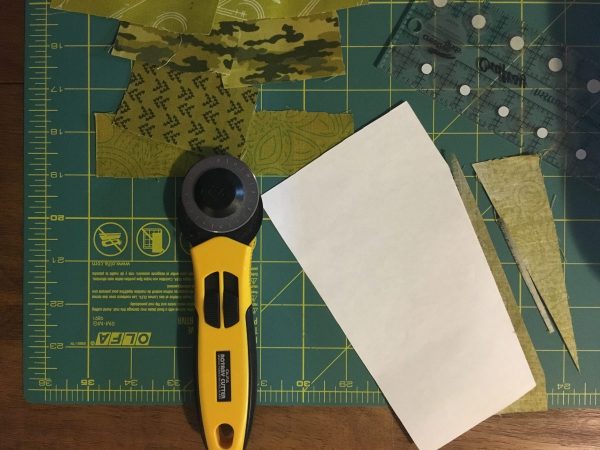 Now take the second piece of fabric…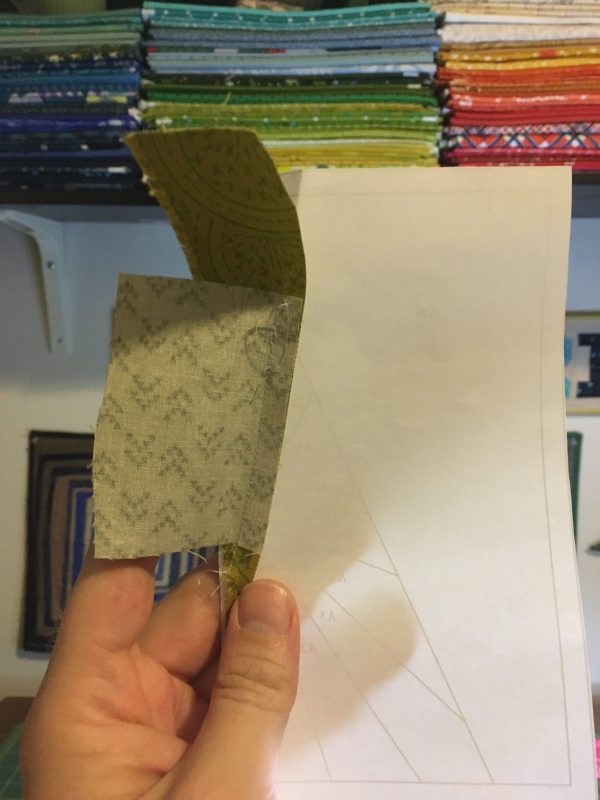 … and unfold to so you can see both your first and second pieces of fabric.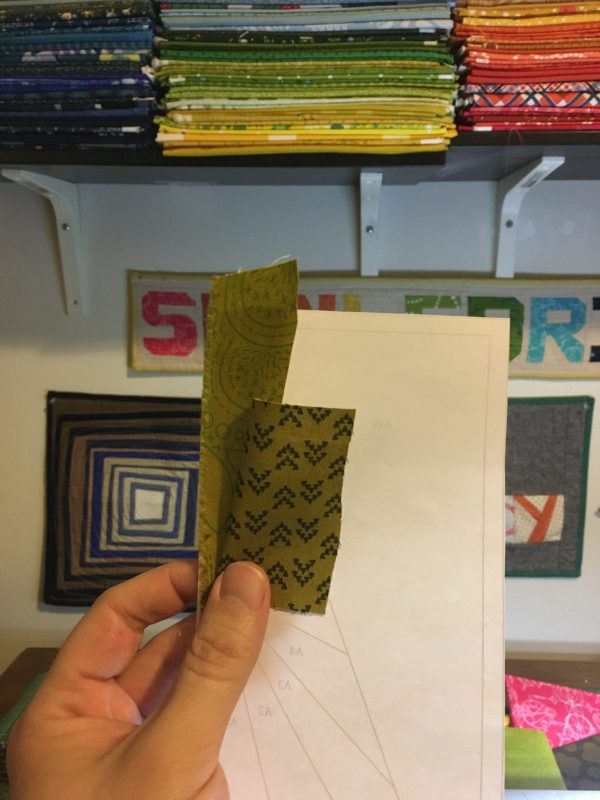 Be sure that you have covered all of section two. If you have, press the fabric back with an iron or pressing tool. I like to use a pressing tool like the one in the photo by By Annie because I hate getting up to iron my seam every time I sew a little line.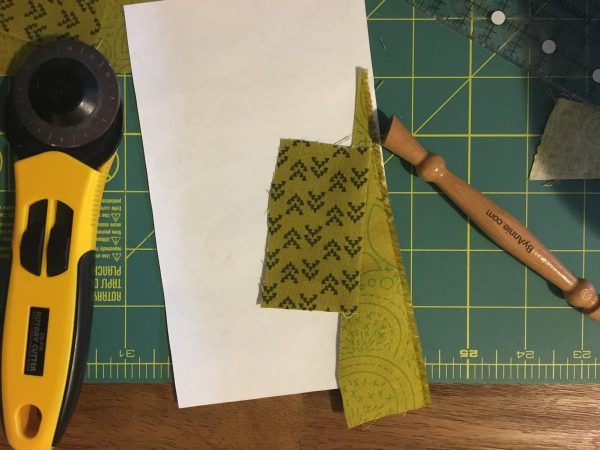 That's it! Pretty simple right? Now you'll just continue around, adding your fabrics as you go. I sewed both sides at the same time so I didn't mess up my fabric order.
When you are done with the tree, it will look something like this.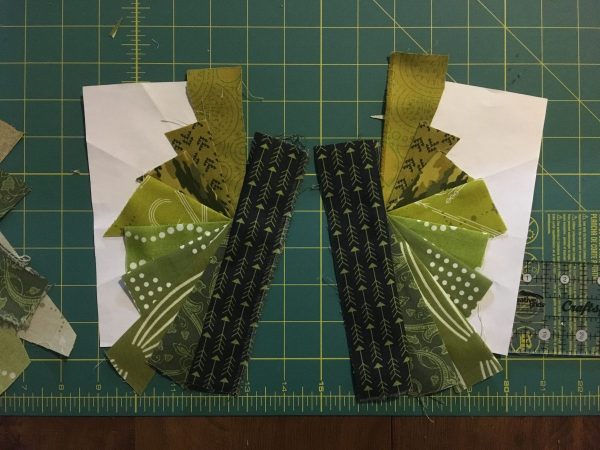 Now add the red (or whatever color you choose to do the outer fabric).
Once you have done that, it's time to trim up the block. When trimming, I like to measure a 1/4″ from the solid black line. This way, if you have trimmed too much of the 1/4″ seam allowance, you can adjust it so you have enough. Conversely, if you were TOO generous, with your initial cut, this will get you down to 1/4″.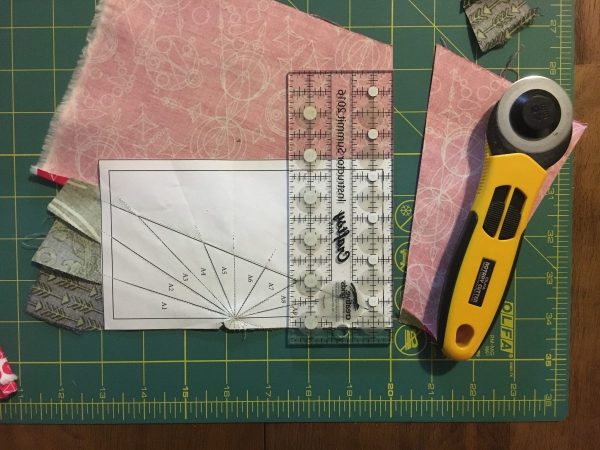 Some people like to make all the sections at once, then join them together. I'm a little too impatient to wait to see how it's going to look! So when I have two complete sections, I like to join them, then continue piecing and adding the other sections as I go.
Some like to join their pieces with all of the paper still intact. I find that my pieces shift too much when I do that. So I remove the paper around where I am stitching together.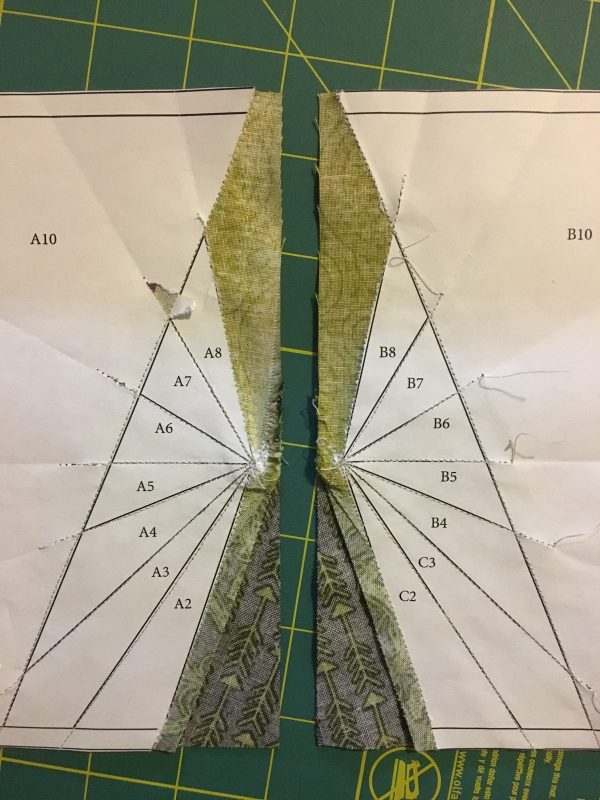 I moved my needle from the center over to a 3 to give me a 1/4″ seam. I also bumped up my stitch length to a 2.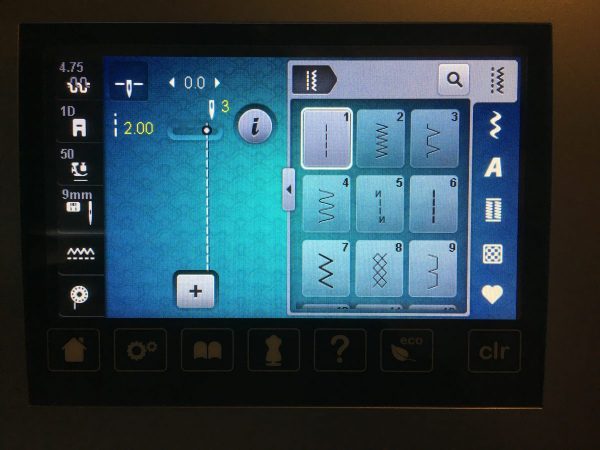 Right sides together, sew together your tree.
Note that the center of the tree where all of the seams join up is rather bulky. Take your time going over this part of the seam. I used the BERNINA Dual Feed when stitching and it went through like butter. Back stitch in the center to secure the seam.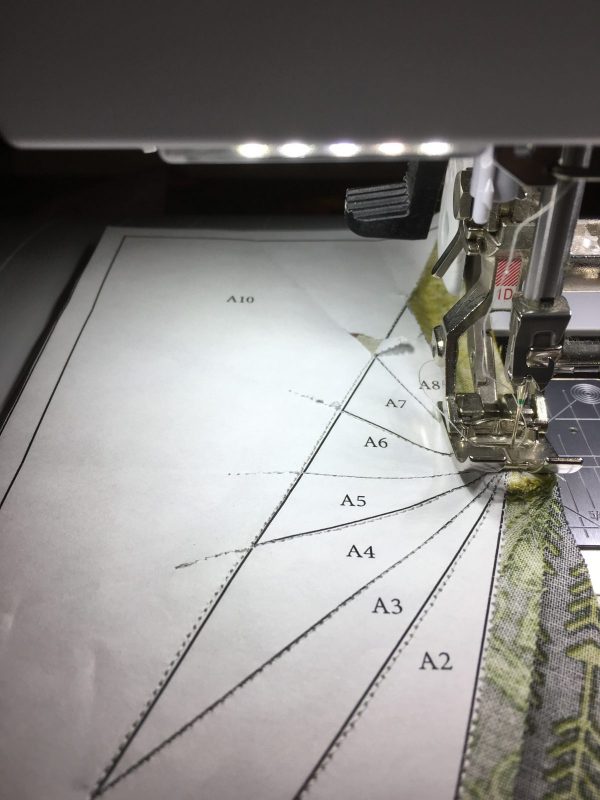 My grandmother sometimes takes the back edge of her scissor and bangs the bulky seam before putting it through the machine to flatten it a bit. It's an old school trick and it works wonders!
Now remove the papers. Tweezers help a lot in those tight spots where a lot of seams come together.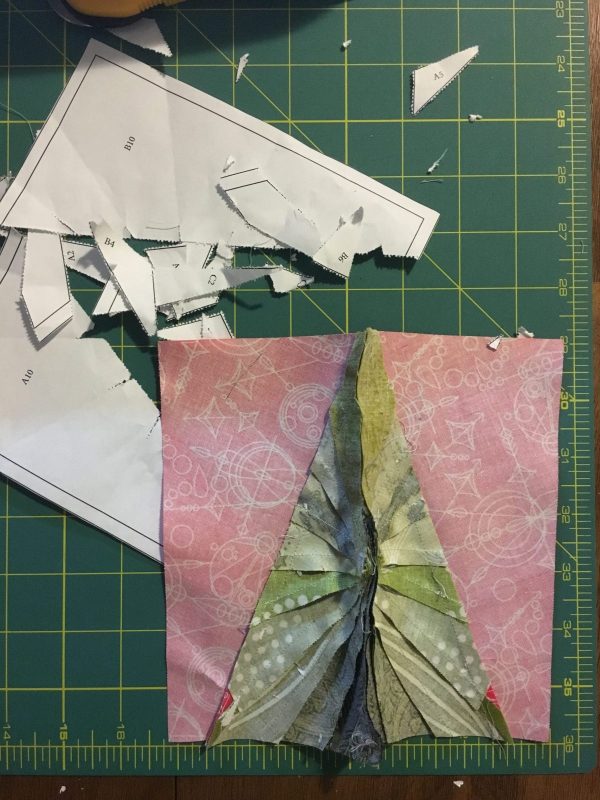 Press your seam open.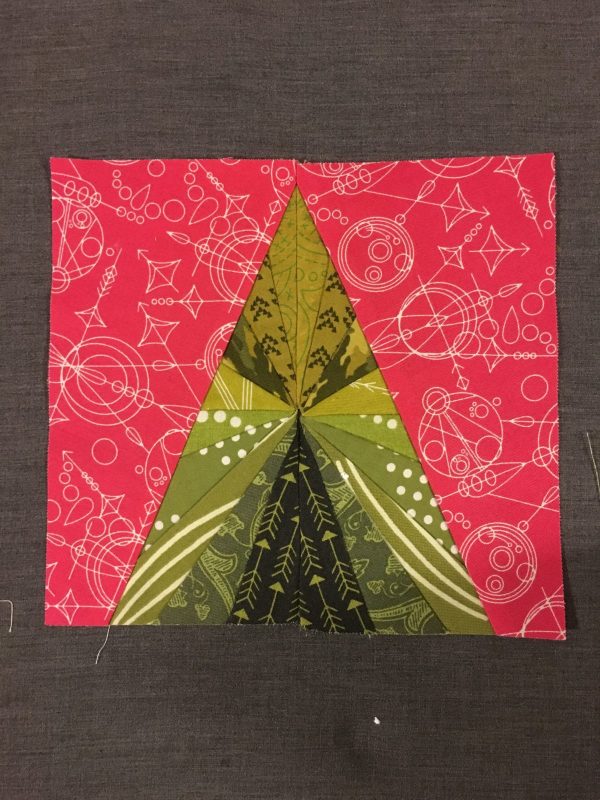 Now add part C to the base of this unit.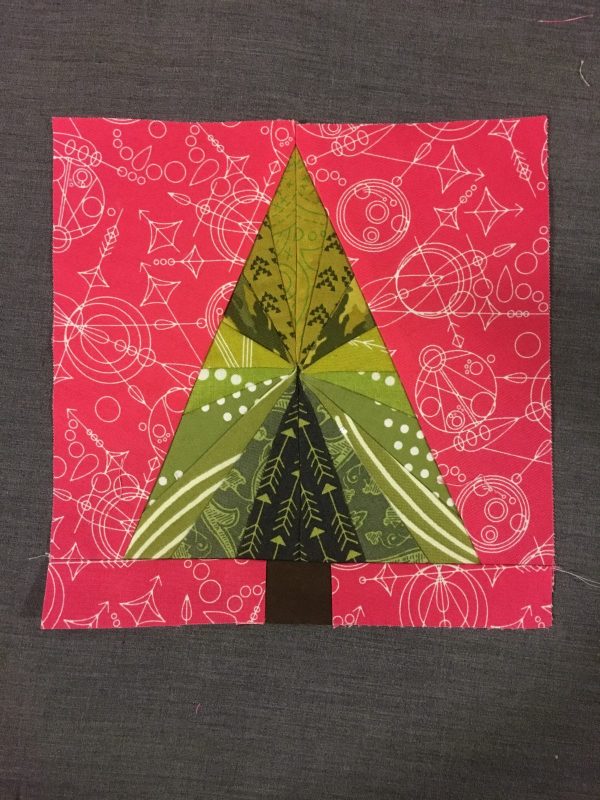 Boom! A tree! Now let's turn this baby into a pillow!
I used a 16″ pillow so the measurements in this tutorial make a slipcover that size, but this pattern is easily adjustable to accommodate any size pillow. Start by taking your  2- 5″ x 7.5″ strips. Sew one strip to the top and one strip to the bottom, continuing to use a 1/4″ seam allowance. You can bump your stitch length up if you like, but I kept mine at a two.
Now add your 2- 5″ x 16.5″ strips to either side.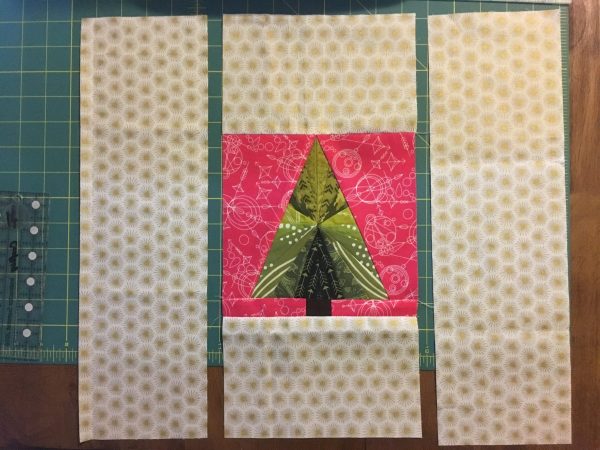 Your finished pieces should be 16.5″ square.
Now for the back of the pillow.
Take your 9″ x 16.5 " piece and your 13″ x 16.5″ piece and fold and press the wider side with a 1/2″ seam allowance, then fold and press again, like so.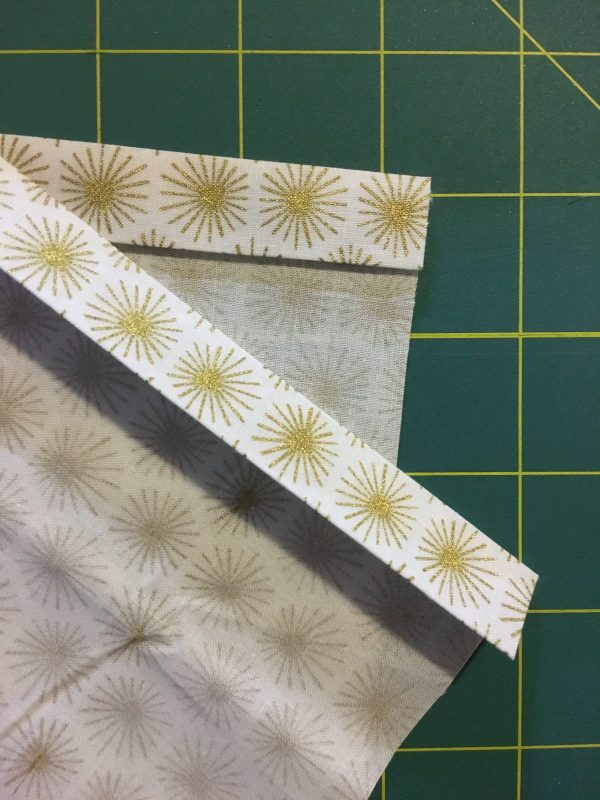 Moving your needle back to the center position (0) and stitch down the fold at the edge.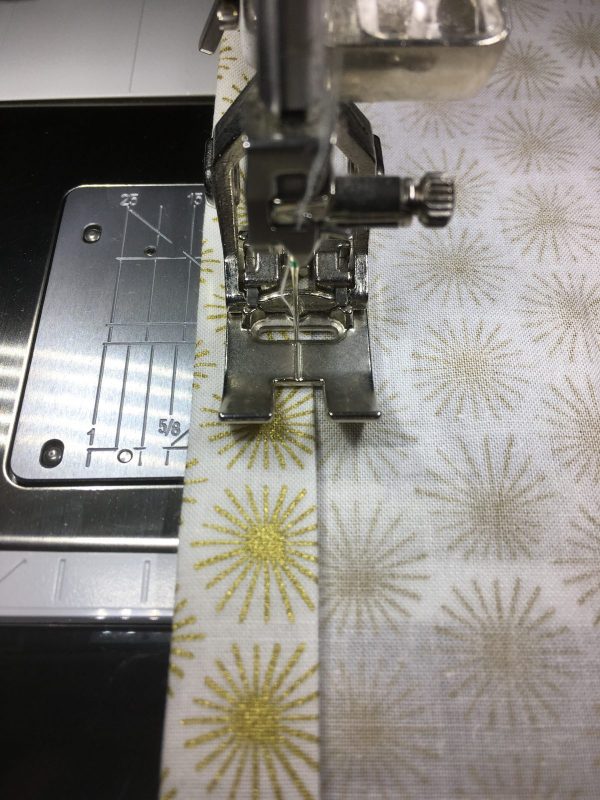 Right sides together, sew unfinished 16.5″ side of the shorter piece to the TOP of the pillow front with a 1/4″ seam allowance (needle position three), and sew the unfinished 16.5″ side of the longer piece to the BOTTOM of the pillow front.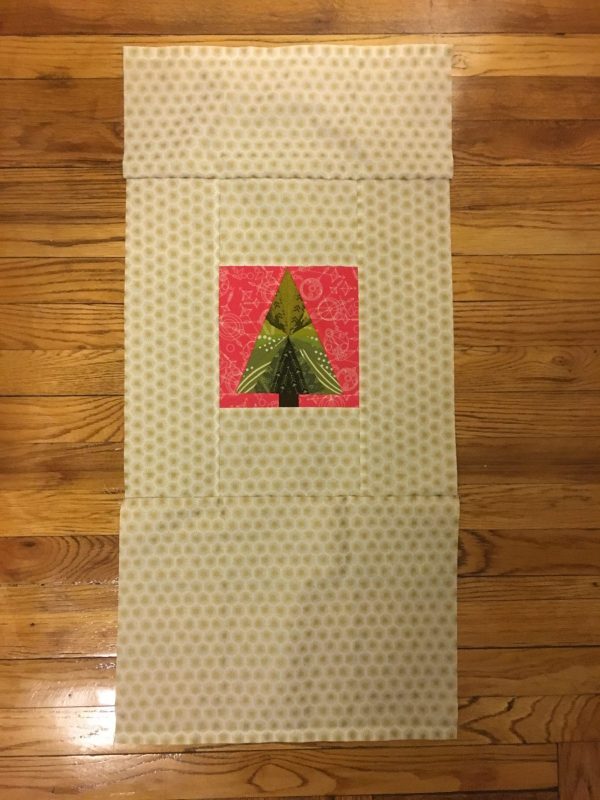 Right sides together, place the shorter flap under the longer flag and pin like so.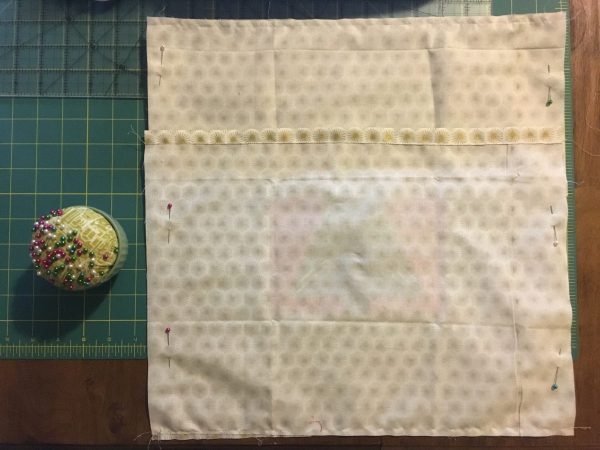 With a 1/4″ seam, sew up the sides. Then just flip the slipcover inside out, press the seams, and you're done!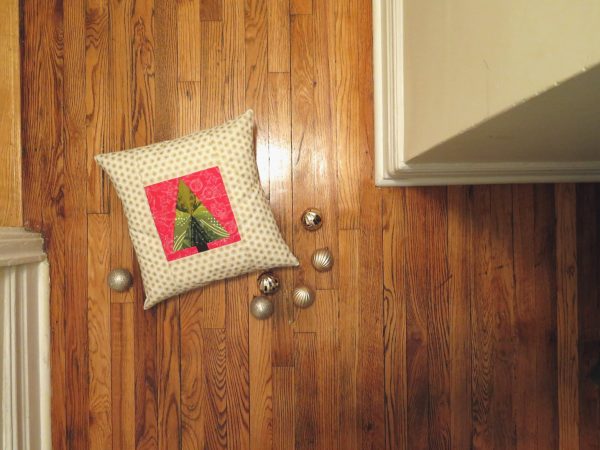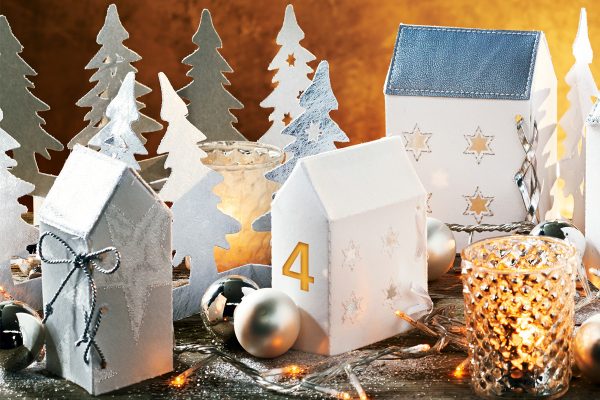 Our December 21 Gift for You:
Today's gift is a clear BERNINA sewing accessory box with a BERNINA red handle for easy transportation to one awesome WeAllSew fan.
All you have to do is post a comment below answering the following question:
What kind of home dec tutorial would you like to see on WeAllSew?
A winner will be chosen at random on December 22 , 2016 and announced the following week!
Good luck!
The contest is open for comments until December 21 at 12:00 midnight Central Time. Click here for contest rules.
Congratulations to WeAllSew reader "sandybangle," the winner of our December 21st gift. Enjoy!
Projects

home décor

Techniques

paper piecing, patchwork, quilting, sewing
What you might also like
126 comments on "Foundation Paper Pieced Christmas Pillow"