Tips for Tiny Patchwork Piecing
Patchwork piecing calls for precision—precise cuts, seams, and placement are necessary to come together as designed or planned. Small-scale patchwork (anything smaller than 2" finished size) is the next level. There is no room for error if your patchwork is only 1" big!
Whether you're attempting tiny patchwork for the first time or just looking for a new perspective, I'm here to share some insight on small stitching with success. Below are some of my favorite tips to make your process easier and your results even better!
Pressing Matters
When setting out to sew any sort of patchwork with precision, taking the extra time to prepare your fabric is crucial. Knowing how to press your fabric has more nuance than you'd think!
First, yardage should be well pressed and wrinkle-free. Use a good, hot iron (like my LAURASTAR Lift PLUS) to press. Don't be afraid to use a bit of steam to press, but avoid ironing motions with steam. This movement, with added moisture from steam, is what causes the fabric to warp and shift. Simply press down, burst steam, hold the iron until the moisture is evaporated, and lift away. I use steam sparingly when pressing patchwork but it really is the best way to smooth out stubborn creases in your fabric.
Next, consider starch. I prefer a starch-alternative spray—Flatter is my favorite but Best Press is a popular choice. These sprays will add a bit of stiffness and body to your fabric without leaving a residue on your fabric or iron. Traditional spray starch can be used as well, and it will add more structure to your fabric than an alternative, but it also may flake or make your fabric easier to scorch. Proceed with caution!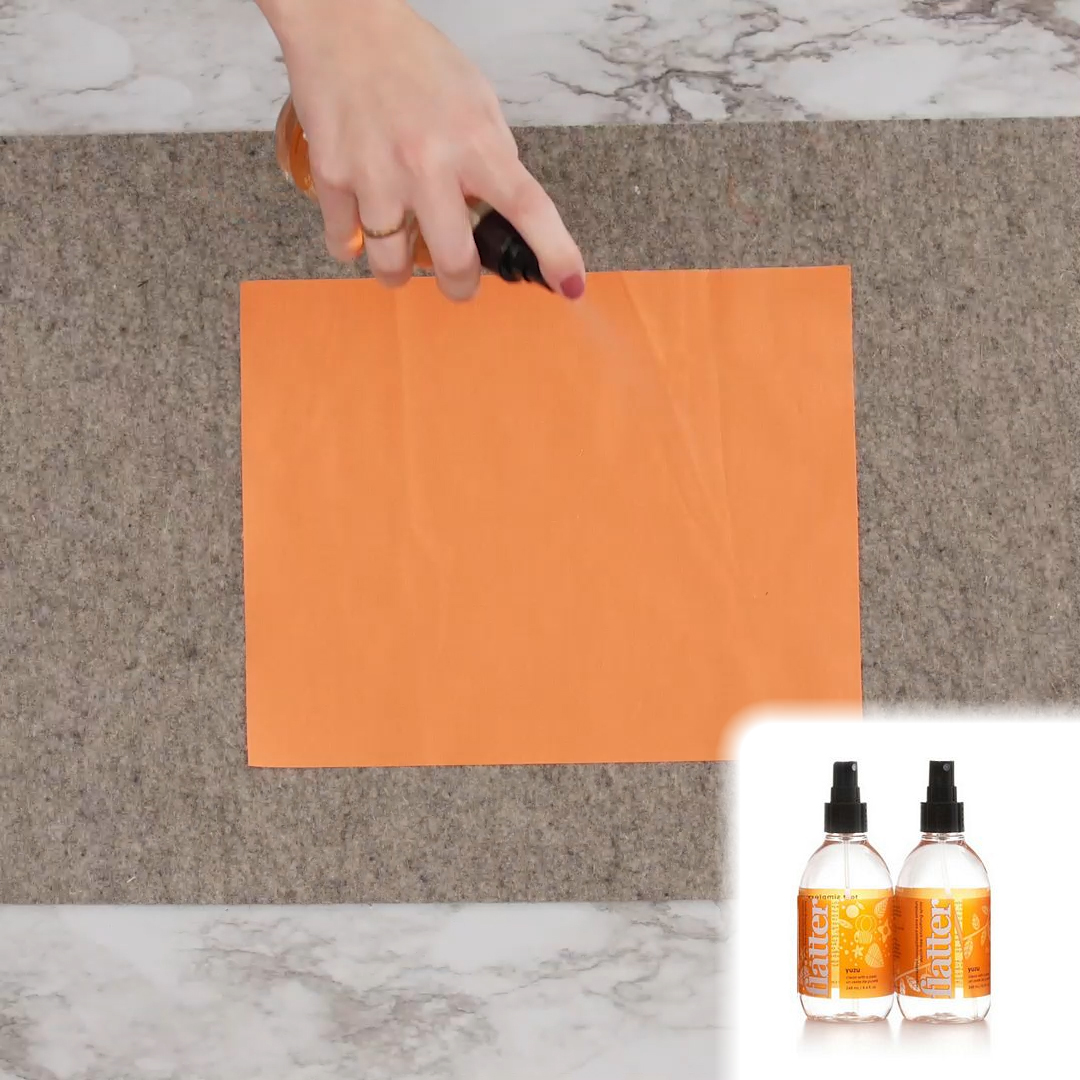 Finally, use a clapper. Originally designed as a tailor's tool for pressing crisp seams, a clapper is a block of wood that is pressed on top of a hot, freshly pressed seam or piece of fabric. When the wood is placed on the hot fabric, it helps absorb the residual heat (and moisture, if any) allowing the fabric to cool quickly. Combined with a bit of pressure, the result is a particularly flat and crisp seam. When working with small patchwork, you have more seams and seam allowances coming together in a small space.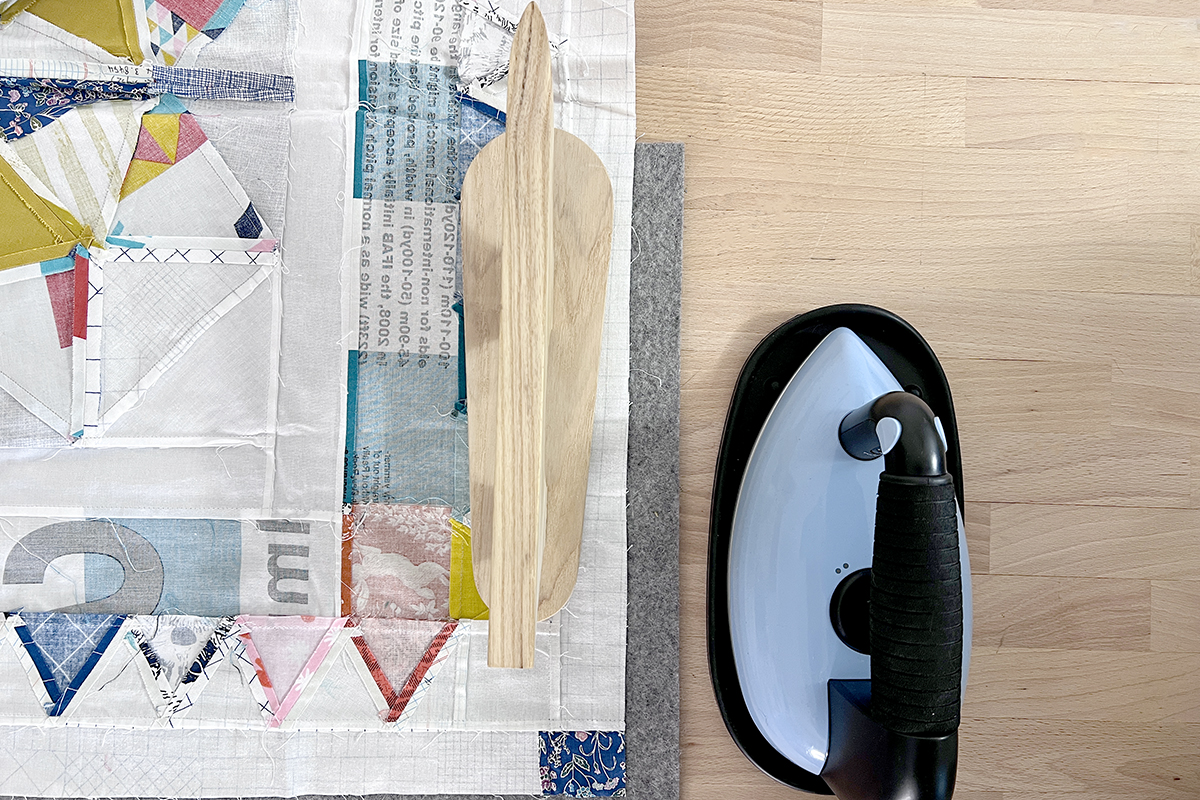 Presser Foot
There are multiple patchwork presser feet to choose from for your BERNINA—the #37/37D, #57/57D, and #97/97D. How do you know which to choose?
Patchwork Foot #37 is a classic 1/4″ piecing foot designed for 5.5 mm machines. There is also a version of this foot that can be used with Dual Feed, the #37D.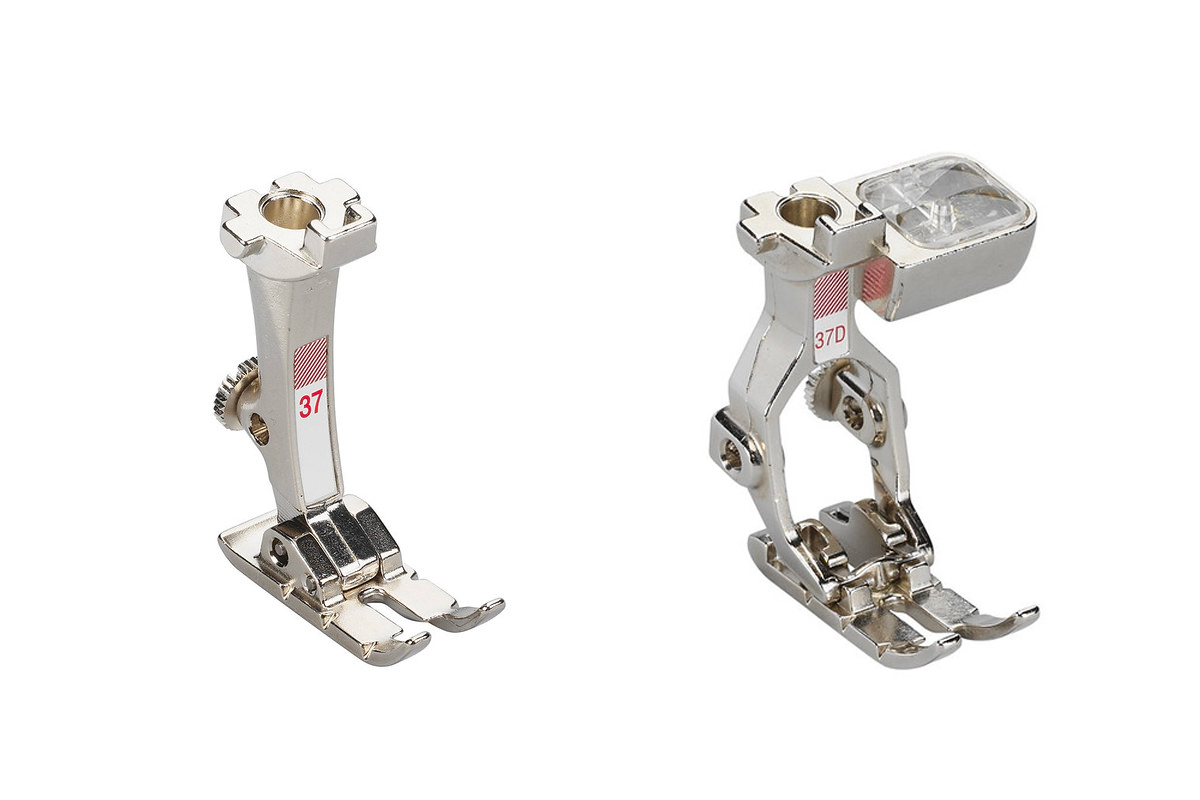 Patchwork Foot #57 is a 1/4″ piecing foot with an additional small guide on the right side of the foot and it is also designed for 5.5 mm machines. There is a Dual Feed version of this foot as well, the #57D.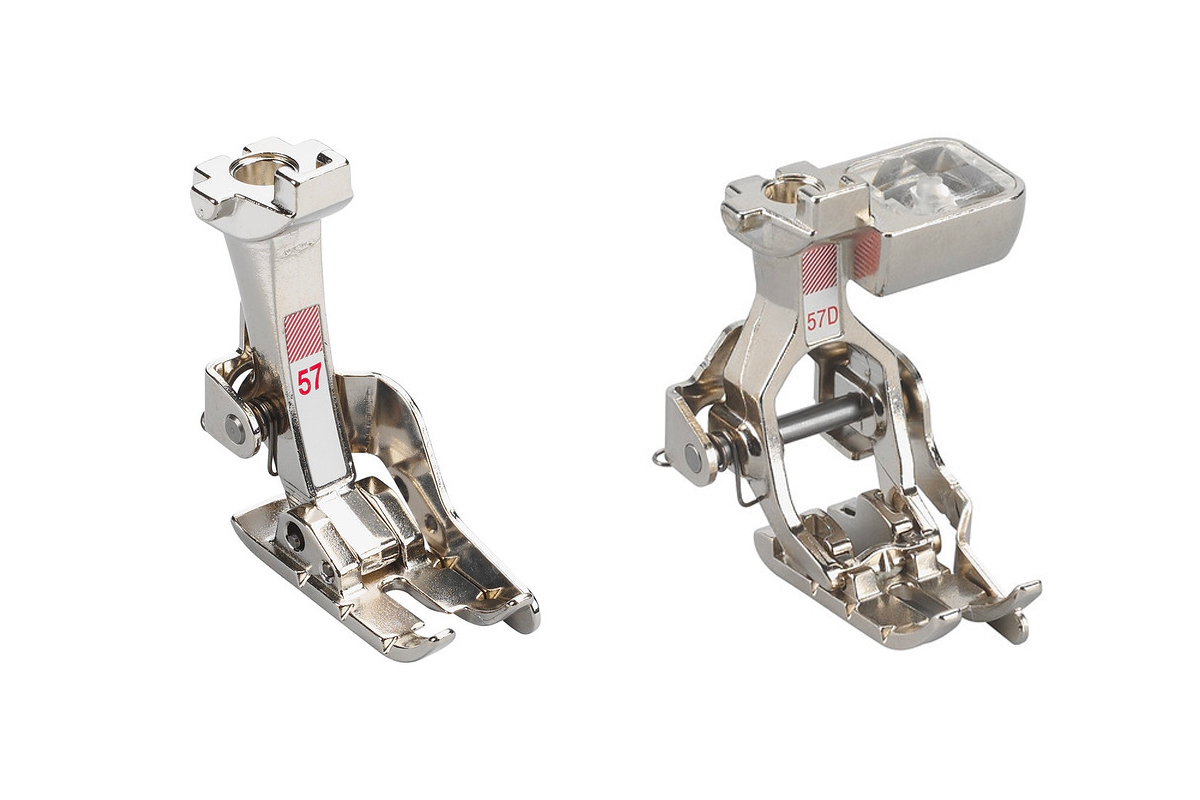 Patchwork Foot #97 is a little bit different. This is a 1/4″ piecing foot designed for 9 mm machines. Which means that the right toe of the presser foot measures 1/4″ wide, but the left toe, as well as the area of the presser foot behind the needle, is a bit wider to maximize contact with the wide feed dog on this machine. And you guessed it—there is a Dual Feed version of this one too, the #97D.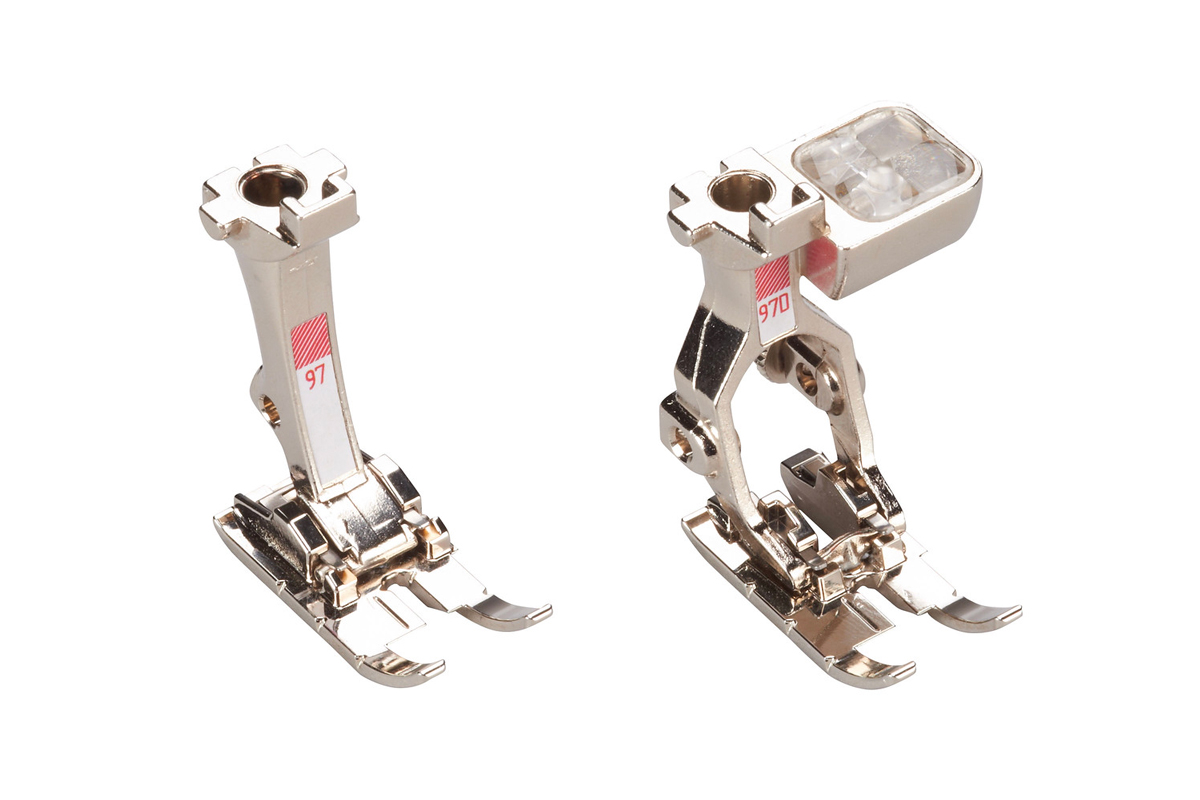 Ultimately the decision on which presser foot to use really boils down to personal preference. No matter what feels comfortable to you, there is an option! There are a few features about all of these presser feet that make them the best tool for piecing tiny patchwork: the needle opening, the "toes" of the foot, and the base of the foot.
The needle opening on all of these presser feet is incredibly narrow, as they are designed for a straight stitch. Having the presser foot so close around the needle (without interfering, of course) gives better support to your fabric as it is being stitched through. That gives you a more precise stitch.
Of course, we know that these feet are engineered to be 1/4″ wide so that when you guide your fabric under the foot, and the raw edge is aligned with the presser foot, you will have a precise 1/4″ seam. But the "toes" on your presser foot have a few other helpful markings that you may not have noticed before!
There are small notches in the presser foot (on both the left and right sides) that align with a few helpful points: one directly in line with your needle, one 1/4″ in front of the needle, and one 1/4″ behind the needle. These markers make it so easy to gauge where you're at, especially because that narrow opening for the needle can limit your visibility. If you're pivoting around corners or stitching Y-seams, these markers are a lifesaver!
If you're working with really tiny pieces, sometimes a 1/4″ seam allowance is too big and bulky in which case you may want to try a 1/8" seam allowance. Our patchwork presser feet have guides for that too! You will find a small notch on the inside of each toe that indicates your 1/8" line.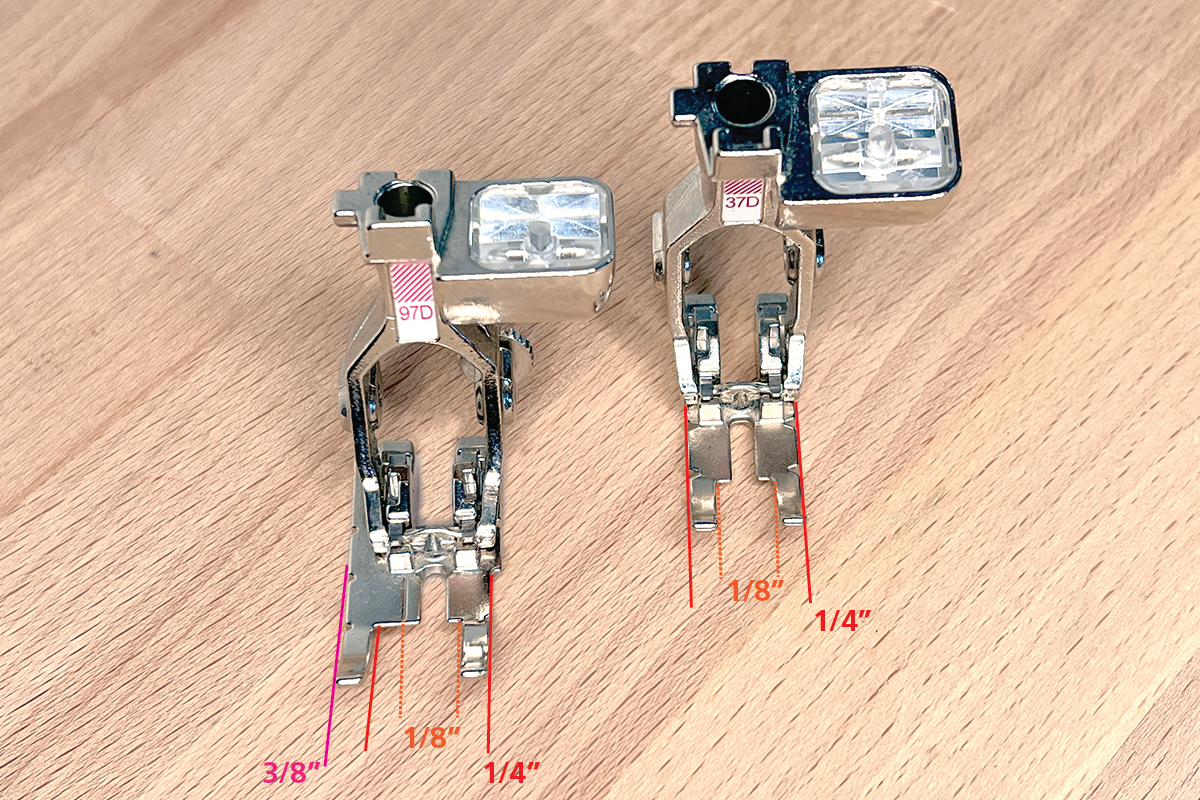 Straight Stitch Plate
When working with small pieces or fine fabrics, occasionally when you take the first stitch at the beginning of the seam, you might experience the needle pushing the corner of the fabric down into the stitch plate. If you're using a standard stitch plate, there's a lot of space there for your fabric to get pulled into! One easy way to prevent that is using a straight stitch plate.
Similar to how a straight-stitch presser foot gives your fabric better support for stitching, the Straight Stitch Needle plate adds so much stability to your sewing, but from the underside. The combination of these two tools sets you up to sew as precisely as possible with small pieces or small seam allowances.
Needle & Thread
Of course, your needle and thread choices impact your piecing! The finer your thread, the better for tiny patchwork. Thread may not seem like it takes up space, but when you have many seam allowances intersecting in a small area, that extra bulk can surprise you!
I recommend using a high quality very fine, but strong, thread for this. What weight will vary depending on the fiber and manufacturer of your choice—unfortunately, there is not a standardized scale for measuring thread weight among brands. Traditionalists often stick to exclusively natural fibers (cotton, generally) for their quilts and patchwork, but polyester has become more commonly accepted. If you are working with vintage or antique fabrics though, I advise sticking with cotton because these fabrics are more delicate.
For cotton threads, look for 50 – 60wt threads and for polyester, go for 60 – 80wt. Some of my personal favorites are Mettler Silk Finish Cotton 60wt or Aurifil 50 wt for cotton and for polyester, I love Mettler Seralon, Seralene, or Seracycle. Seracycle is a new, 100% recycled poly made from 100% post-consumer recycled PET bottles. Hooray for greener choices!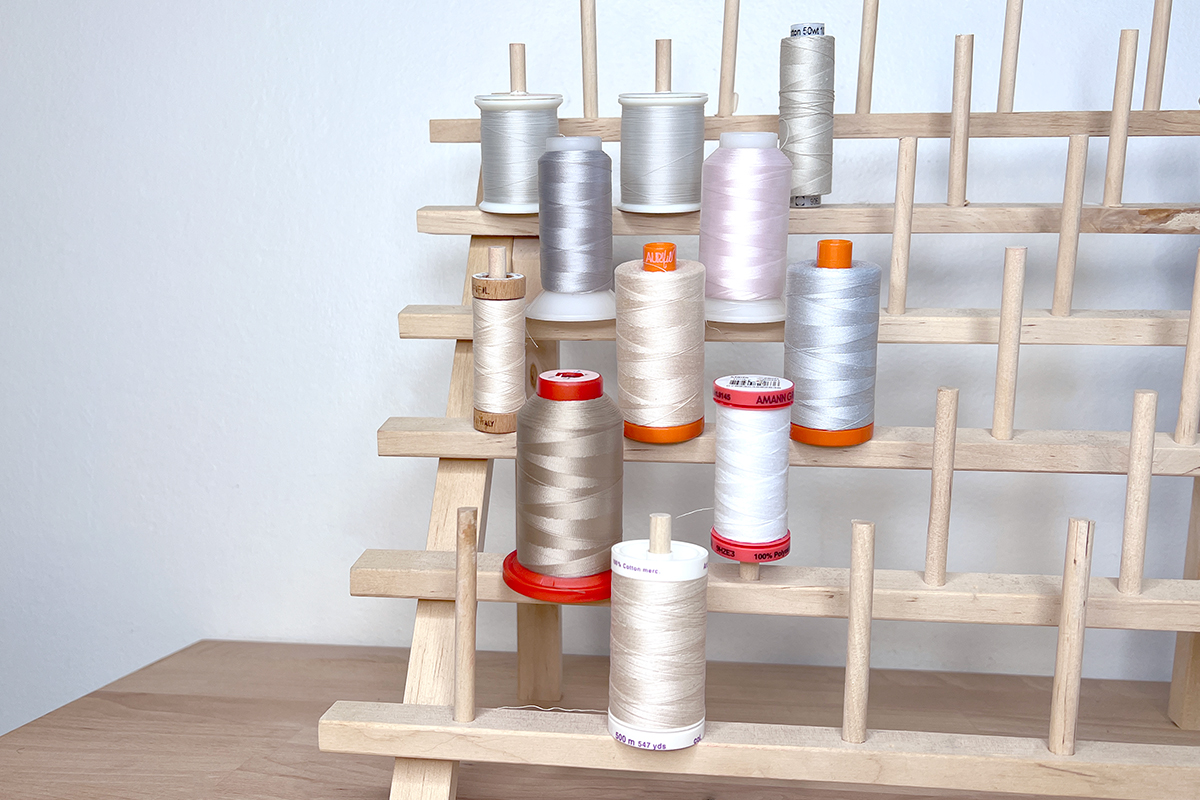 Your needle size is always dictated by your thread choice. Thicker thread calls for a larger needle and finer thread needs a smaller needle! Remember that with thread weight, larger numbers mean finer thread but needles are the opposite. A smaller needle size will have a lower number. For small piecing, I recommend using a needle no larger than 80/12. If you're using a particularly fine thread (like a 60wt cotton or 80wt poly) you'll probably want a 75/11, 70/10, or even 60/8.
Regardless of size, you will want a very sharp needle like a microtex. Specialty finishes on needles, such as chrome or titanium, will also help them stay sharper for longer.
If you really want to dive into the distinctions of needles and threads, I highly recommend this post written by our friend Lori Kennedy.
Efficient Piecing
Starts and stops with small patchwork can be tricky. If you're working with lots of small seams, chain piecing will be your best friend! You can work through many pieces pretty quickly if you don't have to stop and cut your threads each time.
When you reach the end of one seam, stop, raise your presser foot, slide the next piece in, and keep stitching! If you use your Free Hand System to raise the foot, you'll be able to cruise through even faster.
But lining up tiny pieces underneath a presser foot can be tricky. Try using a stiletto to guide your fabric where you need it, especially close to the presser foot. The fine point on this tool can get much closer to the presser foot and needle area than your hands can!
A shorter stitch length can also be beneficial for small seams. Our standard stitch length is 2.5 mm, which is about 1/10". The smallest half-square triangles in my pin cushion finish at just 1" which means I only have about 10 stitches securing each side. A shorter stitch length means that my seams (and there are many of them in this project) will hold much more securely. I recommend 1.5 to 1.8 mm.
Hopefully, these tips help you on your journey through tiny patchwork! What's the smallest quilt block you've made? Let me know in the comments below!
Difficulty level

Confident Beginner

Time to Complete

Evening

Used Material

clapper, iron, starch, straight stitch plate

Projects

pincushion

Seasons

all seasons

Techniques

patchwork
What you might also like
1,287 comments on "Tips for Tiny Patchwork Piecing"