Trendy Tiny Piecing: A Wall-Hanging Project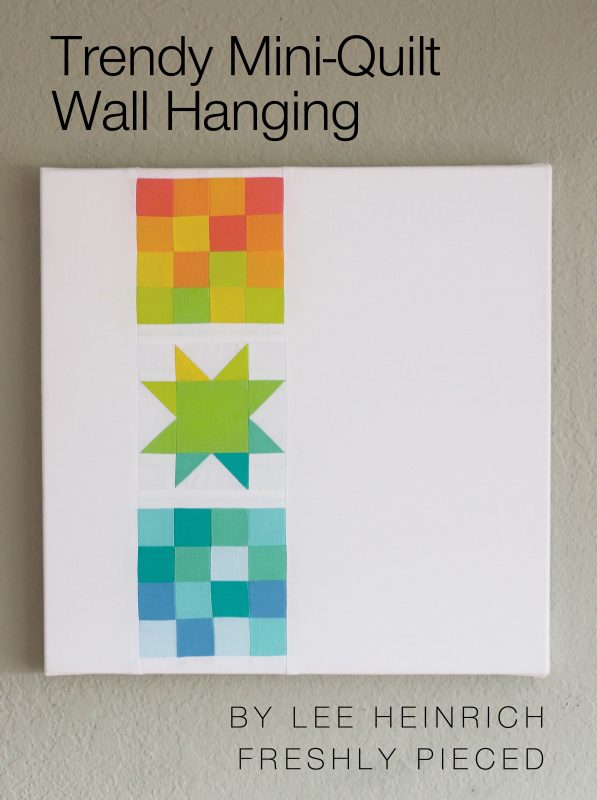 Hi again! It's Lee here, back with another fun little project that incorporates two of today's hottest quilting trends: Tiny piecing, and stretching pieced fabric onto a canvas!
In today's post, we're going to talk about how to tackle tiny piecing and how to sew this itty-bitty little quilt top. Then, rather than quilting this little project, instead we'll stretch it onto a canvas, so that the piece is suitable for hanging on a wall. It's an easy, quick, modern way to finish a project, which I'll cover in tomorrow's post.
But first, let's make the quilt top!
Materials to Make a Tiny Pieced Quilt
Various solid colors:
• (32) 1-1/2″ squares
• (1) 2-1/2″ square
• (4) 2-1/2″ squares, cut in half diagonally to make 8 triangles (Piece 2 of the Flying Geese Paper-Piecing Templates)
White solid:
• (4) squares 1-1/2″
• (4) pieces 3″ x 2″ (Piece 1 of the Flying Geese Paper-Piecing Templates)
• (2) pieces 1″ x 4-1/2″
• (2) pieces 3-1/4″ x 4-1/2″
• (1) piece 5-1/4″ x 19″
• (1) piece 9-3/4″ x 19″
Make the 16-patch blocks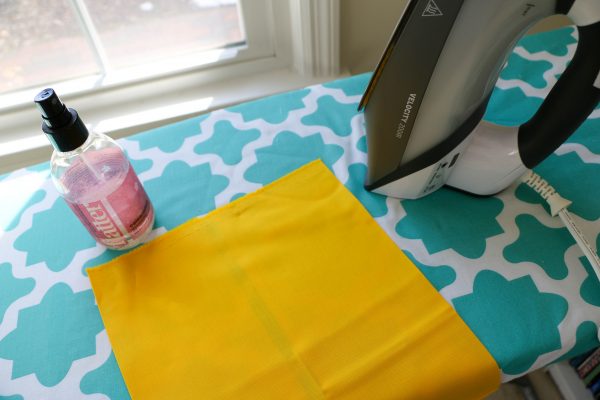 1. Before you cut, a quick tip: I'm not usually big on starch, but when you're piecing small, starch (or starch alternatives) are a great help by stiffening up the fabric a bit. I sprayed my fabric liberally with Flatter and pressed before cutting.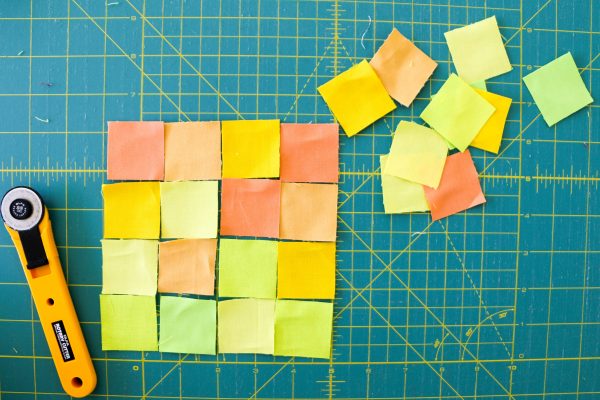 2. We're making two blocks that are 4″ finished—each block uses 16 of our 1-1/2″ squares. So start by selected 16 squares and arrange them as desired.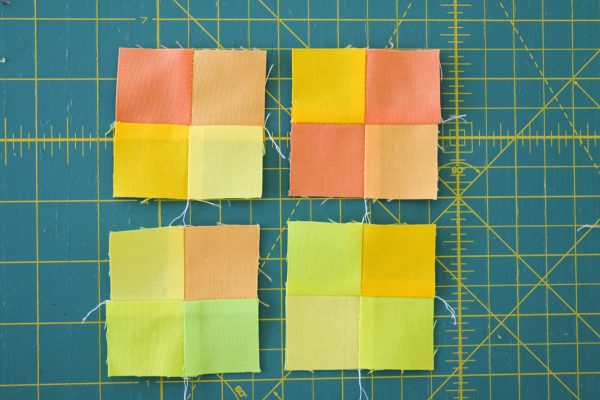 3. I find patchwork blocks like this piece more accurately when I piece them in groups rather than in rows. So in this case, I'm piecing them in groups of four (each quarter of the block), with seams pressed to the side, and then piecing together the four quarters.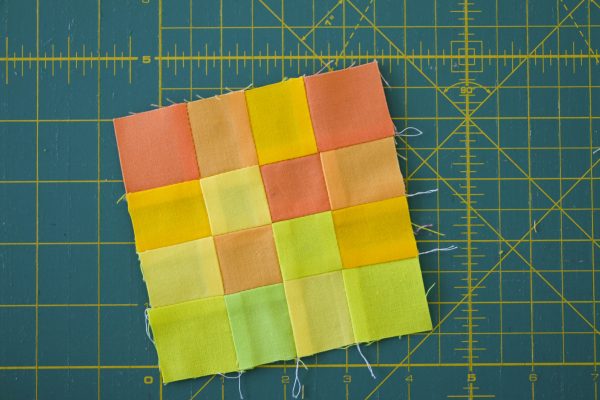 Finished block! Make two of these!
Make the Star Block
For this block, we're going to use paper-piecing to make the star points. You COULD make these points using standard half-square triangle or flying geese piecing. For those non-paper-piecers out there, feel free to use your favorite method to make the star-point units. But here's my pitch for using paper-piecing: When it comes to paper-piecing, size doesn't matter. It really doesn't! So it's perfect for tiny piecing. I once made an entire owl that measured only about 3″ square using paper-piecing. It sounds and looks challenging, but trust me: Paper-piecing, with its just-sew-on-the-line style of accuracy, allows you to make anything, at any size, accurately and without the stress of traditional piecing.
So, ready to make some paper-pieced star points? Start by downloading my free Tiny Flying Geese templates right here.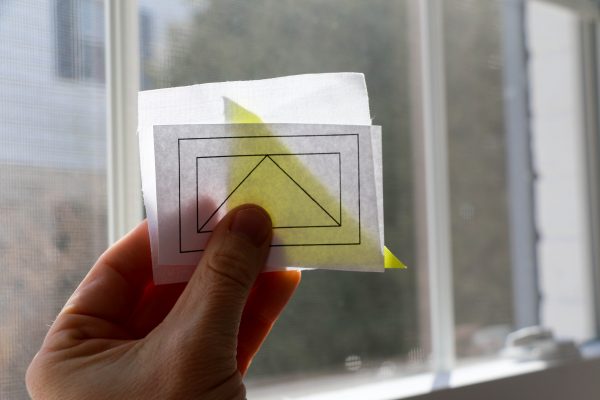 2. Paper-piece the flying geese points by starting with the White 3″ x 2″ pieces as Piece #1, and the colored 2-1/2″ squares cut in half diagonally as Piece #2.
3. Sew and trim 4 Flying Geese Units, and remove the paper. The finished Flying Geese Units should measure 1-1/2″ x 2-1/2″.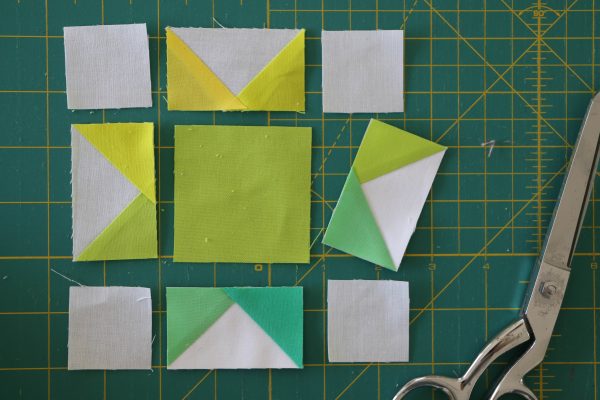 4. Assemble the star blocks as shown. Press seams away from the Flying Geese Units.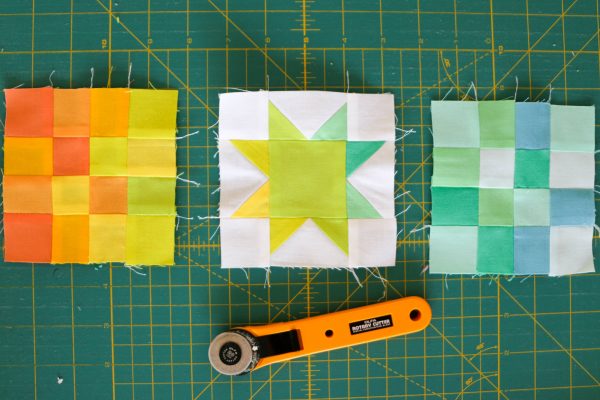 Your blocks are now complete!
Assemble the Mini-quilt Top
Assemble the quilt top as shown in the diagram below. Press seams in the direction of the arrows.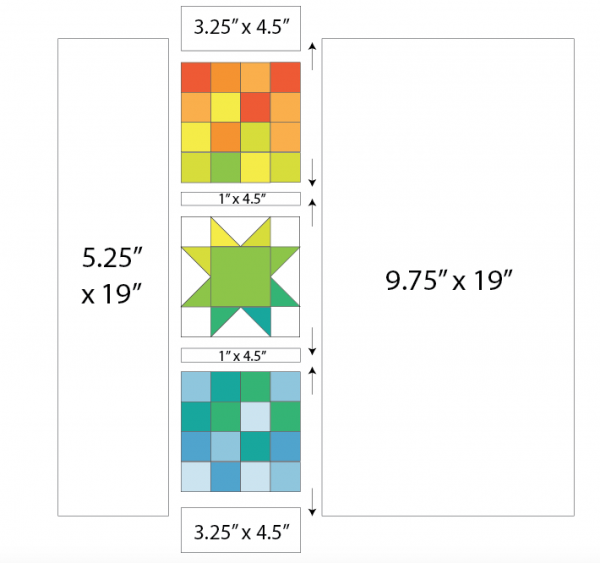 That's it—a trendy mini-quilt top using tiny pieced blocks! I intentionally left about 2-1/2″ inches of blank space along each edge of the mini quilt so that it could be wrapped around a stretched canvas. We'll cover more about that in the next post, but the canvas I purchased for this project is 14″ x 14″ square.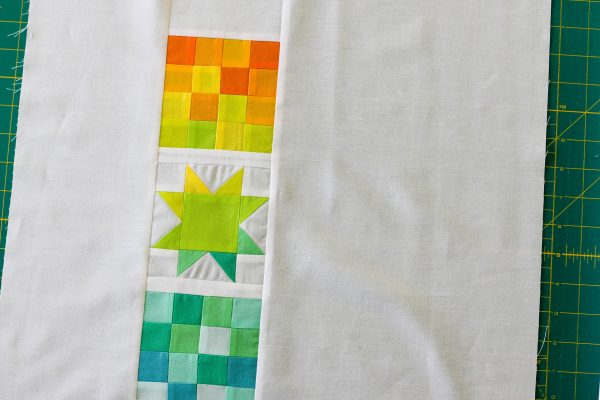 In my next post, we'll cover how to stretch the quilt top onto a canvas to create a clean and modern wall-hanging, so stay tuned!
Difficulty level

Intermediate

Time to Complete

Weekend

Used Material

coordinating thread, cutting mat, fabric scissors, quilting cotton, rotary cutter

Projects

quilt

Seasons

all seasons

Techniques

patchwork, quilt piecing, quilting
Used Products
What you might also like
One comment on "Trendy Tiny Piecing: A Wall-Hanging Project"