Tips for Sewing Gifts for Guys
Like many of you, I have men and boys in my life that I love and would love to sew for. Until a few years ago I thought that my choices for sewing for them were limited to hemming pants or making T-shirt quilts, and let me tell you, I do not like to hem pants—at all. I challenged myself a few years ago to sew more gifts for my husband and teenage son. So far I've been really happy with the results.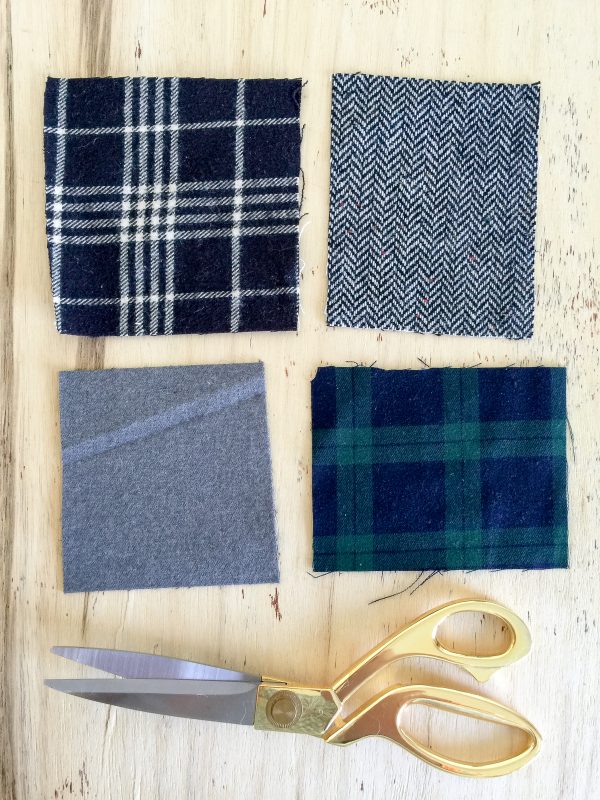 I think many people are intimidated to sew for men, and since Father's Day is coming soon I thought that I'd share a few tips that I've used when designing gifts for the men in my life. I've included links to the tutorials for all of these projects, most are so simple that you still have time to make one before Father's Day.
TIP ONE: Pay careful attention to your fabric selection.
I have noticed that I can use some of the same patterns that I've designed for my girls to sew for the guys in my life by simply changing out the fabrics. When sewing for men I have a few fabrics that I love to use: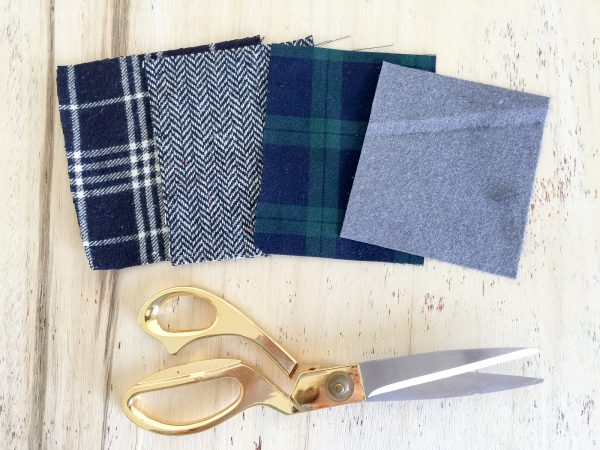 Suiting Materials: I think that these have a natural masculine quality to them since they are so often associated with men's suits. Most suiting fabrics are easy to sew with and can be purchased at many fabric stores. Last year I made my husband an iPad case for his birthday using some gray wool suiting, you can find the tutorial here on WeAllSew.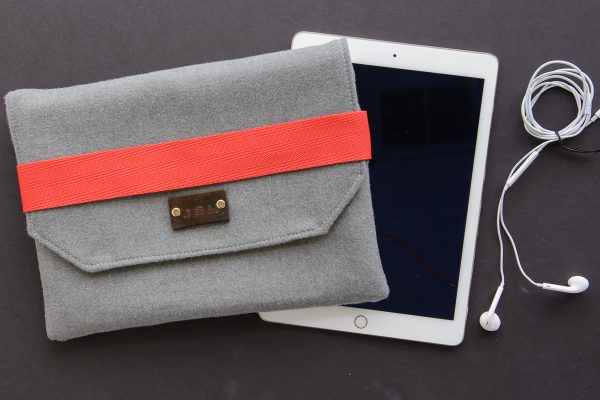 Canvas: You can buy canvas in a number of colors at your local fabric store. Sometimes it's referred to as duck cloth. When I sew with canvas or duck cloth, I prefer to wash it first to give it a nice soft sheen. After it comes out of the dryer it always reminds me of an old boy scout ruck sack. That soft worn in texture is perfect to use if you are sewing cases or travel bags. This travel bag is an example of one way to use washed canvas.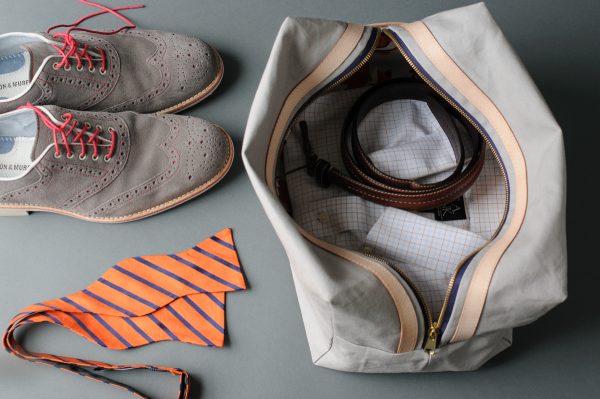 Touches of Leather: Adding small touches of leather can really take a simple project and make it look professional. I made the zippered pouch below for a friend, but you could easily change the main fabric to a canvas or suiting fabric and you'd have a great zip pouch for a guy. My husband likes to use pouches like this to keep phone chargers and cords in when he travels.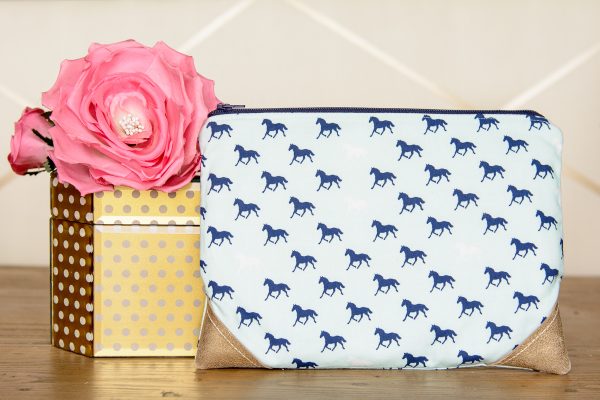 (leather trimmed zip pouch tutorial on polkadotchair.com)
Sports or Hobby Novelty Fabrics: A few Christmases ago I made quilts for all of my kids for Christmas. I was feeling a bit guilty that I had not stitched something for my husband also, so at the last minute I decided to make him a fleece blanket using a pattern I had previously designed.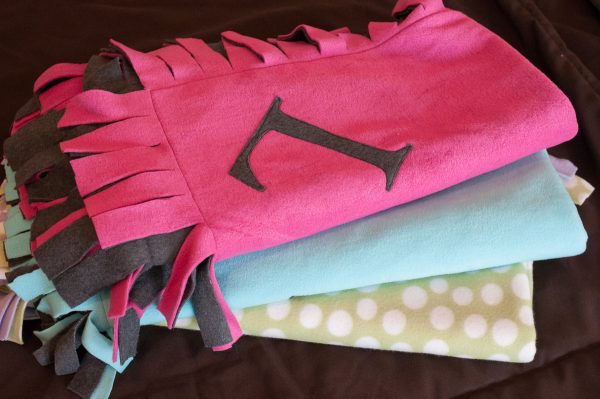 (fleece blanket tutorial on polkadotchair.com)
I made the blanked from polar fleece in a print with his favorite college sports team. He opened it Christmas morning and told me that he absolutely loved it. I'm not sure if he liked it so much because I made it, or because it featured his favorite sports team and was perfect for football games, but either way I'll take it.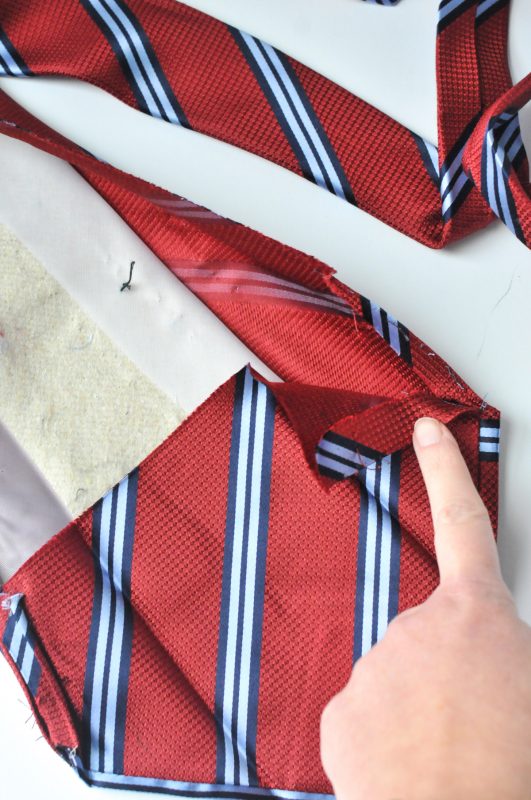 Upcycled Ties and Dress Shirts: My husband was about to donate a bunch of ties and dress shirts that no longer fit him to a local charity. I pulled some of them out of the donation bin because I thought they'd be a great source of fabric. I used the ties to create these up cycled necktie zip pouches. The pattern is just a standard zippered pouch, but since I made it out of a recycled tie, the project has a more unique feel that was more suited for a guy.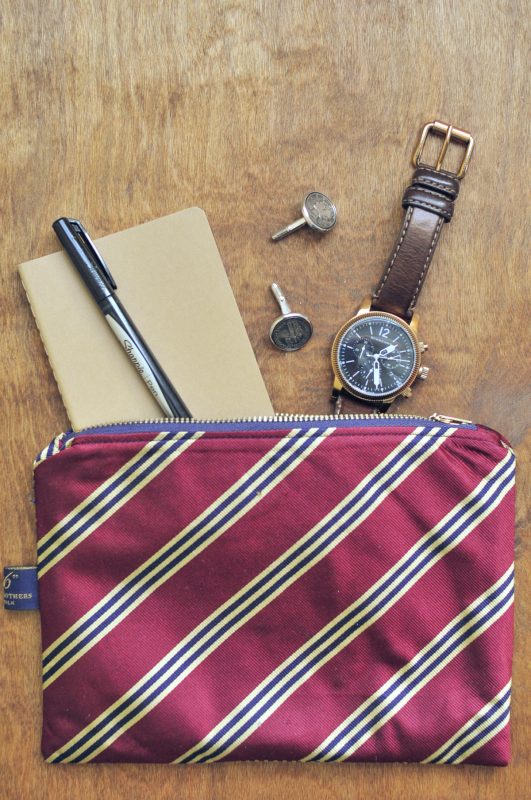 (tutorial on polkadotchair.com)
TIP TWO:  Of course every guy is different, what one may love another may dislike, so the biggest tip I have for you is to pay attention to what the men in your life love. When you design projects for them try to match their style and interests think of their favorite colors, their hobbies and things that they need. The iPad case I made for my husband came about because he said he wanted an iPad case with a pocket to store his headphones. Maybe a guy in your life has a similar need? Or it may be something completely different.
Most of all though, don't be afraid to give it a shot, you never know he may LOVE it.
What you might also like