Quilting Daily + Sew Daily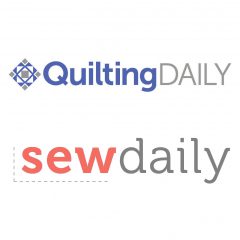 Building off the tradition and excellence of established brands including Fons & Porter, McCalls, Quiltmaker, and Quilting Arts, Quilting Daily is dedicated to inspiring, educating and equipping quilters of all interests and skill levels. Our website, online education programs, video services, and magazines all serve to meet the needs of the quilter wherever they may be. Quilting Daily. We've got Quilting Covered.
https://www.quiltingdaily.com/
--
Sew Daily is your one-stop for all things sewing. The Sew Daily community is unique in that offers not only traditional expert instruction, and sewing techniques, but also fresh and modern patterns, up and coming sewing stars, projects and trends. No matter what your skill level, the Sew Daily Community has what you need.
https://www.sewdaily.com/
Latest Posts from Quilting Daily + Sew Daily
Other Posts from Quilting Daily + Sew Daily