Heidi Pridemore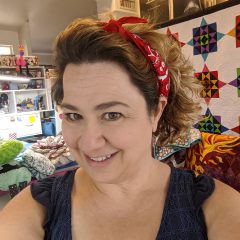 Heidi grew up in Rochester, New York, where she received a bachelor's degree in Industrial Design from Rochester Institute of Technology. In 2000, Heidi began offering her services as a product designer to a number of fabric companies. She created her own line of quilt patterns beginning in 2002 and in 2004 Heidi started designing fabric in her own bright and whimsical style. By 2005 the workload warranted expanding to a partnership and The Whimsical Workshop, LLC was born with Heidi as the chief designer. Heidi is known for her fun and whimsical quilts which she often makes in dramatic, bright colors. She also designs quilt patterns for a variety of popular quilting magazines. In addition she has written five books; Quilted Whimsy, Bold Batiks and Dazzling Designs for Leisure Arts, Pop Up Paper Structures for C&T Publishing and Fabric Jewelry-Wrapped, Braided and Sewn for F&W Media.
Heidi has been lecturing and teaching about being a designer for the fabric industry and about the 1000's of quilts she as designed the various fabric companies over the years since 2002. Her classes cover the majority of the popular piecing and applique techniques available today, as well as classes on tools, color and design. She is also available for trade lectures for professionals wishing to design for the craft industry as well.
Company Bio:
The Whimsical Workshop, LLC is a full-service design studio and retailer led by Heidi and Matthew Pridemore. We specialize in bright, fun quilt patterns, fabric, fabric kits, books and licensing. We also offer lectures and workshops about design, quilting and crafting. Although The Whimsical Workshop is based in Arizona, their products are available worldwide through their website. The Whimsical Workshop continues to create new and exciting products that spark people's imagination and make them smile.
Latest Posts from Heidi Pridemore
Other Posts from Heidi Pridemore