Lori Brocesky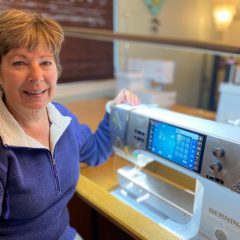 Lori couldn't wait to sew in her school's home economics classes. She was an enthusiastic learner who displayed a natural talent. The school had a rule that all sewing projects must be completed under the teacher's watchful eye. Lori was so enthralled by her sewing that she snuck her projects home on Fridays to finish over the weekend. Not wanting to dampen her protégé's excitement, the kind and wise sewing teacher never asked Lori how she managed to wear Friday's half-finished garment to school on Monday.
Lori grew her sewing skills over the next many years. She thought the magic of sewing was all about beautiful fabrics and interesting garment patterns. She gave little thought to the contributions of her very basic sewing machine.
It was a fine day when she treated herself to a new BERNINA. Suddenly, even challenging techniques were made easier with BERNINA's specialty feet. Boring fabric could be transformed into something fantastic with artfully applied embroidery, decorative stitches, needle felting, and much, much more.
Lori was so captivated by her new sewing machine that she threw herself into the BERNINA world. Lori's articles have been published in Through the Needle. Her work was featured on the front of BERNINA's 2 Series sewing machine brochure, as well as BERNINA print advertisements. Lori has also taught classes at BERNINA University, BERNINA's annual dealer conference.
The natural step for this BERNINA enthusiast was to open her own store, Thread Play, an award-winning BERNINA dealership in Denver, Colorado. Lori has spent the last 21 years at Thread Play helping 1,000's of others get their own BERNINAs while sharing her passion for sewing and the BERNINA experience.
Latest Posts from Lori Brocesky
Other Posts from Lori Brocesky