Laura McDowell Hopper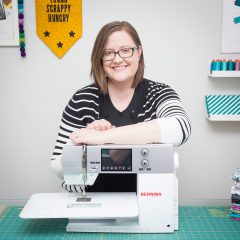 Laura is a quilter who uses her love of music as an inspiration for her minimalist quilt designs. Her work has shown at QuiltCon, the International Quilt Festival, American Quilter's Society, and more. She has published in QuiltCon Magazine, appeared on quilt podcasts, and she teaches at guilds, shops, and shows. Laura is also a board member of the Chicago Modern Quilt Guild.
By day, Laura works as a museum curator specializing in textile preservation. She has a bachelor's in history and museum studies, a master's in public history, and a certificate in textile preservation.
Latest Posts from Laura McDowell Hopper
Other Posts from Laura McDowell Hopper