Top Five Tips for Practical Quilt Preservation
Chances are that if you're reading this post, you are the designated family quilt historian. That's a great job to have! Preserving your family's quilt history, or your own quilt history, is an important task. A large amount of quilt history is lost to us as quilters because wonderful quilts have not been carefully preserved or documented. I'm on a mission to help change that! All my free time is spent quilting, but by day I work as the Curator at the Pick Museum of Anthropology, an academic museum at Northern Illinois University where the best part of my job is researching and preserving a large collection of textiles from around the world.
Realistically, we all can't have specialized quilt storage spaces with strict temperature and humidity controls, custom storage cabinets, rolled storage for textiles that need it, and trained professionals to care for our family quilt collections like we have in museums. But there are ways quilt storage can be improved in your home! Here are my top five favorite simple suggestions to improve your quilt storage.
Handle with Care
It may seem like picking things up is easy, but object handling is serious business in museums! If your quilt has damage like holes, loss of warp or weft fibers, or loose seams, make sure to avoid handling the quilt by those areas. Always identify the strongest areas of your quilt before picking it up. Wash your hands and remove any jewelry before handling to avoid further damage.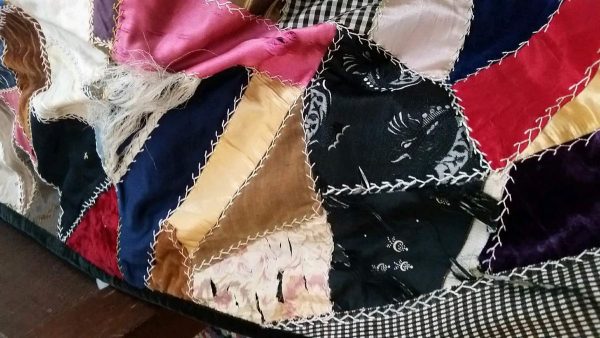 No More Cedar Chests!
Cedar chests and wood cabinets are beautiful and may seem like the perfect way to store your quilts at home. Sadly, textiles should never be stored in wood! The oils and chemicals that can be found in wood are extremely hazardous for quilts and will discolor them and damage the fibers. The pictures below show yellowing caused by a quilt that was stored with acidic materials. Ideally, your in home quilt storage is in a dark space on the main floor of you house (attics and basements are dangerous storage spaces) and your quilt is stored in acid free materials. You can purchase reputable acid free materials, including a museum quality quilt preservation box kit, from museum retailers including Gaylord Archival and University Products. Don't be fooled by big box store acid free materials – sometimes they are made with low quality materials that will become acidic over time and damage your textiles! Don't use cheap replacement materials to save on your storage, they will also damage your quilts over time. When purchasing materials from a museum retailer, look for unbuffered acid free tissue (never use gift wrap tissue or newspaper) and blue board boxes (do not use regular cardboard).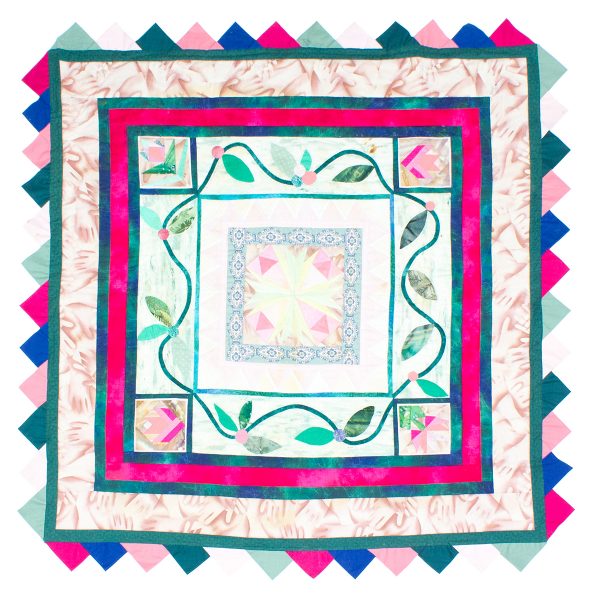 The front of this quilt looks great, right?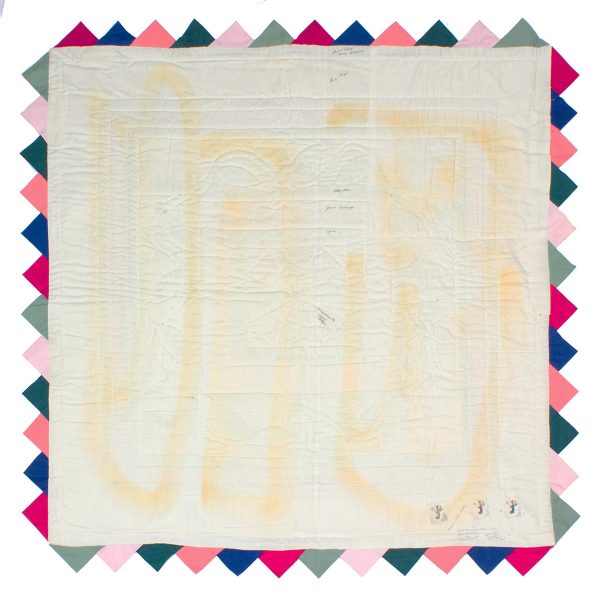 But on the back, you can clearly see how an acidic storage tube has permanently discolored this quilt.
Fold with Gentle Curves
If you decide to store your quilts in a museum quality box, store no more than two quilts in the same box to ensure the weight does not create creases. To help prevent creasing while folded, make snake-like pillows using unbuffered acid free tissue. Place your tissue pillow in every fold of your quilt to create a gentle curve instead of a harsh fold. Take your quilts out of their boxes twice a year and refold them differently so they are not folded along the same lines for too long. Refolding your quilts is a great way to remember to check your designated quilt storage space for any moisture or pest problems.
Start by cutting unbuffered tissue to the width of your quilt and fold it like an accordion.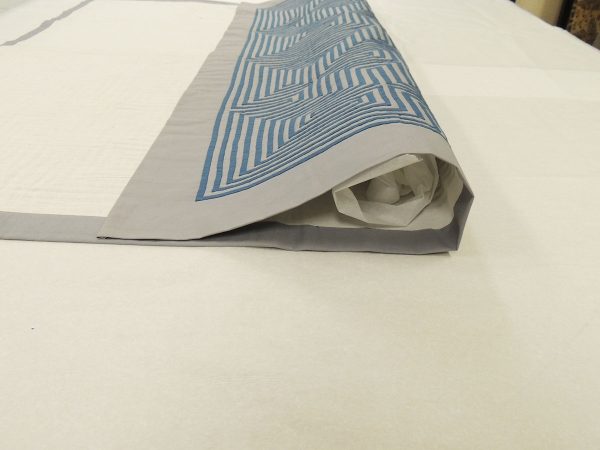 Place the tissue pillow in each fold so it is a gentle curve instead of a flat crease.
Avoid Light Damage
The quilt pictured below hung on a wall behind my mother's bed for years. About two thirds of it was above her bed in the light, and about one third was protected from the light by her bed. You can see how noticeable the fading on the quilt became over time. Light damage is irreversible, so your best bet is to avoid it all together. As quilters, we love decorating our homes with the things we make or the heirloom quilts that have been passed down to us. To avoid fading, rotate your quilts! Every three or four months, take your quilts off the walls or beds, put them in your storage space, and bring out different quilts. Not only will this rotation help to keep your quilts out of the light, but it also means you can show off more of your quilts! When choosing a space on your wall or a bed to display your quilts, make sure your quilt won't be exposed to direct sunlight.
The picture above shows green hexagons that were protected from the light on the left, and green hexagons that were in direct sunlight on the right. Sadly, these are two parts of the same quilt!
Document Your Quilts
Documentation is an incredibly important part of preservation! If you are preserving an heirloom quilt, make sure to ask your older family members as many questions as you can about who made the quilt and when. Research the quilt pattern and fabrics for help with dating the quilt. If you made the quilt yourself, make sure to label your quilt! Write down why you made the quilt, the fabrics you used, when you finished, if you quilted it yourself, a list of quilt shows or awards, and any other information about your creation. For quilt documentation inspiration, check out the Quilt Alliance and the Quilt Index. I store my quilt documentation in acid free folders inside my quilt boxes. You can also label the outside of your storage boxes, as seen below, with pictures and descriptions of your quilts.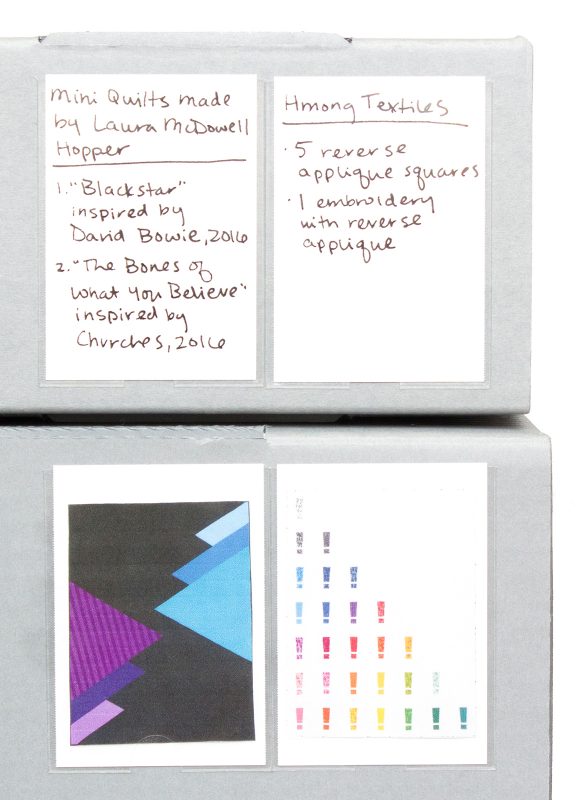 Of course, in museums we do so much more work to preserve and research quilts and textiles for future generations. A curator's work is never done! But these simple steps should help you along the way towards strong and safe quilt preservation in your home so you can pass down your own work or heirloom quilts for generations.
Difficulty level

Beginner

Time to Complete

Weekend

Used Material

quilt, quilt label

Projects

quilt

Seasons

all seasons

Techniques

quilting
What you might also like
9 comments on "Top Five Tips for Practical Quilt Preservation"