Introducing BERNINA Ambassador Laura McDowell Hopper
Hello quilt friends! I'm Laura and you can find me on my blog or on Instagram @sonicstitches. It's an honor to be a new BERNINA Ambassador and I'm excited to introduce myself!
I learned to sew in grade school and spent years hand sewing, only using my sewing machine occasionally to make bags or table runners. I finally made my first quilt in 2014 after my mother passed away, which was an unexpected and traumatic experience. My thoughts often drifted back to that horrible time and I needed to keep my mind occupied. Hand sewing was not enough of a distraction for me. The best thing I could do was try a new craft. I learned about the quilting community on Instagram and decided to give it a try!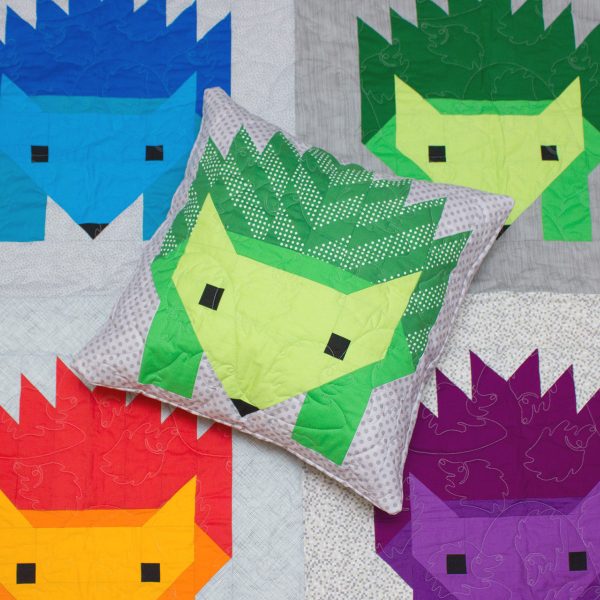 My first quilt was a Hazel Hedgehog baby quilt for my newborn nephew. I loved every second of making it! Quilting literally became the therapy I needed to get through that hard time. Skill building was the next step on my journey towards calling myself a "real quilter." I made quilts from wonderful patterns, all of which helped me learn more and develop my personal style. It wasn't until my fifth quilt that I thought, "maybe now I'm a quilter!" That breakthrough came from a Gravity Quilt by Jaybird Quilts. I learned so much from making that giant, beautiful quilt as a wedding gift for my best friend.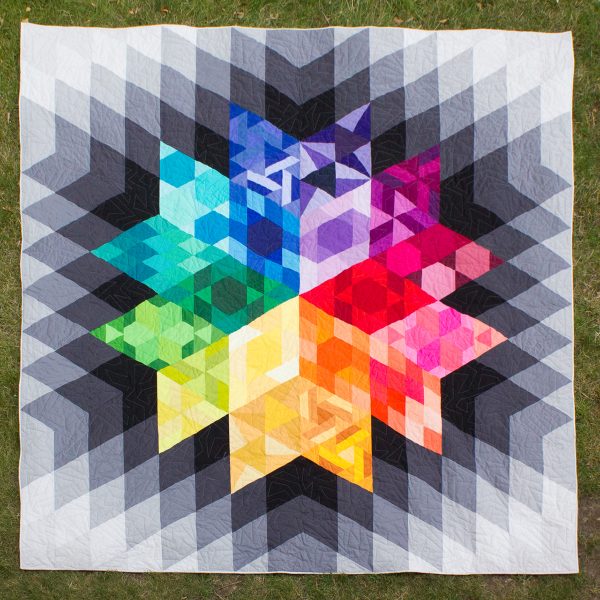 Soon after that I started experimenting with my own quilt designs. I trained to be a classical violist for most of my childhood and my lifelong love of music has touched all parts of my life. In college I studied history and museums because I believed in the importance of preserving music history. Now as a quilter, music influences all of my designs. In 2016 I started a series of quilts that visualize music that matters to me.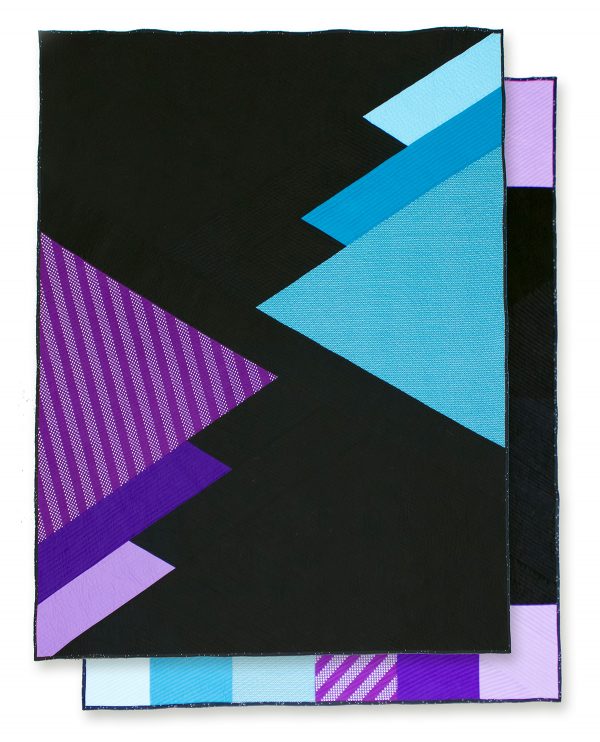 The quilt above is my favorite. It's about the song "The River" by my beloved Bruce Springsteen. You can read more about my inspiration for this quilt on my blog. I was honored that "The River" was shown at QuiltCon 2017 and will be included in the upcoming book "Modern Quilts: Designs of the New Century," available in December.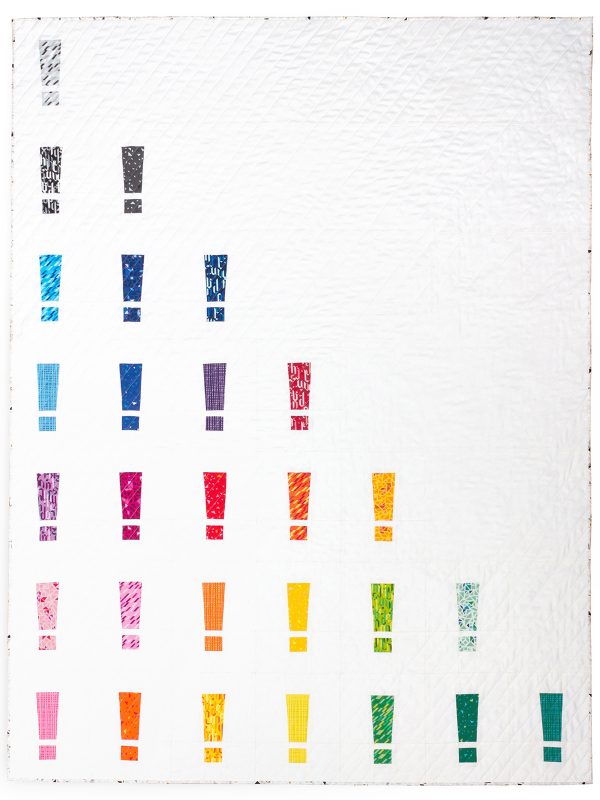 The exclamation point quilt above is another one of my favorite music quilts, called "Get Happy!!" This one is inspired by my favorite Elvis Costello album. Check out my inspiration for this quilt here. A pattern and tutorial for this quilt block will be coming soon! "Get Happy!!" hung at the International Quilt Festival in Chicago and is a semi-finalist in this year's American Quilter's Society contest in Grand Rapids. I love showing my music quilts and inspiring others to think about their favorite music. I'm working on several more music quilts that will be finished this year—stay tuned!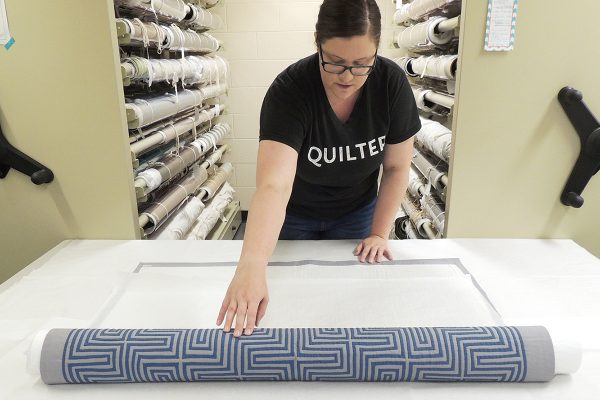 My other great passion is museum work. I'm very lucky to work with textiles in my day job as a museum curator specializing in textile preservation. I'm the curator at the Pick Museum of Anthropology at Northern Illinois University, an academic museum with an incredible collection of textiles from around the world. Before that, I worked at 12 museums across the Midwest, earning a bachelor's in history and museum studies, a master's in public history, and a certificate in textile preservation. You can learn more about my work in museums at QuiltCon 2018 where I'll be lecturing about an upcoming quilt exhibit and about quilt preservation.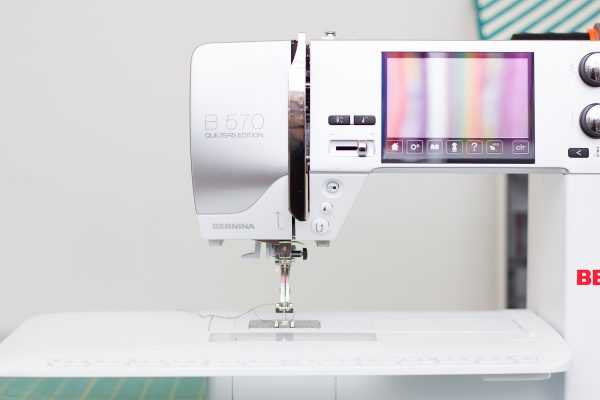 I am honored to be a new BERNINA Ambassador. The first time I heard of BERNINA from my aunt, a talented and prolific doll maker who used to make my American Girl doll's clothes when I was a kid. A couple of years ago, I visited her and mentioned that I wanted a sewing machine upgrade. She showed me her BERNINA and said it was the best sewing machine on the market.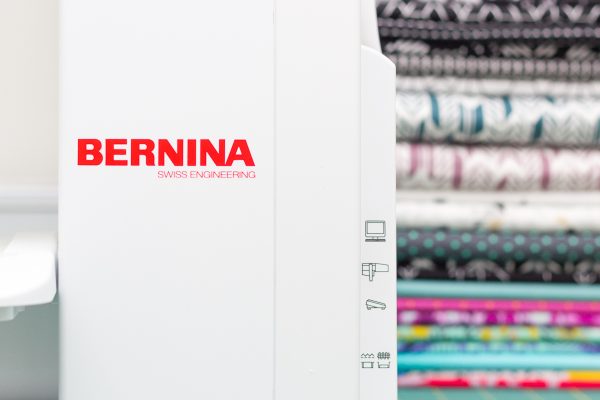 A year later I joined the Chicago Modern Quilt Guild, a group of the most talented people I know. I quickly noticed how many of them also used and loved BERNINA machines. It became my goal to get a BERNINA! My new BERNINA 570 QE is the smoothest machine I've ever used. BERNINA has thought of it all with this machine designed specifically for quilters. I'm looking forward to sharing my love for this machine on the WeAllSew blog!
Used Products
What you might also like
3 comments on "Introducing BERNINA Ambassador Laura McDowell Hopper"