Top 10 Presser Feet BERNINA Ambassadors Love!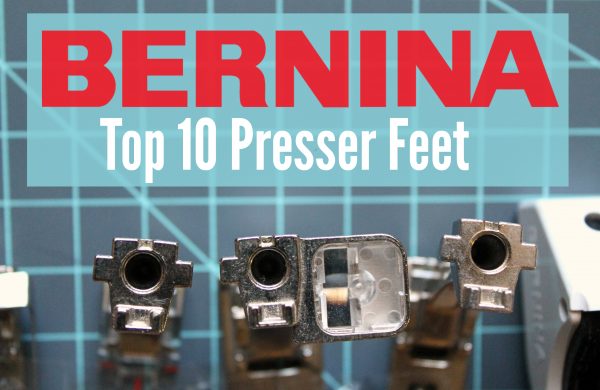 One thing that BERNINA dealers, educators, loyalists, and ambassadors all agree on is the quality and precision of BERNINA machines and accessories. Whether you're making piping, free-motion quilting, smocking or shirring, inserting zippers, or working with multiple layers of heavy weight fabrics like denim or leather—there is a presser foot for the job. Today I'm going to share with you the top 10 BERNINA presser feet you should know, love, and own based on feedback from BERNINA Ambassadors.
The type of sewing you enjoy will play a part in what specific feet you find helpful and use most often. For instance, my go to foot is the BERNINA Reverse pattern foot with clear sole #34/34C/34D, it never really comes off my BERNINA 580 machine. It is not a foot I'd consider a widely popular one. My daily sewing escapades include exact top stitching placement on my freestyle knit appliqués for my line of boys clothing at TrashN2Tees. For that, this transparent #34 foot offers up maximized visibility which allows me to follow drawn lines or appliqué edges. In addition to the clear sole there are red placement marks which can be used in a variety of ways to help accurately place your decorative or top stitching. You can find some other great examples on how I use this foot in many of my tutorials and on instagram.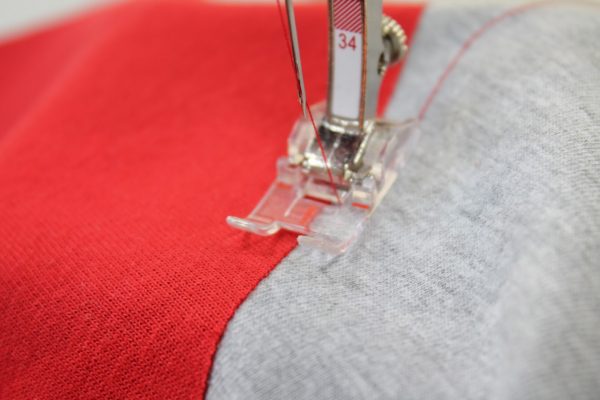 Today's top 10 list is perfect for someone who just picked up their first BERNINA sewing machine, or anyone who is looking to expand their skill set and try something new (ranked in chronological foot number not by popularity). Beneath each foot, I am spotlighting just one of many BERNINA Ambassadors and Artisans whose body of work features the respective foot.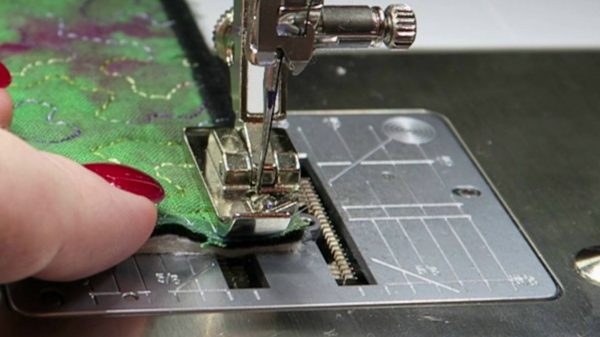 BERNINA  Overlock Foot #2/2A
Th overlock foot #2 /2A was designed to be used with overcast stitches and is used to give your projects smooth, finished edges.  This is the foot for you if you don't currently own a serger but are looking for a way to achieve neater, more professional finish with your home sewing machine.
Cheryl Sleboda
Bonus Video: How To Bind a Quilt with 2A Overlock Foot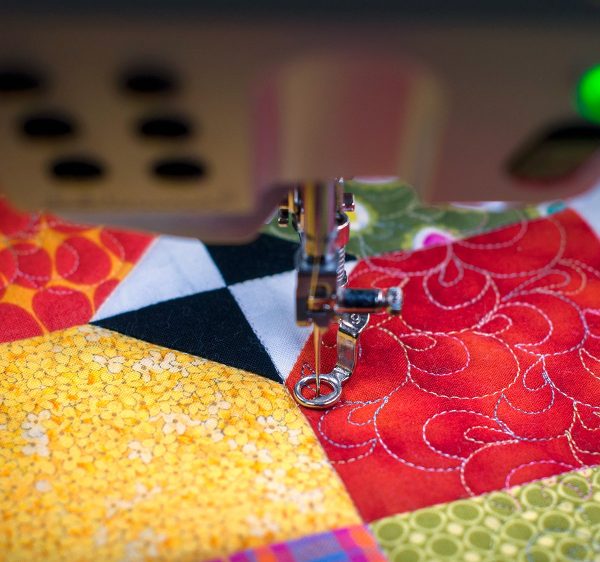 BERNINA Darning Foot #9
The darning foot was originally designed for mending or patching holes and tears in fabric. It works with the feed dogs lowered. I frequently see it used (and have used it myself) to practice free-motion stitching, embroidery, thread painting, and free-motion quilting.
Lynn Carson Harrison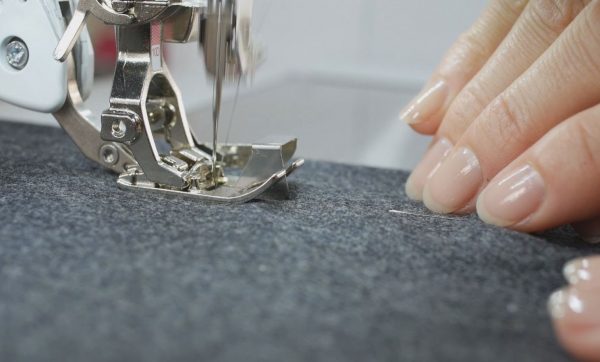 BERNINA Edge Stitch Foot #10/ 10C/ 10D
Must have foot for all types of sewing. There, I said it. The #10/10C/10D foot is without a doubt one of the most versatile accessories you could have in your tool box. It's most often associated with straight stitching, because this foot has a metal blade through the center that acts as a guide when stitching along an edge. Perfectly placed decorative stitches, stitch in the ditch, attach beautiful ribbon, practice a variety of heirloom techniques and tucks, narrowed curved hem or knock out a Hong Kong Seam finish with ease using this foot.
Kathy Delaney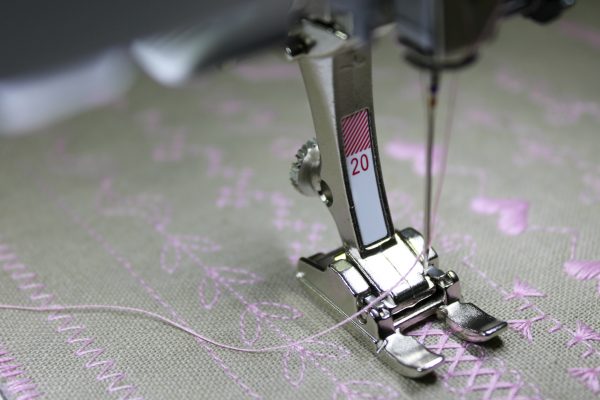 BERNINA Open Embroidery Foot #20/ 20C/ 20D
The wedge shaped indention on the bottom side of this sole allows thick and bulky stitches to pass underneath it with ease. The Open Embroidery foot #20/20C/20D is designed to be used with all those fancy decorative stitches and works exceptionally well for satin and compact designs. There is a wide open spacing between the toes that offers a clear view of the needle and sewing area. I find this particularly helpful when stitching around appliqué shapes, following a pattern, or guiding ribbons or other flat tapes. Make a note; this foot is not recommended for straight stitching as the large indention under sole allows for too much movement in the stitching area which can result in irregular stitching.
Tracy Mooney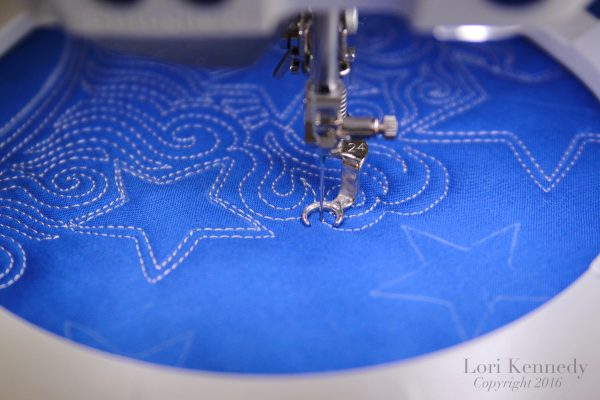 BERNINA Free-motion Embroidery Foot #24
Similar to that #9 Darning Foot I mentioned earlier, this Free-motion Embroidery Foot I use for a wide range of free-motion techniques (both embroidery and quilting!). The difference? The front is cut away offering a greater view of the needle, stitching area, and the round design of the foot accommodates both zig-zag and straight stitches up to 5mm widths.
Lori Crawley Kennedy
Bonus Tutorial: How To Free Motion a Grid Pop Design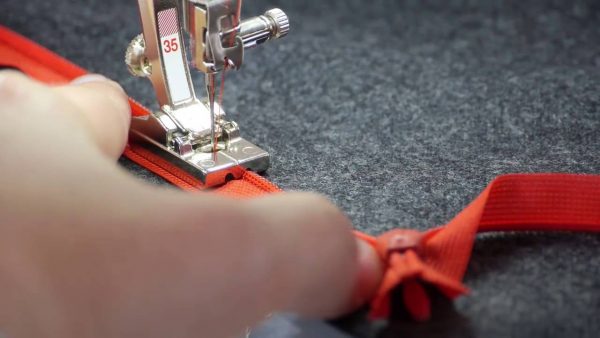 BERNINA Invisible Zipper Foot #35
Create seamless closures in your garments, bags, pillows, and more with the invisible zipper foot #35. This specialty foot was crafted to sit atop the coils of your zipper and allows you to place your stitches exactly on the seam line.
Karen Lepage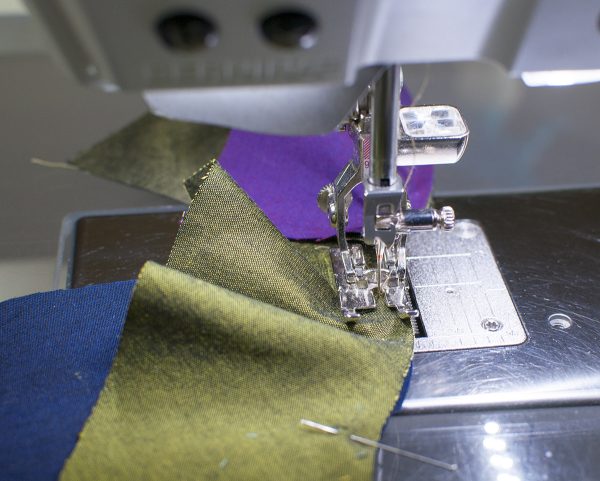 BERNINA Patchwork Feet #37 / #57 / #97
When piecing perfect patchwork (I dare you to say that 3x fast) this collection of BERNINA feet ensure you accurately stitch out beautiful 1/4" seams. The outer edge of  the #37/37D, #57/57D, and #97/97D foot are precisely 1/4" from the center needle position and serve as a visual marker for typical seam allowance on your favorite patchwork projects.  Annie says, "I love the guide bar! I always get a consistent quarter inch and all of my seams are accurate and uniform—which means my seams align and my points are always pointy."
Annie Smith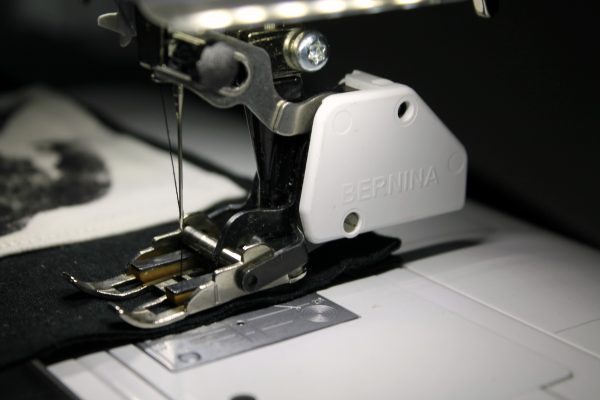 BERNINA Walking Foot #50 
Let's count the ways we love our Walking Foot together! This #50 looks a lot different than the others. It's designed to help you conquer those 'sticky' and 'tricky' fabrics (such as silk, satins, velvet, and layered fabrics such as quilts). I bet you're wondering how it works? The bottom of the Walking Foot #50 has a rubber grip that works with its 3 interchangeable soles. It moves up and down, working with the feed dogs to pinch the fabric layers together as they move beneath the foot. This prevents layers from shifting, and keeps the fabric layers even. Tip: I find it's really useful when trying to match stripes and plaids especially with knits!
Erika Mulvenna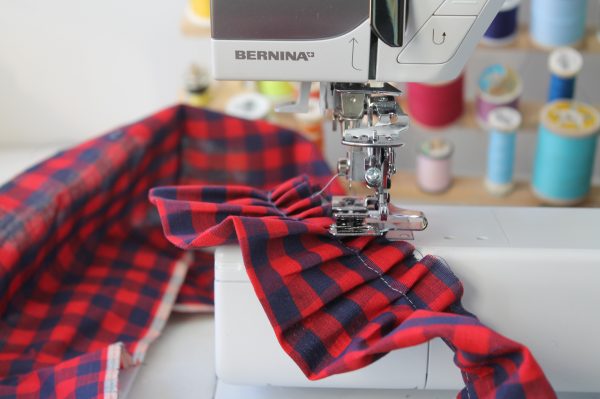 BERNINA Ruffler Foot #86
Say 'sayonara' to the days of ruffling by hand or with floss. The Ruffler Foot #86 will save you tons of time when making yards of gathered and pleated fabrics for home decor or garment projects. You have the power to adjust the depth and width of your gathers. Gathering is performed by the special gathering blade, which causes the up-and-down motion of the needle to catch a bit of fabric each time and tucks it under the needle. Take a moment to watch how it works: Ruffler #86 Video
Melody Crust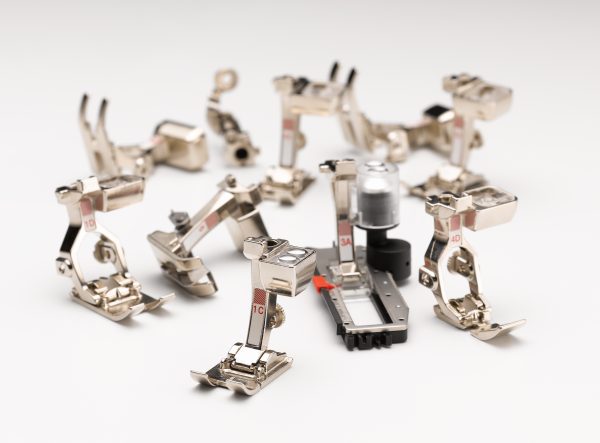 If you are new to the BERNINA family, I hope that you discover a love for sewing and this post encourages you to expand your creativity. For anyone who has been a long time lover of the BERNINA brand, I welcome you to join the conversation and share your favorite presser feet and accessories on WeAllSew's community section. Is there a foot you couldn't live without?
Learn more about all of the BERNINA accessories available and search for the perfect foot by visiting bernina.com.
Special Thank You to Lynn Carson Harris, Cheryl Sleboda, Lori Kennedy, and Jan at Pennington Quilt Works for sharing your photographs, knowledge, and feet that helped make this post possible. 
What you might also like
8 comments on "Top 10 Presser Feet BERNINA Ambassadors Love!"