BERNINA Presser Feet for Cosplay Fabrics
Within the world of cosplay, cosplayers will use almost any kind of fabric to make a costume. I have used Christmas gift wrapping ribbon as goldwork trim on a ballgown to patchworking PVC lycra spandex together to get the right combo for a Captain Marvel cosplay.
BERNINA Presser Feet for Cosplay Fabrics
Needless to say, we get very creative. Over the course of 10 years, I have made discoveries with specialty presser feet for machines and I will say, BERNINA has the best presser feet! Let's go over some common cosplay fabrics that are traditionally tough to sew and the presser feet that will work best with them.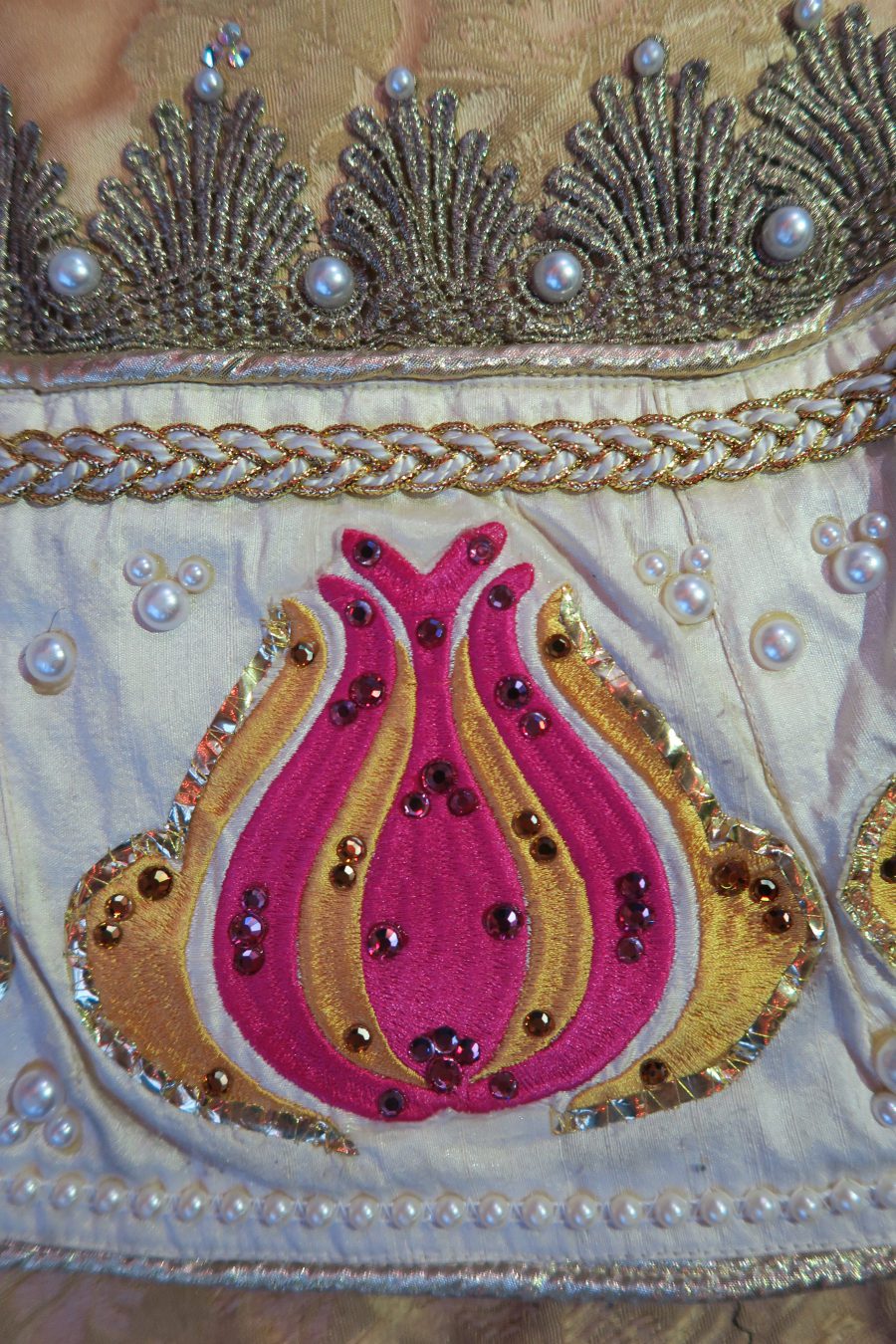 As I mentioned previously, we will use all kinds of fabric to recreate our favorite character's look. Here are some that have given me fits over the years. Lycra spandex, PVC lycra/stretch vinyl, leather, and faux leather, wool, silk, textured/embroidered fabric, and EVA craft foam. Below are the feet I believe work best for these fabrics! 
Lycra Spandex
Lycra spandex – Reverse Pattern Foot #1, #1C, #1D: Make sure to use stretch stitches. Add a fresh stretch needle into your machine and you are ready to go. Activate dual-feed if you can, which will help to keep the fabric from shifting around.
Pvc Lycra/ Stretch Vinyl
Pvc lycra/stretch vinyl –  Zigzag Foot with Non-Stick Sole #52 #52C, #52D. This is a common sticky fabric that is tough under the foot. Use a non-stick sole and you are ready to stitch. PVC lycra and stretch vinyl fabric don't heal, watch where you pin and sew. Go slow, use a good thread and use stretch stitches.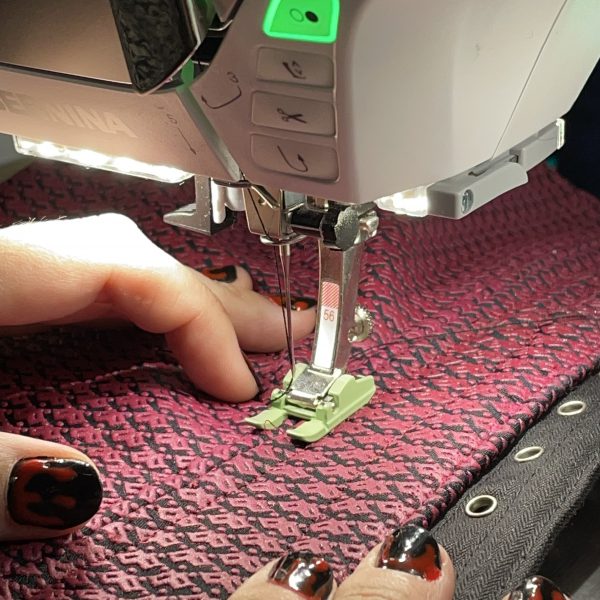 Leather and Faux Leather
Leather and faux leather – Roller foot #51 or Leather roller foot #55. These feet are tailored made for this tough fabric to sew. Use the #55 for tighter corners and don't forget your leather needles for your machine.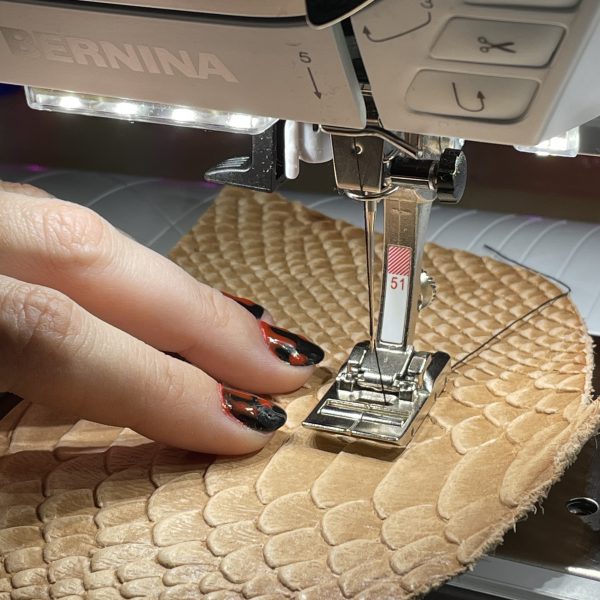 Wool
Wool – Reverse Pattern Foot #1, #1C, #1D. Wool can have different thicknesses, try to use a longer stitch for the heavier weighted wool. Use a fresh needle, ballpoint is recommended. Wool can easily snag or pull.
EVA Craft Foam
EVA craft foam – Roller foot #51. The roller foot is perfect for foam, just make sure it isn't pressing too hard on your foam thus leaving marks. You may need to adjust the pressure on your machine. Using EVA foam as a stabilizer is a great idea, but foam can also be topstitched with some fun stitches. A fresh needle is recommended.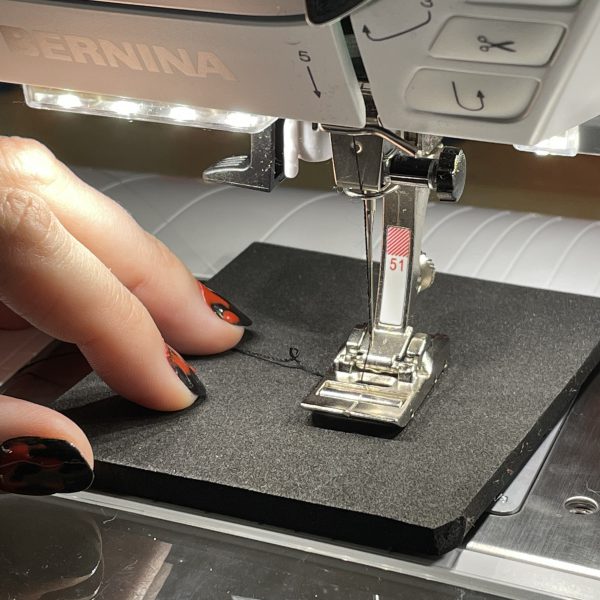 Silk
Silk – Reverse Pattern Foot #1, #1C, #1D. Fresh needles for sewing silks are ideal. You don't want snags because small snags can become big snags very quickly with silk. Smaller stitch length for thinner silk, if silk is very thin, consider switching to a single needle base plate.
Textured/Embroidered
Textured/Embroidered – Roller foot #51. A longer stitch is suggested for this type of fabric. From heavy brocades to sequined fabric, I appreciate the power of the roller foot and its accuracy. Watch out for flying sequins if the needle hits one at a weird angle.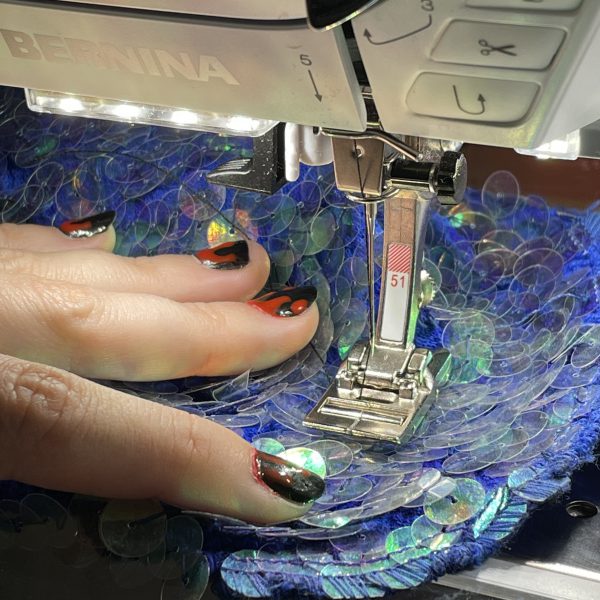 One last foot, the BERNINA Walking foot!
If you do not want to purchase all the different feet for different fabrics, a walking foot is a great one to have that can tackle all these unique fabrics. The walking foot can also help you patch to match the fabric as well. The action of the walking foot will help push the sticky, tacky, and texture fabric under the foot to be sewn. But dropping the feed dogs on the machine, the walking foot will do its magic and pull the fabric through, no pushing needed. Follow the directions and use the correct stitch plate then give it a try. This is the ultimate foot to have in your arsenal. 
Experimentation is great but sometimes it's better to know ahead of time when you are working with weird fabric. Happy sewing!
Difficulty level

Beginner

Used Material

basic sewing supplies

Seasons

all seasons

Techniques

decorative stitches, garment sewing, sewing, sewing with leather, sewing with leather, sewing with vinyl
What you might also like
4 comments on "BERNINA Presser Feet for Cosplay Fabrics"