Helpful Presser Feet for Making Doll Clothes, Part One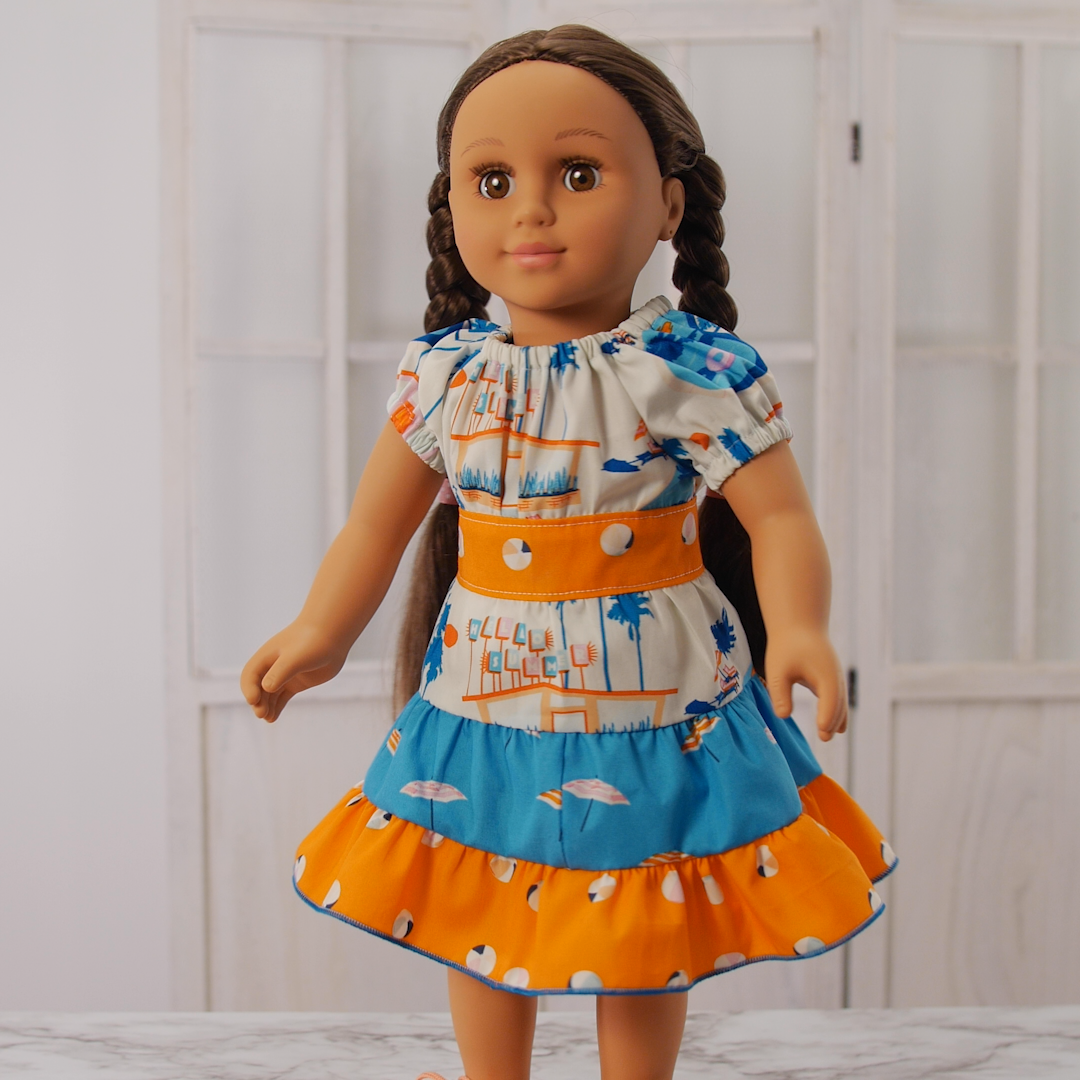 Sewing doll clothes can be a lot of fun. The scale of sewing small can sometimes be an added challenge, but consider it as an opportunity to match the right presser foot to the task. This ruffled doll dress gave me the chance to use three of my favorite BERNINA presser feet. Erin Hentzel's book, Doll Dress Boutique, is a great resource for making doll clothes for the popular 18" dolls.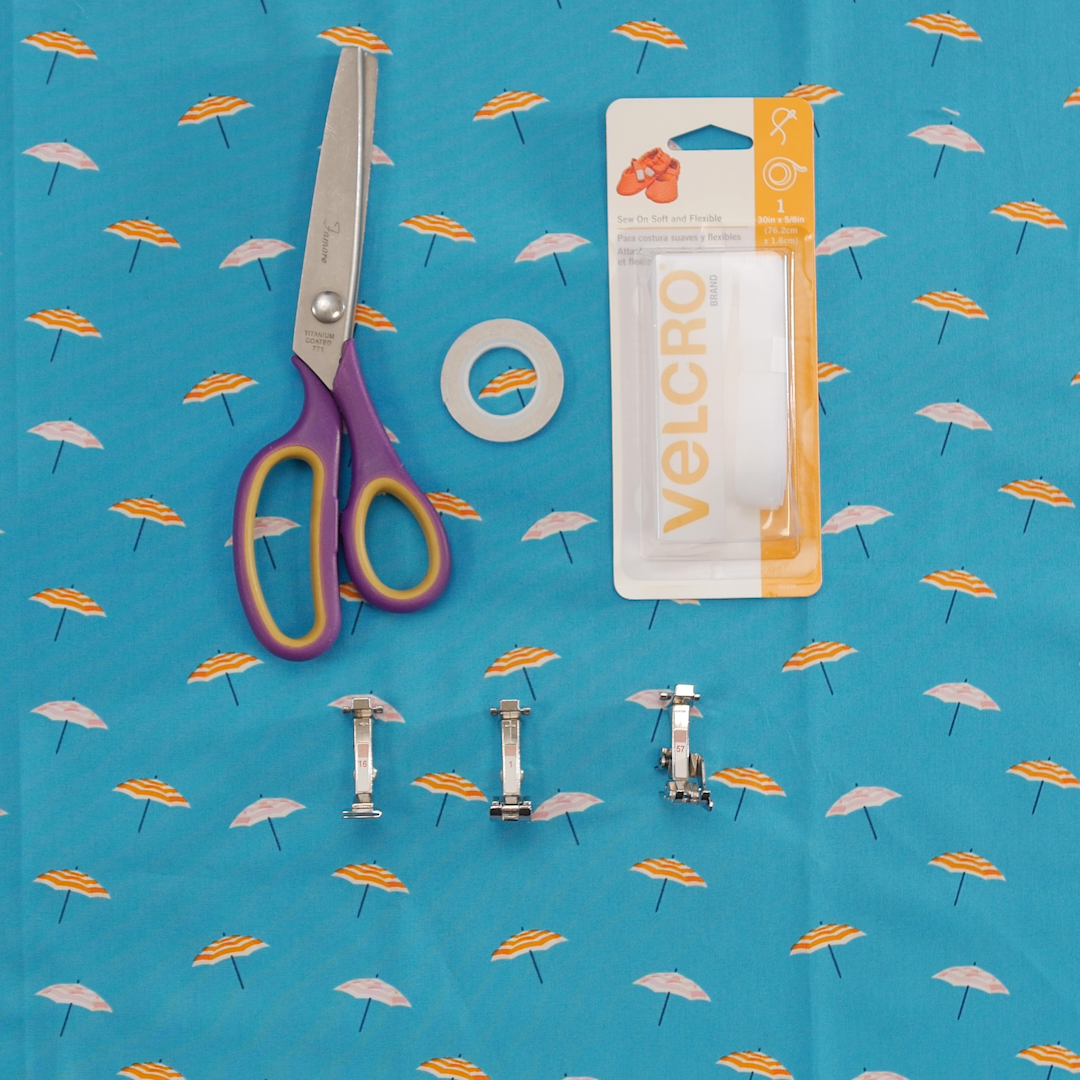 Foot 1. Patchwork Feet
Partner your patchwork foot to the size of your machine's feed dog width (5.5mm or 9mm) to achieve easy and precise 1/4″ seams. Finish your seams simply using some pinking shears.
5.5 mm Machine Option: Patchwork Foot #57
Sewing small things works best with small seam allowances, often 1/4" seams. I have always really appreciated that the Patchwork Foot #57 is perfect for this. This foot has all the same markings for 1/4" and 1/8" seams as the Patchwork Foot #37, except it has a built-in spring-loaded guide on the right side. If used on a 5.5 mm machine, this foot works exceptionally well for sewing quick accurate 1/4" seams around curves and shapes of a doll dress.
There is also a dual feed version of this foot, Patchwork Foot #57D, however, I do not recommend this option for these small seams because the guide actually rides directly on the 9mm feed dog of these machines. With prolonged use, this can damage the foot or your feed dog. So you might be wondering, well when would I use this foot then? I am glad you asked—because I LOVE it for 1/4" topstitching, especially when sewing things like jeans or even when for echo-quilting.
9 mm Machine Option: Patchwork Foot #97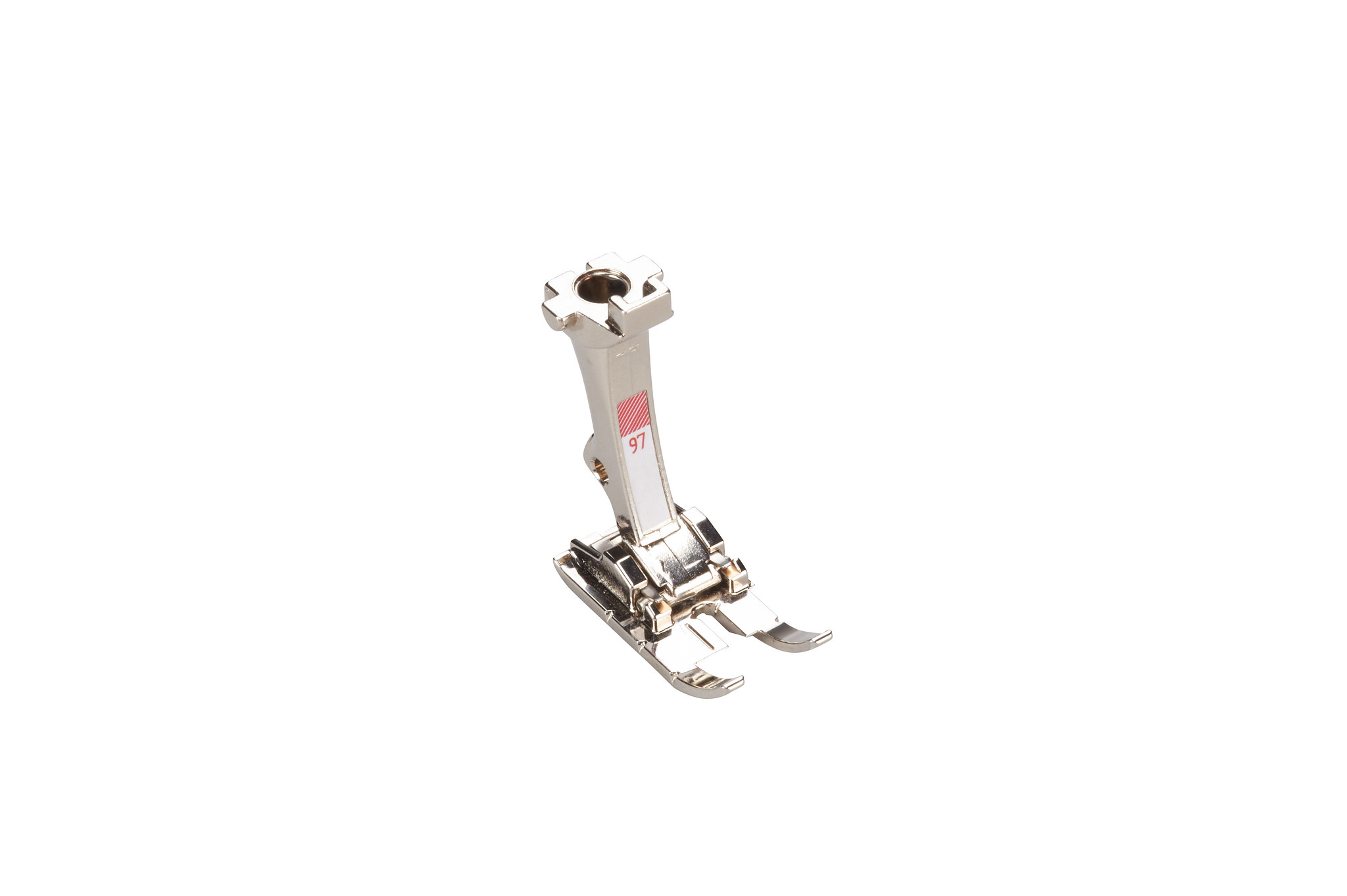 My go-to option for this seaming on a 9mm machine would be the Patchwork Foot #97 using the patchwork guide. The detachable guide is notched above where the feed dog moves, so you don't have to worry about the wear and tear to your machine or foot. It is also designed wider to the left side to cover the wider feed dog, making for even fabric feeding through the machine.
But isn't there a dual feed version of this foot and can I use it? Yes- there is a dual feed version, Patchwork Foot #97D, and of course, you can use it for this. Is it better? With small fussy turns and multiple starting points, I have found the Patchwork Foot #97 does a better job because the dual feed isn't there to bunch up the starting points. Sewing around tight curves and radiuses can be easier to maneuver without dual feed pulling from the back. But I say, to each their own—choose the foot you have or the one you prefer. It is great to have options!
Foot 2. Gathering Foot
Often dresses mean you will be doing some kind of gathering. There are loads of ways to do this sewing technique—check out this post about three ways to gather here. But why not let your BERNINA do the gathering for you?
The Gathering Foot #16 is the perfect foot for the job, especially when you are already at your sewing machine for other techniques needed for sewing small. This foot is available in two versions. The original shown here was made for 5.5 mm machines. The second version has a larger sole to fit the wider feed dog system of the 9 mm machines.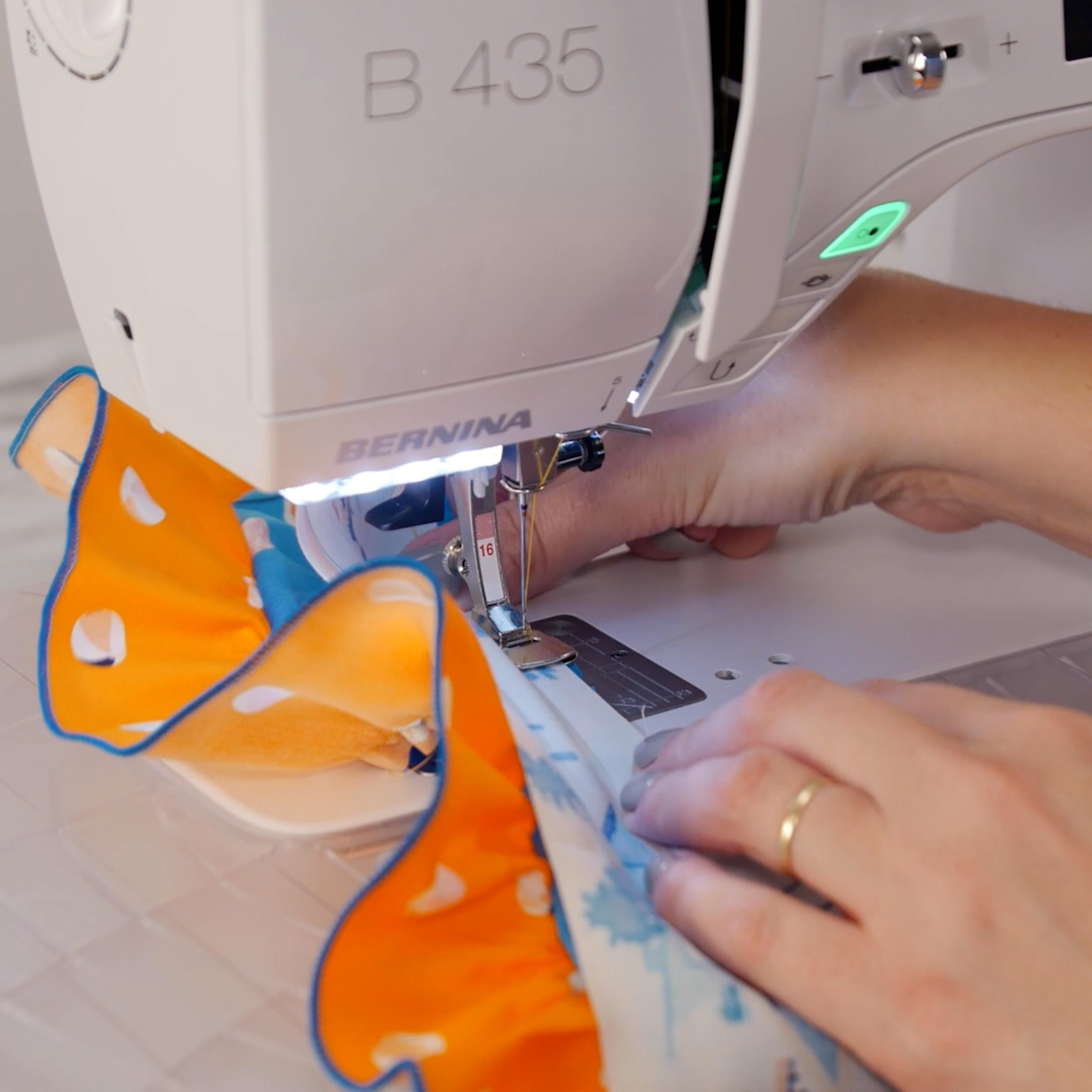 You can use this foot to gather a single layer or to add a gathered fabric to flat fabric like in this tiered ruffled skirt. Increase your stitch length to 3-3.4 mm for a nice gathering effect.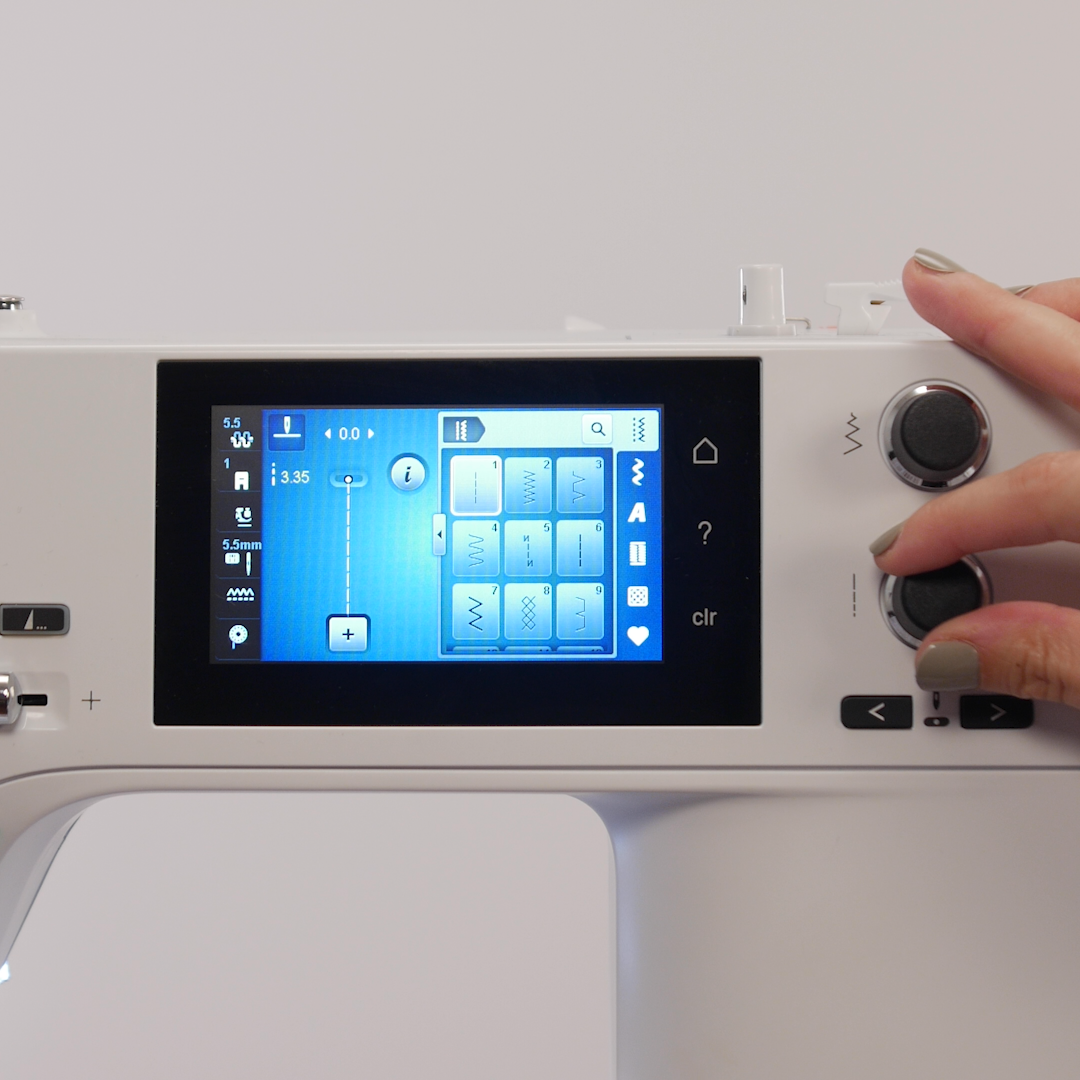 It takes a little bit of practice to learn how to hold and maneuver the fabrics through the machine to get the gather just right. Mark your fabrics with quartered marks and sew them to match. You can achieve fairly accurate results using this method. When sewing one fabric to another, sew them right sides together. The fabric against the feed dog will gather. The one inserted face down into the foot slot will remain flat.
Have fun and remember doll dresses are small, so this is a great way to learn this foot without wrangling yards of fabric!
Foot 3. Piping Foot
Attaching stiff, thick hook-and-loop tape can be tricky, but Piping Foot #38 makes the job a simple task. Position the hook-and-loop tape to your project using some Wonder Tape or your favorite fabric glue to hold it in place without pins.
The Piping Foot #38 will work with all models whether 5.5 mm or 9mm. The unique design of this foot creates an uneven sole. The right side of the foot is higher (thinner) than the left. It is perfect for attaching hook-and-loop tape that you use often on doll clothes. This is technically a straight stitch foot with the needle opening in the middle of the foot. The thick left side of the foot will sit right alongside the tape and it works like an edgestitch foot sewing smoothly on uneven surfaces.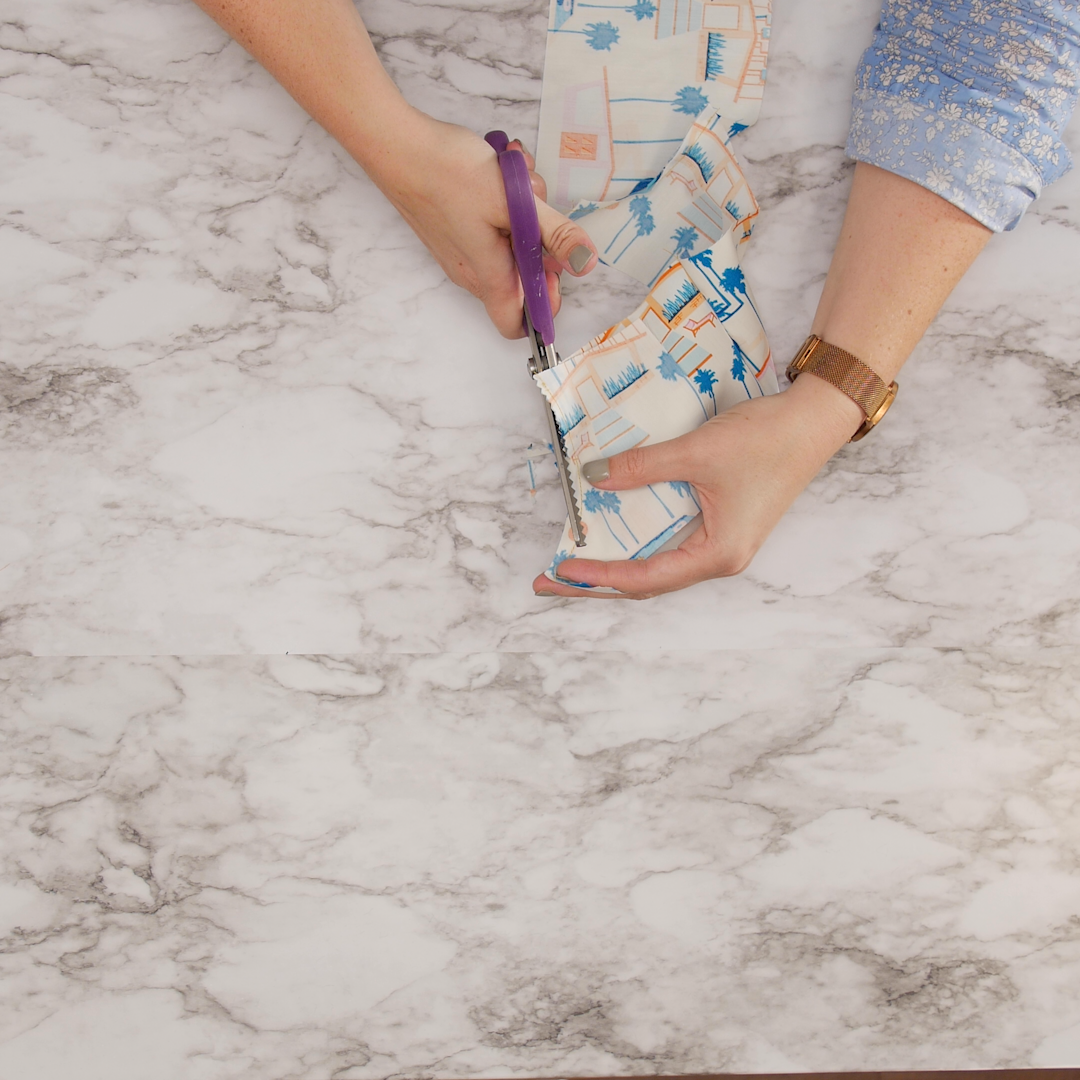 What are your favorite presser feet for sewing small?
Image 12
There are so many BERNINA feet and so many wonderful ways to use them. So, of course, I have more to share with you. Be sure to join me for Part 2 of Helpful Presser Feet of Making Doll Clothes.
Difficulty level

Intermediate

Projects

doll clothes

Seasons

all seasons
What you might also like