What's In Your Sewing Kit: Presser Feet
You may have just purchased your first sewing machine! What an exciting time! BERNINA's new 4 Series Sewing Machines are perfect for the beginning sewist!
Getting started may seem complicated, but with the help of this guide, it is simple. This blog will discuss some sewing items and tools that may not come with the sewing machine, but will come in handy as you begin to work on your sewing and crafting projects. Let's get back to the basics and start sewing!
Common items that come with BERNINA sewing machines include select presser feet, spool caps, bobbins, and a seam ripper. To determine what you need next, first assess what projects you will be using your machine for. The following items are some products that you may need beyond the basic package!
Presser feet, needles, and fabric go hand-in-hand. You want sew on a fabric using the proper needle and presser foot for that material, otherwise you could possibly damage the sewing machine, the fabric, or yourself. Plus, it will make the sewing process MUCH easier! The perfect combination of these three things will help you be successful in whatever you are sewing.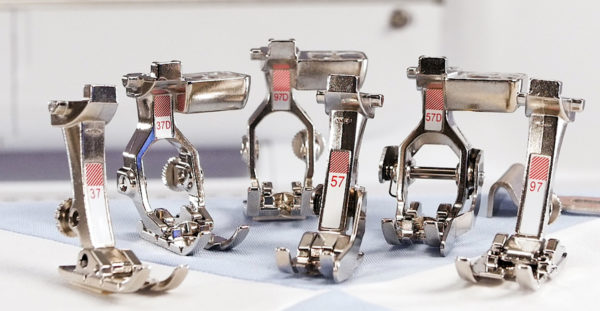 • The basics
There are some presser feet that you should always have on hand. Some of these may come with sewing machine you purchase, or they may be an optional accessory for your machine. (Check your owner's manual or talk with your local dealer to see what feet come with your machine.)
Here is the scoop on my favorite feet.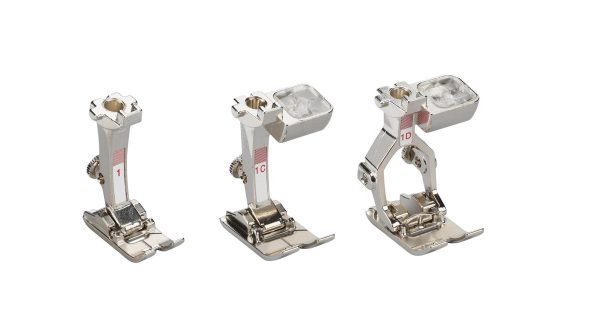 Reverse Pattern Foot #1/#1C/#1D is a great general sewing presser foot. It can be used for almost any type of sewing, such as garment sewing, quilting, crafting and much more. It gets its name from the fact that this foot can handle both forward and reverse stitch patterns. The #1C foot is my go-to for most sewing projects because it is so versatile.
Clear Foot #34/#34C/#34D is another great choice. It is the very similar to the #1 foot, but this guy has a clear sole, or bottom piece, that comes into contact with the fabric. You can see your stitches and fabric clearly through this sole, which may help prevent making mistakes!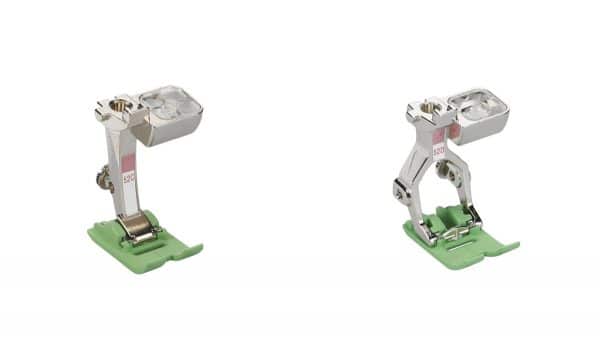 Another sewing foot you may want to invest in if you stitch those "sticky" materials that are not always the easiest to sew over is the Zigzag Foot #52/#52C. The sole on this foot is covered with a non-stick coating, which prevents it from sticking to fabrics like vinyl.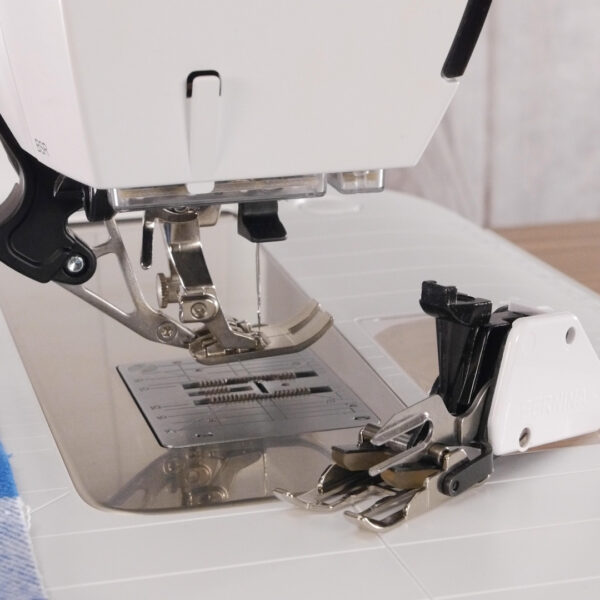 A great foot for just about any type of sewing is the Walking Foot #50. It has so many uses, you just need to try it out for yourself. This foot "walks" on the top of the fabric and works in unison with the feed dogs underneath to keep layers fabric together without shifting – even sometimes without pinning.
• Beyond the Basics
Let's talk about some more presser feet that go beyond the basic set of feet.
If you are interested in garment sewing, you may be creating buttonholes, attaching buttons, or inserting zippers. There is a foot for all of those things! As a garment sewist, you may wish to have the Automatic buttonhole foot #3A, Button Ssw-on foot #18, Zipper Foot #4, and/or the Invisible zipper foot #35. Each foot does exactly what its name suggests.
With the attachment of Automatic Buttonhole #3A and the press of a button on the machine, you have a buttonhole that just needs to be cut open. After creating the buttonhole, you can secure the button on the garment with Button Sew-On Foot #18. If you find zippers are always tough for you, you'll love the Zipper Foot #4 (for regular zippers) and the Invisible Zipper Foot #35 (for invisible zippers), which make easy work of installing zippers.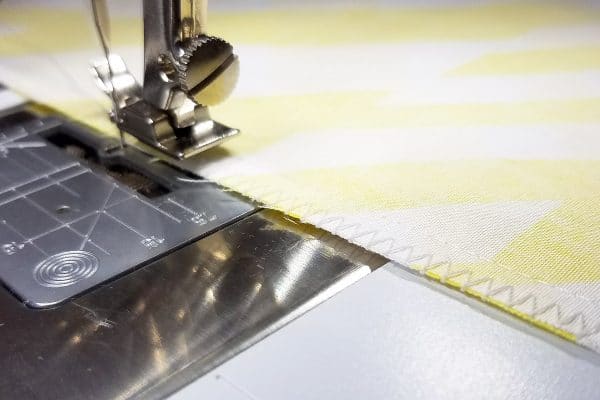 I always like a clean finish on my work, and so I always use the Overlock foot #2. It "overlocks" the edge of fabric or seam allowances to prevent fraying, and works great with elastic or other stretchy materials. It works great for elastic waistbands! Use it with your stretch knit fabrics, too!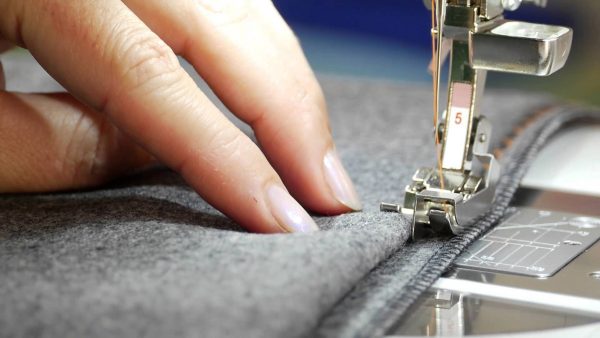 Shortening hems is another huge part of garment sewing. Make it easier with the Blindstitch foot #5. You can create a new hem that is barely visible.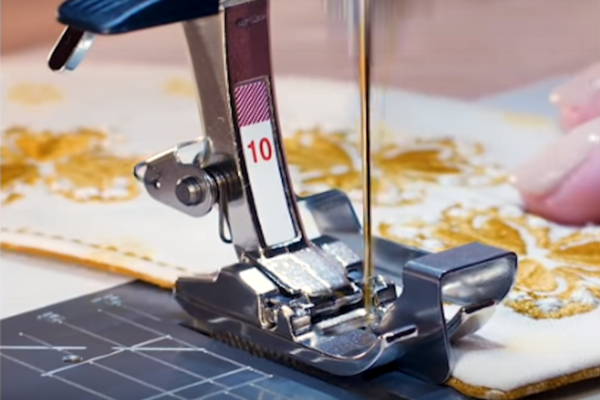 Do not forget the topstitching! Seams lay flatter when you stitch them down on the right side of the garment. For this technique, use the Edgestitch foot #10/#10C/#10D. There is a guide on the foot that will keep your stitching straight.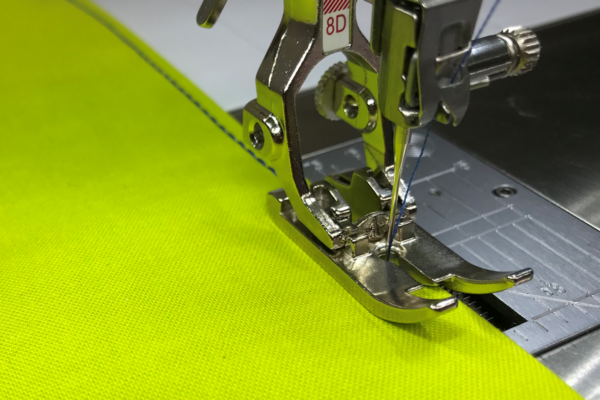 A final presser foot I want to point out is the Jeans Foot #8/#8D. It is not just meant for jeans. It is also meant to help guide thick materials or multiple layers under the foot. Use this foot for denim or canvas.
• Quilter's Choice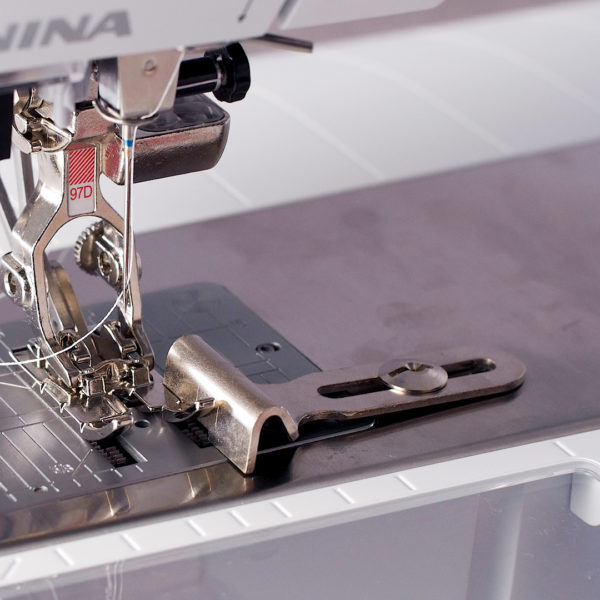 Along with the presser feet listed earlier, there are a several more that can be very beneficial to quilters.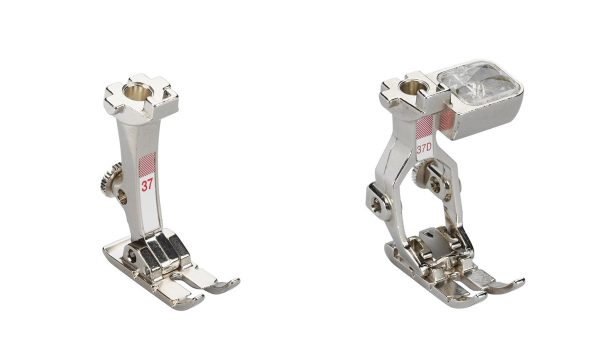 First is the Patchwork foot #37/#37D. I would almost consider this foot a necessity for anyone wanting to piece a quilt. The side of the sole measures ¼" from the needle, which is the seam allowance that most quilt patterns call for. Keep it simple and easy, that is my motto.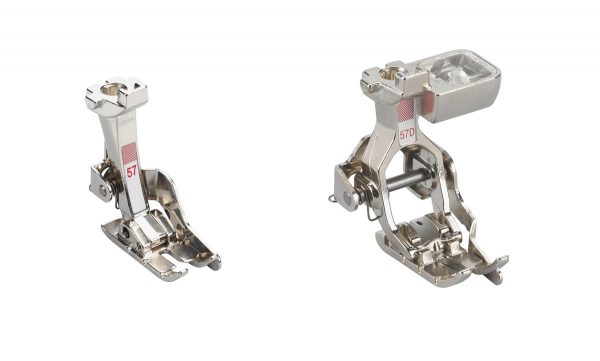 If you are wanting to upgrade, you might consider a couple of other feet. Patchwork foot #57/#57D has a guide along the side of the foot to help keep your seam allowances perfectly straight.
Patchwork foot #97/#97D is designed especially for 9 mm machines. The footprint of this sole fits perfectly with the feeding system for 9 mm machines for the most accurate feeding and stitching when piecing quilts.
Once your quilt top is created, the next step is quilting the layers together. It may seem like a huge step to quilt your own creation, but why not try it?! Attach the BERNINA Stitch Regulator (BSR) to your machine and start free-motion quilting. The BSR is a great tool that regulates your stitches and keeps them all the same length, even if you are going a million different directions with your stitching. It keeps everything consistent, creating a beautiful finished product. I tend to use mine when I am patching jeans.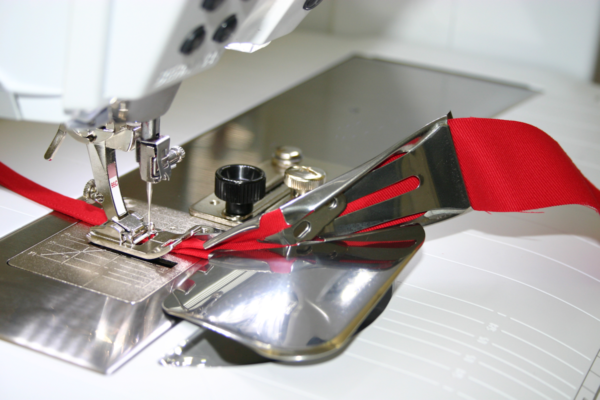 Wrap it all up with the quilt binding. Using the Binder foot #95/#95C and the Binder attachment #87 for pre-folded bias tape, or Binder attachment #88 for unfolded bias strips, you can attach your quilt binding in no time. No stress, no pins, no problem!
For a full list of all the BERNINA presser feet, click here! You are sure find something you like that will make your sewing life easier! There are also ton of blog posts on the BERNINA WeAllSew presser feet blog page that will help you pick out the feet you need!
Difficulty level

Beginner

Seasons

all seasons
What you might also like
2 comments on "What's In Your Sewing Kit: Presser Feet"