bernette 64 AIRLOCK Presser Feet
Each spring I feel a renewed surge of creativity! The air turns warm, windows open, flowers bloom, and my mind fills with project ideas. The only question is, "When will I find the time to sew them all?" I am always looking for ways to streamline my sewing and make better use of my time. And I appreciate tools and accessories that help me do that. While planning my latest spring sew, I utilized three of the six presser feet available for my bernette 64 AIRLOCK. In the videos below I'll show you, up close, how to use a gather, hem, and apply elastic with tools that ensure success! Check out what comes in the bernette accessory set here.

Materials to Sew with the bernette 64 AIRLOCK
For this project, I wanted to capture the essence of spring. I chose the Boho Babydoll pattern from Patterns for Pirates and modified it to have a lined bodice, empire waist, and cap sleeves. I opted for the gathered full-length maxi skirt to lend the dress a romantic look.  The fabric I chose is a bit of an unconventional choice for a dress, and I'm so happy with the way it turned out. I used a tightly woven sweater knit called "Oakley" from So Sew English Fabrics.  I love the floral print, and this fabric is one of the softest I've ever felt. The weight and drape were perfect for the look I envisioned.  Now, let's jump right in and learn how the accessory feet I chose helped me achieve the results I desired.
Gathering Foot
There are several ways to gather fabric, and the goal is to keep the gathers even and consistent. Gathering on my serger is one of my favorite techniques. The gathering foot makes the process quick and ensures professional results every time. It's so easy that I feel like I'm cheating a bit. Simply attach your gathering foot, adjust a couple of quick settings, and serge. Voila . . . even, beautiful gathers! The video below introduces us to the project and shows just how I used the gathering foot.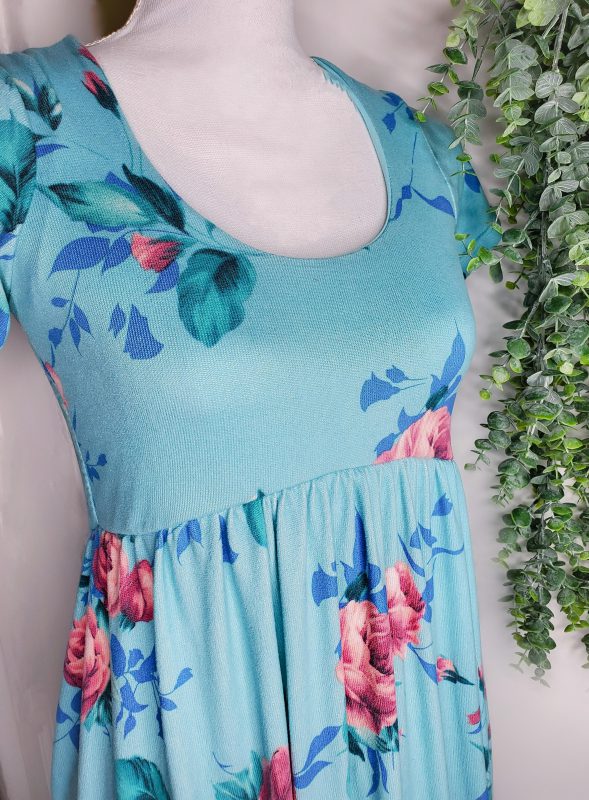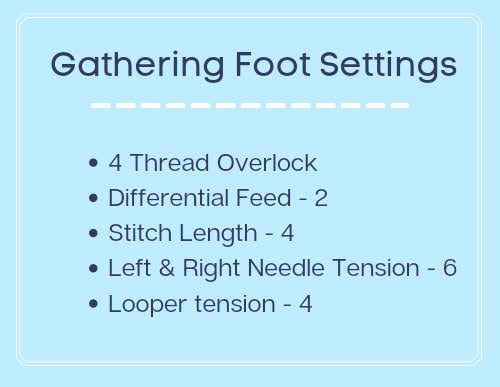 Note from WeAllSew:
We are very pleased to inform you about the launch of the optimized standard presser foot for the bernette 64 AIRLOCK. The standard presser foot of b64 has been optimized for the feeding of thick fabrics and sewing over seams. This optimized presser foot spring is compatible with most of the optional presser feet for b64, with the exception of the gathering foot and the blindstitch foot. These feet will require the use of an optional presser foot spring that needs to be changed to use these feet on the bernette 64 machines that are sold with the new optimized standard presser foot. Please check with your local dealer for this part.
Elasticator Foot
When sewing fitted waistlines, I prefer to stabilize the seam with elastic. Doing so helps to cinch in the waistline for a flattering fit and keeps the garment from shifting out of place. My preferred method involves stretching the elastic slightly when applying. When I learned that the elasticator foot attaches and stretches the elastic in one easy step, I couldn't wait to try it out! Watch just how simple this tool makes the next step of my project: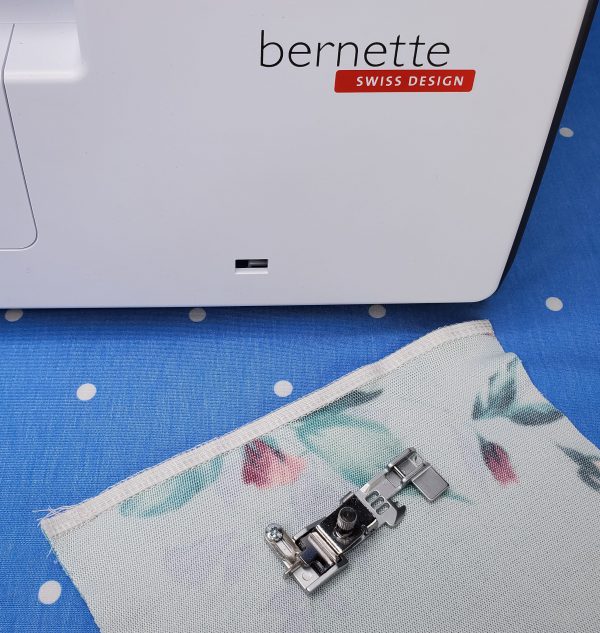 Blindstitch Foot
 The blindstitch foot may be my new favorite accessory. The results are so gorgeous I could hardly believe my eyes! Hemming with a sergerwas a completely new concept to me, and now I can't wait to share it with my sewing friends. The blindstitch foot produces a hem that is nearly invisible and accommodates the stretch in knit fabrics. In the past, I've always hemmed on my coverstitch or sewing machine, but now that I've learned this method, it'll be my new go-to! Watch here as I walk you through just how easy is to create your own blind hem:
Something I learned from my experience…
I have so many project ideas that sometimes I find that I want to skip ahead to the "fun stuff," but taking the time to familiarize myself with these accessory feet has really paid off and helped me learn that expanding my knowledge and sewing tool chest can be "fun stuff," too. Explore the accessories that are available for your BERNINA or bernette machine. Dive in, learn something new, and most of all have fun! If you'd like to check out the great features of my bernette 64 AIRLOCK serger, click here.
Happy sewing,
Heidi
Difficulty level

Beginner

Time to Complete

Less than one hour

Used Material

basic sewing supplies, bernette presser foot set, blindstitch foot, elastic, elasticator foot, gathering foot, knit fabrics, polyester thread, stretch needles

Projects

dress, fashion

Seasons

all seasons, Spring

Techniques

differential feed settings, garment sewing, gathering, serger, serging, sewing, sewing a hem, sewing elastic, sewing with knits
What you might also like
One comment on "bernette 64 AIRLOCK Presser Feet"