Erika's Top 3 Presser Feet
If I could only choose 3 accessory feet to work with, you know, if I was stuck on a desert island with my sewing machine and only a handful of accessories to go with it,  these are the 3 that I just couldn't live without!
1. The Ruffler Attachment #86, my absolute favorite Bernina foot!  The perfect stitch quality of the BERNINA sewing machine means that all the ruffles made with this attachment will be perfect, too!  I use this foot for adding ribbons and trims to garments and crafts – from heavy grosgrain ribbon to delicate strips of tulle.
Not only did I attach the tulle trim to the edge of this apron with the Ruffler Attachment, I also used it to gather the body of the apron to the band.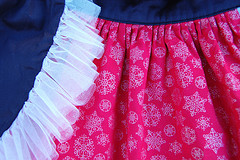 2. The Edgestitching Foot #10/10C is a lifesaver for finishing garments with edge stitching – even when stitching next to a seam.  The metal guide helps to keep my fabric feeding through the machine nice and straight, and even guides me when stitching in the ditch.
I used the #10 Edgestitching presser foot to stitch on the edge of this bow trim – nice and straight!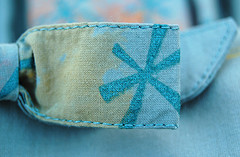 3. The BERNINA Stitch Regulator foot.  I've onlyl just begun to play with the BSR, as I am quilting my very first quilt ever.  I don't know what I'd do without it, the BSR keeps all my stitches even as I move the fabric around, which is really helpful for a beginner.  And it's not just for quilting, look here to see other project ideas for your BSR!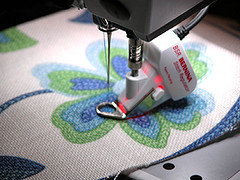 What you might also like
5 comments on "Erika's Top 3 Presser Feet"