Two Presser Feet Beginning Quilters Need
If you are new to quilting, it probably did not take you long to figure out that precision sewing is one of the keys to successful piecing and quilting. Sure, you can make a quilt with an all-purpose presser foot but if you want your quilt blocks to be the same size with matched seams and sharp points, and your quilting stitches to be precise and beautiful, you may need a little help. BERNINA has the help you need with presser feet that are designed specifically for piecing and quilting. Off the top of my head I can think of more than a dozen BERNINA presser feet that will make quilting easier and faster with more accurate and precise results. But you don't need them all. There are two feet that can get you started and help you on the way becoming an expert quilter.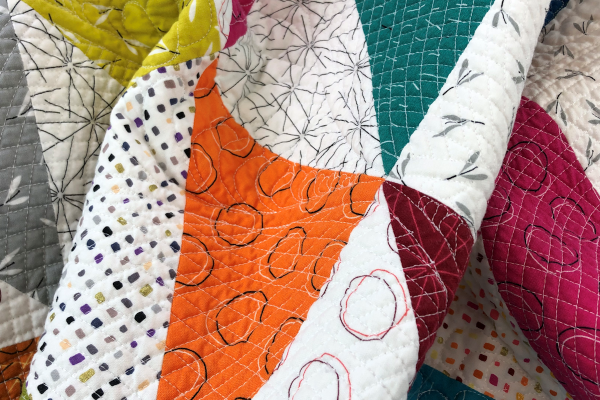 Patchwork Foot
BERNINA has three Patchwork Feet, each with two versions, one for models with a 5.5 mm stitch width and one for the 9 mm models. They are all designed for stitching quarter inch seam allowances that most piecing patterns require to ensure perfect alignment. All of these feet are made to be used with a straight stitch in the center needle position. You only need one of these feet to make sure your seam allowances are even and consistent. Each of the three has a regular version and a Dual Feed version so select one that is made for the model of BERNINA machine that you have. Keep reading to see the differences in the feet so you can select the one that works for you.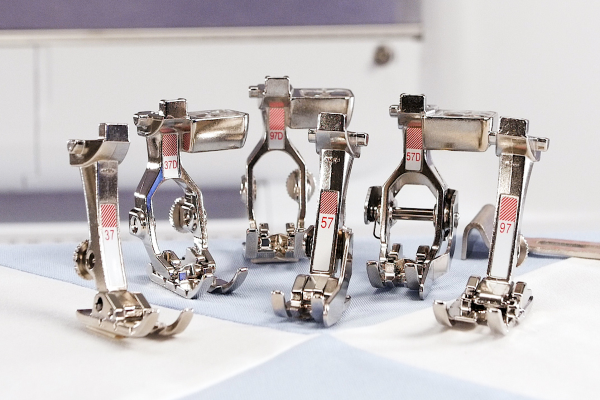 Patchwork Foot #37/37D
Simple to use, the center needle position is exactly ¼" from the outer edges of the presser feet. Stitch with the edge of the fabric aligned with the edge of the foot for the perfect quarter inch seam.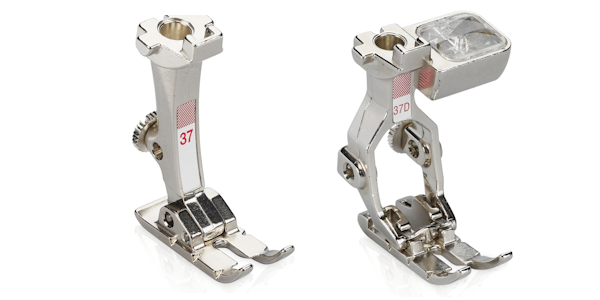 Patchwork Foot with Guide #57/57D
Foot #57 is the same as Foot #37 with a guide added to the side as a visual cue to keep the fabric straight. Great for stitching long strips quickly without sacrificing accuracy.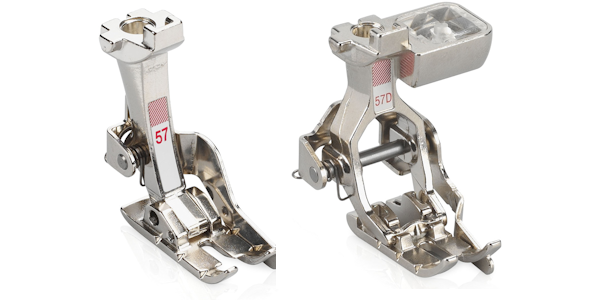 Patchwork Foot with Separate Guide #97/97D
Specifically designed for accurate feeding and stitching when sewing ¼" seams on BERNINA models with 9 mm feed systems. Foot #97/97D comes with a separate adjustable guide– the Patchwork Guide – that attaches to the machine. The guide forms a "wall" that helps you stitch a straight seam.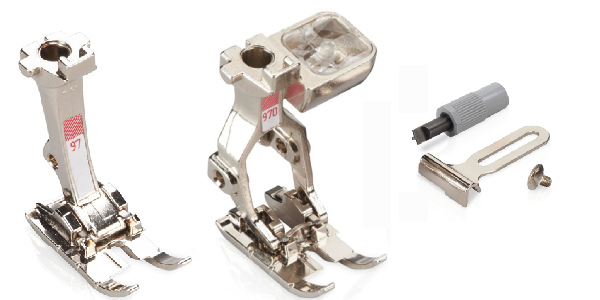 Some models of BERNINA machines include a Patchwork Foot as a standard presser foot that comes with the machine. Check your accessories before you buy a duplicate! Click here and here to read more about these six presser feet. There's also a video so you can see them in action.
Walking Foot
The walking foot is a staple for most quilters. Sewing machines are designed to move the fabric under the foot by a set of feed teeth. These teeth move the bottom layer of fabric directly, but the top layer is pulled along at a slightly slower pace. This can result in fabrics that are misaligned at the end of the stitching. When you add batting to the fabrics, the misalignment is even more pronounced and may cause puckers in your quilt. Walking Foot #50 is designed to move all layers at one time, keeping them together as you stitch. The sole of the foot has a rubber gripper that moves up and down, working with the feed dog to "pinch" the fabric layers together as they feed under the foot. This prevents the layers from shifting, helping you stitch a pucker-free quilt!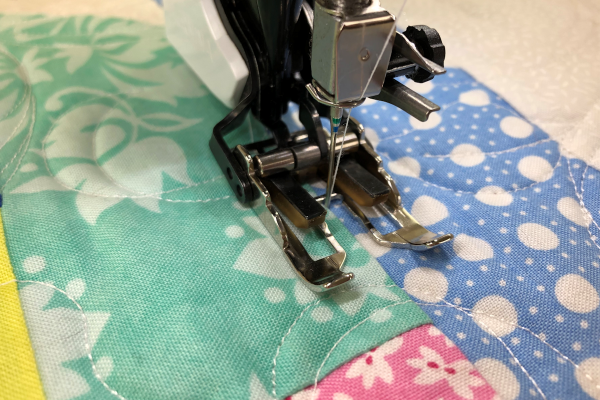 Walking Foot vs. Dual Feed Presser Feet
Walking Foot #50 and the Dual Feed presser feet are both designed to feed multiple layers at the same speed. However, they do this in different ways and are designed for slightly different purposes. Click here for a previous post that  explains why you may want to have both of these feet in you quilting toolbox.
Free-Motion Quilting
Once you have a patchwork foot and a walking foot, you're on your way to precision piecing and beautiful quilting. As you move along your quilting journey, the next step may be free-motion stitching. Click here to see a guide to BERNINA free-motion presser feet. When you're ready, you'll have 12 choices of feet to start free-motion quilting. Don't worry, we'll help you with that, too.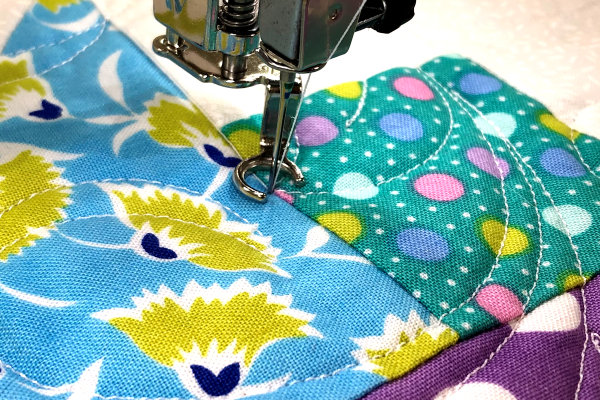 For more info about presser feet for machine quilting see The Big Book of Machine Quilting at your local BERNINA Store. Click here to find a BERNINA store near you.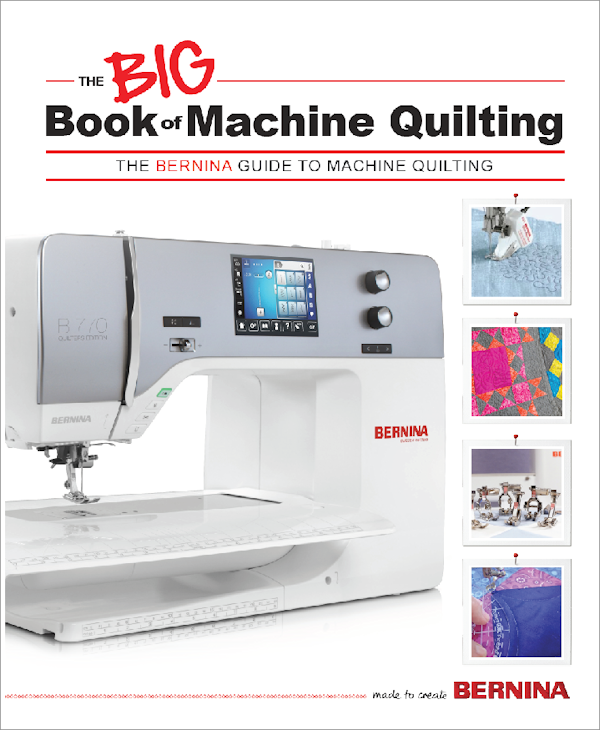 What you might also like
2 comments on "Two Presser Feet Beginning Quilters Need"