bernette Presser Foot Set
 The bernette Presser Foot Set comes equipped with key players for any garment sewer.
There are a couple of quilting presser feet, but I wanted to put emphasis on garment sewing. From the top left corner (image above), there is the Zig-zag Foot with Non-Stick Sole, Gathering Foot, Cording Foot, Patchwork Foot. In the second row from left to right is the Invisible Zipper Foot, Straight Stitch Foot, Open Embroidery Foot. Last but not least, the Hemmer Foot. This set is compatible with the bernette 77 and bernette 79.
Patchwork Foot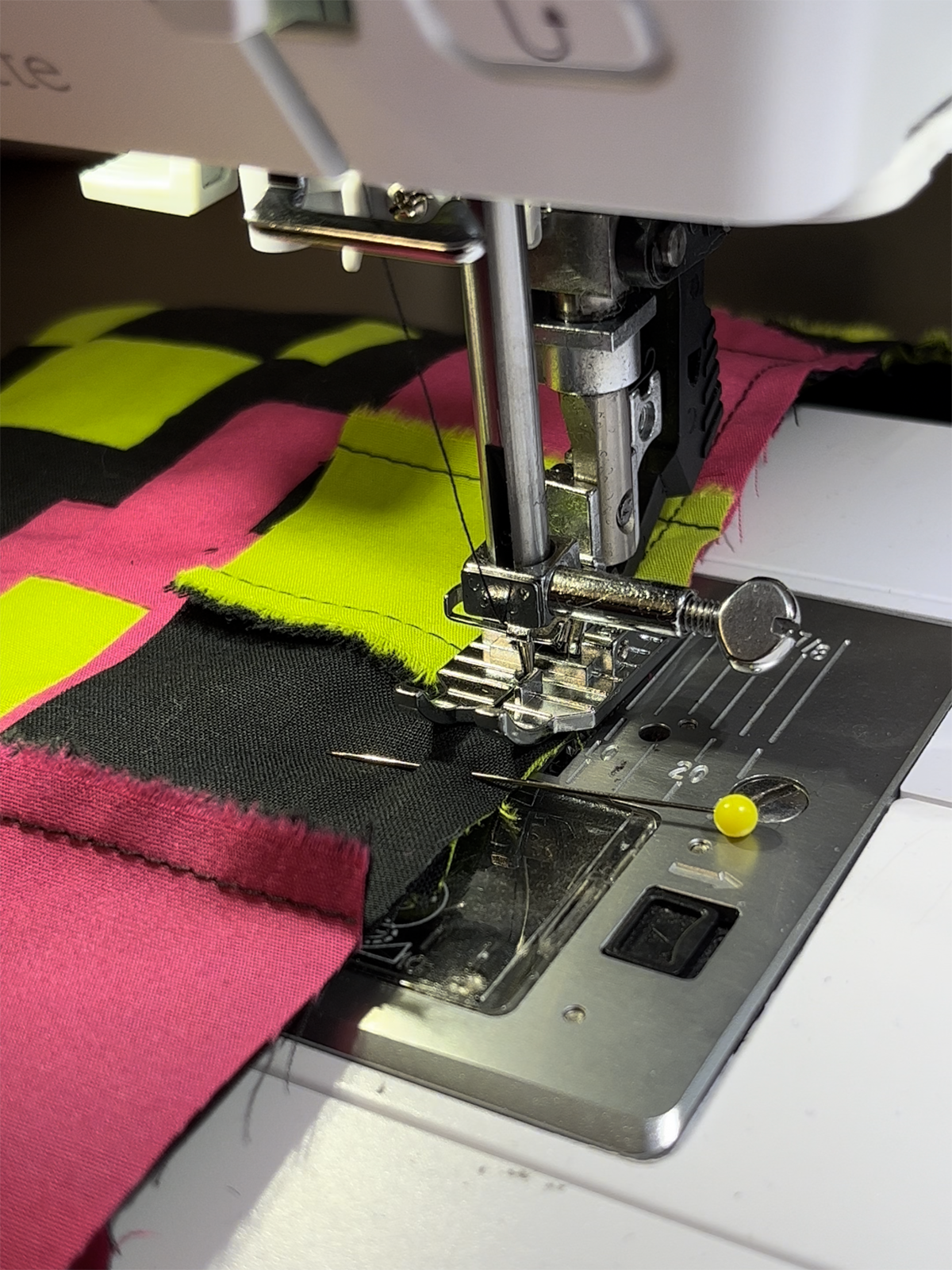 When I received the presser foot set, I was in the midst of testing a fabric manipulation. The Patchwork Foot was perfect for this because I needed to execute a perfect quarter-inch seam allowance. Although I referenced the Bargello Quilting technique for this test, the end use would not be a quilt; but instead would be worked into a section of a bustier or maybe a fun accessory. The Patchwork Foot is also Dual Feed Compatible ensuring your fabric will not become distorted when stitching. Line up your fabric along the edge of the toe on this foot to ensure a perfect quarter-inch seam.

 Once all of my strips of fabric were stitched together and pressed, I was left with a very graphic, striking textile. This would make a striking patch/applique across the back of a Leather Jacket. Creating an edgy, graphic, cyberpunk look. To see the Patchwork Foot in action watch my TikTok video here. It is labeled, "bernette Patchwork Foot".
Zig-Zag Foot with Non-Stick Sole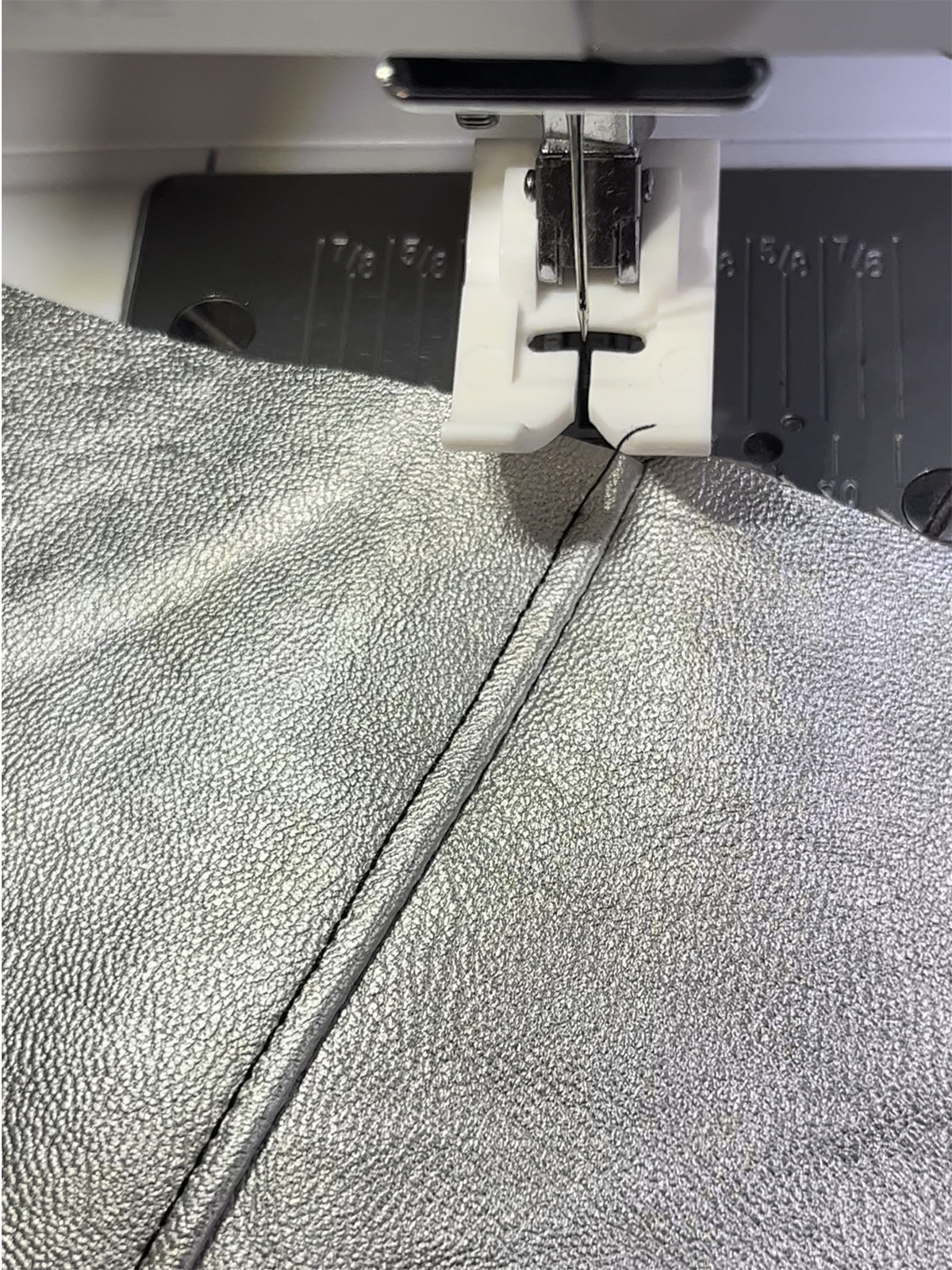 As a designer who loves to work with both Genuine and Faux Leather, I immediately grabbed this one as my next Foot to try. The Zig-Zag Foot with Non-Stick Sole allows you to construct with Leather. Sew the seam with a straight stitch and then turn over and top stitch. It really is that easy. When it comes to threads and needles, I always go with a Microtex size 14 needle and an excellent quality All Purpose/Polyester thread. The stitch length should also be adjusted to a 2.5 or 3 length to allow the Leather to feed through your machine smoothly.
It is also extremely important to consider the weight of Leather. If the Leather is too thick you will ruin your sewing machine and be stuck with a hefty repair bill. I have had great luck with light weight to medium weight faux leathers with my b 77. Another key selling point for this foot would be it allows it to be used for sewing on top of Leather and not get stuck as a regular presser foot would. This keeps the user from having to use masking tape under a regular presser foot or even baby powder. To see this Foot in action, watch my TikTok Video here. It is labeled, "bernette Non-Stick Foot".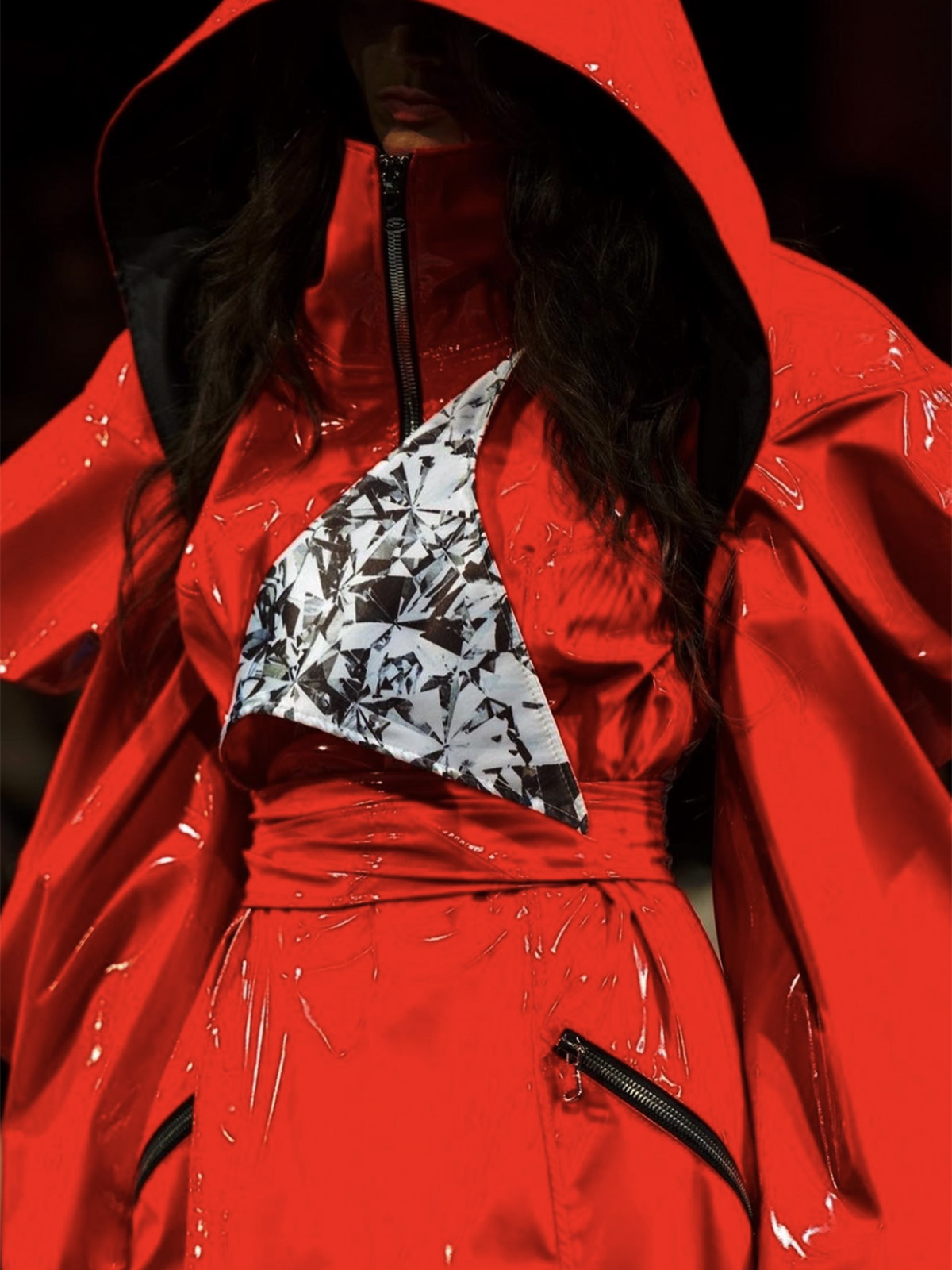 When stitching with alternative Leather such as this PVC or Patent Leather, you are going to need at least a size 100/16 Denim Needle. This is what I used while constructing this red Trench Coat. Please be mindful of how many layers you will be stitching on. Anything above 3 layers will most likely need to be sewn with an industrial machine. I also recommend sewing at a slower speed setting when working with this kind of Leather.
Difficulty level

all levels

Time to Complete

Weekend

Used Material

b 77, bernette presser foot set, leather, Microtex needle, vinyl

Projects

fashion, leather

Seasons

all seasons

Techniques

patchwork, sewing, sewing a seam, sewing with leather, sewing with leather, sewing with vinyl
Used Products
What you might also like